So Peugeot has cottoned on to the fact that to survive in the car industry you need SUVs that appeal. And clearly this 3008 does for it was the first one to win the coveted European car of the year gong.
The award came as no great surprise to us, given the 3008 is closely related to the 308, our Car of the Year winner back in 2014. It shares the same underpinnings, the Efficient Modular Platform 2, and inside features the same i-Cockpit layout, with a small wheel, above which the instruments are sited. The next best thing to a head-up display without all the fuss and expense. Only what works in the 308 isn't quite such a success in a bigger heavier machine, the weenie wheel offering not quite enough leverage in the bigger 3008.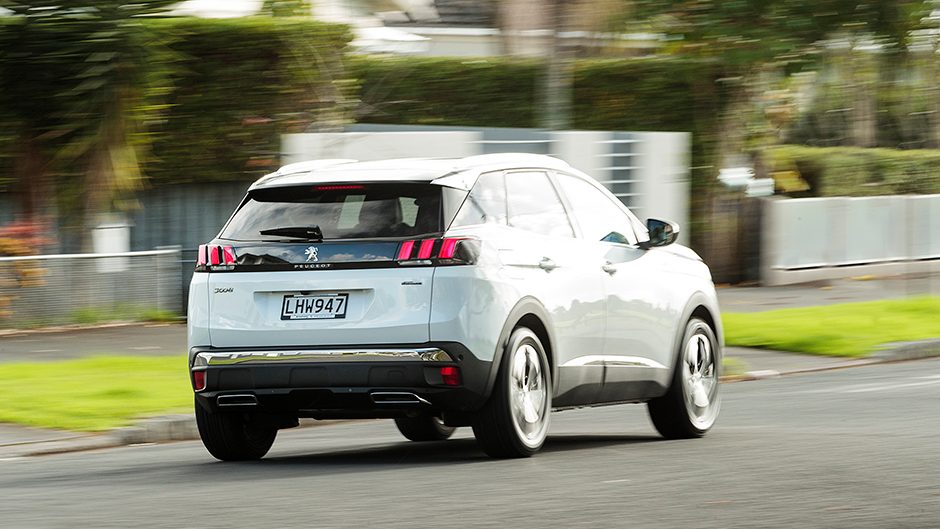 We've had this vehicle through the office before, only in 2.0-litre diesel GT format. This time, it's a petrol unit, a 1.6 turbocharged four mounted transversely and driving the front wheels through a quaint six-speed gearbox. Things have moved on so quickly in the transmission world that six has suddenly become anything from seven to ten cogs. Is six sufficient? We'd see.
This second-gen 3008 has plenty of visual appeal on both sides of the enclosure. French flair, in contrast to the dumpy original. The grille is bigger, more of a dominating feature, with a sparkly finish. The 3008's overall outline is more upright, less raked than before for improved interior space, yet height actually drops slightly. Despite the sunroof, headroom is fine. There's a heap of piano black paint on the outside, and lots of chrome too, adding upmarket appeal. Same with spec, little is left out. It's chocka this one, active safety bits included, though real leather trim costs extra, as does an opening panoramic roof and premium Focal sounds.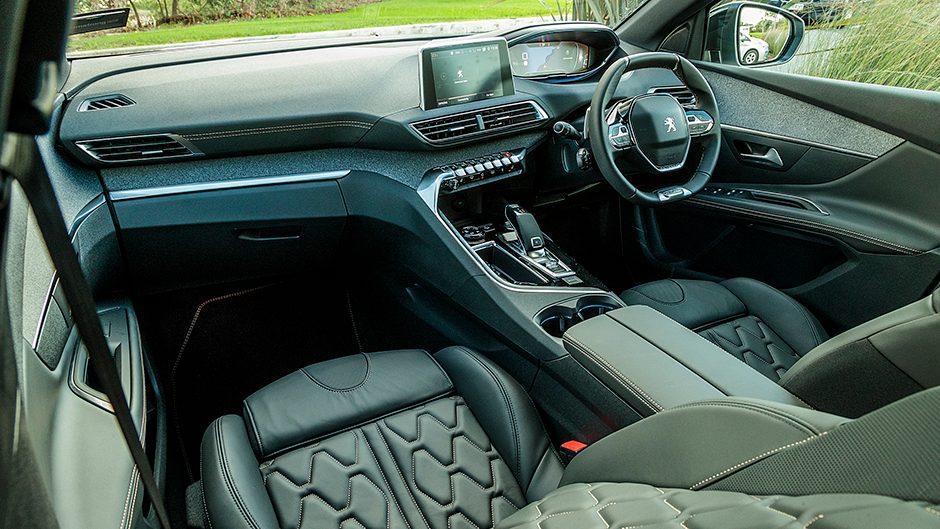 Drive is via the front wheels and the GT Line features Peugeot's Grip Control, a form of faux-wheel drive. This alters the TC and ESP software to help with progress on snow, mud, and sand. Only it's still front-wheel drive so it doesn't turn it into a pseudo-4wd machine. There is hill descent control though, presuming you make it up there first, and quite generous ground clearance of 220mm, handy for kerb hopping during parking manoeuvres. However, that won't often be necessary for this has a compact city-friendly turning circle, a scarcely believable 10.7m. An advantage of actually not being 4WD then. Another is overall heft, for it weighs in at a reasonable 1492kg.
Peugeot quotes a 0-100 time of 9.9sec which the GT Line managed comfortably, ending up almost identical to the diesel's time. Same for the overtake, the diesel just a vehicle length ahead. We imagine both would be even quicker if shift times were hastier. The Peugeot's transmission control unit insists on a metaphorical drag of a Gouloise before making the change happen.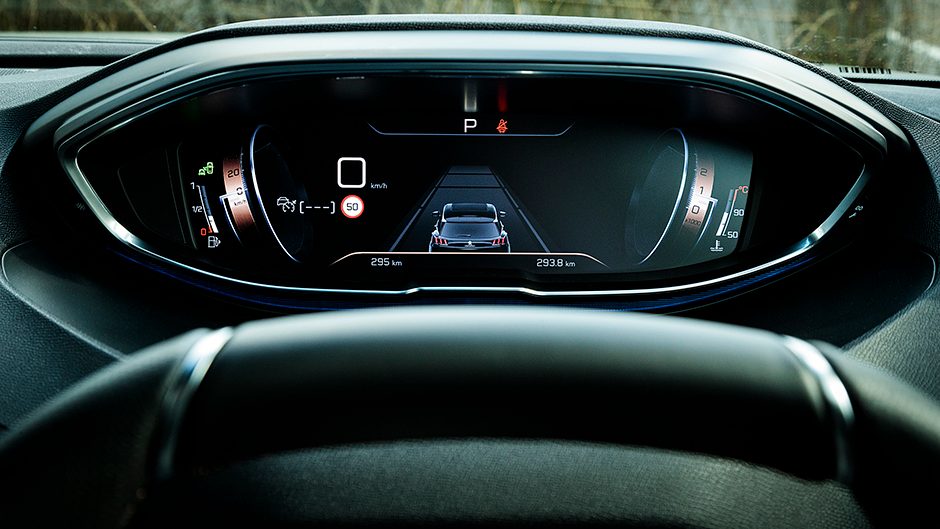 Don't think of this as being tardy though. And with fat torque production at everyday revs, that reins in fuel use. We saw consumption generally in the 8s, and reaching a high of just 10.6L/100km. You don't need to go all manual on it for decent performance either. Sport mode is versatile, upshifting earlier with lighter gas pedal pressure.
What's of interest is the engine noise, not so much in Normal where it's unremarkable but in Sport mode the character changes entirely, the engine roaring like a lion. Clearly this is engineered sonically but for all the world it's like Cecil is in the back, acting tetchy. Appropriate for another lion brand. It's animalistic. A pity the CrossContact6 rubber roars back then, but only over the worst of our cheap, shonky road surfaces.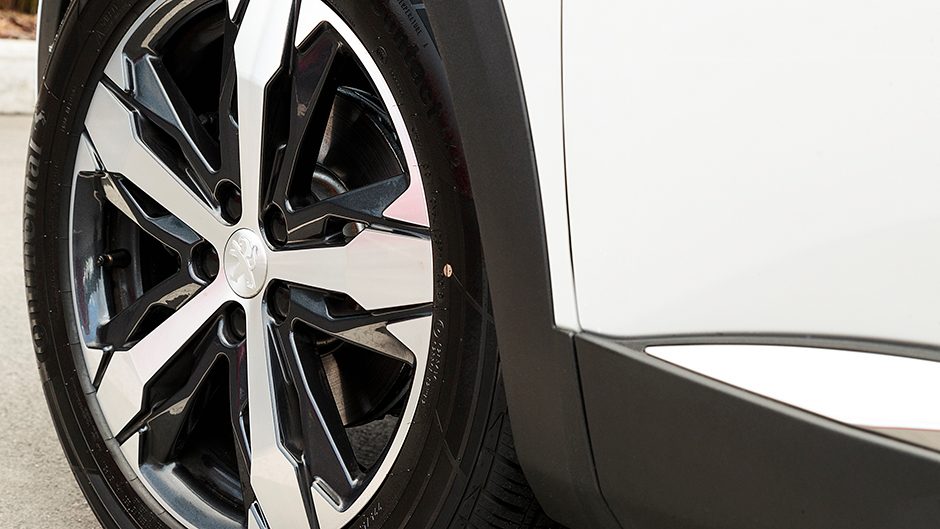 On the upside, this handles and rides particularly well on the open road, within the bounds of its front-drive disposition. Underneath is fixed suspension with Mac struts north and a torsion beam aft. Settings in the GT Line tend firm, noticeable at slower speeds but not annoying. It disappears as you exit the suburbs. Peugeot chassis gurus seem to set the mix well, and with an energetic little turbopetrol in tow, open road running is genuinely fun.
Being French there's the odd quirk; the pushbutton to start you need to hold for a second or nothing happens. Same when it comes to stopping it. We liked that the foot gesture to open and close the tailgate works reliably, only you need to wait for a second or two before that happens as well.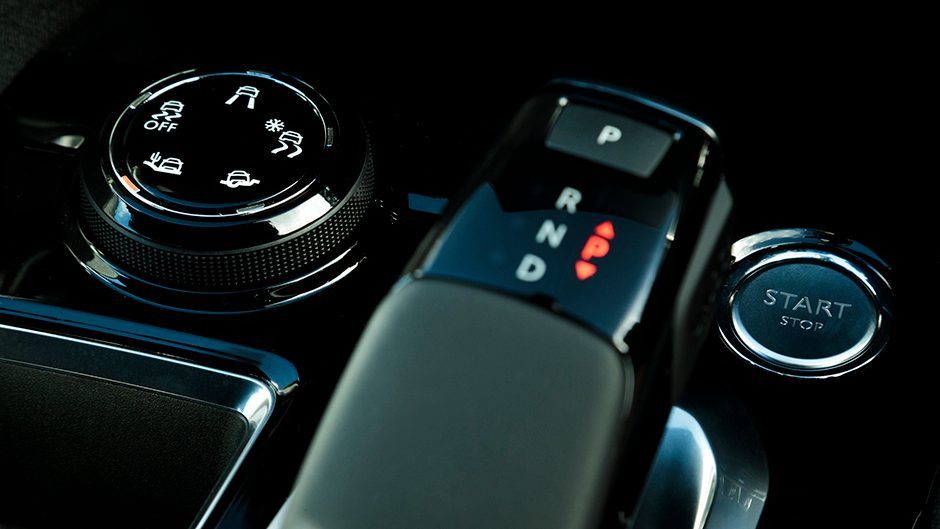 Odd eccentricities aside – it wouldn't be French without some – the top-ranking $49,900 petrol 3008 fares well across the board. As much as anything, it's a case of getting people to check it out.
| | |
| --- | --- |
| Model | Peugeot 3008 GT Line |
| Price | $49,990 |
| Engine | 1598cc, IL4, T/DI, 121kW/240Nm |
| Drivetrain | 6-speed auto, front-wheel drive |
| Fuel Use | 7.3L/100km |
| C02 Output | 165g/km |
| 0-100km/h | 9.23sec |
| Weight | 1492kg |