New Zealand's Hayden Paddon has made history as the first non-European winner of the European Rally Championship in its illustrious 70-year history.
Despite failing to finish Barum Czech Rally Zlín over the weekend, other results worked in the Kiwi's favour to see him secure the title with a round to spare.
Co-driver John Kennard has been by Paddon's side the entire championship, with the duo competing in BRC Racing Team's Hyundai i20 N Rally2 car.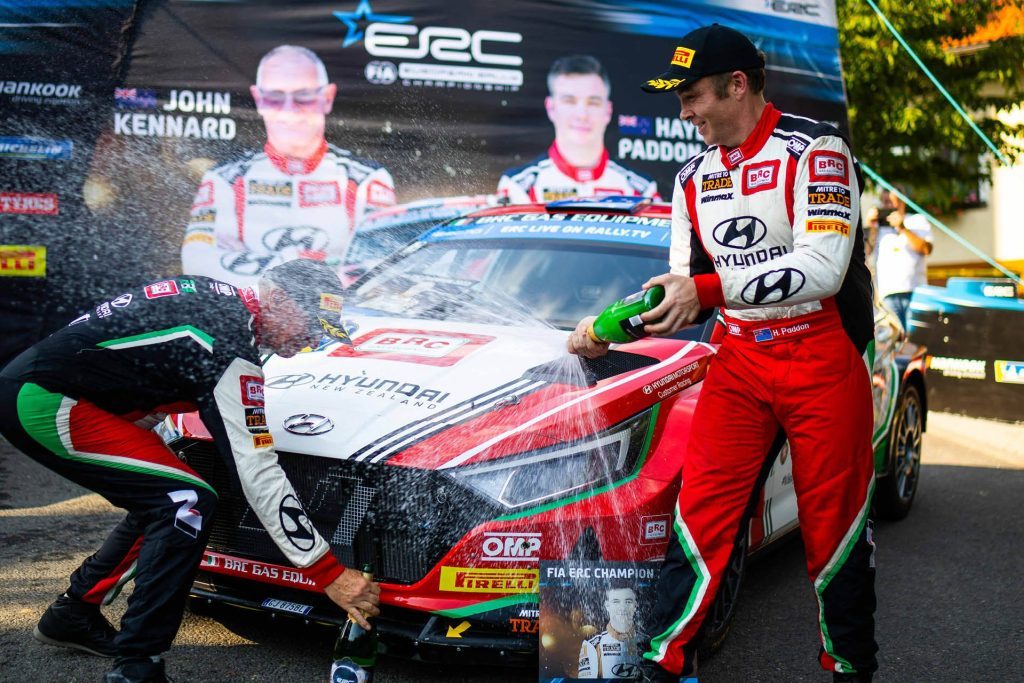 "It's a strange way to win it today with the troubles we've had, but we're hugely proud of what we've done with the team," says Paddon.
"We've had six good rallies and one bad one. All in all, it's been a very good season, and it's something for us to build on for the future.
"I've loved our time in the ERC this year. A real mixture of events, lots of challenges and the competition over here is huge. I think it's one of the best rally championships in the world, and hopefully, we can be a part of it in the future as well."
Paddon entered Barum Czech Rally Zlín needing to only finish in the top five to guarantee the title, resulting in a more cautious approach to the abrasive asphalts in the Czech Republic.
The Kiwis entered the second day of the rally sitting in fifth, but more importantly, the only remaining championship contender, Martins Sesks, was 13th.
Paddon's weekend came to an early end on Special Stage 10 when he ran wide on a high-speed left-hander, swiped a tree and parked up a few hundred metres later.
The Kiwis were left on the sidelines to see whether they'd claimed the title or if Sesks could pull off an unlikely comeback to remain in contention. He could not, finishing 11th overall and resulting in Paddon being crowned champion.
Paddon and Kennard had featured on the podium of the opening six events of the season to put themselves in the position, their campaign beginning with a superb victory at Rally Serras de Fafe in Portugal. Runner-up results followed in Rally Islas Canarias, Rally Poland, Rally Liepaja and the Royal Rally of Scandinavia before a third-placed finish in Rally di Roma Capitale. The DNF at Barum Czech Rally Zlin is a minor blip on what has been an almost flawless campaign from the duo.
Rally Hungary closes out the 2023 European Rally Championship on October 8-9. However, Paddon and Kennard may choose not to compete with each competitor's worst round removed as a drop round and the title already secure.