Top-shelf decked-out utes are big business. Nissan saw an opportunity for a hero ute purpose built for Australasian 4WD conditions, and made it so. Is this the new mountain goat of the ute sector?
Aussies and Kiwis love their utes, especially loaded 4×4 double-cabs. These have been best sellers for years, both sides of the Tasman. Modern utes are popular because they function as both work and play vehicles, depending on the day of the week. Few utes leave the dealership without accessories like a tow bar or big wheels. Aftermarket lift kits are also popular but they're are not always sorted and can put additional stresses on the driveline.
Nissan saw an opportunity for a well specified, staunch halo Navara with enhanced off-road capability. If that also translated to improved on-road behaviour, so much the better. While modern 4×4 utes are pretty capable off road, often more so than their owners imagine, there's a sub-category who want even more from their ride. These folk are knowledgeable about off-roading and are experienced explorers. They know what they want, and the main things on the hit list is added ground clearance and dedicated rubber so they can explore more remote places.
Navara for the bush
Which brings us to the vehicle you see before you, the Navara N-Trek Warrior. Nissan Australia knew they wanted an athletic truck and sought local input to develop such a ute. Up stepped Premcar, formerly known as Prodrive, who assured Nissan it could design, engineer and test such a vehicle, and that the changes wouldn't void the local warranty (here it's three years/100,000km).
After a year of development, the result is this road and track-ready vehicle, put together at a purpose-built facility in Epping, North Melbourne. The team builds 10-13 new N-Trek Warriors per day, with production being flexible according to demand. Available in New Zealand in the first quarter, the superute is now on sale in Australia for $62,990 in manual trim and $65,490 for the auto. Local pricing is not yet set, but it should sell in New Zealand for somewhere around $75k based on the Australian price, comfortably undercutting the likes of the $85k Ranger Raptor.THIS IS READY TO TACKLE THE OUTBACK. OR, AS WE WOULD ULTIMATELY DISCOVER, ONE OF THE HIGHEST AND MOST DANGEROUS ROADS IN AUSTRALIA
The idea was to build a Navara that could take on the most serious off-road conditions, the wheel, tyre and suspension enhancements delivering added ground clearance and improved ride and handling, off-road and on. The secret to its newfound off-road chops is the provisioning of Tenneco springs and Monroe dampers, the result being a 15mm lift to the vehicle's ride height. Might not sound like much but there's new off-road footwear, 32-inch Cooper All-Terrain AT3 tyres, and they add a further 25mm of lift, for a total of 40mm. The result is ground clearance of 268mm. These tyres are 38mm bigger in diameter and are also wider, with 5mm of added tread depth. They deliver extra track width, out to 1600mm, and a beefier stance.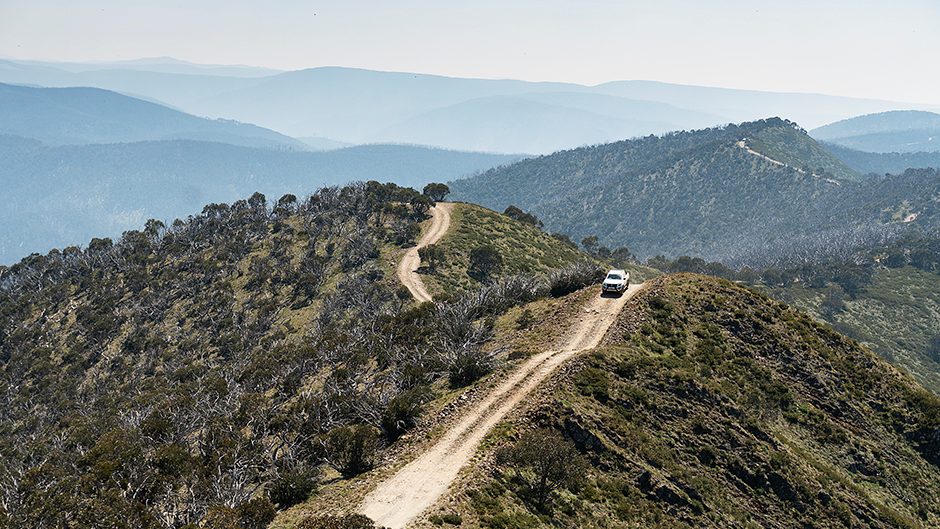 More visual aggression would come gratis as a natural byproduct of the upgrade. Think of this as more as a Navara that's undergone Commando training and it's ready for the World Cup of Adventure Trials. There's even a bullbar present, not that you'd know it, masquerading as the original bumper. Other enhancements include 3mm stainless steel underbody protection up front, black fender flares, a sports bar, a black rear bumper and grille, black mirror caps, and black side steps with orange accents. There's also a full-sized spare beneath the deck.
Premcar undertook extensive local testing and opted for a six per cent softer primary spring rate up front and eight per cent softer rate at the rear, to maintain ride comfort and improve off-road articulation. A 10 per cent higher secondary spring rate was chosen to maintain composure and performance in cornering, heavy duty off-roading, and when laden and towing.
The damper rods are 45 per cent bigger for better suspension and wheel control under heavy going, and provide extra compression capability for a quicker response. Rounding out the hidden changes are more robust front bump stops which evidently engage the chassis rail earlier in the suspension travel, and at a more progressive rate. This ensures better control of wheel movement at maximum suspension travel and a smoother transfer of energy into the chassis, reducing the harshness and noise that makes it into the body and cabin during rough off-road expeditions.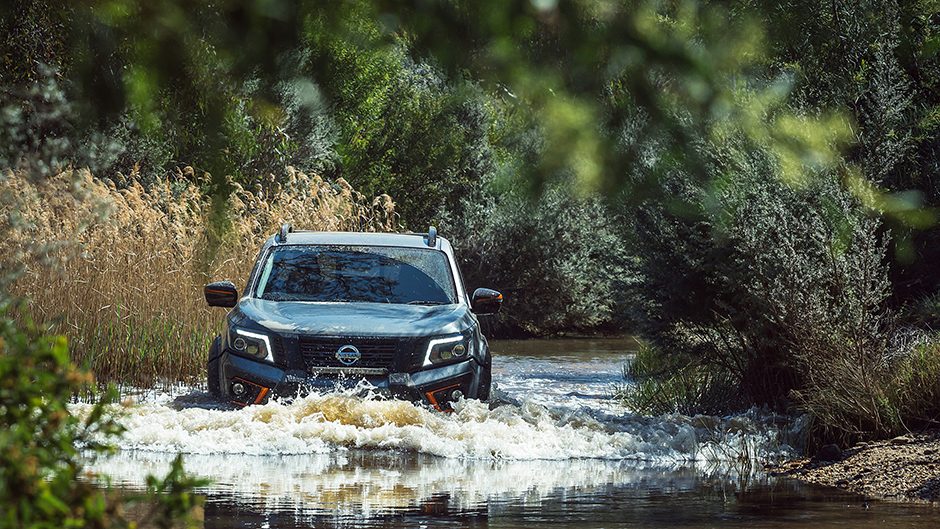 Navara maintains its 3.5 tonne towing capacity but with new bits and pieces like a sports bar, side steps and a unique crossbar member at the rear to fit the bigger spare the payload is down by 193kg to 720kg overall.
In terms of climbing, the approach angle improves by 1.8 degrees (to 35) as does departure angle (to 29 degrees, providing there's no tow bar fitted). But given no Warrior is likely to leave the showroom without a hitch in tow, the departure angle actually drops slightly.
This is ready to tackle the Outback. Or, as we would ultimately discover, one of the highest and most dangerous roads in Australia, Victoria's Blue Rag Road.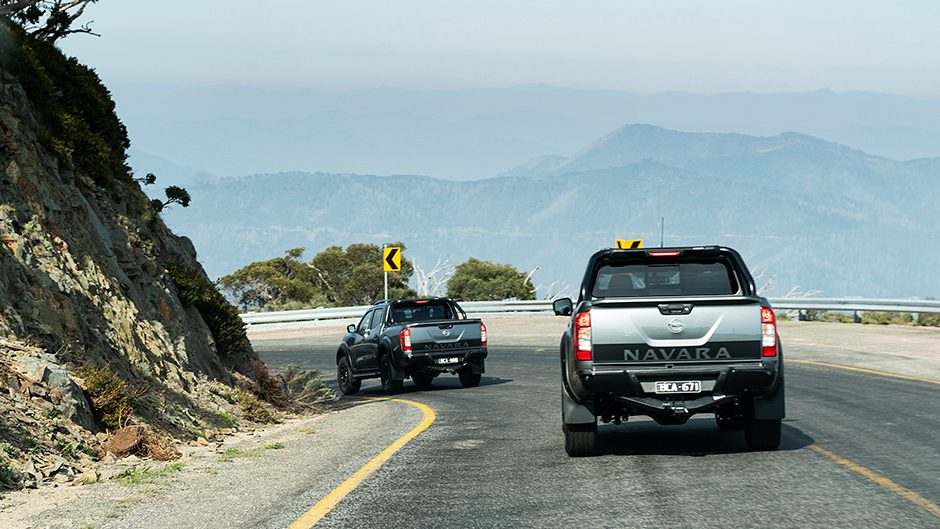 Rugged Roads? Too Easy
It really did ace this track, regarded as "remote and very difficult", like nothing would stop it. Later in the day, it faced its toughest challenge, a steep incline with enormous mogul-like dips and humps. Our 4WD guide reckoned a regular Navara ST-X 450 4×4 wouldn't manage this pinch without all sorts of physical abuse. The Warrior however, once prepped in 4-Low and with diff lock engaged, made complete use of its added ground clearance and articulation, the big tyres helping it to ease up and over without the need for going postal. All Warriors made it at the first attempt, except for one which faltered because the driver forgot to engage diff lock. Once activated it made the climb no problem. The other really impressive feature? We didn't bottom out once, and one of the guys from PremCar backed this up. He said he'd been deliberately trying to use up all the ground clearance but he too failed. The odd noise we did hear was the independent wheel braking. At one point, climbing out of a boghole, we thought for sure we'd smack the bash plate but no. This doesn't look particularly jacked up but it certainly acts like it.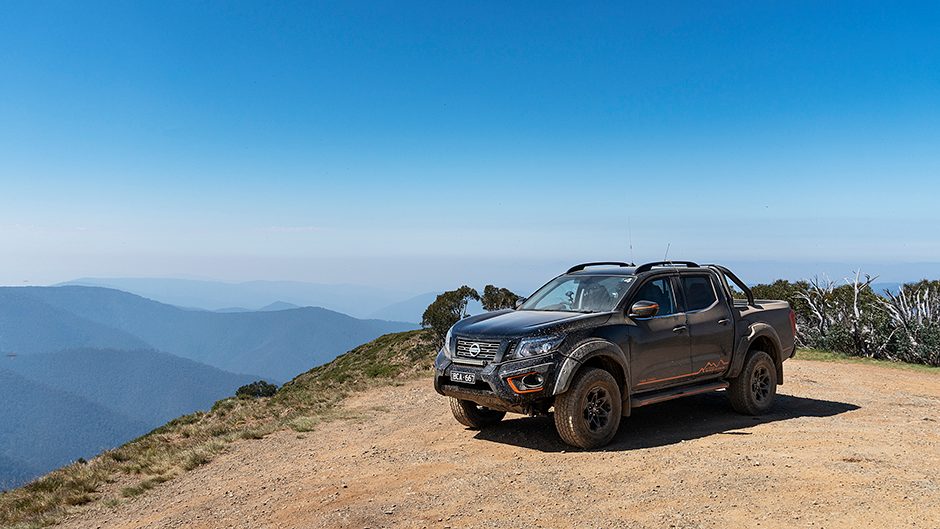 Reach for the sky
The route itself kicked off at Mt Hotham village, 400km north east of Melbourne, the temperature around 20 degrees a sweet reprieve after the 40 degree sweltering welcome at Essingdon. After 20km of quite spectacular highway driving that took in the main skifields in the Mt Hotham area, we were soon onto gravel roads, with epic dust plumes. Only 40km or so of the drive programme involved tarmac, the remaining 150 were all on gravel/dirt roads or firetrails/unformed mountain tracks.
Within a few minutes we'd arrived at the base of the Blue Rag Range Track. Rated as one of Australia's most challenging roads, it's recommended that you attempt it only in a vehicle with good ground clearance and 4-Low capability too.
The twin-turbo 2.3 engine is unchanged, good for 140kW of power and, more importantly for climbing, 450Nm of torque from 1500-2500rpm. Much of the ascent saw the engine spinning below 2000rpm, such is the level of generous low down torque. With seven gears we often found ourselves climbing in third using 4L, or occasionally second, rarely first. Because of the dry conditions – this is Australia after all – even the extreme ascents didn't seem to faze this Warrior. It's well named for its ability to tackle and flatten tricky terrain. We tried HDC on one of the hairier downhill sections, leaving the trig point of the Blue Rag Road, but engine braking in low range is equally effective.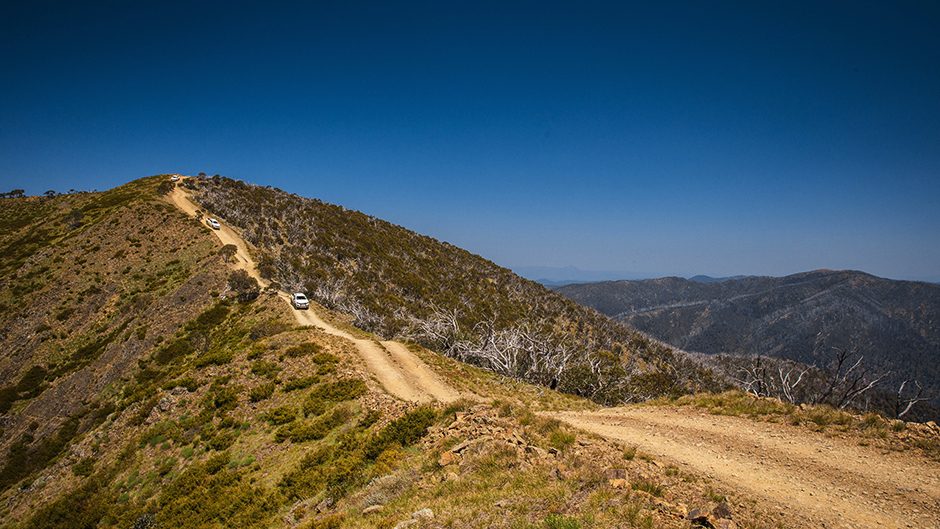 What's most impressive compared with standard Navara is, unsurprisingly, the newfound ride composure over gnarly terrain. There's no thrashing into big dips or over significant bumps, the progressive dual-rate springs, and uprated bump stops and dampers working in unison to ease progress. Seats are good too, especially the driver's that features power operation and adjustable lumbar support.
Most of the roads were slow going, genuine 4×4 tracks, but en route to our overnight camp the dirt roads allowed quicker progress. Here the slightly quicker steering and accommodating ride again came to the fore, helped admittedly by a reduction in tyre pressure from 35 to 25PSI; still, refinement levels over a range of conditions seem a step up on the regular Navara. It's also a hoot in 2WD, the rear stepping out under power before electronic intervention.
So not only is this nigh on unstoppable but it's also a winning Warrior; it's not often we Kiwis string those two words together. Compared with the Colorado we drove the previous week, the Warrior is undoubtedly more capable off road, with its added ground clearance and articulation, and it looks smarter inside and out. However, they're closer on road, even if Navara does get the edge in refinement. Bear in mind there's a $20k gap between this pair. If you're the adventurous type and want one of the most versatile and staunch looking utes available at present, the N-Trek Warrior certainly qualifies. Nissan NZ is expecting this "to be a popular variant". After this epic drive experience we reckon so too.