Skoda has outlined what we can expect from the fourth-generation Superb when it gets revealed later this year, confirming that it'll get more space than ever before and for the first time, a mild-hybrid powertrain.
Our first glimpse of the new model, albeit draped in camouflage, suggests to us that no radical changes have been made to the sedan/wagon formula, nor Skoda's design language.
At the front, the Superb has been fitted with a set of LED matrix headlights that feature a coloured crystalline element, which is said to bring a whole new look to the next-generation model. The same can be said for the taillights which are now more slender than those found on the predecessor.
Occupants will be pleased to know that Skoda has retained a number of manual controls inside and fitted a 12.9-inch infotainment display, the largest unit ever to feature on the model.
The new Superb has also grown in length and height, offering more room inside both the hatchback and wagon variants which our local police force will no doubt be pleased to hear. Headroom has increased significantly compared to the previous generation, while the luggage compartment can hold 645 and 690 litres respectively.
An assortment of three 2.0-litre petrol engines, two 2.0-litre diesels and a 1.5-litre plug-in hybrid powertrain will feature in the upcoming Superb, with outputs ranging from 110kW to 195kW. The PHEV boasts a longer fully electric range than the current model, reaching up to 100km without the use of the combustion engine.
For the first time in the model's history, a new 1.5-litre mild-hybrid powertrain will be available too.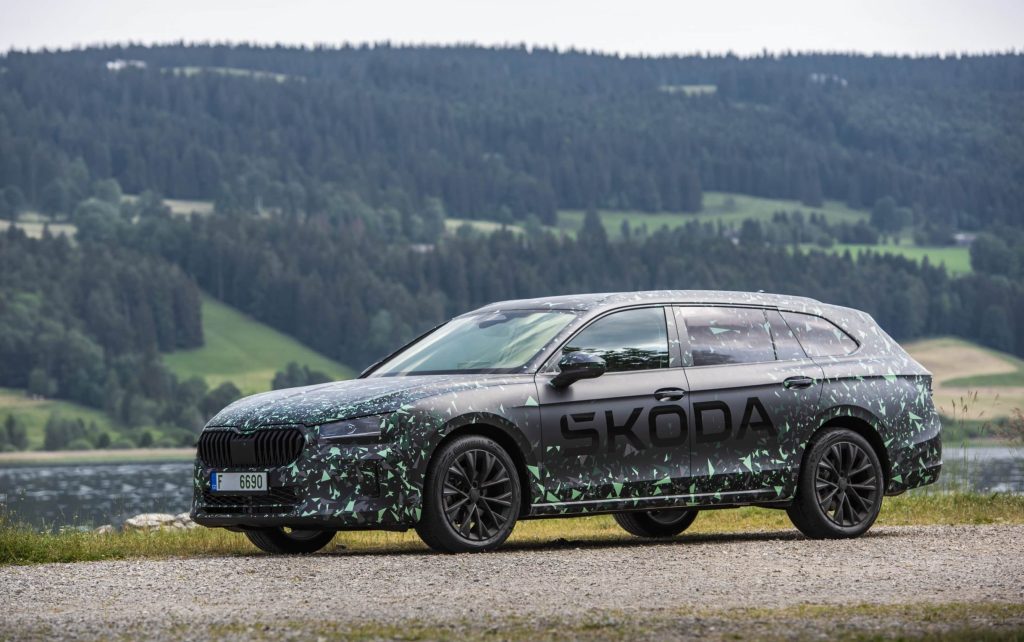 No matter what's under the bonnet, each Superb will come with an automatic DSG transmission as standard which is controlled by a gearshift lever mounted to the steering column rather than the centre console, freeing up space for storage.
Skoda has also packed 28 of its 'Simply Clever' features into the new model, including an electronically controlled roller blind for the luggage compartment on the wagon, a funnel for the windscreen washer reservoir, a 12-volt socket for the rear-seat passengers, and of course, an all-important umbrella in the driver's door.
As for the reveal date, the new Skoda Superb will be revealed in November 2023, 90 years after the launch of the brand's first-ever model.
We'll no doubt learn about the specification for New Zealand-bound cars once the big day rolls around later this year.