Melbourne's annual Motorclassica event began in 2010, and is already a must-do on the automotive enthusiast's bucket list. We check out some of the highlights for 2018
Melbourne has another string to its destination bow with the annual Motorclassica extravaganza. Hosted at the historic Royal Melbourne Exhibition Centre, this unique gathering of cars, both contemporary and classic, is the largest event of its type in the Southern Hemisphere. Motorclassica could certainly be considered the Australasian version of the Pebble Beach automotive week or the Goodwood Revival.
The three-day show incorporates the Australian International Concours d'Elegance, amongst other events such as the Tour Classica and the live restoration theatre onsite. This year's guest speakers included former Formula One driver, Australian Alan Jones, who won the world championship in 1980. More than 25,000 people attended this year's running of Motorclassica which was held from October 12 to 14.
While the value of such cars is always subjective, the organisers believe there was more than $100 million dollars worth of shiny metal on display within the walls of the exhibition centre this year, and here are a few of the highlights and oddities that caught our eye.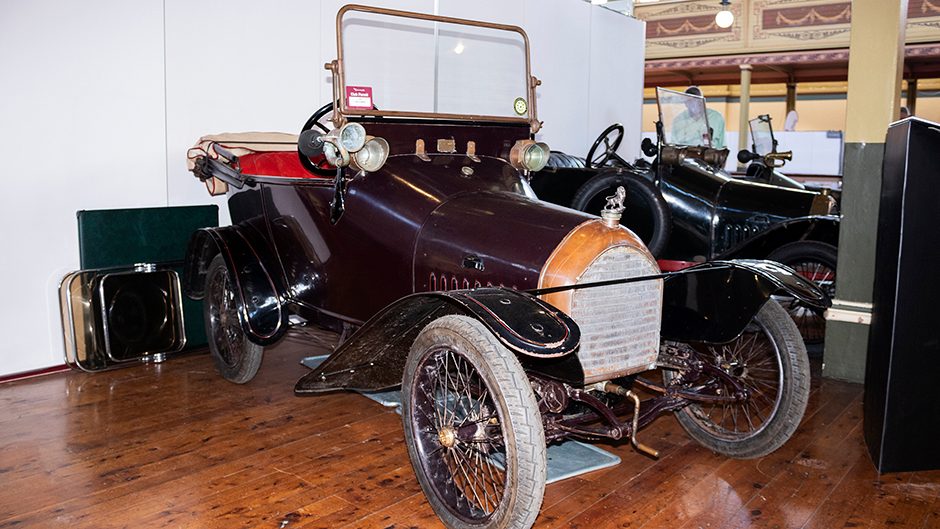 1913 Peugeot Bebe BP1
Designed by Ettore Bugatti, Peugeot produced the Bebe from 1905 to 1916. This 1913 example is the 10hp four-cylinder BP1 model which made its public debut at the 1912 Paris Salon d'Automobile. This particular Bebe was purchased in New York City in 1913 by the Griswold family and remained in their ownership until 2014. From New York City the Bebe often made the 300km journey to the family's holiday cottage in Lenox, Massachusetts.
When the Griswold family sold their Lenox property, the Bebe moved to the ancestral family home in Old Lyme Connecticut, where it was used to teach young family members to drive. 1958 Cadillac Fleetwood Sixty Special This Cadillac was purchased in Texas by the original owner who happened to be the chief executive of Coca Cola, and there are still some Coke stains on the rear carpet.
The car is presented in its original paintwork and upholstery. This Fleetwood Sixty Special comes with power windows and air-conditioning, and is powered by a 310 horsepower V8.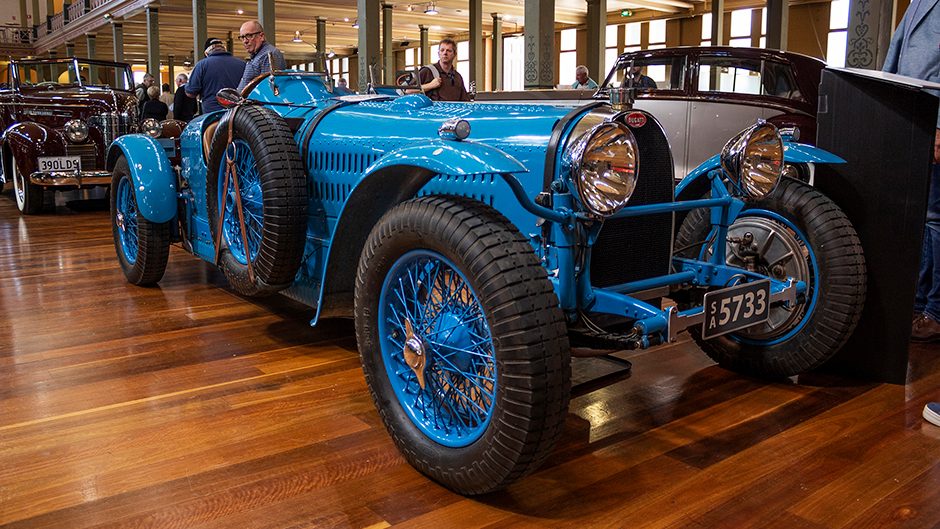 1938 Bugatti Type 57C Torpedo Sports
After spending its early years in France, this unique 57C Bugatti was purchased by Australian Henry Dale for 1 million French Francs. He shipped the car back to Australia via Egypt. It was rebodied in the early 1980s in the style of the Bugatti Type 59, the marque's Grand Prix machine of the 1930s.
The car has a 3300cc, twin-cam straight eight fitted with a supercharger and runs a four-speed transmission. The blown engine, as denoted by C for compressor, produced 160 brake horsepower, which took the 950kg car to a top speed of 153km/h, making it a very swift combination in its heyday. Only 96 Type 57C cars were produced by Bugatti, making this a rare and collectable piece of French automotive history.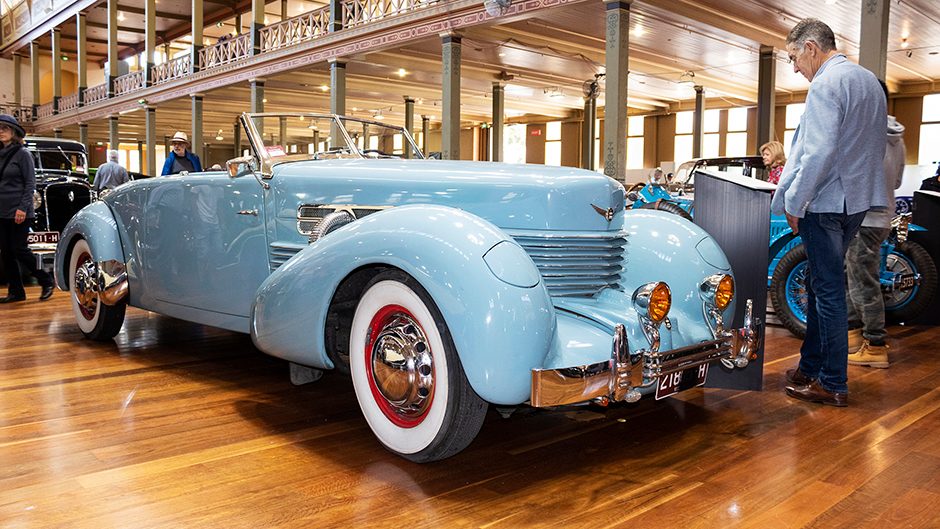 1936 Cord 810 Sportsman
Produced by the Auburn Cord Duesenberg Company in Indiana, the Gordon Buehrig-designed 810 Sportsman caused a sensation when it debuted at the 1935 New York Motor Show. The car's hidden headlamps, non-existent running boards, minimalist chrome trim, and Art Deco styling were groundbreaking for American cars. Innovations and luxury items on the 810 included a standard fit radio, concealed fuel filler cap and door hinges, variable speed windshield wipers, and rear hinged "coffin nose" bonnet.
Uniquely, the car was front-wheel drive and powered by a 4.7-litre Lycoming V8. Later it was fitted with a supercharger, and developed 170 horsepower. The car had a pre-select four-speed transmission. Painted "Eleanor Blue" to commemorate the gown which First Lady Eleanor Roosevelt wore to her husband's inauguration as president of the United States, this Cord 810 was first registered to George Putnam, Amelia Earhart's husband. Eleanor and Amelia were said to be good friends and often went for flights around New York City before Earhart's plane disappeared on her ill-fated attempt to circle the globe in 1937.
1937 MG SA Tourer
One of 23 original MG SA cars imported new to Australia, this matching numbers vehicle epitomises Cecil Kimber's vision of building an elegant range of touring cars to compete internationally with Lagonda and Packard. This car, chassis 1885, was completed on June 21, 1937 and arrived in Australia on October 29, 1938. It is powered by a 2322cc six-cylinder engine producing 78 horsepower.
Drive is transferred to the rear wheels by a four-speed manual transmission, with synchromesh on the top two ratios. A unique feature of this particular MG SA Tourer is the integrated Jackall jacking system, should anything go wrong on a sunny afternoon cruise through the countryside.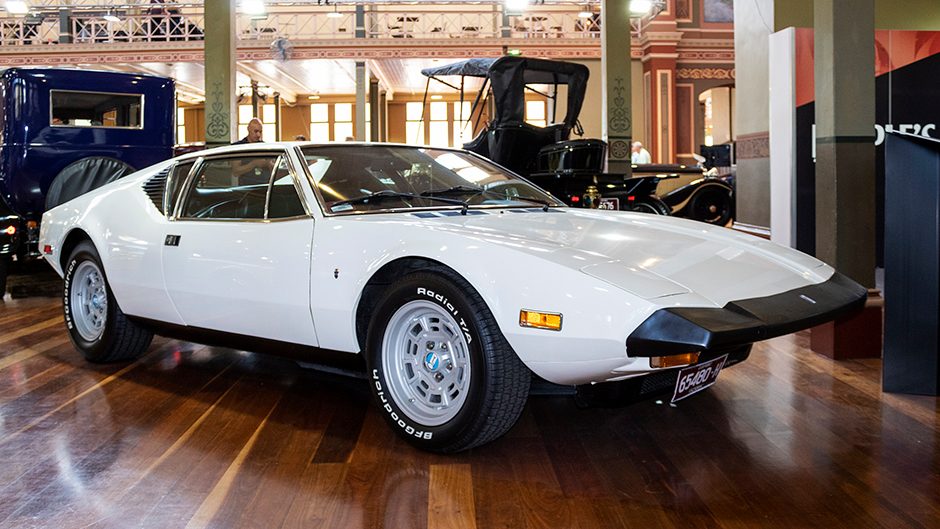 1973 De Tomaso Pantera
Cherished by its original owner for more than 40 years, this particular 1973 De Tomaso Pantera in white has travelled just 16,000km from new and remains in mint unrestored condition. Over a 20-year production run, more than 7000 Panteras were made by De Tomaso. Powered by a mid-mounted 351 cubic inch Ford Cleveland V8, the rear-wheel drive Pantera offers 310 horsepower for the driver to play with.
The Tom Tjaarda-designed Pantera replaced the earlier De Tomaso Mangusta and was the last vehicle to be manufactured in the Ghia and Vignale factories in Italy before they were closed by the Ford Motor Company. 1951 Citroën Light 15 Traction Avant More than 750,000 Citroën Traction Avants were produced from 1934 to 1957, and right-hand drive cars were made in Slough, England. These were called Light 15 models in reference to the prevailing tax bracket in the United Kingdom.
To beat import tariffs, 51 per cent of the vehicles had to comprise local content. Hence the Light 15 Traction Avant had Lucas-branded electrics and other locally made parts. The front-wheel drive, unitary chassis, and four-corner independent suspension bucked all automotive trends when the model first appeared in 1934 with a 1911cc four-cylinder engine.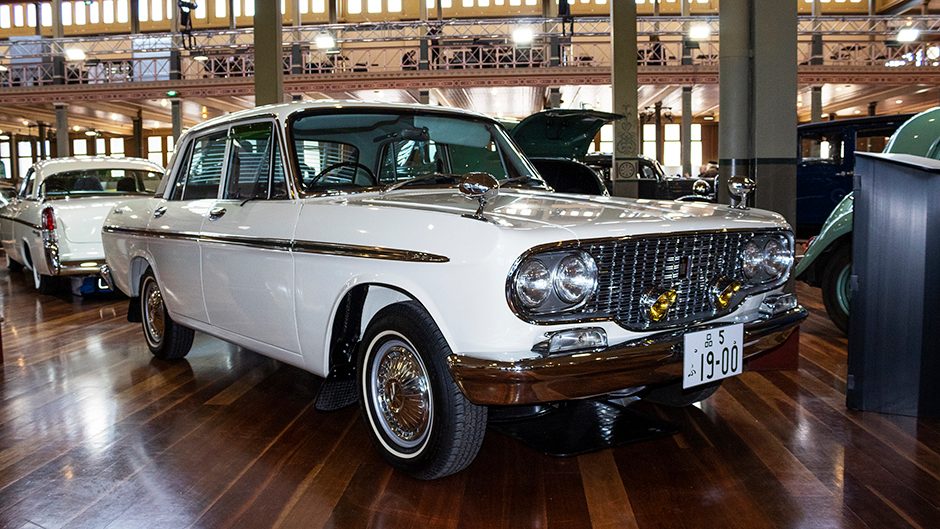 1965 Toyota Crown RS40 MkII
Still offered today, more than ten million Toyota Crown vehicles spanning 15 generations have been produced by the Japanese manufacturer. This 1965 RS40 MkII with a four-cylinder 2.0 litre engine was imported new into Australia but the Crown was the first Toyota model to be produced locally at the AMI facility in Melbourne. It also assembled such car brands as Triumphs and Mercedes-Benz, before solely concentrating on Toyotas.
This particular car had a very careful first lady owner and appears in completely original form with the period correct interior.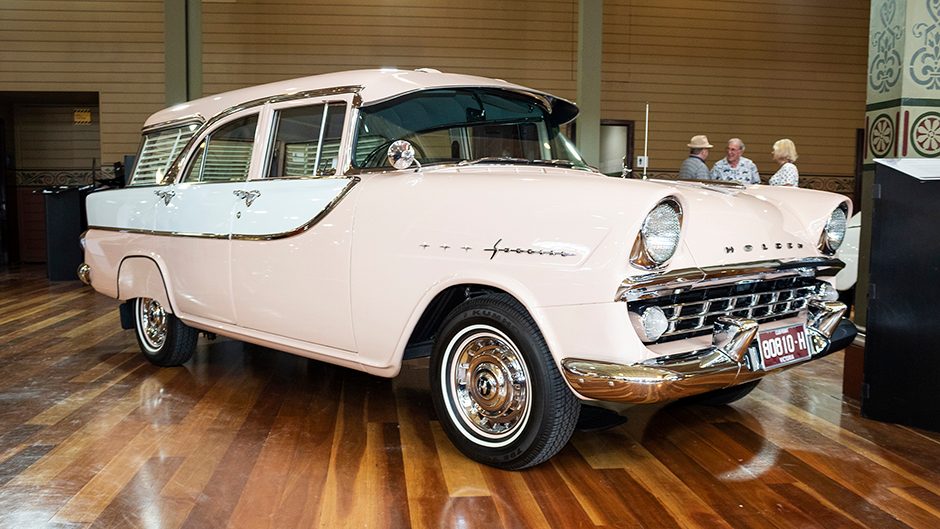 1960 Holden FB Station Wagon
This 1960 Holden FB station wagon had been sitting idle in a barn in the rural Victorian town of Quambatook since 1972, when it was purchased by current owner Stuart Wilson. By sheer coincidence, Stuart's father was a farm hand at the property dating back to his teenage years. The car received a complete nut and bolt restoration, and was awarded the best FB and best restored car on show at the 2009 All Holden Day in Australia.
Lower, longer, more powerful and spacious than the outgoing FC model, the FB evolution saw a production run of 147,747 vehicles. Powered by a 2160cc inline six, the FB produced 75bhp with a three-speed transmission transferring the power to the wheels. 1968 Saab Monte Carlo V4 More than 547,000 Saab 96 cars were produced from 1960 to 1980, and the 1968 Monte Carlo V4 version pictured here is a quirky piece of Scandinavian motoring history.
Unlike the Saab 96 cars which won the Monte Carlo Rally in 1962 and 1963 using factory-supplied 841cc two-stroke engines, this 1968 96 Monte Carlo was equipped with a 1498cc V4 Taunus unit sourced from Ford. The late Australian businessman and racing driver, Bob Jane, imported 50 Saab 96 cars into Australia, including three 841cc Monte Carlo models. Alan Jones helped sell some of these, but few of those Aussie cars have remained in the country, and this particular example originated from the Netherlands.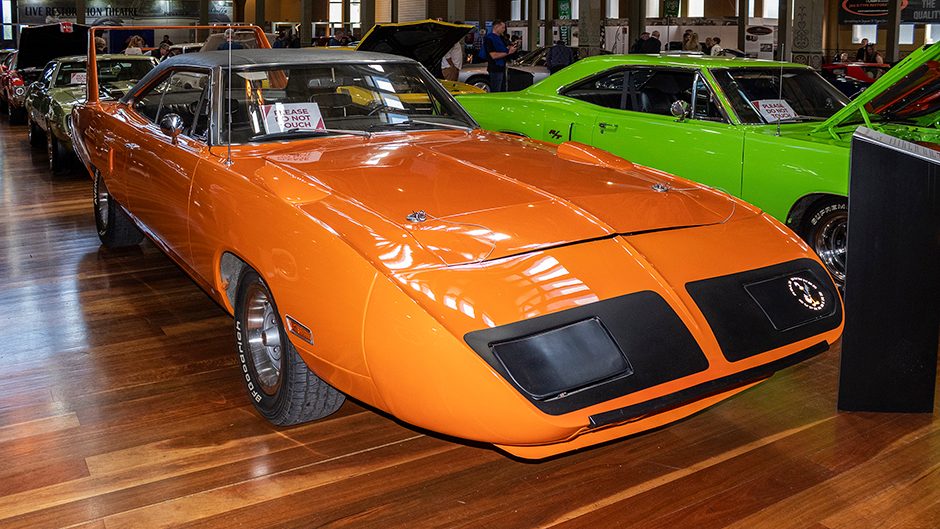 1970 Plymouth Road Runner Super Bird
Designed to be the ultimate American Supercar to lure Nascar legend Richard Petty back from Ford to Plymouth, the V8-powered Road Runner Super Bird was a real head turner in 1970 with it's protruding nose cone and high-mounted rear wing. Petty did come back to the Plymouth team and won eight races in the Super Bird which was conceived for Nascar racing. The wild rear wing wasn't just for show.
Mounted on tall struts in less disturbed air, it increased downforce significantly. Nascar required homologation production of one car for every two dealers in the United States. For Plymouth that meant making 1920 Super Birds, and it achieved that in 1970, producing 1935 units.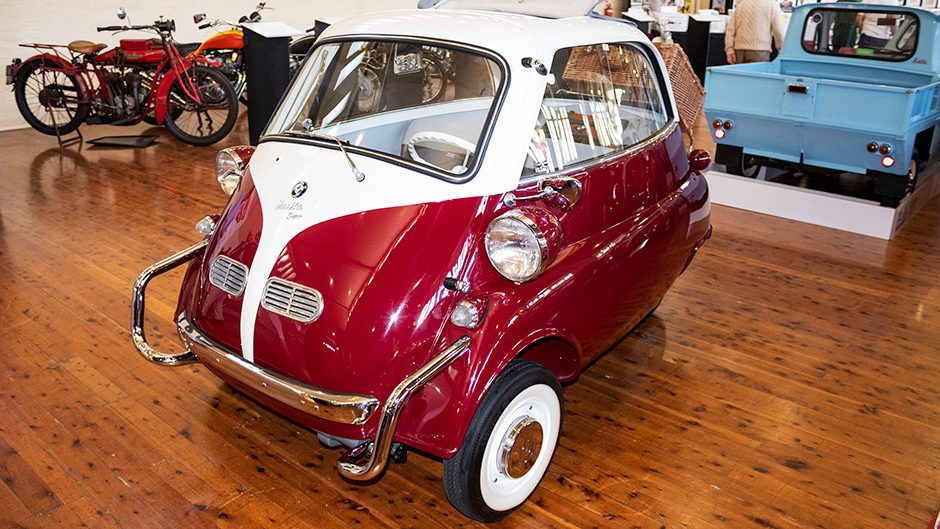 1958 BMW Isetta
The Isetta was originally conceived and manufactured by Italian company Iso in 1953 using a 236cc motorcycle engine. In 1954, BMW bought the design and the tooling to set about producing the vehicle themselves using their own motorcycle engine.
The German improved the Isetta for greater production volume and increased the engine size to 300cc in 1956. As well as producing them in Germany, BMW licensed a company in England to build the Isetta, and more than 161,000 vehicles were made by the two plants from 1955 to 1961.
This particular 1958 Isetta was an export model sold to the US market. It was purchased by an Australian collector in 2011 and restored to the condition seen here.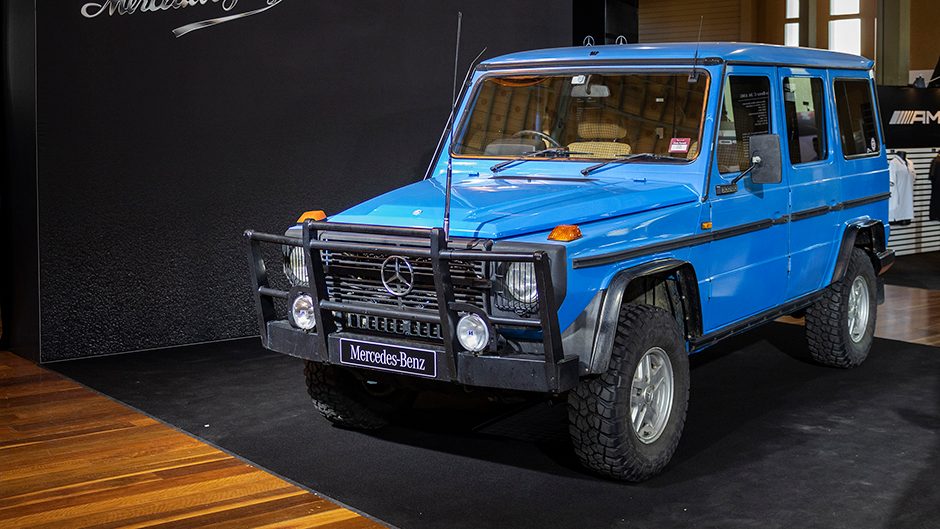 1983 Mercedes-Benz G300 GD 4×4
The original 460-series Mercedes-Benz Gelandewagen went on sale in 1979 and became available to Australian buyers from 1983. Both short wheelbase (2400mm) and long wheelbase (2850mm) models were on offer.
This unrestored and completely original 1983 long wheelbase G 300 GD was optioned with the rare Sky Blue paint, being amongst the first shipment of customer vehicles to arrive in Australia. Powered by an inline five-cylinder 65kW/172Nm 3.0-litre diesel engine allied to a four-speed automatic transmission, this particular vehicle had travelled 370,000km. It was mainly used for off-road adventuring and camping trips in the bush, rather than daily driving.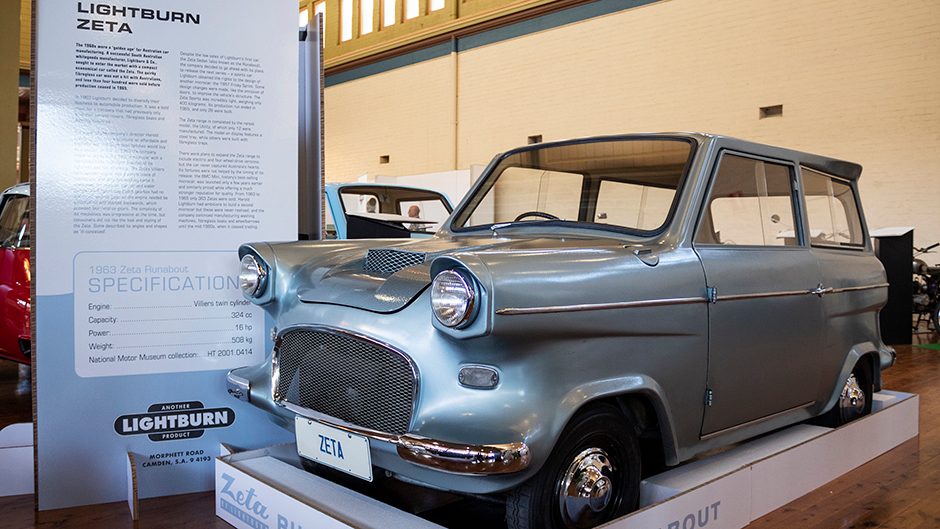 1963 Lightburn Zeta Runabout
Adelaide-based cement mixer and washing manufacturer Lightburn & Company turned its hand to vehicle manufacturing from 1963 to 1965 with the compact Zeta Runabout retailing for £595.
It was powered by a 324cc Villiers engine powering the front wheels via a four-speed transmission. Fuel delivery was via gravity from a tank behind the dashboard. The Runabout was not equipped with a rear hatch, so access to the cargo area was achieved by removing the front seats.
Unfortunately for Lightburn the more potent Morris Mini arrived onto the market at the same time as the Zeta, which limited sales to just 400 units in its two-year production cycle.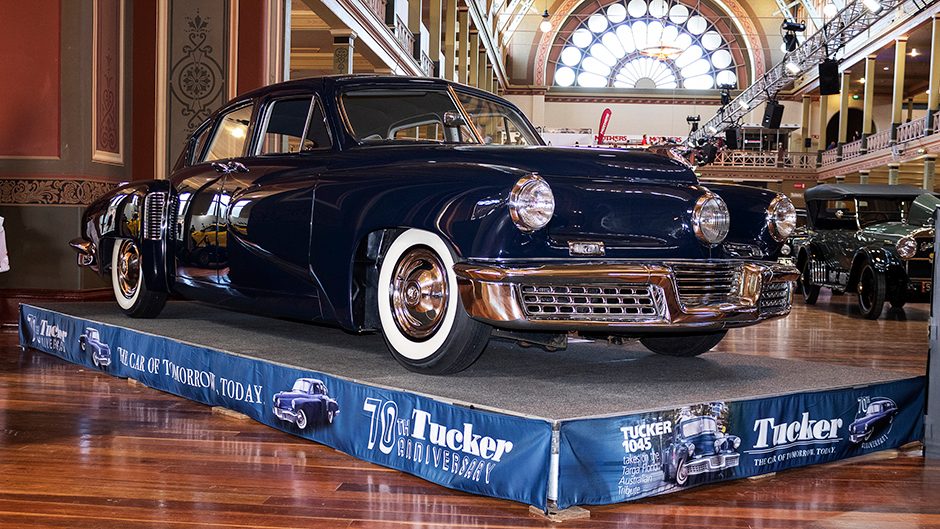 1948 Tucker 48 (Torpedo)
Initially named the Tucker Torpedo, only 51 units of the unique aerodynamically-styled rear-engine car were produced before the company founded by the visionary Preston Tucker folded on March 3, 1949.
The Tucker 48 sedan had a 5.5-litre horizontally opposed six-cylinder engine coupled to a four-speed preselector transmission propelling it to a top speed of 200km/h. This particular example, body number 11045, was purchased by its current owner in 2010 from RM Auctions for what was then a record-breaking price of USD $1,127,500.
It was sold new in 1950 to LeRoy Phifer from the Tucker bankruptcy auction, and was also owned for a time by collector Nick Jenin who operated a travelling road show of Tucker cars up to the mid 1960s.