Hot off the heels of revealing its new ute yesterday, Mitsubishi has announced that it will enter the sixth-generation Triton in the Asia Cross Country Rally (AXCR) next month.
The Japanese carmaker will enter three rally-ready pick-ups in the upcoming event, with each being fitted with some rather tasty-looking off-road modifications that remind us of the brand's Paris-Dakar Rally glory days.
Based on a Thai-spec dual cab model, Mitsubishi has beefed up the ute with a roll cage and bumper guard to ensure the body and chassis are protected inside and out as it traverses over uneven terrain at speed.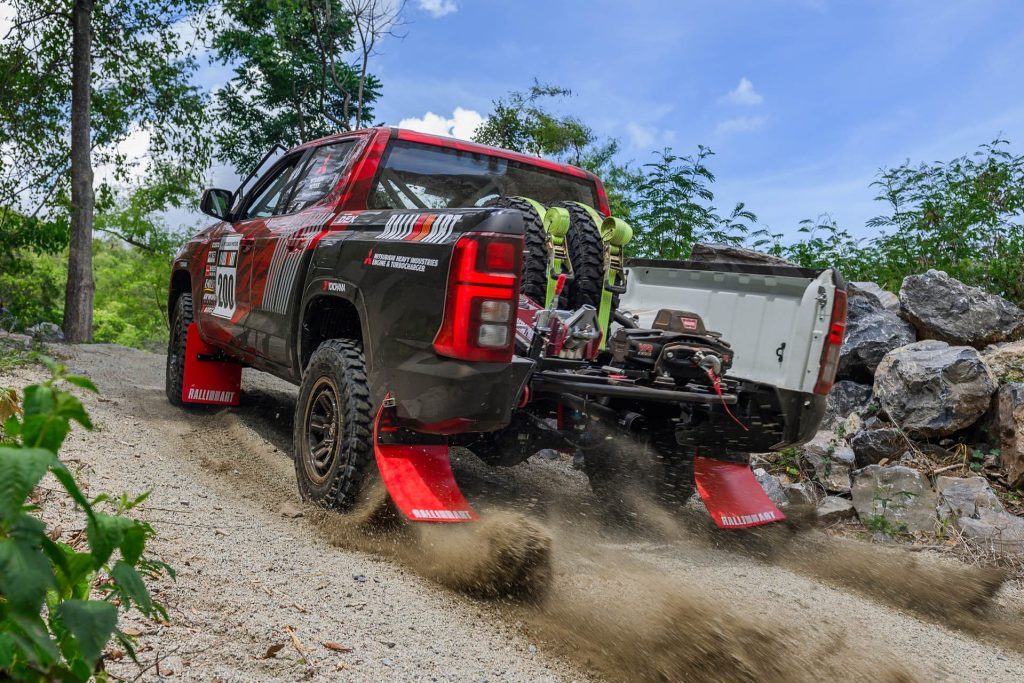 Most of its body panels are made from carbon fibre in order to reduce weight, including the bonnet, front and rear doors, and the bed. The interior has also gone on a diet, bringing the rally Triton's weight in line with its predecessor.
Rally-specific twin-damper suspension has been fitted front and rear, alongside a limited-slip differential that is said to provide improved handling and performance. A new set of lightweight aluminum wheels wrapped in narrow off-road tyres can be found on all four corners, while two spares sit in the tray.
To keep the newly-developed 2.4-litre turbo diesel engine safe during deep water crossings, a snorkel has been fitted to feed clean air into the intake. Nothing else has been changed as far as performance goes, with the engine making still making the same 150kW and 470Nm of torque figures it left the factory with.
Topping it all off is an eye-catching red and black livery that will be worn by each AXCR-competing Triton when they take part in the rally this August.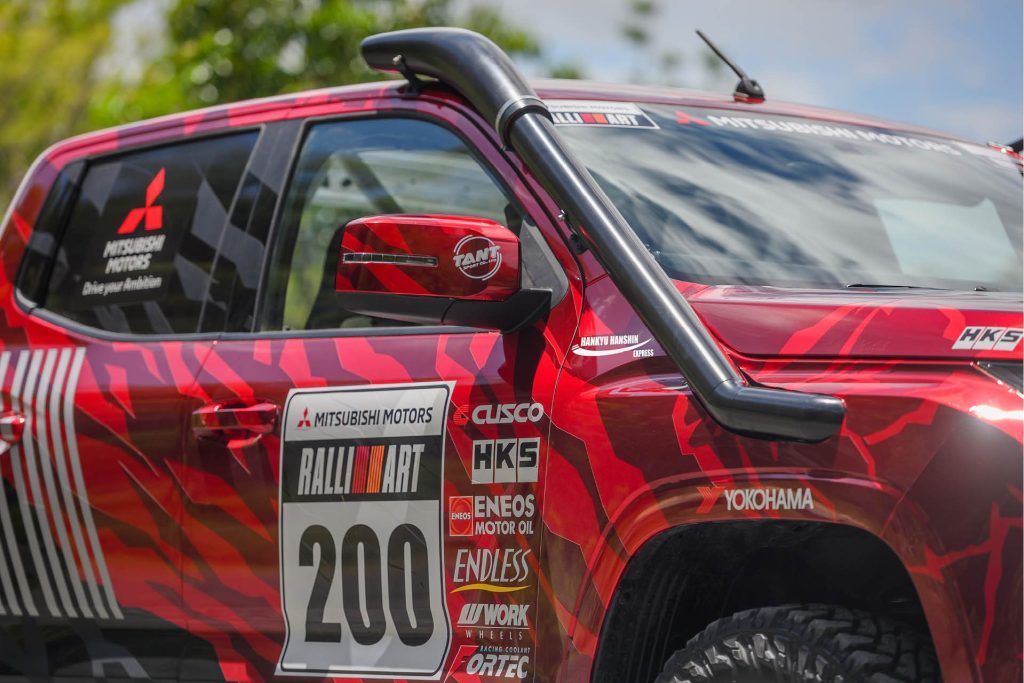 "We are very excited to be able to take on the competition with the all-new Triton, which has been fully redesigned and evolved significantly in all aspects," says Team Mitsubishi Ralliart team director Hiroshi Masuoka.
"Triton rally cars have undergone over 2000 km of endurance testing in Japan and Thailand with no major problems, and we have confirmed that they provide even better performance than last year's model in every stage, from flat dirt high-speed stages to muddy low-speed stages."
Mitsubishi has also prepared an equally as cool Delica D:5 support car that will be used by the Ralliart team to ferry Masuoka between each stage so he can keep an eye on the utes as they race.