Mini's only high rider, the Countryman, gets a complete upgrade for the second generation. It's bigger and yet more efficient. We check it out at the UK global launch.
Think Bigger. That's certainly the first impression of the new second-generation Countryman. Given the original 2010 Countryman was far and away the biggest vehicle the once maker of diminutive cars had ever created, and the first to exceed 4m, the new one shows Mini has moved on; it is no longer a maker of just mini-sized vehicles.
At the stately Hedsor House in Oxfordshire, renowned as much for its film shoots as its grandeur, the original and the new examples were lined up alongside each other for comparison purposes. It's instantly evident that this is far and away the biggest Mini yet. It has grown in all dimensions but height, up by more than 200mm in length, 75mm in wheelbase and 30mm in width. Take a ride in the back seat, which slides by up to 130mm fore and aft in the Cooper S we drove, and even without asking the front seat occupant for extra room, there's ample knee and head room for a pair of six-footers.
It is much bigger back there then, and luggage space also increases; the hold now accepts 450L of gear with all five seats in use, up a useful 100L, while it is 220L bigger with rear seats folded flat, at 1390L. And yet despite the obvious growth longitudinally and the vastly increased interior space, the new Countryman is still only 4.3m in length. So a maxi-Mini then but still town friendly enough with a turning circle of 11.4m
The styling has changed too, but not so very much; this is an evolution of what was already a vehicle with modern retro elements, the distinctive floating roof profile retained and the height emphasised by prominent roof rails and vertical taillights. The main design element changes are up front, with new oblong-shaped headlamps, LEDs in the Cooper S model, surrounded by a strip of daytime running lights, and a new rendering for the hexagonal radiator grille. There's also a more prominent front bumper and bonnet bulge, both for improved pedestrian protection. Side turn indicators are now arrow-shaped.
Overall, the new Countryman has added presence and imparts a sportier demeanour. That's rather appropriate too for it has made significant gains on the propulsion front, the previous 1.6 turbo mill making way for a more efficient and punchier 2.0-litre offering. Moreover, for New Zealand it will be mated exclusively to an eight-speed automatic transmission. No more manual gearboxes for Countryman then, though if you ask nicely Mini will likely be able to order you a six-speed manual; few bother nowadays. The base 100kW/220Nm 1.5 turbo model continues to use a six-speed auto.
There are other new variants too, and for the first time in Mini history there's a hybrid version on the way, dubbed Countryman S E All4. That mates the 1.5-litre triple engine with a 65kW electric motor, for an overall system output of 165kW and 385Nm. The electric motor powers the rear wheels, the turbopetrol the fronts, with a claimed EU test cycle rating of 2.1L/100km. It's said to be quicker than the Cooper S variant, scampering to 100km/h from zip in just 6.8sec to the former's 7.5sec. The S E hybrid also offers a claimed pure electric range of 40km and a top EV speed of 125km/h. Figure on around three hours to charge the 7.5kWh lithium-ion battery, and touring range is quoted at 1715km. It's due to arrive mid-year, about the same time as the performance leader, the JCW Countryman. It's meant to hit 100 in 6.5sec, thanks to its 170kW/350Nm engine, roughly the same as a Golf GTI.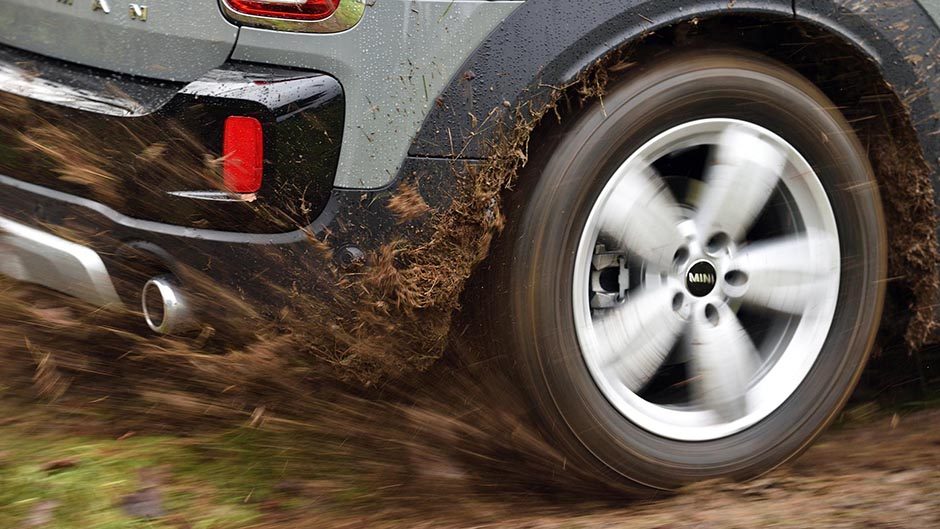 There's still a mix of all-wheel and front-drive models, though the former will be to order. It is unclear at this point whether diesel will be added to the mix in New Zealand and will depend somewhat on customer demand. We'd say don't bother.
For the launch evaluation Mini brought the stroppiest model, the Cooper S Countryman All4. With its 141kW engine, we thought that went rather well; it feels about a second quicker to 100km/h than its predecessor. For there's 280Nm at your disposal, and all from just 1350rpm. The torque maximum hangs on until 4600rpm too, while peak power is available from 5000 to 6000rpm. Furthermore, there's a Sport transmission setting for extra responsiveness should the mood take you, which it will. Yet for everyday driving the Countryman offers overall fuel efficiency of just over 6.0L/100km according to offical figures. The former used 7.3L/100km and needed 8.6sec to complete a 0-100 run.
We drove the car in what you'd conventionally think of as Mini country, in Oxfordshire UK. Not that we knew it at the time but we were just around the corner from the factory where the hatch is made. However, the new Countryman is actually built in the Netherlands. It still feels every bit a Mini to drive, though with not quite the go-kart genes of the three-door hatch. I recall my first taste of a 1275 Mini as a kid, being a passenger with a quick driver. It felt rather like racing along in a low flying bathtub. Back then wheel sizes were closer to 10 inches whereas nowadays they're nearer to 20.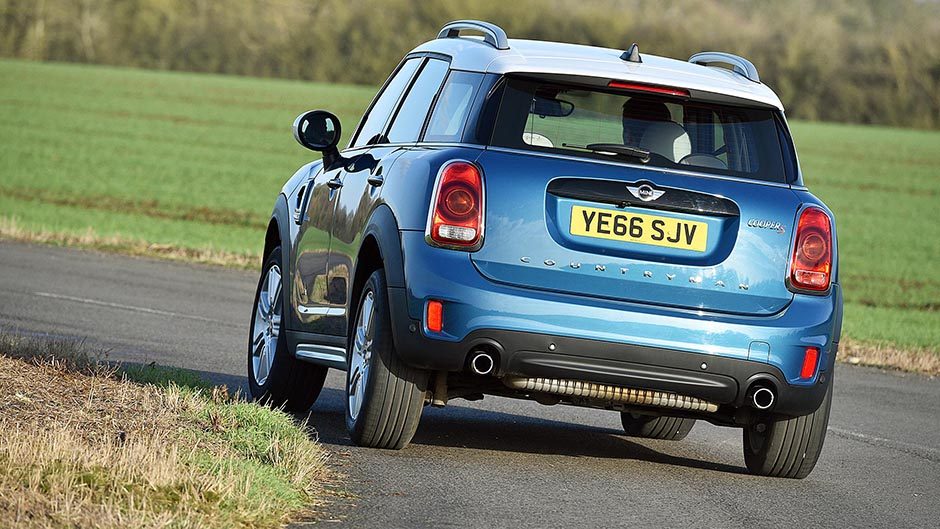 And speaking of memorable rides in the original, upon arrival in the UK we were taken on a sightseeing tour of inner London in original Mini Cooper 1275s. They're seemingly more like a dinky toy than the new Countryman which dwarfs them but that feeling of a connected drive remains, only the ride comfort and interior space are rather better in the new car. It's still hard to beat a nippy Mini in heavy traffic.
We drove the Countryman S mainly on the open road, after a brief flat but muddy off-road sortie which it chomped through without incident. The All4 on-demand AWD system can divert up to 100 per cent of torque to the front or rear wheels, depending on the driving circumstances. Being the sportier version, the slow-speed ride in the Cooper S can be a bit firm over roughed up surfaces but at open road speeds there's a handy mix of absorbency and controlled body movements. Seats are very supportive, and the instruments still move with the four-way steering column adjustment, a Mini quirk. Adaptive damping is an option you might want to consider. The steering remains quick and connected, as is the Mini way, with a decent degree of heft too.
As with the latest three-door hatch the performance has taken a jump but it's not so much the new engine per se as output figures aren't that different. No, it's the move to an eight-speed automatic that makes the most of the extra urge, and overtaking in particular feels effortless. Some of the extra grunt is negated by an overall weight gain of around 50kg but even in the Normal transmission setting the engine is responsive and crisp, from engine speeds below 2000rpm, which is where most day-to-day running takes place. Up the pace a bit and the engine delivers generously from 2000-3000rpm, the urgency and exhaust note growing from 3000rpm onwards, while best performance is reserved for revs above 4000rpm. We started out messing with the paddle shifters but in Sport transmission mode that's quite unnecessary.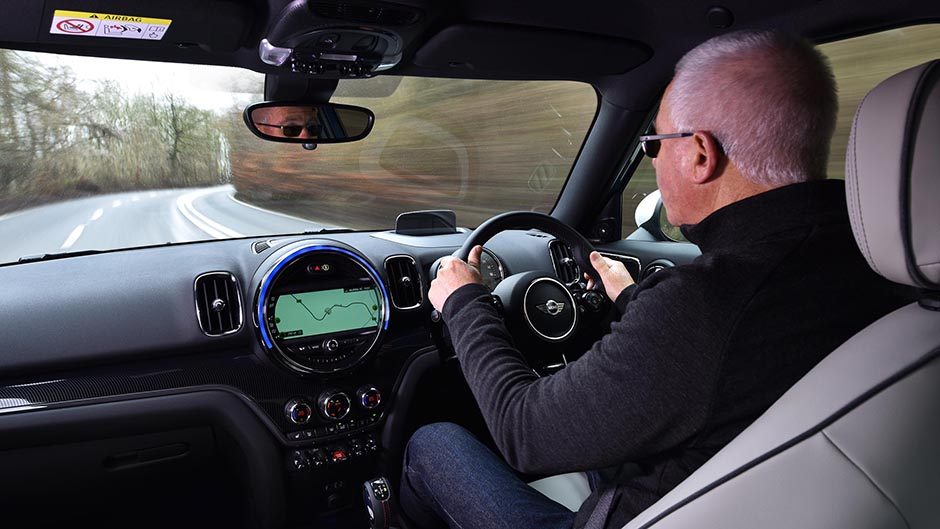 Those not really needing all this performance might well find the 100kW/220Nm 1.5 turbo engine sufficient which is likely to end up costing in the low to mid-$40k area, as before. Fuel use is 0.5L/100km better, at around 5.5L/100km claimed for the front driver and circa the 6.0L/100km area for the All4 version.
The Countryman is Mini's family-sized and -oriented premium compact SUV, and in the second generation the interior receives a clear lift in ambience, with better quality components. It retains some of the retro flair of the original early 2000s Mini with its rows of toggle switches. The large circular dial in the centre console harks back to the original Mini and serves as the main instrument relaying sat nav and other information as dictated by the circular controller near the gear lever.
All Countryman variants come with dual zone air, a reversing camera, driver assistance features such as autonomous braking, rear seats that slide fore and aft and a powered tailgate. This opens automatically to a foot gesture on the Cooper S variant.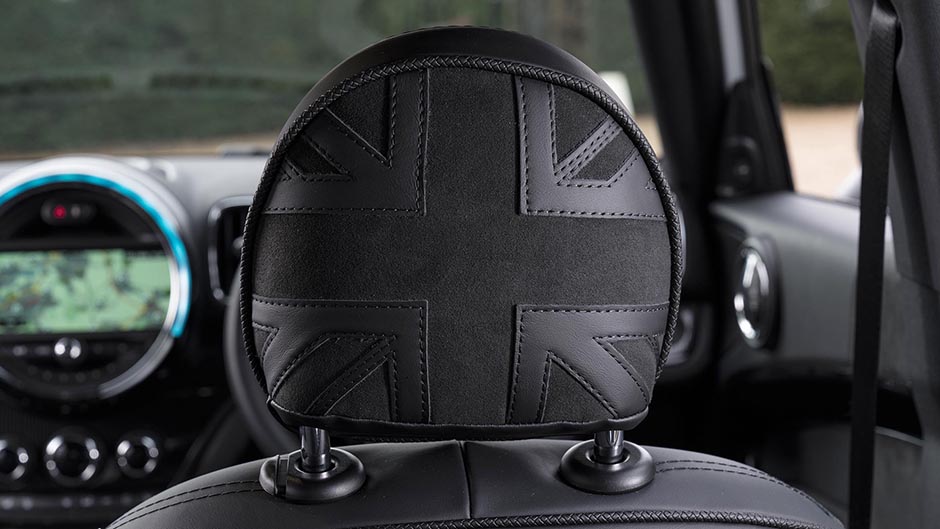 Being the top model it is better specified with an upgrade from fabric to leather-clad seats that are powered (including lumbar support) and heated, sat nav, LED headlights, front and rear parking sensors, and optional head-up display and eight-inch touchscreen that responds to pinch-type finger movements. A new feature for Countryman owners into their sports and outdoor recreation is the optional Picnic Bench which is housed beneath the load floor and folds out, providing comfy leather seating for two while you're protected from the elements with the fifth door raised.
All4 is available to order on both models. The new Countryman goes on sale this month, at roughly similar prices to the original, in the early $40k region for the Cooper model, and another $10k for the Cooper S. Add around $3000 for the All4 variants. Given the extra size and versatility this seems like enhanced value, especially when compared with the more expensive X1 range which uses similar underpinnings.
| | | | |
| --- | --- | --- | --- |
| Model | Mini Countryman Cooper S | Price | n/a |
| Engine | 1998cc, IL4, T/DI, 141kW/280Nm | Drivetrain | 8-speed auto, front-wheel drive |
| Fuel Use | 6.0L/100km | C02 Output | 137g/km |
| 0-100km/h | 7.40sec | Weight | 1460kg |