We finally get to sample the first high riding Maserati, over a decade in the making. Is this the premium SUV you've been waiting for?
Good things may take time with cheese but in the auto world they can spell the difference between survival and disaster. Some of the traditional European car makers have arrived late to the SUV scene, Jaguar only recently launching F-Pace, and Maserati is another, taking 13 years between first showing off its Kubang concept and finally wheeling out its high-riding Levante. In both instances it's a case of better late than never. For both have been surprised and delighted at the initial take-up and interest in their premium versatile offerings.
Levante is bigger in size than F-Pace, and indeed claims the high ground for both length and wheelbase in class, at just over 5m and 3m, respectively. Aiming to compete with the likes of Cayenne, and X5 M50d, SQ7 and RR Sport, Levante also brings with it core aspects or the so-called 'pillars' of the brand, such as exclusivity, performance and dynamics, sound, personalisation and so on. The upshot is that Maserati aims to be the best on road, as well as off road amongst its peers.
During its protracted development which took place when parent FCA was in the midst of massive restructuring, there was talk of the Levante using Jeep Grand Cherokee underpinnings but that never came to pass (phew, thank God), and instead it utilises a modified version of the Ghibli and Quattroporte platform. It is said to be stiffer by 20 per cent to make it more capable off-road (and tow-worthy, 2700kg braked), and to that end it features height adjustable air suspension.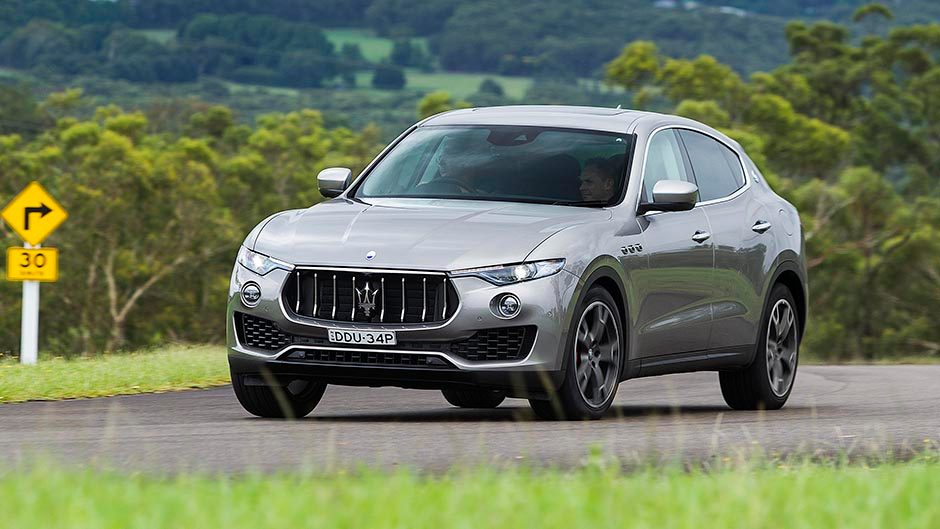 Aiming high
The thinking behind this was obviously for optimum ground clearance, and at its highest it sports 247mm of clear air, but on the other hand at its lowest setting, at speeds where the local constabulary might opt to impound your Levante, it aids slip through the air. Maserati claims a class low Cd of 0.31, thanks also to the use of a standard active grille shutter. This contributes to a low overall fuel use figure of 7.2L/100km, not that we ever quite saw that but our highway figure of mid9s was easily achieved, which isn't too bad for a large vehicle propelled by a big diesel engine. Also helping is liberal use of aluminium in the chassis (suspension and subframes) and body, including the doors, bonnet and luggage compartment. Total weight is a claimed 2205kg. Mixing metals also helps with the goal of a 50:50 weight split which was supposedly achieved.
Aiming for best in class handling, the engineers also opted for continuously adjustable damping, and torque vectoring on the rear axle. Moreover, all versions come with Maserati's Q4 AWD system as standard. This shunts 100 per cent of drive to the rear wheels in normal circumstances but can rapidly shift to a 50:50 torque split should traction at the rear become marginal.
During a recent launch drive in New South Wales we checked out off-road performance on a damp but well drained circuit, first putting the hill descent function to good use, and then turning the vehicle around and trying an ascent back up the same slope. Not only did it ace this, but we felt not a hint of wheel slip. Perhaps the most surprising aspect? It was all done on standard rubber, Pirelli PZeros, which suggests that best in class on-road performance was also the primary intention.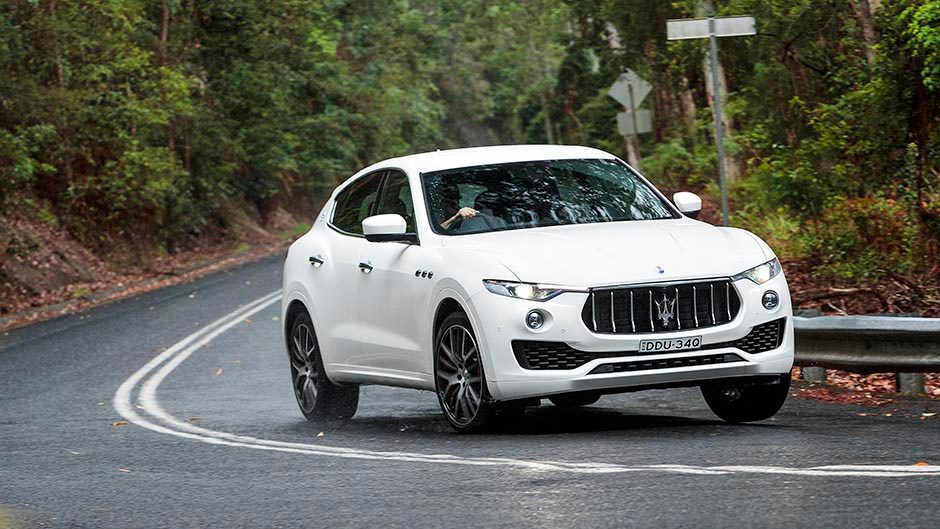 How did it fare in that regard then? Predictably well, but then it's a Maserati and is designed to be a dynamic class leader. Is it as handy as the saloons upon which it's based? Being taller and carrying weight higher, not quite, but up against its most obvious rivals, such as Cayenne Diesel it is definitely in the hunt.
We had the opportunity to drive Maserati's first attempt at a dual purpose vehicle both on regular highways and secondary roads outside of Sydney, and also on Maserati's dedicated test track in NSW. Sydney weather is not quite what it used to be in summer; the day before we arrived it was over 40 degrees and nearly 60 on track, and the day after, mid20s and raining. So the road trip was mainly wet, but the track and off-road sessions largely dry. So a bit of a mixed bag then, which is ideal for testing Maserati's most versatile vehicle in its 103-year history.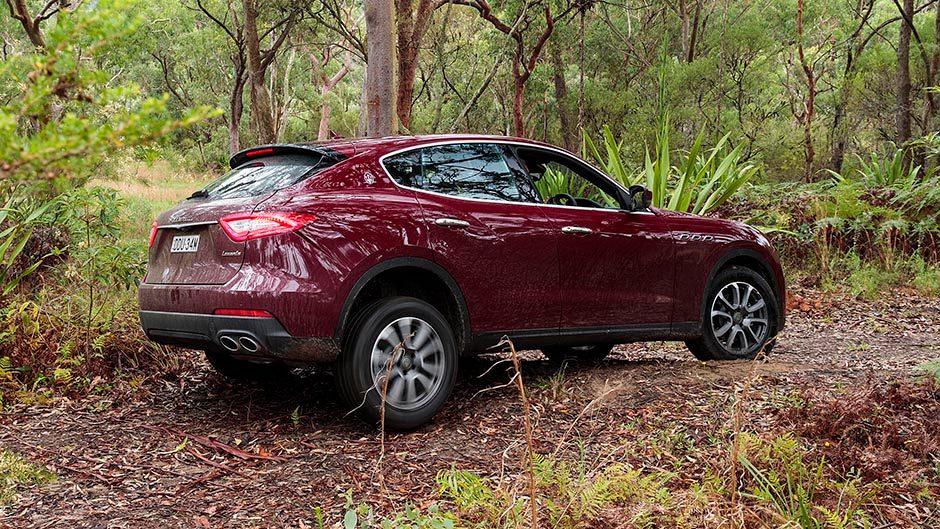 Firm but fair
After the protracted drive out of Sydney on the northern side – you seem to travel endlessly at 40km/h past school after school – we eventually hit the open road towards Wisemans Ferry and, like so many of our country roads, theirs seem chopped to bits by the passage of heavy vehicles. The particular Levante we drove, the Sport version with carbon interior trim and heavily bolstered seats, rode on 21-inch wheels. On the firmest Sport damper setting, the ride is firm over uneven surfaces but on Normal it's better, more pliant, without undue body roll. Having air suspension and continuously adaptive damping as standard across the range means all variants handle much the same.
Aiding in threading its way through the hill sections is hydraulic steering, presumably retained because of the feel provided at the wheel. Almost all vehicles have electric steering nowadays. We should thank the Levante engineers for taking a stand on this one; it makes driving the Levante a more interactive experience. Also impressive is the simple centrally located Sport button; press once to hype up the engine and transmission, and twice to also set the dampers to sport. So pressed once, you have better access to the engine's peak performance, while there's a welcome mix of sharp handling and a pliant ride. We thought after driving other variants that the 20-inch wheels offer the best compromise between stance, ride and handling.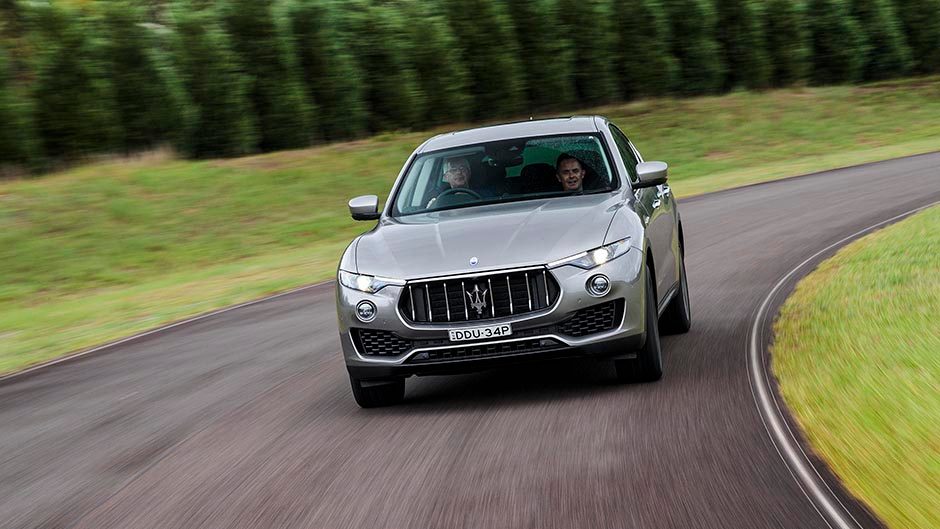 Three models use the turboD
As to performance, all three of the Levante models coming to New Zealand – comprising a base model and two others dubbed Luxury and Sport – run the same 3.0L V6 turbodiesel engine that pumps out 202kW and a healthy 600Nm from 2000rpm. Evidently 90 per cent of torque is available below this point, and certainly the turbo action is well evident by about 1700rpm. Ably backed by an eight-speed ZF automatic, there's little need to resort to the standard fit paddle shifters found on the Sport model, though all versions have a manual mode should the urge take you. With the engine and transmission in Sport mode, the performance is more forthcoming, best urge seemingly from around 3000rpm for prompt overtaking while in town running the normal setting is fine. A best sprint time to 100 of just under seven seconds seem about right.
The interior is suitably sumptuous, even on the base model, with generous amounts of leather and wood trim, and the few hard plastics used are well hidden. Leather can be optioned for the upper instrument panel too and it adds to interior ambience. We found the rear wiper control a bit tricky to access in the Sport variant because of the huge fixed paddles, and the indicator wand action not quite up to snuff but otherwise the interior fitout is exemplary, as you'd expect of a Maserati.
Particularly in the Luxury and Sport models, the leather work is top notch, seats both comfortable and supportive, with 12-way power operation. A little extra lumbar pump activity wouldn't go awry. A large central touchscreen is used for control of myriad functions, although there's also a central controller on hand, the first Maserati to feature this. We managed fine without.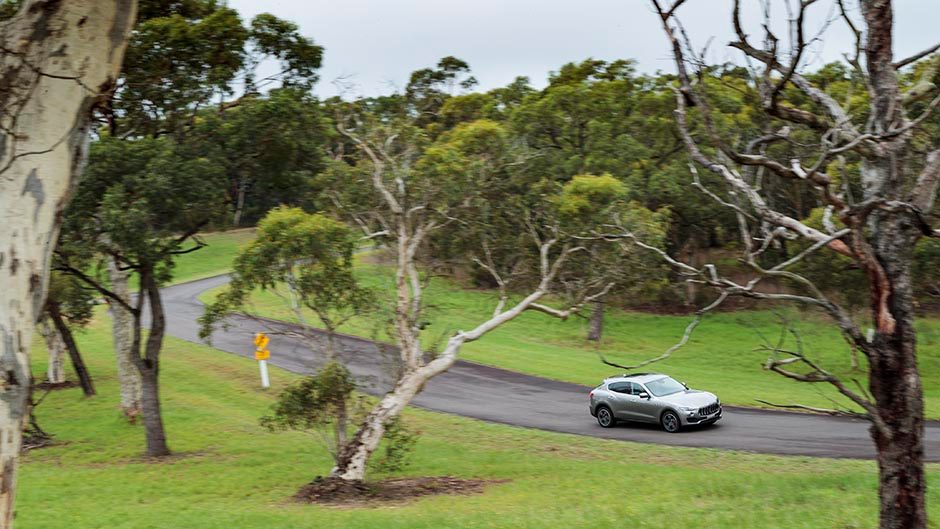 Track Tackled
It's might be considered unusual to run a big SUV on a test track, especially one studded with a mix of tight and hairpin bends but clearly Maserati wanted to make a point, and it wasn't lost on us. With dampers and drivetrain set to Sport, and the inundation limited in the afternoon to Sydney alone, we got a decent number of dry laps both in the Sport and Luxury variants. As is clear from the images, the air suspension and adaptive damping keep body movements of the big rig to a minimum, and that helps keep more of the generous rubber complement glued to the ground. Being careful to get corner entry speed just right is critical in this type of vehicle, and from there the Levante takes charge, the heavily rear biased driveline set-up and torque vectoring on the rear axle ensuring a tight line, and the AWD permitting early power-on corner exits without tail wagging. Despite several long downhill segments ending in hairpin bends, the brakes exhibited no fade, and Maserati claims best in class performance with panic stops from 100 taking a claimed 36m. On road, they're equally convincing.
At its $136,990 price points the Levante entry model is the least expensive Maserati yet, and standard items include adaptive air suspension, Q4 AWD, and 19-inch wheels. Also gratis are heated leather-clad power-operated seats, parking sensors and cameras at each end, a powered tailgate, bixenon headlamps and blind spot alert. There's also hill descent control and a hill holder function, an electronic parking brake, dual zone air conditioning and tyre pressure monitoring. The Sport and Luxury versions add sporty and luxurious items and finishings, along with premium sound. Both cost $155,990.
Cost options include adaptive cruise control, forward collision and lane departure warning, along with four-zone air, a comfort entry system, Panoramic sunroof, skid plates and roof rails, plus myriad different trim finishes, caliper colours, bigger alloys and the like.
It has been some time coming and perhaps that's why some of the expected safety items remain as cost options but despite that Maserati has developed a credible competitor to popular big rigs like Cayenne. No there aren't the engine choices yet, at least not in right hand drive, but diesel dominates in this sector, although petrols and hybrids are slowly making inroads. Maserati is said to be working on a hybrid currently.
Meantime, Levante, which means rising in Italian, is sure to give the brand a welcome lift in overall Maserati sales numbers and, for the first time, these are likely to reach four figures in Australasia for 2017. Expect Levante to be the hot ticket item from the company for some time to come.
| | | | |
| --- | --- | --- | --- |
| Model | Maserati Levante | Price | $136,990 |
| Engine | 2987cc, V6, TDI, 202kW/600Nm | Drivetrain | 8-speed auto, on-demand AWD |
| Fuel Use | 7.2L/100km | C02 Output | 189g/km |
| 0-100km/h | 6.90sec | Weight | 2205kg |