Mercedes has added a new entry-level trim to its SL-Class, which encompasses both a bit of the new and a bit of the old.
'Entry level' is important here because that is essentially what it is. The SL43 is half of what you would get from a top-of-the-line SL model.
Instead of a bi-turbo 4.0-litre V8, you get a turbocharged 2.0-litre four-cylinder motor. The turbo itself is rather intriguing and is an electric exhaust gas turbo, the first of its kind in a Mercedes.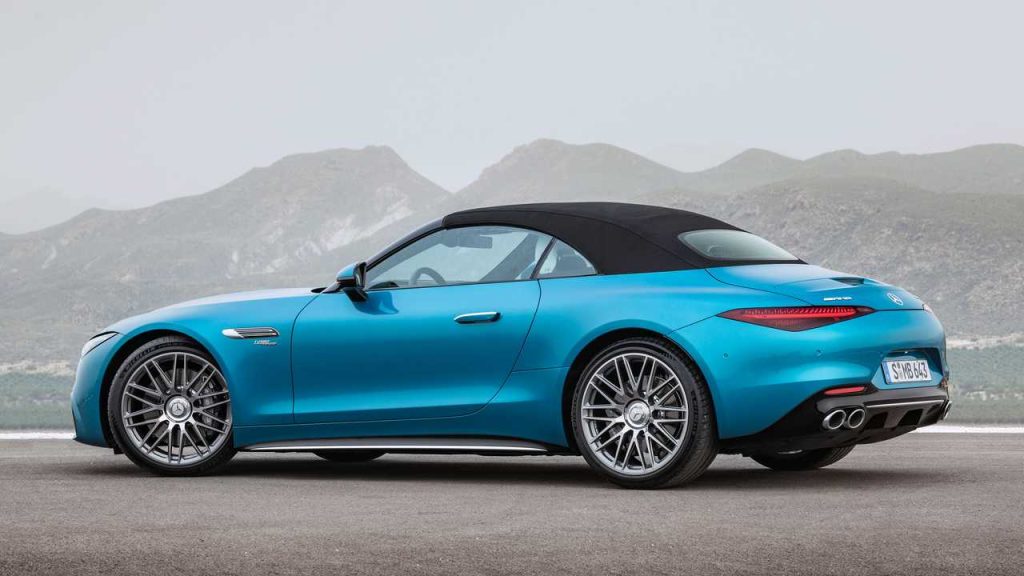 The technology comes straight from the high-speed world of Formula 1, albeit much tamer. In a nutshell, a small electric motor gets the turbo spinning before exhaust gas takes over.
Mercedes says this technology is more efficient and offers a more rewarding drive. Plus, you get to brag about how your car is boosted by F1 tech.
Total power output is 280kW. Maximum torque is 480Nm.
If you compare that to the 468kW found in the SL55, or the 576kW found in the racy SL63, then the numbers don't look great. However, Mercedes has given us an SL Roadster that still embraces much of what the SL range is about, but is more affordable and easier to drive.
Despite being the less athletic of all its brothers, the SL43 is still fast. Zero to 100 km/h takes 4.9 seconds, and you can max the speedo out at a tick over 275.
Rear-wheel-drive is standard, and shifting gears is done by a nine-speed multi-clutch transmission.
All suspension links, steering knuckles and wheel carriers on the front and rear axles are forged aluminium to keep the weight low. Its kerb weight comes out to 1810 kg.
Exterior changes are minimal at best between the SL43 and all the other SL models, and you'll struggle to identify them at first glance.
Mercedes drivers can be a bit extra, though, and they might notice subtle differences like the SL43 has a more refined and smoother rear than the rest. The exhaust tips are also round and not square.
The interior is also essentially identical to the rest of the SL range. A cool nifty feature is that the touchscreen can be tilted by up to 32 degrees to still see it clearly with the top down on a sunny day.
And when we mentioned earlier that this is the "more affordable" SL version, we are only guessing. Mercedes hasn't revealed pricing, but you would expect something with less power and a smaller motor will cost less than its V8 siblings.
Then again, this is Mercedes we are talking about.