One of 2018's most significant newcomers, the Mercedes-Benz X-Class, has just landed. Does the X rate? We take the plunge, literally, in the top X 250 D Power model
Plenty have been pondering an entry, but many carmakers sidestep the ute area as being too hard; it's expensive to develop a platform, markets are limited, and there are already many players. Hyundai has been circling the area for ages. Meantime, another player has launched a ute range here and that's Mercedes-Benz with its X-Class. The German has done it the sensible way too, borrowing heavily from the Renault-Nissan Alliance, a joint venture business partner.
Essentially, underneath all the glitz of the X-Class are Navara underpinnings, sporting the new progressive rate rear suspension set-up, and the platform gaining wider tracks. Later in the year, Mercedes will be debuting a further variant, X 350 d, with its own powertrain, a 190kW/550Nm V6 turbodiesel hooked up to a seven-speed auto, and likely to be priced to compete with the top Amarok.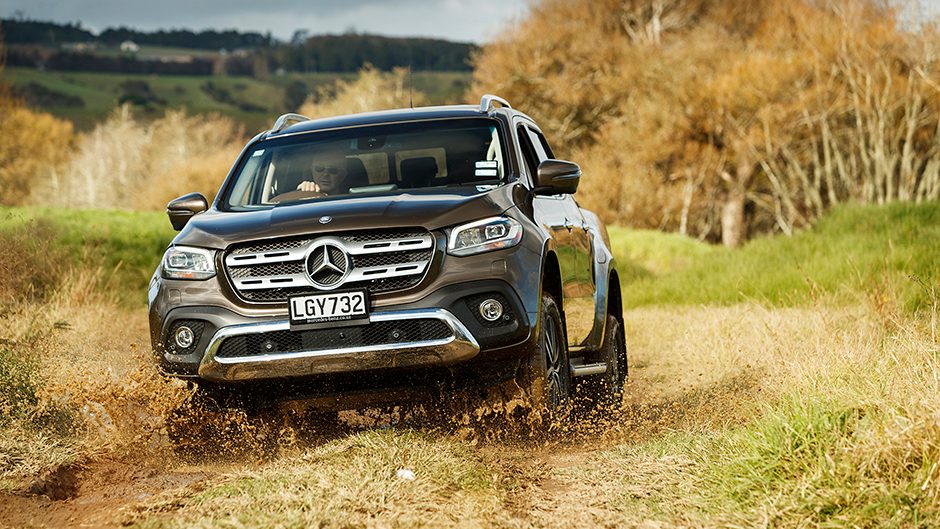 Mention of which, VW had a spoiler for the X-Class debut by announcing a power boost to its V6 range topper, matching the X 350's 190kW (200 on overboost) and taking torque out to 580Nm. The pair will both arrive at year's end. Two versions of X 350 d are promised, and given most double-cab utes hit the road with a minimum of $5k of accessories, it's quite possible some X-Class buyers will be shelling out six figures for their new hauler.
Seven years in the making
The development of the X-Class dates back to 2011. As double-cab utes became better equipped and more refined, Mercedes decided to move on the programme. Only which way to pounce? The class is divided into large, medium and small offerings, rather like bears, beds and bowls of porridge.
The large utes are mainly a US-centric phenomenon, and the American players account for roughly 90 per cent of sales so not much show there. The smaller utes are typically found in Asia and South America, so insufficient volume and profit potential, which leaves the mediums that sell in South Africa, parts of South America, Russia, the Middle East, Australasia and South-East Asia.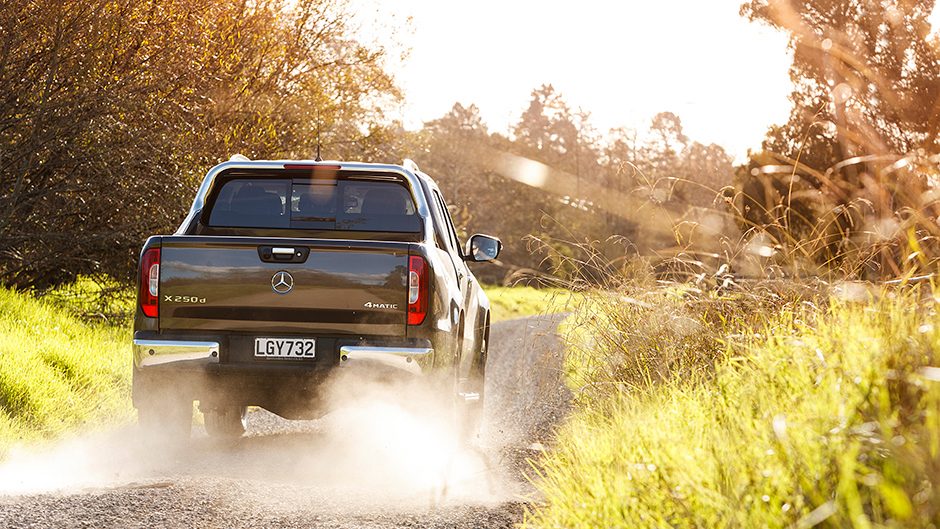 They're also finding favour in North America. At present, there are 2.5 million global sales of medium-sized pick-ups per annum but within 10 years that's expected to rise by 40 per cent to 3.5 million. Where there's stuff to be lugged, and lifestyles to be lived, utes sell. Wider and quieter For years, our ute market has been dominated by Japanese offerings, most made in Thailand. Utes are not only versatile but also desirable in a design sense, such that double-cab examples now dominate passenger car sales. Mercedes is the first of the German luxury car makers to take on Volkswagen in the ute sector.
X-Class is built in the same factory outside of Barcelona that makes Navara. Most of the bodywork is new, including the tray, one of the biggest in the sector. In profile X-Class origins are plain to see in the familiar Navara glasshouse and door shapes but you'd never recognise its origins from the front. The adjustable load securing system in the tray and door handles are the only real Navara giveaways, though some reckon the rear is similar too.
The X-Class is alike in size to the donor ute at 5340mm in length but tracks are wider by 50mm and overall width is up 70mm at 1920mm, for a more planted look. Between the wheel arches there's evidently room for a Kiwi pallet longways, and the X-Class boasts the longest tray of utes available locally. Only the Amarok has a greater tray volume. We did a couple of runs to a recycling centre with old tree rounds, one load tallying 550kg and the ride height at the rear seemed unchanged. The X-Class promises sector challenging ride comfort thanks to the use of coil springs at all four corners.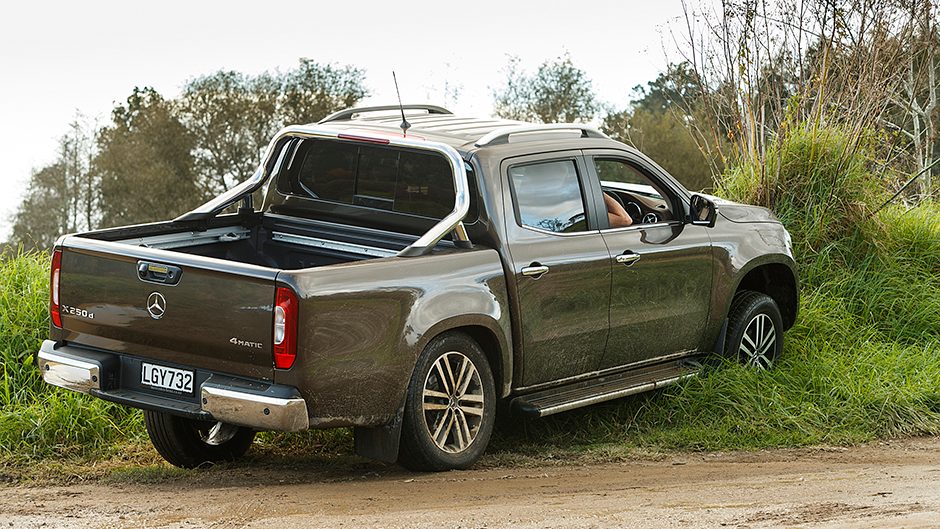 There's a solid rear axle, a maximum braked towing capacity of 3.5 tonnes and a payload capability of up to 1.1 tonnes. The X-Class is heavier than the equivalent Navara by quite a bit, 270kg according to our scales, much of it purportedly in added sound deadening. There's lot in the engine bay (hood lining, engine cover) and on road the engine is well muted, while tyre noise is conspicuous by its near absence.
Performance up to par
The extra weight, surprisingly, is not that telling. Rolling performance is roughly similar to that of the Navara ST-X, both taking around 7.5sec for an 80-120 overtake. However, the X 250 d is slower off the mark, taking half a second longer to reach open road speed. But it's roughly as quick as the other big guns on offer locally, and never feels wanting on the go. For overtaking simply flick the lever across to the MS gate, the transmission selects fifth and you're in the meat of the torque for best acceleration. Need even more speed? The X 350 d evidently has a sprint time of 7.9sec, on par with the Amarok V6.
What really impresses is refinement, particularly its unladen ride, up with the best in class at present, though we'd imagine the new Navara with its rear end upgrade is roughly as compliant. The handing is decent too, composed, rounding up the bends as well as any of the rear driver rivals. It's not quite to car/wagon levels being taller and weightier, with Dueler rubber, eventually pushing into understeer as grip limits near.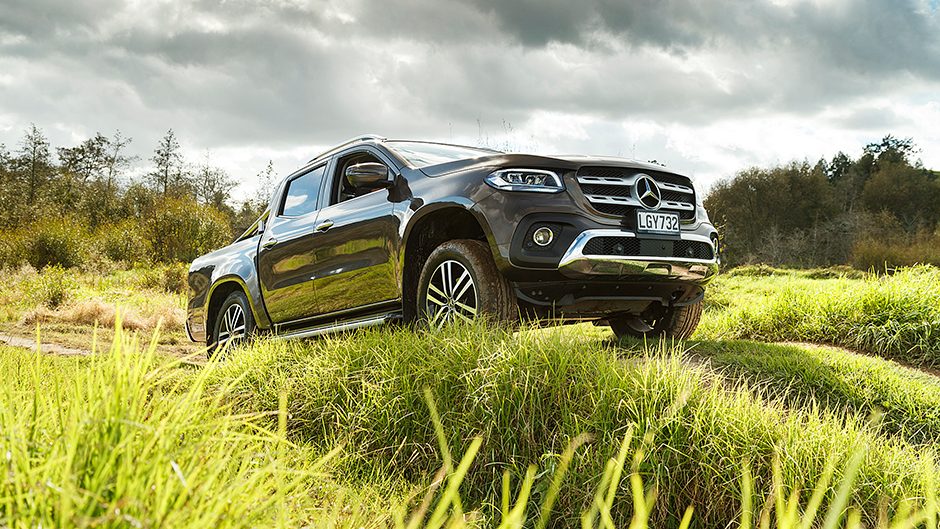 But in general it rounds up the bends well, if not quite so adroitly as the Amarok with its permanent 4WD. For off-road work there's selectable 4×4 with low range gearing and rear diff lock, along with ground clearance of 222mm. During an off-road exercise the X 250 d quite easily negotiated a 30-degree side incline. Its Downhill Speed Regulator (on all models with 4WD) works well, quietly and is set at 8km/h. Over rough ground it's pretty comfortable compared with some of the others in the class.
Lots of models initially
Thirteen different variants of X-Class have gone on sale in New Zealand, powered by the familiar four-cylinder powertrains used in Navara, both displacing 2.3-litres. The single blower unit generates 120kW/405Nm, and powers the rear-drive or selectable 4×4 X 220 d models while the biturbo is the power source for the X 250 d variants, available as a selectable 4×4 only. A six-speed manual is available on all variants but only the X 250 d gets the option of a seven-speed automatic transmission.
Atop all that, there are three specification grades, the three Ps comprising Pure, Progressive and Power. It was the latter, the one aimed at lifestylers, we got to drive after the launch. Being the most expensive it's also the best equipped. X-Class has earned a five-star safety rating from ANCAP. Contributing are seven airbags, AEB (said to be the only ute with this feature available here) and lane keep assist. All variants come with a reversing camera.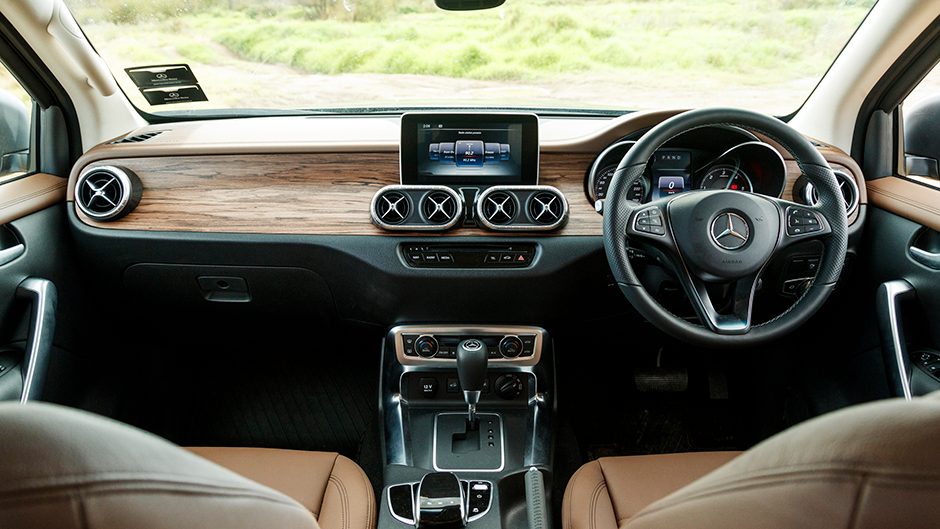 Power sure to be popular
While Pure kicks off from $54,200, it's the Power line that will no doubt prove the drawcard, adding chrome highlights in the bumpers, 18-inch alloys, LED dusk-sensing headlamps, Artico faux leather upholstery, including on the dash and door tops, Comand Online Multimedia system, powered seats, dual zone climate air, comfort entry, and parking sonar. A Style package is a $2650 cost option and includes window tints, running boards, electric rear window, roof rails and 19-inch alloys. Power models cost from $66,200 (vs from $61,990 for the equivalent top Navara).
The seven-speed auto variant costs $69,000. With the Style Package and other options, like heated leather seats, auto trans, woodgrain trim and metallic paint, our evaluation example came in at $75,710. The interior of the Power range is a bit special, resembling a C-Class, with many more soft touch surfaces than is the ute norm. Even the glovebox is flocked inside. The iPad-like centre screen, snazzy round air outlets, and a range of different trim finishes (ours had optional leather with seat heaters $2550), including veneer and aluminium, and a few Artico colours. Remaining Navara parts are there, but disguised with new surrounds to make them seem unfamiliar.
The key fob is recognisable, only it's adorned with the tristar badge. A high-pitched horn is an oversight, and so too a steering column adjustable only for height (as for Navara). But the rest works, the Comand controller useful, as is the well sited rotary volume control for the head unit. Only there's no cubby for a smartphone – it must go in the centre bin or map pocket. There's plenty of accessory items, including running boards, sports bars, canopies, and the like.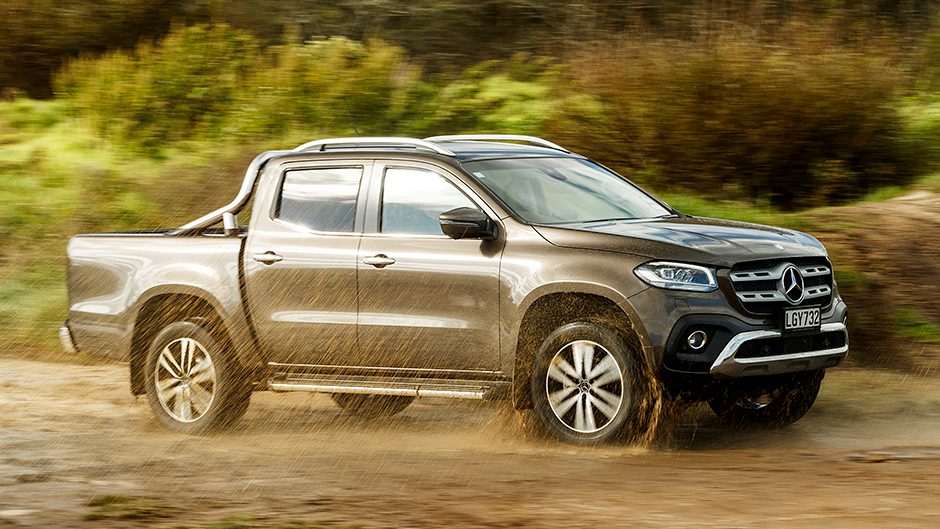 Is this a million miles from Navara?
For interior looks yes, and up front it's completely different. Does it drive any better than the Nissan? Refinement aside, not materially. But X-Class is sure to sell, especially the X 250 d models. There's the allure of that badge for starters. Over 1300 customers had expressed interest in X-Class prior to its launch.
Given its competence we imagine plenty will think the four-cylinder derivative is sufficient. However, VW has shown with Amarok V6 that there are many willing to spend in the mid-$80k price point for the range topper, which is twice as popular as the 2.0 TDI. Likewise the X 350 d will no doubt create a tsunami of sales at year's end.