Yes, it's different from the old one but we reckon the new ZB Commodore range drives well. Here Calais-V takes on Legacy 3.6 RS, both big sixes driving all four wheels. But is this type of car on borrowed time?
So here in the now where large cars are essentially relegated to the luxury area, and Australia no longer produces commodious sedans, or indeed Commodores, the next best thing is the large medium. And that sector is also in jeopardy. That's precisely where Holden now finds itself with its latest ZB Commodore range, based on the Insignia.
So far Australians seem to have voted with their feet, the once great icon falling to tenth in the sales charts recently. Should Holden have retained the Commodore nameplate when the new car bears nothing in common with its forebear? We don't think so. It's not even a sedan, rather a liftback. It's not even a Holden either, but a rebadged Opel. So what possessed Holden to think that the public would embrace a new Commodore that's front drive, transverse engined, with a turbo four (or V6) and no rear drive V8 option? It reminds of the reception the four-cylinder Falcon got.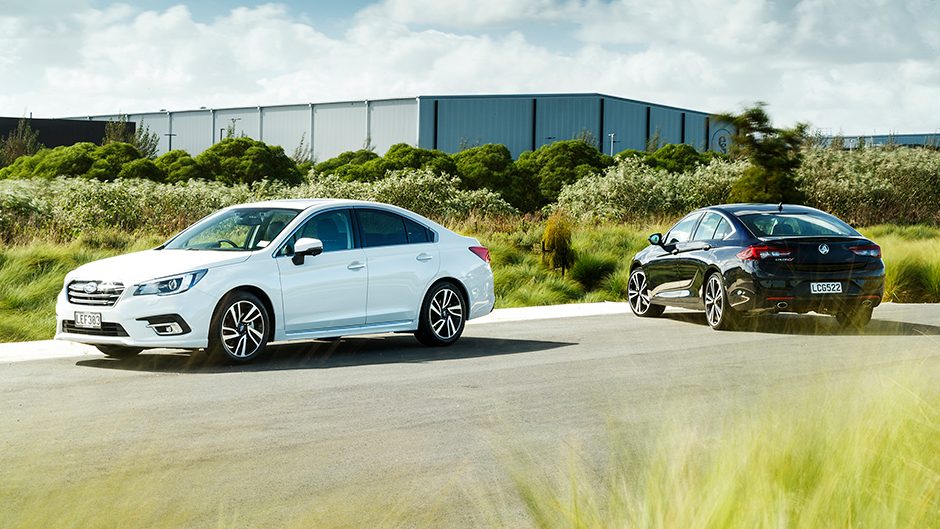 Had they renamed it, would anything have been different? Probably not, but at least they'd have been admitting this was a new proposition, and embracing the fact that the old Holden company was moving on. How this plays out is anyone's guess. If it goes pear-shaped that will be a real shame, for the car itself is a great drive, unlike the previous Insignia. It's a case of getting bums in seats and letting the product do the talking.
Because from the driver's seat the new all-paw V6-powered ZB Commodore Calais-V is really something. It's serious dynamically, almost purpose-built for Kiwi roads. And it goes hard, stops real well. However, it doesn't have the macho look of a rear-drive Commodore and that may be holding people back. For GM Europe has been in trouble for many a year, head office in the US opting to sell it on to PSA a year ago. We reckon the anonymous styling reflects that turmoil. The shape doesn't exactly shout out "I'm a Holden, tame me if you dare". Rather, its aero look suggests going about things quietly.
Not helping is that Commodore is playing in a shrinking class where the likes of Mondeo and Mazda6 were once major players for their respective companies but that's no longer the case. The medium sector is precisely where the large cars were a decade ago, on the brink.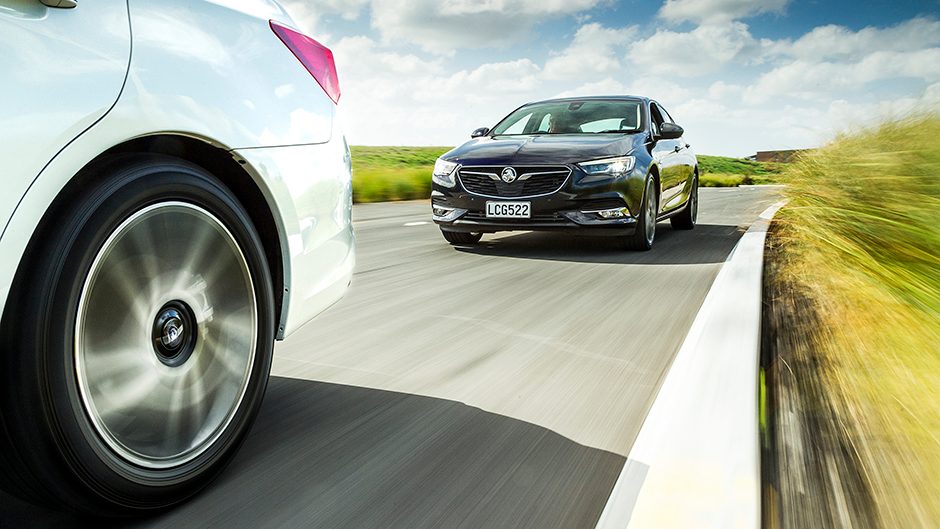 Amongst the survivors is the Legacy and Outback duo, the refuge for those who simply cannot see themselves driving a ute or an SUV. Legacy, now a sedan only, is for those who want something that aspires to be a luxury car in its ride and general decorum but can also embrace the elements. It's in adverse conditions where permanent four-wheel drive vehicles really come into their own, conditions familiar to Kiwis, especially those living south of the great divide that is the Cook Straight. Ironically the Legacy might well become what the name describes, if this sector continues to shrink.
Size and shape
We're not going to regurgitate the details of this pair, as we've been over them before, the Commodore following its launch, while the VXR and Legacy RS also got recent outings. We thought we should run Calais V against the top Subaru sedan because they are similar in so many ways. Both have 3.6-litre six-cylinder engines, both sport permanent four-wheel drive and both cost in that entry-level premium range ($54,990 for the Legacy 3.6 RS, and $61,990 for the Calais-V). There's another Calais at $52,990 but that's a 2.0T driving through the front wheels. By comparison, VF Calais-V went for $66,490.
The main points of difference are number of doors, and transmissions. Legacy is a sedan, a four-door, while Calais-V is a liftback, more a five-door. That will automatically rule out Legacy for some. Both have virtually flat gear spaces when the rear seat is split folded (easier to do with the Holden as it has releases in the hold for spring-loaded seatbacks).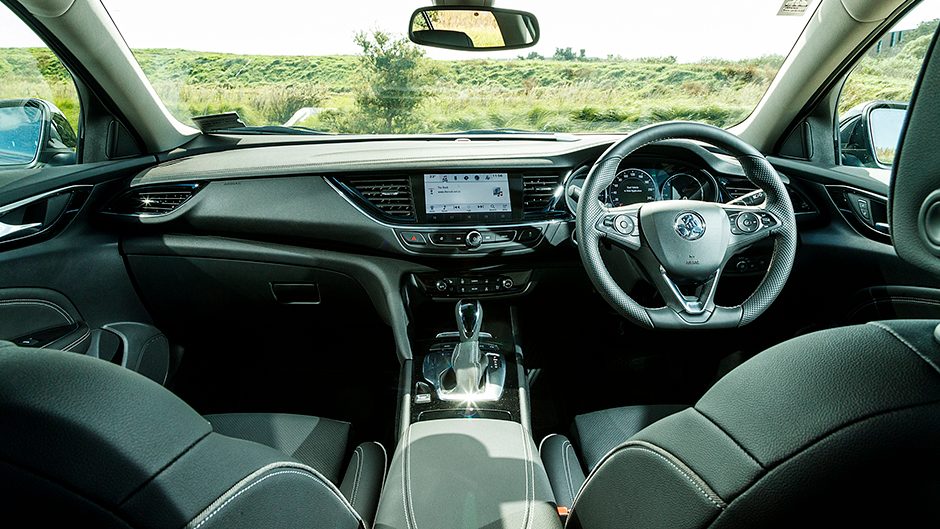 Luggage access is superior in the Calais-V. Merely hit the log in the Holden badge (beneath the paws of the once mighty Lion) and lift the hatch to reveal an ample load space (490-1450L). Pop the lid of the Subaru and access is more restricted. On the upside, the Subaru has a full spare beneath the floor, but space is still Commodore sized at 493L. The ZB has only a tyre pando.
And on limitations, the fastback outline of the Commodore impacts on rear seat headroom. Taller occupants might feel a bit hemmed in by the ZB whereas that's not such an issue in the rear of the Legacy, both with a sunroof. Moreover the middle seat will be no place for an adult in the Calais-V, whereas it's more generous in the Subaru.
Limpets mined
As drives, this pair excels. So neither is going to win an award for parsimonious use of fossil fuels, particularly the Commodore. A decade ago Holden trip computers had instantaneous fuel readouts that peaked at 99.9L/100km but now the top figure is a less gasp-inducing 39.9L/100km. After a trip computer reset we saw no more than 15.5L/100km, and a low of around 6.5L/100km when cruising at 100km/h. An average of circa 12L/100km partly reflects a decent Cd figure of 0.26. The stated combined figure is 9.1L/100km. The Legacy's flat-six sipped slightly less fuel, despite not having an idle stop function. Subaru went to a CVT to temper the thirst of its horizontally opposed engines and that move seems to have worked (average in the high 11s here).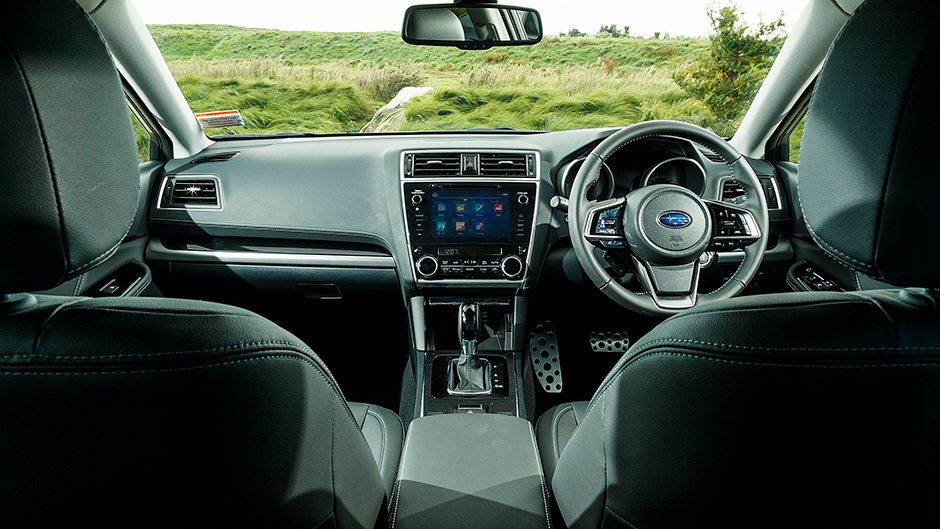 Neither transmission works brilliantly, though Subaru's Lineartronic is as good as a CVT gets, no flare and shifting through mock gears. The six-pot Legacy runs a bit of a power deficit (191kW/350Nm, identical, coincidentally to what the Commodore four-pot 2.0T outputs) compared with the Calais-V (235kW/381Nm), so the Subaru isn't as quick in a straight line (sprint times of 6.5 vs 7.2sec) despite being 65kg lighter.
This is barely apparent, hopping from one to another, because the Subaru has three discrete engine modes. Sport Sharp you might think to activate if a Calais-V fills your rear view mirror. But ultimately it will overhaul you because it's a half second quicker on the overtake and that's just what Commodore drivers do. The Holden has a Sport button only and any real difference it imparts is barely noticeable. Both hike from 3000rpm onwards and have good low rev urge for urban use.
Dynamic Duo
Where these two separate themselves further is on ride and handling. Ride goes the way of the Subaru if you like plush, albeit at the expense of total control. Handling favours the Calais, with its better rubber and firmer suspension settings. Yet being a Calais, it rides well too. With HiPer-strut (an optimised Mac strut design) front, and multilink rear suspension, the Calais-V treads a brilliant line between roadholding and ride comfort.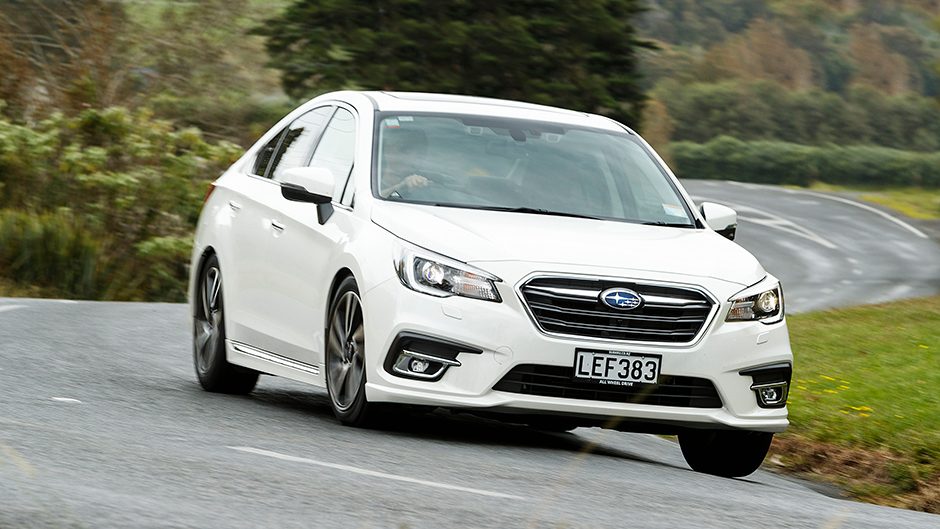 You'd not credit how well this grips, thanks to its tricky torque shuffling rear diff, stellar SportContact6 rubber, and torque vectoring by brake. Think locked on line, with midcorner speeds you'd not believe. And that's in dry or damp conditions. It steers accurately too, but not with quite the panache of the rear-drive Commodores of old. Perhaps having any drive through the front wheels corrupts things. Certainly the active lane keeping function does but that's easily dealt to.
The Legacy runs it close, but is softer sprung, a touch underdamped by comparison, so doesn't feel so immune to midcorner bumps, especially with its less sticky Sportmax rubber. It too steers accurately but is subject to squirming when pushed to the limit.
Loaded with goodies
These are both range toppers, or near as dammit. Both gain lots of luxo and safety bits and pieces, Calais-V with head-up display and active cruise that features a stop and go function. There's even seat heating for outer seat occupants in the rear. Commodore also has a following distance indicator, phone projection for both tribes (so too Legacy) and self-parking. Expensive adaptive LED Matrix headlamps partly explain the cost difference (the Subaru gets more conventional adaptive LEDs) and all Holdens come with three years of free servicing.
Both cars have 360-degree park aids, active cruise, dual zone air, a panoramic sunroof, shift paddles, comfort entry and push button start and electrically operated leather pews but again the Calais goes the extra step with massaging function and variable lumbar support up and down the seat. There's seat ventilation too. Neither gets adaptive damping. The Holden rides on 20-inch alloys, the Legacy 18s. Both come chocka with active safety bits, like AEB, blind spot and lane monitoring, and collision warning. Each is ANCAP five-star rated.
Legacy has a side view monitor to help prevent alloy garking and an H-K sound system with 12 speakers and sub. It's slightly quieter and smoother on the go than the Commodore, and build exudes quality, solidity. Germans tend to like their seats firm, and you get that in the Calais-V but the driving position is highly variable, and pews retain their support after time at the wheel. Seats in the Subaru are La-Z-Boy plush.
Yes, there's a price difference favouring Legacy but it is shaded in most facets of this comparison by Calais-V. However, if you really value a quiet velvety ride, the Legacy is a luxury contender at an exec price. Calais-V is the sportier of the two, though still does the grand tourer thing impressively.