Following the revitalisation of the S-Class saloon, the C coupe now gets its come-uppance, as it were. Cue new assistance systems that move a step closer to autonomous drive. Oh, and a new engine.
Just as the SUV has fast become the dominant form of private transportation, so too in the luxury area fancy SUVs are the moving force. We've just experienced one of the quickest available, in the AMG GLC 63 S. So it was a bit of a contrast swapping out of this and into the facelifted S-Class Coupe, in this instance the new S 560.
It might not be expected to sell as well but there will always be folk who want a luxury liner rather than a flash truck. Moreover, there will be those, likely empty nesters, who won't need five doors or seats, and will therefore be happy with the likes of a two-door occasional four-seater Coupe instead.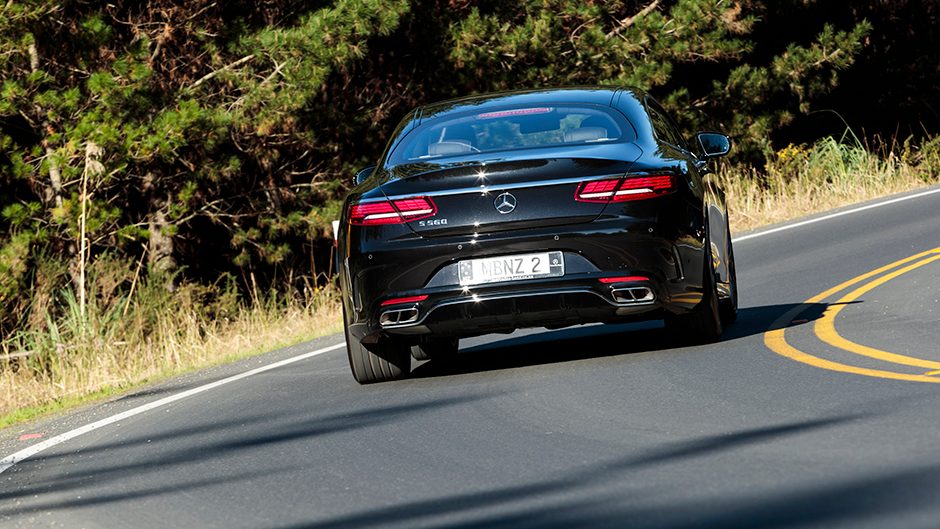 Enter the new S-Class Coupe, uplifting the technological enhancements of the facelifted S-Class saloon, and that effectively means more driver assistance aids. So cue added ability of this S 560 to drive itself according to the dictates of satellite navigation and on-board cameras (Route-based Speed Adaptation). The latest version of Distance Pilot can slow for intersections and roundabouts, even corners, and it's particularly adept at doing this in town. Out in the backblocks, not so much. Mercedes has been busy checking New Zealand mapping to make sure the system works any and everywhere.
We tried it at 100km/h on one of our quieter drive routes and while it slowed for sharp bends it didn't always do so, requiring brake intervention at times. Some might like the challenge of not braking and using the 'curve tilting' active cornering function of the Magic Body Control air suspension; certainly the car is up for it.
This clever piece of active technology induces body tilt as you turn into a corner, opposing the normal roll associated with centrifugal forces when cornering. The suspension firms too but not as much as if you'd chosen the Sport+ setting instead. On a lengthy jaunt we imagine the Curve setting would be a particularly pleasant way to get from A to B, especially for passengers who have no wheel to steady themselves. It's not that the seats don't help in this regard anyway, with active bolsters firming to hold you in place.
The alternative is to select Sport or Sport+ which, if you're driving alone, works well too for the air suspension and adaptive dampers firm up, and there's scarcely any roll. Moreover, it feels more natural, whereas the active damper system feels a bit like a fairground trick. Admittedly, the ride is a bit better with the latter, but it's not as if it goes to pieces as soon as you leave the Comfort setting.
Supreme ride quality is not just because of the air suspension either; the S 560 features, among other insulating things, double glazing which has a remarkably calming effect on tyre roar. The road surface has to be awful for SPLs to even break out of the sixties. Most of the time we saw the Devil's number, 66.6. This is an outrageously quiet car and it's surprising how refreshed you feel after time spent in a truly quiet cabin.
In that regard there's another new device in the S 560, Energizing Comfort Control. Select a setting and the massaging seats do their thing, while appropriate music relaxes, invigorates or induces some other emotional state. The S 560 sounds of silence did it for me.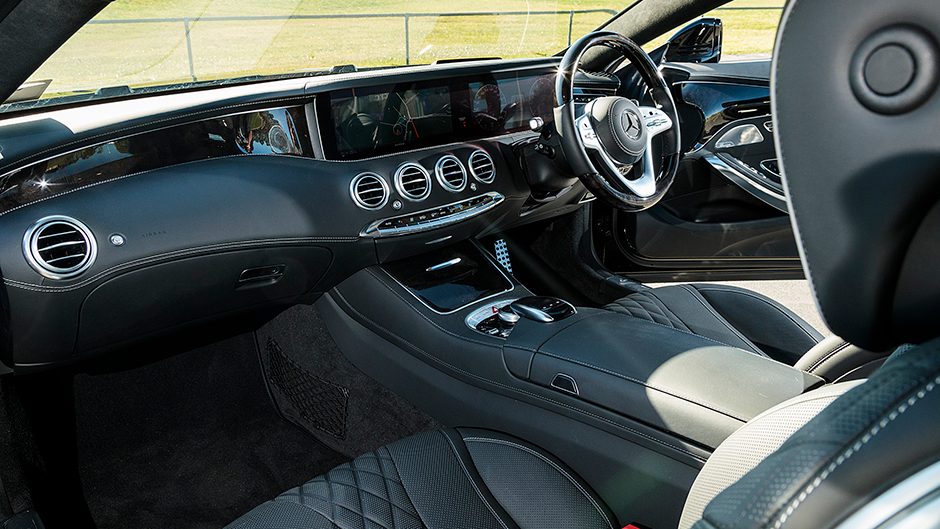 This car replaces the S 500 Coupe, and the new nomenclature suggests a new engine. If you guessed 4.0L biturbo V8 then well done you. In the GLC 63 S with a sports exhaust it's good for 375kW and 700Nm. In the S 560 torque is the same but power is down by 30kW. It's slightly heavier than the GLC 63 S but then we guess the cabin hush isn't merely the result of double glazing. Soundproofing carries a significant weight penalty, and so too all the electric motors (soft closing doors etc).
The S 560 is big too, slightly over 5m long, and more than 2.1m if you include mirrors. Despite this it never really feels that sizeable on road, even when self-parking. While it doesn't have the instant stick and go of the AWD GLC 63, its C of G rests much lower which counts for a lot. A sprint time of 4.6s isn't anything to quibble about either – it's only 0.4sec shy of the AMG S 63 – and this it achieved in a graceful manner, the upshifts of the nine-speed auto almost seamless, the exhaust a mere burble. Everything done in the best possible taste.
And a bit more economy too. Where the more elevated GLC 63 hit a worst of almost 20L/100km, the S 560 was more modest, topping out in the 15s. It doesn't present such a bold front to the wind, though it's different from before, as is the rear with its new OLED lights. Mercedes rates fuel use at 8.7L/100km overall and it will consume around 6.5L/100km at 100km/h. That's because the engine is ticking over at just above idle at that pace, around 1150rpm. At 2000rpm in ninth, it's just getting into its autobahn stride.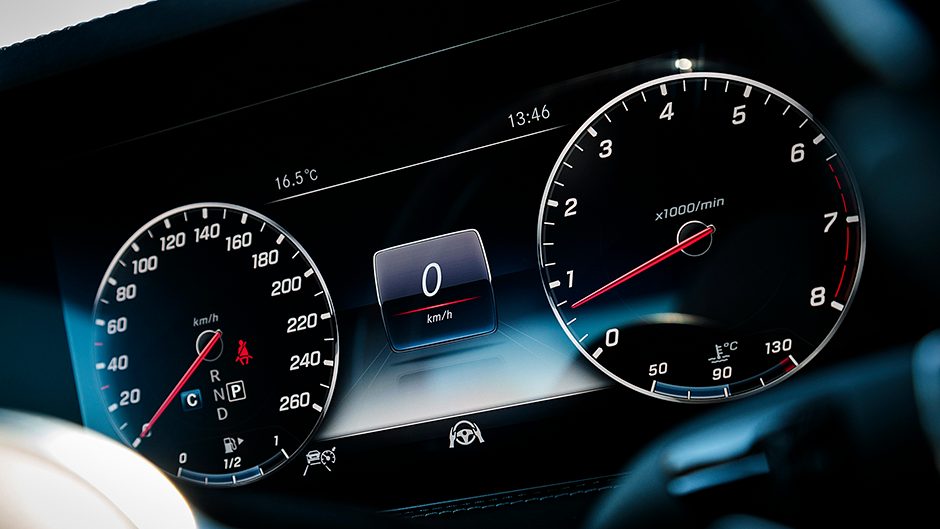 While its acceleration off the line is decent, the overtake is more impressive, and even in the default Comfort mode it hauls away with intent from 2000-3000rpm. Higher revs and it overtakes multiple vehicles in an almighty lunge. Again, it's all done without apparent effort. Listen carefully and the exhaust note is subtly more noticeable in the Sport modes but it's set well into the background, unlike with the GLC 63 S.
If there's one aspect that doesn't quite gel it's the steering. In the semi-autonomous modes AI does the manual twirling for you. Even lane changes are done safely, with the guiding hand of Coop, the car's computer, controlling it all. Switch off all the assistance bits and the steering still feels a bit alien and remote with the Curve mode setting in use. It's at its best when all those allied bits are bypassed, but even then the variable steering ratio gives it an artificially quick feeling, cracking into turns almost too enthusiastically. Still, the heft is about right and in a long-legged GT that's important.
The 560 is loaded, down to automatic belt presenters and a heated armrest. It all looks so tasteful inside too. There's leather and polished wood on the dash, and a massive one-piece digital screen (actually a pair of 12.3-inch monitors) extending from the centre console to the door. It's high resolution and all, screen images helping tired eyes see what's in the blind spots, of which there are a few, when reversing.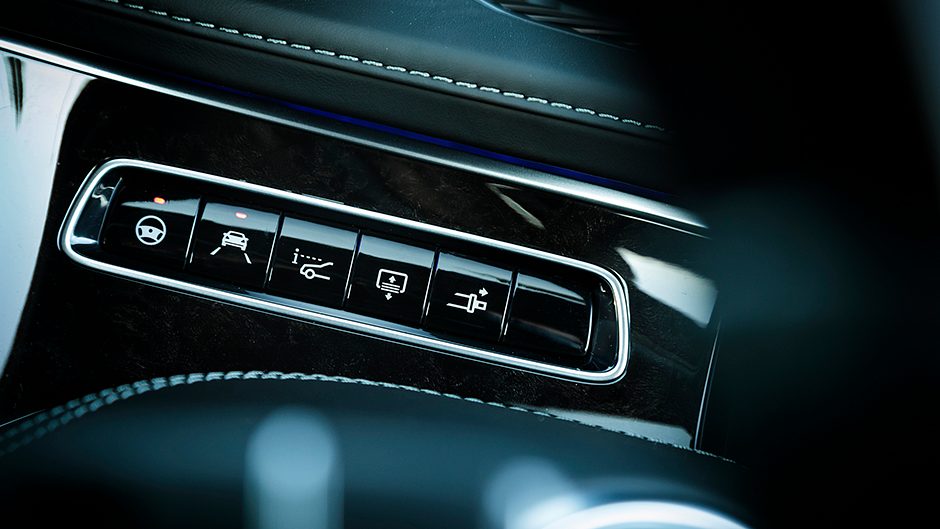 Being a Coupe there might not seem like much room in the rear seats on first glance but that's because the front pews retract to make ingress and egress easier. There's actually okay space back there, and boot capacity of 400L too, accessed by a powered boot lid, naturally. Novel bits include an attractive steering wheel with easy-to-activate cruise and touch control for the trip data, wireless charging in the centre bin, Apple CarPlay and Android Auto through the Comand system, and 64 different shades for ambient cabin lighting.
If the S 560 isn't quite enough in terms of performance, dynamics or noise there's always the S 63 Coupe. And if hardtop coupes aren't your thing, the S 560 and S 63 can be had in Cabriolet versions. Expect pricing to kick off around what the former S500 went for, $260k.
Mercedes-Benz S 560 Coupe PRICE $260,000
ENGINE 3982cc, V8, T/DI, 345kW/700Nm
TRANSMISSION 9-speed auto, rear-wheel drive
VITALS 4.60sec 0-100km/h, 8.5L/100km, 196g/km, 2125kg
| | |
| --- | --- |
| Model | Mercedes-Benz S 560 Coupe |
| Price | $260,000 |
| Engine | 3982cc, V8, T/DI, 345kW/700Nm |
| Drivetrain | 9-speed auto, rear-wheel drive |
| Fuel Use | 8.5L/100km |
| C02 Output | 196g/km |
| 0-100km/h | 4.6sec |
| Weight | 2125kg |