A recent survey in the UK found that more than one-third of new car buyers didn't use or even comprehend the technology featured in their cars.
Our GLE 300d long termer is festooned with tech bits, some of which we must confess to not using much, or at all. But we totally know what it's all about, sort of.
Delving into the sub menus of the infotainment system can be like falling down the rabbit hole; it's a whole new world. The journey is eased by the 'Hey Mercedes' voice control, though it's something we haven't used a great deal, mainly for the novelty value. While it does some things well, like setting the radio station, some commands it simply struggles with. Thankfully the kids have grown tired of talking to it.
It does help by shortcutting to the right submenu, and it knows when you're messing with it. Like asking 'I need gas' to which it says 'you can still drive for 374km'. It's German after all, and some things you just don't joke about. We've found it's best used for setting the sat nav, and it'll find things you need nearby, like supermarkets, restaurants and gas stations, but only when you really need one. It still struggles with my pronunciation, but is always polite when asking me to repeat things. It has no idea on Maori place names and it helps to speak slowly and clearly, like you would talking to any foreigner who hasn't encountered many Kiwis before.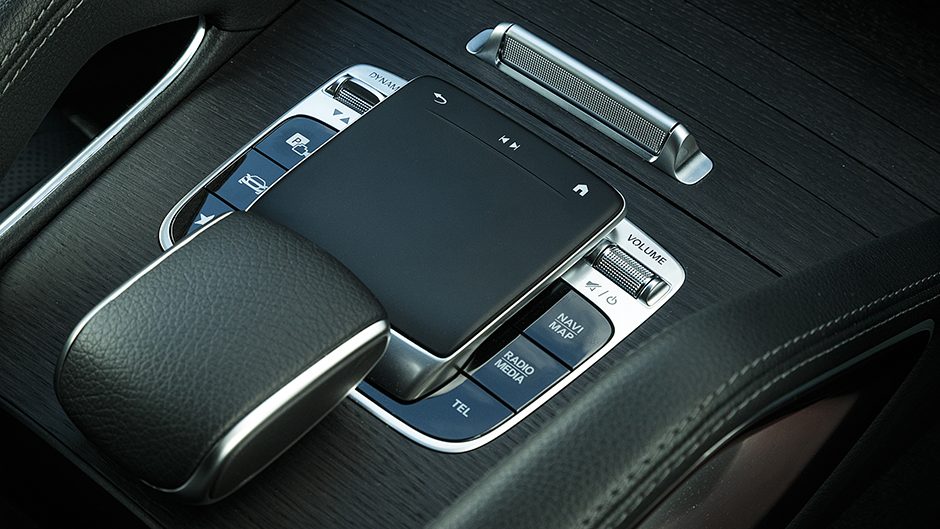 If you find conversing with a machine just too sci-fi, the infotainment system can be controlled a variety of ways. We reckon the touchpad mouse thing on the centre console is redundant; doing things via the touchscreen is just easier. But fingerprints are always an issue, making a right mess of the otherwise impressive looking display. And then there are the trackpads on the steering wheel spoke, yet another way to manipulate the system, and preferable on the go as your hands remain on the wheel as you scroll your way through the menus. One button we haven't touched is the Dynamic selector, the 300d locked in Comfort mode for another month. It seems these mode buttons are only fiddled with by mad motoring journalists when they take cars out for a whirl.
The 300d has all the driver aids, all working as intended with almost no false alerts from the various warning systems. The only function we don't like is the lane keeping widget. It uses targeted brake inputs to jerk you back into your lane if it deems you're drifting and it doesn't forgive a lack of indication when merging from on and off ramps.
The cabin is rather luxurious, as it should be for the money, and hard wearing too. Much of the interior is lined with premium materials that are easily cleaned. Thankfully the back seats don't feature the perforations found up front, which are necessary for the ventilating function as these little holes are notorious for filling with muck. You'll find numerous seating options under the comfort menu; you can adjust the seat heating balance if you like a warm back but cold buns. You can also alter the side bolsters and the lumbar support has a wide range of movement. Then there are the myriad massaging functions. The onboard storage is adequate, though that big touchpad controller takes up most of the prime real estate on the console, so the quicker they ditch it the better.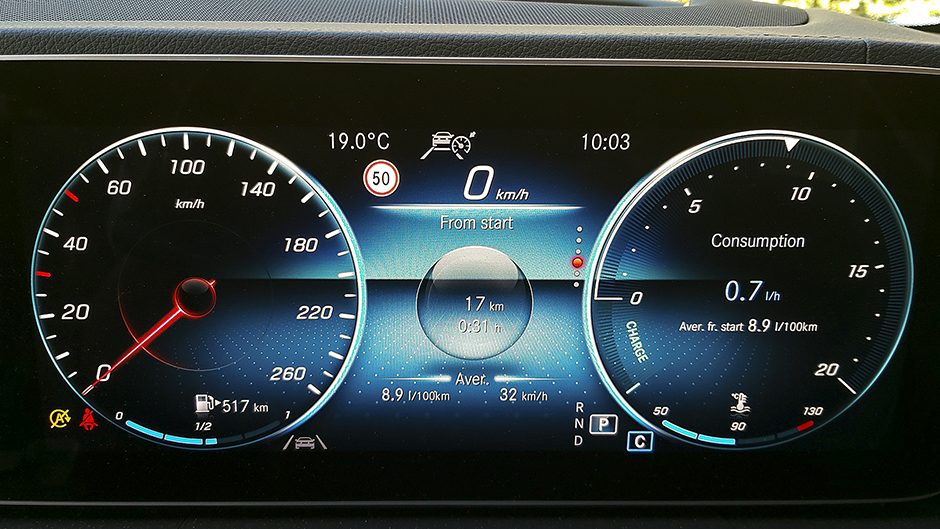 When you first get into a Mercedes-Benz, it takes a day or so to get used to the column-mounted gear shifter, but once you do, it's so easy and it's a great location for it, freeing up space for a big infotainment controller that you rarely use.
The main dials you can also configure. Along with various themes, the right hand gauge offers six different displays, one of those being a consumption meter. Keeping an eye on this can help calm fuel use, but it's hard work getting the GLE 300d into the 8L/100km range when commuting about town. You really need to ease up on the gas pedal but then driving with more gusto only sees the consumption rise up into the mid-nines. So we've given up trying, and are enjoying the torque which the 'little' 2.0-litre serves up readily. You can give it a decent squirt to get up to speed, then ease off, and the low end twist will see you right.
One thing we haven't yet delved into is the Mercedes Me app, a prime example of a tech feature some will never use. But we'll give it a lash next month.