It's one of the largest classic gatherings on the local calendar, and it turned 25 this year. We head along to Kumeu for a taste of classic car culture.
"Hey look Dad, a pig skull."
"Hmm, I don't think we need a pig skull buddy," I say. "C'mon, everyone needs a pig skull in their living room mate", says the swapper from behind her table of assembled trinkets.
Welcome to the Kumeu Hot Rod and Classic Car festival. Every year for the past quarter of a century, hot rodders have beaten a path toward Kumeu, north west of Auckland, where enthusiasts from all walks of life descend to celebrate car culture and a whole lot more.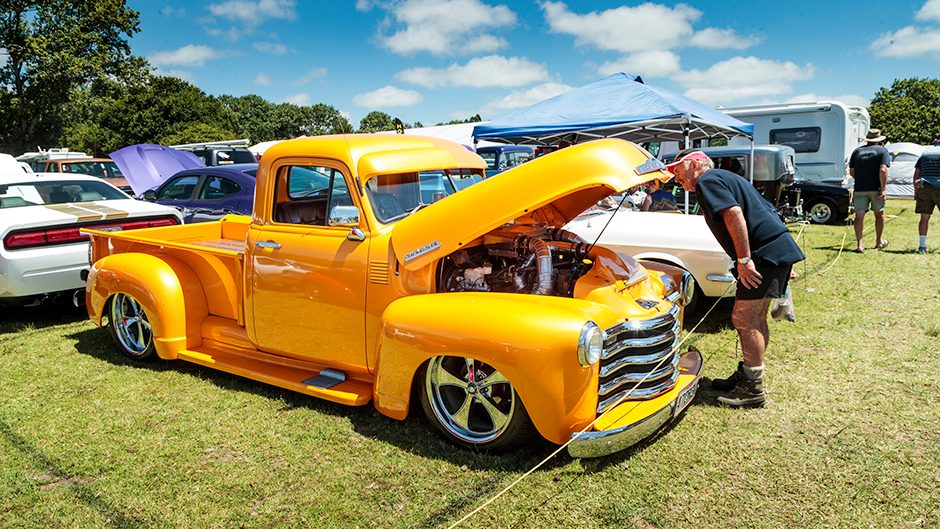 It started as a get together hosted by the local chapter of the National Street Rod Association, and quickly grew in popularity to become a commercialised event, run by various promotions companies, with trade stands and corporate sponsors to tempt the attending crowds.
We've been to a few over the past decade or so and it still draws the crowds despite the busy calendar for classic car and hot rod events during the summer months. It was heaving on Saturday when we attended, joining the throngs to see literally thousands of cars parked up around the Kumeu showgrounds.
The weather was perfect too, unlike Sunday when it rained. It seems it's best to attend on Saturday, as come Sunday, there can be a lot of early leavers from the swap meet and car display areas. And as it rained, some of the main show cars didn't front. So if you're thinking about heading out next year, best make it a Saturday, and check the forecast.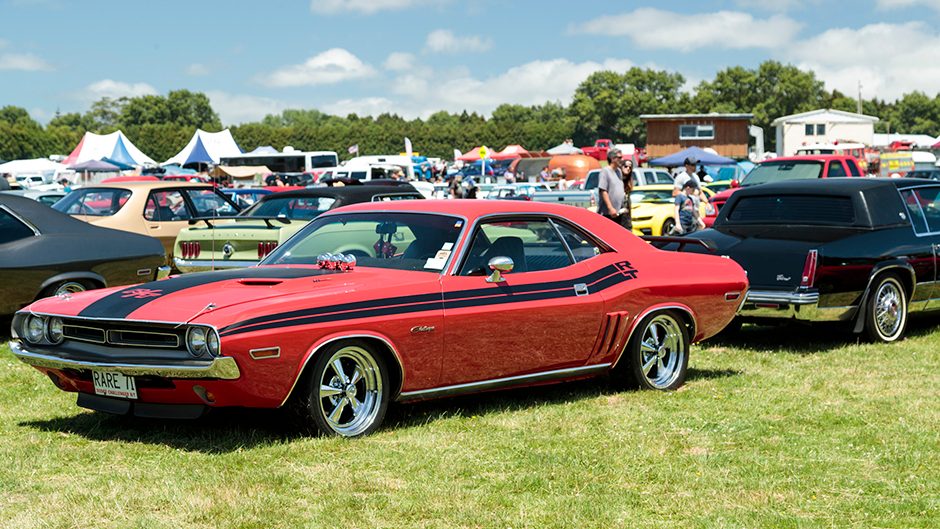 It's a scene dominated by American iron and Aussie muscle but there's the odd Euro in the mix. And they aren't all trailer queens, with plenty of daily drivers, in all manner of states.​
There was a muscle car theme running this year, so they were there in abundance, both old and new, from stock to wild. But it's an event as much as it is a car show. There's music on the big stage, a pageant crowning Miss Kumeu, a BBQ competition, appropriately sponsored by Jack Daniels, and a round of the New Zealand strong man contest.
Inside the 'sheds' show cars compete for the coveted people's choice award where muscle cars were well represented although the majority voted for a 1928 Model A boat tail racer that also won the best Hot Rod award. Sorry, we've no actual pic of that one, as the sheds were simply crammed with crowds shuffling around the cars. And photographer Gasnier could smell the mouth-watering aroma of smoky ribs drawing his attention outside to one of a slew of great eating options.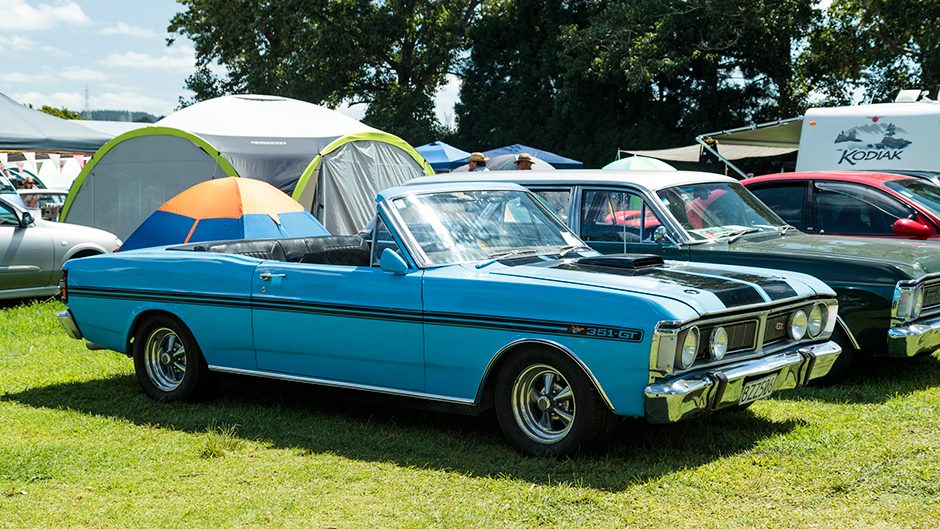 Also parked up in the sheds were custom bikes while 'Airbrush Alley' had some of the best airbrushers applying their art to steel for everyone to see the painstaking process involved. Proving it's not all for the boys, would-be Miss Kumeu contestants could get into character at the hair and make-up beauty salon. There's a lot to take in; you need to spend the day rather than a few hours, so it's great value for the $15 admission fee. Giving it the festival vibe, owners and car club members can make a weekend of it, camping out on site.
Like Nik Laver and his family from Kaitaia. A member of the Far North Rod and Custom Club, he's been attending the show for the past five years, the family making it an annual holiday. He likes the cars obviously but the show is a good chance to catch up with friends, chat with other like-minded people and enjoy the 'awesome atmosphere, where there's something for everyone'.
Laver says one of the highlights for him is seeing his young girls get amongst it and enjoy the event as much as he does. While some say the show has had its best days, Laver reckons otherwise. "I think it's now bigger and better with a higher quality of cars and bikes and more things for everyone to look at and enjoy."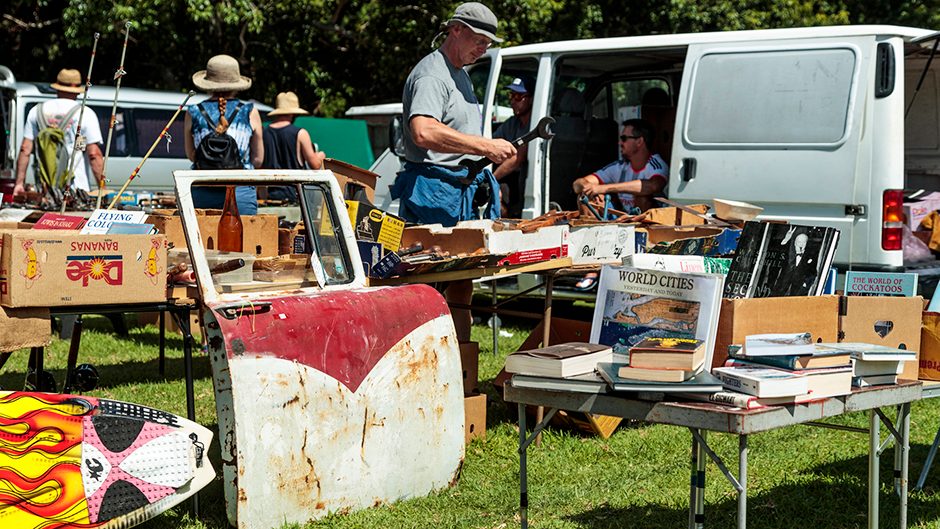 He owns a '38 Chevy sedan (top) that he purchased two years ago as the family had outgrown his Jailbar truck. It's running a 350 Chev with a TH350, a Ford nine-inch diff and an HT front end. He says 'she's a bit of everything but a great cruiser.' A true enthusiast, he has a '68 XR Falcon wagon, dubbed 'a long term project' while he gets around to finishing his three year old's mini T Bucket.
"I'm building a new shed and I'm always on the hunt for more projects!" He confesses his favourite part of the weekend is hunting for treasures in the swap meet. While the advent of online selling forums such as Trade Me has taken the shine from car show swap meets, there is still no shortage of desirable bits amongst the rusting junk for sale at Kumeu.
The rest is sorted over on Friday as the car club members drift in, while the public can get in early on Saturday with gates opening at 7am. But there's literally piles of stuff for sale throughout the weekend. Like the car display area, swappers set up tents to make a weekend of it. And as the public mull over the wares on the ground, some hung-over sorts emerge from tents, the heat of the sun disturbing their rest.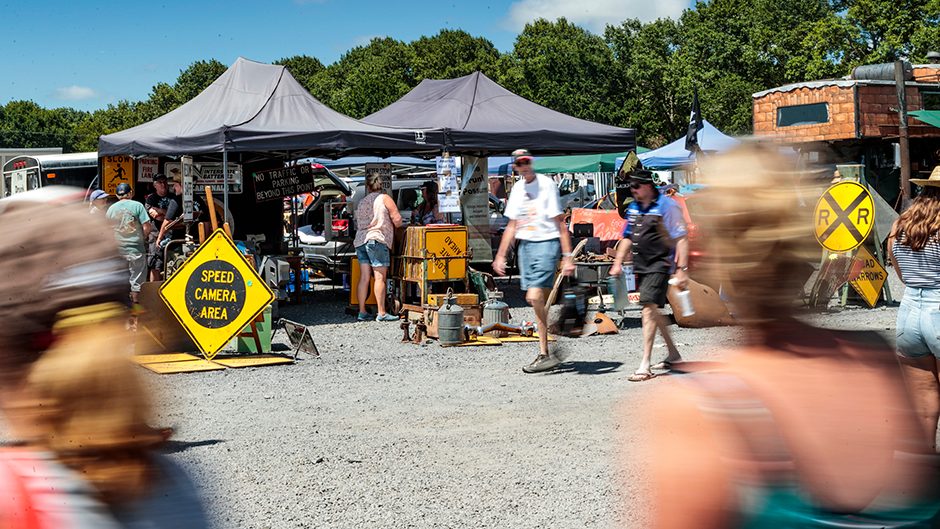 There are makeshift leaners tied, nailed and clamped to whatever can support a bit of wood and a few blokes stooped together around a beer or three as they discuss the business of hot rodding. It doesn't matter that it's 9am – any time's a good time. And it's okay to wander about clutching a can of your favourite beverage as you pick through piles of rusting hinges and handles.
But Waikato Draught, an acquired taste at the best of times, must be putridly warm within 10 minutes in such hot conditions. The cunning employ the use of those stubby coolers, usually displaying a comedic message (I don't need Google, my wife knows it all) while the pros use carts to wheel their chilly bins around. Our fave was a custom-built hauler, complete with go-kart wheels, faux exhaust and diff with a spoiler as a serving tray and a huge spanner for the handle.
There's been a bit of a clamp down on the motorised contraptions over the years but there were still a few mobile BBQ tables ambling around the place and a few hillbilly hot tubs too; pick-up trucks with the bed lined in polythene create makeshift spas.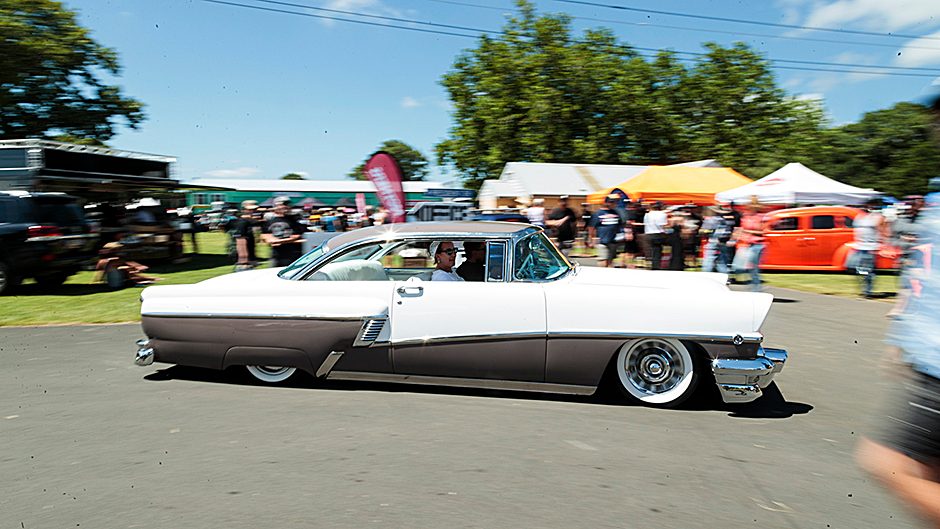 The dress code for the faithful involves selecting your most loved black singlet (full coverage of your beer gut is optional) and generally a pair of stubbies, the older the better. The sun smart folk were at least wearing a tee shirt with a standard issue straw hat.
If you haven't been to Kumeu you need to. And if it's been a while, mark down January 19 and 20 to make the pilgrimage next year.