The previous GLE was essentially a refresh of the CL Class but this new one is exactly that. How does this large five or seven-seater SUV stack up?
Since the ML launched in 1997, Mercedes has produced over two million units, which includes the subsequent third-generation variant known as the GLE. And now the company has completely rewritten the underlying code and come up with the fourth-generation large SUV. It's fresh to the core, running the new Modular High Architecture platform which is to underpin a range of vehicles, including the upcoming GLS Class.
The skeleton is evidently one-third stiffer than the old MRA architecture. The new GLE is bigger, 105mm longer, most of that between the axles because unlike the previous generation it now comes in seven-seat format as well. That's something you specify when ordering, the second row being electrically operated to facilitate entry into the final couple of seats. These will house adults so long as they're not too tall but are more for kids or teens in reality. The process is relatively simple and quite well thought out.
Luggage capacity is variable depending on where the middle seats are set (630-825L). Fold all rear seats and you've 2225L of space at your disposal. Open the powered fifth door, and simply pull up on the seat lever to unfurl the occasional pews hiding in the boot floor. Buttons on the right side of the load bay operate the middle row seats. They then split fold by themselves, without having to mess and fuss around with headrests or moving the seats fore or aft to make them fold away tidily. It's all preprogrammed.
The downside? The electrical gubbins add weight, and the base vehicle is already 2.2 tonnes. Speaking of tonnes, our particular vehicle, the base GLE 300d, had a tonne of cost options thrown at it, just to showcase what's possible, and so weighed in at 2350kg, which meant it didn't stand a chance of meeting its 7.2sec performance claim. Never mind, as it's only a few tenths down and still more than quick enough.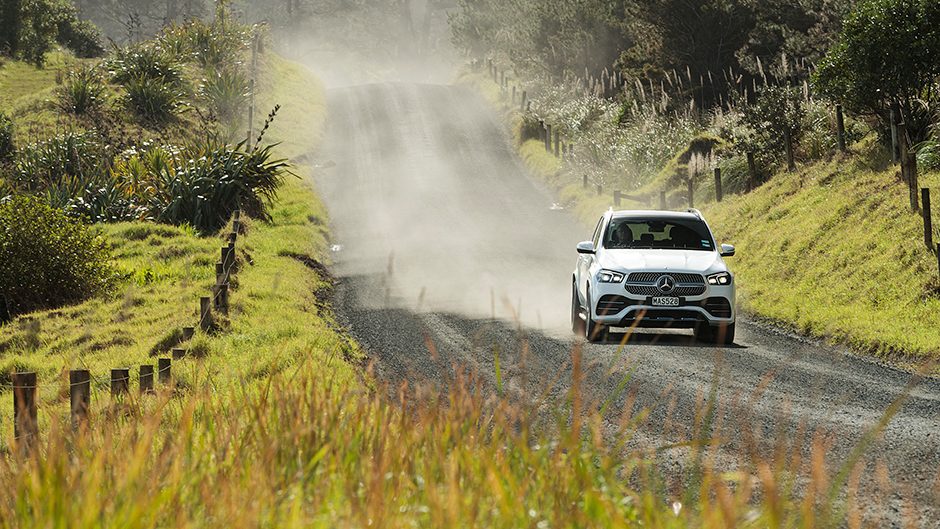 Four the new six
What's rather impressive about all this is that the 300d isn't motivated by a 3.0 V6 as the model number might suggest. But rather by a 2.0-litre that produces as much power and torque as a 3.0L V6 might have in a previous generation. The latest generation of Mercedes four-pot diesels debuted in the E-Class and this 2.0 has a rather prodigious output of 180kW and 500Nm. That's the same as the former 2.2 diesel managed, and similar to some diesel V6s on the market now. It's the same difference in the turbopetrol world. Where once a 2.0 unit was required for a certain output, now a 1.6 suffices and makes just as much power and torque. Essentially the message is size don't matter.
Except perhaps for sonics; six-pot diesels, like their petrol counterparts, often sound more refined than their four-cylinder replacements, and that's the case here too, but then you hardly hear it anyway. This is genuinely quiet on road, just like most high riding luxury vehicles then.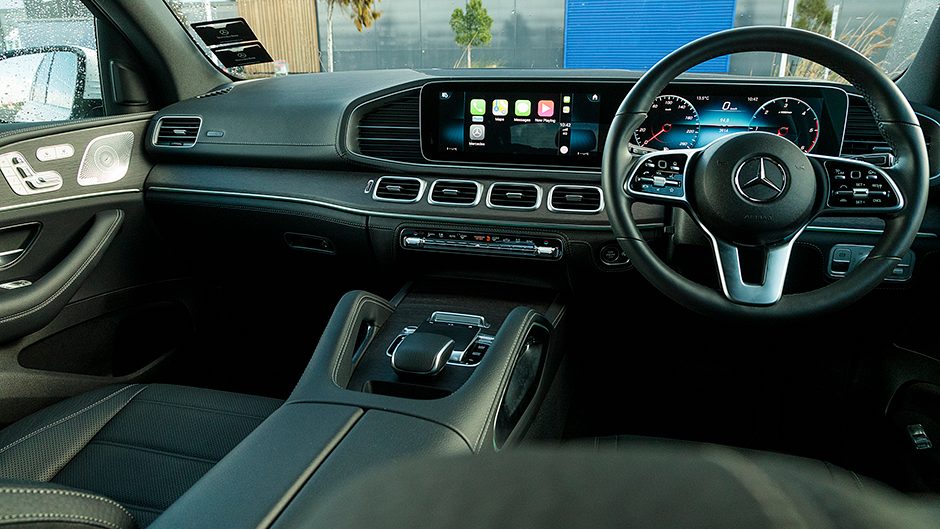 Never a struggle
The upshot is that the new four-pot is plenty to get this almost 5m wagon up and running, whether in or out of town. You never get the feeling that you're missing out here. Helping extract the very best from this little dwarf star is a nine-speed torque converter automatic. It's such an effective thing that you really never need to even think about the paddles affixed to the rear of the wheel.
They're virtually surplus to needs; you just select the right drive mode instead. The only time we felt duty bound to at least check them out was when trying to convince the GLE 300d that it could hit the open road speed in under 8sec. With a bit of paddle intervention we managed to whittle that down to 7.5sec. That's not too shabby considering its relatively modest power to weight figure of 13kg/kW. Moreover, you can tow 2.7 tonne braked loads with this rig if that's your desire or need.
This gets underway on suburban streets from 1500rpm, and using all that bottom end poke it's easy to achieve average fuel use figures in the mid8s. The claim is 6.9L/100km overall. At a steady 100 expect instantaneous fuel use of 6.0L/100km on the flat. You can monitor this on the head-up display which is standard fit on the two models you can initially choose here. The other is a twin-turbo inline six diesel, displacing 2.9L and good for 243kW and 700Nm, imbuing the GLE 400d with 0-100 acceleration of a claimed 5.7sec, while combined fuel use is a stated 7.7L/100km.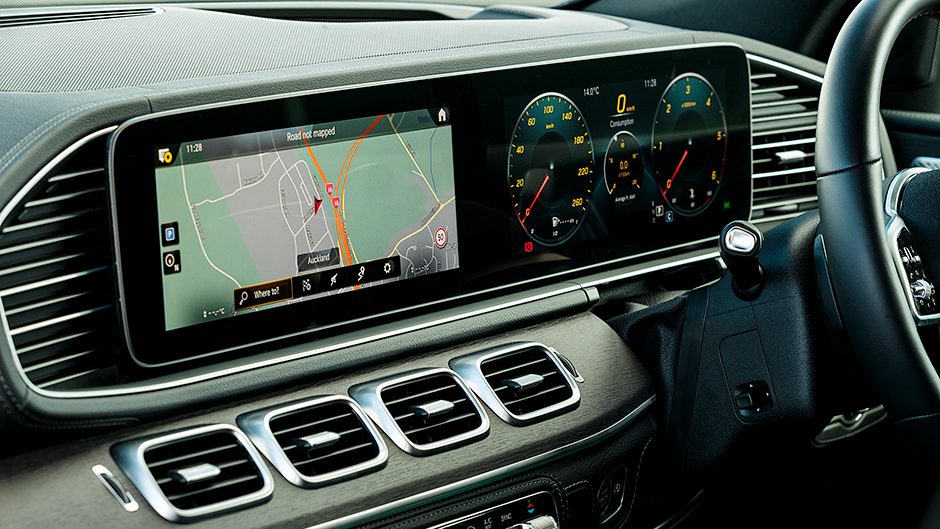 Both GLEs outfitted the same
This pair is specified similarly, for convenience's sake. The idea being you choose the model by cost and performance first – 300d is $128,200, while 400d is $139,900 – and then add packages from there. The first to consider would be seven seats, the cost being $3900 which includes electric activation of the middle-row pews. Our tester had this, along with the AMG Sports package ($9900), luxury seats ($3700), vision package ($1400), and tyre pressure monitoring ($850).
The AMG Sports package includes both sportier exterior (think body kit and 21-inch wheels) and interior treatments, such as full leather trim, window tints and a panoramic sunroof, along with wireless charging and seat memory package. Climatised seats include massaging function, while the vision package adds an upgraded 13-speaker Burmester sound system. The base spec for both models includes open pore wood trim, colour head-up display, Dynamic Select with five drive modes, dual 12.3-inch screens for instruments and minor controls, the former customisable, navigation and smart phone integration.
There's a fair bit going on in terms of potential distraction but the MBUX voice-activated Siri-like system can do much of this for you, like switch on massage function, select station and even read back texts once you've Bluetoothed your cell phone. Other notable items include Multibeam LEDs that are self-actuating and -dipping, and a safety arsenal that includes nine airbags, self-parking with a 360 degree surround camera system, and traffic sign recognition. There's also a driving assistance package comprising active cruise, BSM, lane change warning and active lane change assist (hit the indicator and the vehicle does the rest).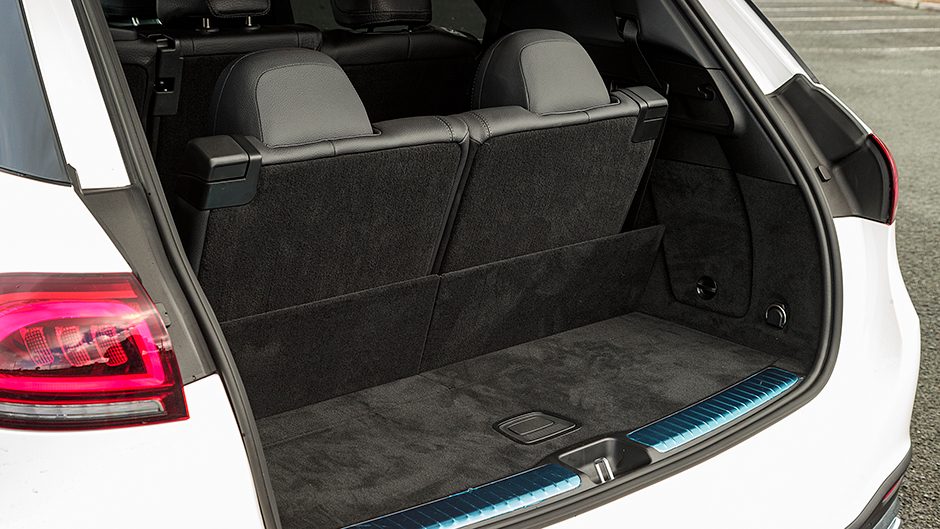 Howzit go then?
As a base model this really isn't a compromise. As mentioned, it never feels lacking for go power, especially if you're a more genteel driver. Diesels suit a laid-back driving style anyway. Having nine gears to process the output helps, and with 500Nm at your right foot the performance is forthcoming without the bugbear of an unquenchable thirst. At pick up this suggested 880km distance to empty and that's about what it will do to an 85L tank driven in real world fashion.
Despite the GLE 300d having fixed steel suspension, it does an impressive job of blotting out big road imperfections while keeping the big ship on an even keel. Firmish damping means it can fidget over smaller imperfections however. Suspension is unadjustable, even in Sport mode; that's limited to engine and transmission reactivity, steering heft and ESP setting. Sport livens things up a bit. However, Comfort mode works well; we only went to Sport for checking performance figures, and used it on some of the more interesting back roads.
It's a substantial beast the GLE 300d, dwarfing the GLC, so you need to be mindful of this when driving on narrower secondary roads. But being wider and lower, with fully variable all-wheel drive and swags of Pirelli's best, this is a step up and more from previous ML-based generations. It now feels vastly more secure in corners, and holds a set nicely providing you're not in mauling mode. Despite its heft the brakes do a sterling job, posting a best stop in the 32m range, with no evidence of fade after a couple more attempts.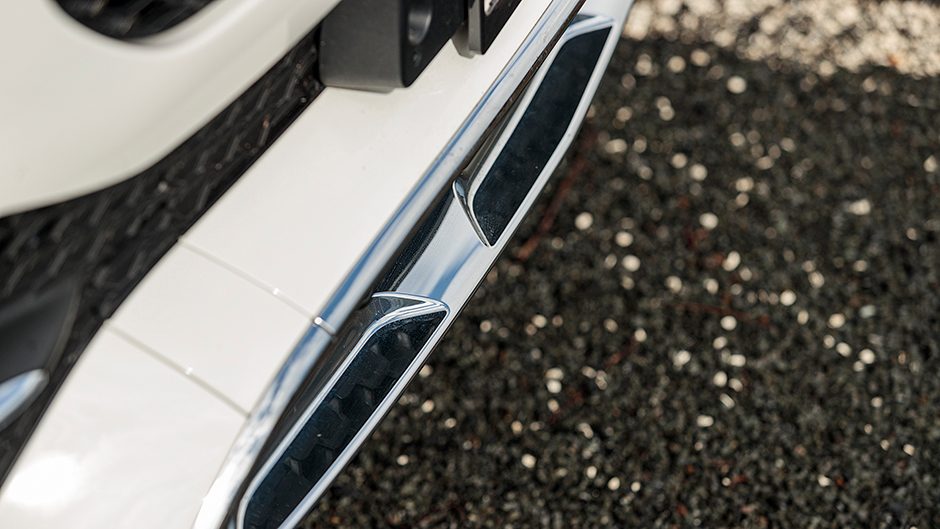 If you want more dynamically and a smoother ride there's a $3400 Airmatic package which includes air suspension and adaptive damping. That's one many will likely opt for because of both ride and handling benefits.
And if you've come into a windfall and are buying the GLE 400d, you might also want to consider the $13k E-Active Body control system that uses road scan technology and curve tilting functionality to make the GLE lean into corners and counteract centrifugal forces. This system is a further development of Airmatic, working in combination with a 48-volt system and a stereo camera to show what's ahead in terms of corners and road irregularities, and adjusting individual springs and dampers accordingly. The system counters lean, pitch and dive.
| | | | |
| --- | --- | --- | --- |
| Model | Mercedes-Benz GLE 300d | Price | $128,200 |
| Engine | 1950cc, IL4, TDI, 180kW/500Nm | Drivetrain | 9-speed auto, all-wheel drive |
| Fuel Use | 6.9L/100km | C02 Output | 182g/km |
| 0-100km/h | 7.54sec | Weight | 2344kg |