For 2019 Mercedes-AMG's C 63 S weapon gets a new look, a fresh gearbox and some tasty new interior bits but the more supple ride is the most significant update.
It was a bit of a surprise to hear that the C 63 S had been facelifted, literally, given it seems like only a wee while ago we were driving the new model. Guess time flies faster as the world gets busier. Anyhow, the latest C 63 S inherits the styling chops of the AMG GT with the Panamericana grille, but more importantly actually does address the main issue we had with the car when we drove it last, its harshness over lumpy or loud surfaces.
That really isn't the case any more – it rides the bumps rather well in C for comfort and S for Sport modes, without losing its corner tearing ability. A shame then that the tyre roar hasn't been exorcised. It remains shouty over your typical chip seal and, being an estate, there's a bit of cabin thrum thrown in as well. Fortunately, the orchestral explosions from the sports exhaust drown out some of that din, but it's not really enough for a machine that's purpose built to fly low, and go hard over vast distances.
A pity that because the improved ride makes it so much more the fast family fun vehicle that it should have been from the outset. There are a few other improvements that AMG and Mercedes have made that are worthy of mention. The first is a new rotary twirler for drive mode selection, and also miniature pushbuttons (for things like active dampers, exhaust mode, traction control), all of which have been added to the lower aspect of the steering wheel boss. Oddly, you can still manipulate the same things by centre console buttons if you want. But the wheel buttons are less distracting. The mode changer is a nice touch, and is fast becoming a must-have wheel fashion accessory. Besides, you don't want to be late to the party, right?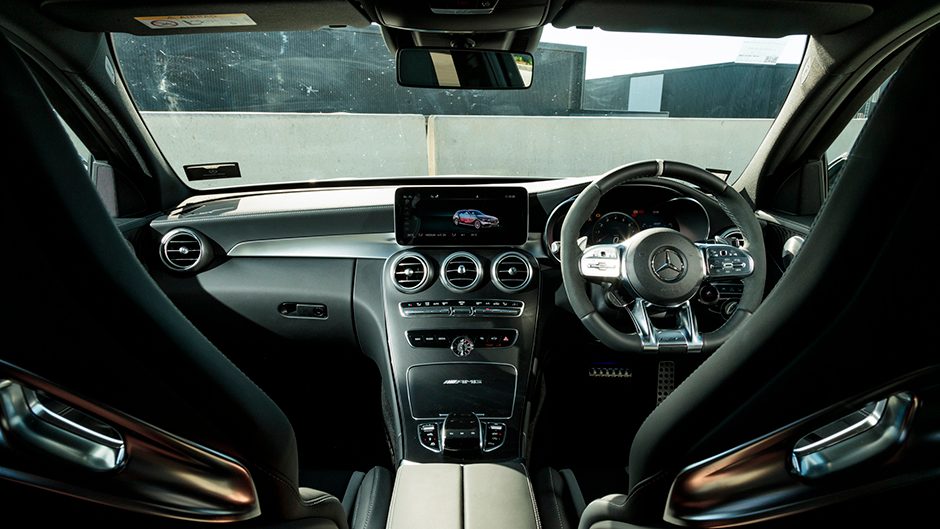 Still breathes fire
The engine is still the bruiser of a thing it always was, the biturbo 4.0-litre now the lone V8 offering in this class. Power output is unchanged, with 373kW and 680Nm showing at one point on the sports dials. Turns out the real numbers are 375kW and 700Nm. Big numbers either way. And a bit of a thirst too, as expected, at 10.7L/100km overall. Our experience was 14s driven loud, and closer to 10s with the sports exhaust switched out and sanity returning. This is likely the last V8 for the C 63, as a hybrid six-pot mill is being planned for the next version. Enjoy it while you can then. Rest assured, the next iteration won't sound this almighty.
The V8 seduces as before, with instant throttle response, and power and drive from everywhere. On that, it remains rear drive, where some rivals have gone down the AWD pathway. The C 63 S adopts the new nine-speed auto with AMG's start-off wet clutch MCT gadget replacing the usual torque convertor. This quick-shifting auto shared with E 63 has Race Start, and performs multiple downshifts on the fly.
Despite the update, performance is said to be unchanged, with a quoted 4.1sec blitz to 100. That's pretty much what we saw, with a best of 4.17sec on the third run. It's all a bit dependent on the surface beneath. Powerful rear drive cars can be vexing to launch and we didn't quite get the best from this. But it produced a quite startling overtaking time of just under 2.1sec, better by 0.2sec than any of the prior C 63 S models we'd checked out. Instead of just hammering away through the gears until the redline we opted to upshift to third a bit earlier than the auto would have, running the entire 80-120 test in just the single gear. No upshift needed means a slightly better time, which has been corroborated by others.
The brakes are spesh too, every bit as impressive as the go-forward performance. This runs massive 390mm composite vented discs up front, backed up by similar 360mm units at the rear. With properly decent bite at the pedal we achieved a 100-0 stoppie in 32.36m, after initial attempts of just under 35m. Clearly, these warmed to the task. A ceramic system up front can be yours for $7900 if you must.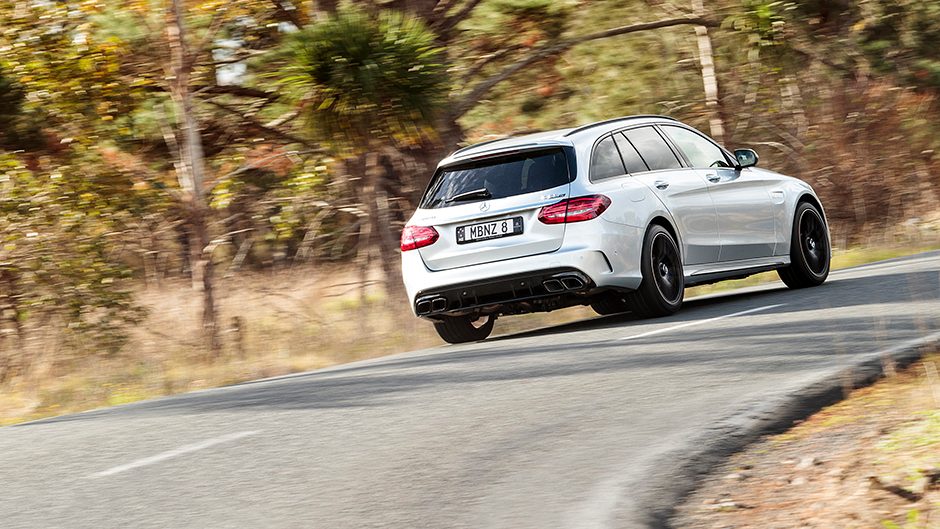 More rounded on road
With the new wheel-mounted twirly device it's exceedingly easy to move between the numerous drive modes now. In Sport, performance arrives in a graceful rush (not that it's ever difficult with 700Nm on tap from 1750rpm) and you can mix damping characteristics independently of powertrain response. So the engine is always good to go, while the suspension can work in its most resilient setting. Each time you exit the estate, it defaults back to Comfort mode, but this is the one that you will use the most.
Selecting Sport automatically changes damping to match, and it's excellent for the open road, just the right degree of engine and transmission responsiveness, and well matched body control from firmer damping. You can opt for the Comfort damper setting if there's anyone else aboard. Even in Comfort mode, the body control through corners is rather impressive. Enough that it scooted through some of our reference bends as quickly as just about anything previously, torque vectoring by brake keeping things real.
This is low slung, has generous amounts of high quality rubber and with a well balanced weight split over each axle is set to impress in the bends, and fails to disappoint. New for this facelifted model is a nine-step TC set-up, to extract the best from the beast on track. Switch out ESP and then dial in as much oversteer as you feel comfortable with (nine being the least interventionist).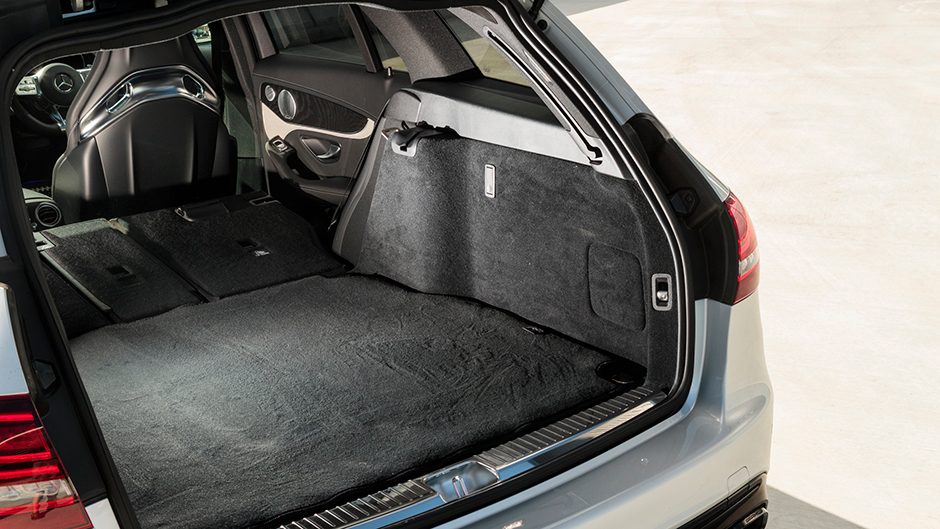 The new wheel looks and feels sweet, with suede-like cutouts at the 9 and 3 hand positions, and around 2.4 turns lock to lock so it's sharp but not too much so. You do notice the weight over the front axle, as before, and the odd spot of tramlining too. But it's the newfound ride compliance that differentiates this from its predecessor.
So while it's a mad thing when pushed, it can also do the practical pal act. That's why folk opt for the estate, as it's also a fine looking thing. There's not a whole lot more space out back than the sedan offers, only 10L evidently at 460L but it's much easier to get at. Simply raise the powered fifth door, and by activating a button either side the seat backs in the rear flop down almost to flat. Takes all of 20sec that. Then there's 1480L of space to fill.
Our particular drive vehicle had beautiful, not to mention comfortable, two-tone performance front seats ($3700), with all manner of adjustments, though the lumbar button proved hard to access.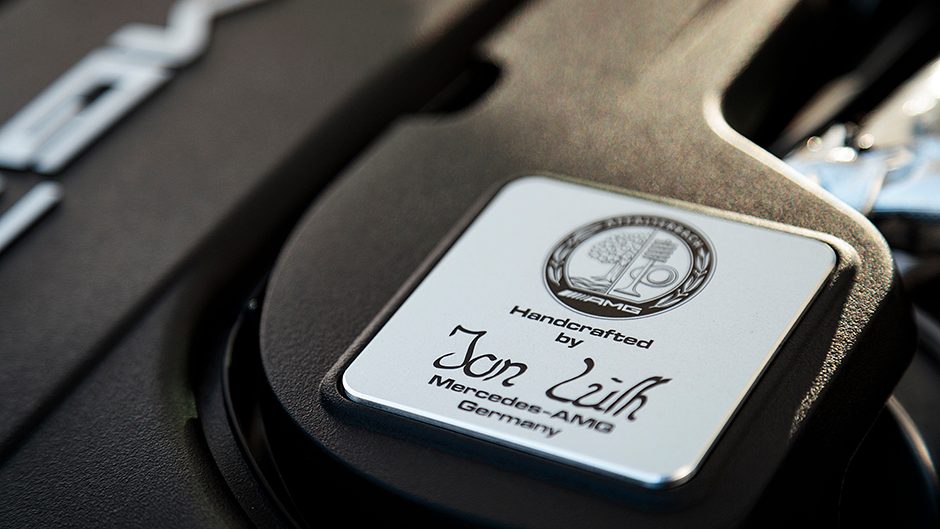 Other appealing standard features include a panoramic roof, LED interior lighting, electronic diff lock and dynamic engine mounts, active cruise with stop and go, gorgeous two-tone wheels with a faux (but genuine looking) centrelock system, head-up display, Burmester sounds, 360 degree camera and all the driver assistance systems you'd ever want.
The C 63 S estate costs $170,800 but the car can also be had in Coupe, Cabriolet and Sedan styles. We'd go for the dual personality wagon ourselves, the rowdy bully boy one minute, the amenable delivery boy the next.
| | | | |
| --- | --- | --- | --- |
| Model | Mercedes-AMG C 63 S Estate | Price | $170,800 |
| Engine | 3982cc, V8, T/DI, 375kW/700Nm | Drivetrain | 9-speed auto, rear-wheel drive |
| Fuel Use | 10.7L/100km | C02 Output | 242g/km |
| 0-100km/h | 4.17sec | Weight | 1873kg |