Everyone likes the snarl of a V8 but one with a supercharger breathing through sporty pipes is another thing again. We get all heady in the Jaguar F-Pace SVR.
Luxury car makers from Germany have long been obsessed with performance. Readers of the classic pages will recall we featured the godfather of them all in the Mercedes-Benz 300 SEL 6.3 from the late sixties. And many BMW, Mercedes and Audi super saloons have followed over the decades. There have been overly-endowed coupes, convertibles, estates and hatches too.
And with the seemingly unending thirst for high-riding off-road type vehicles, the performance divisions have expanded to create Godzillas such as the M-powered X5s and AMG'd MLs while there's been further expansion with X3 M on its way, and AMG GLC 63 and SQ5 already here. Now others are getting in on the action, Jaguar releasing its hottest F-Pace to date, tuned by the Special Vehicles Operation team. Naturally the Brit does things a bit differently.
Where all other of the performance SUV icons use forced induction with a pair of turbos, Jaguar instead opts for a supercharged 5.0 V8, the advantage being instant throttle response and a meatier exhaust note, the disadvantage being higher fuel use because of continuous blower operation. Not that owners of such machinery will care overly. It's not as if any of these two-tonne-plus mega-machines leaves a dainty environmental footprint anyway. For the record, the SVR's combined fuel use figure is 11.9L/100km, and CO2 released is 272g/km. We saw a minimum of 8.0 on motorway hotmix, while performance testing added 10L/100km to the best figure.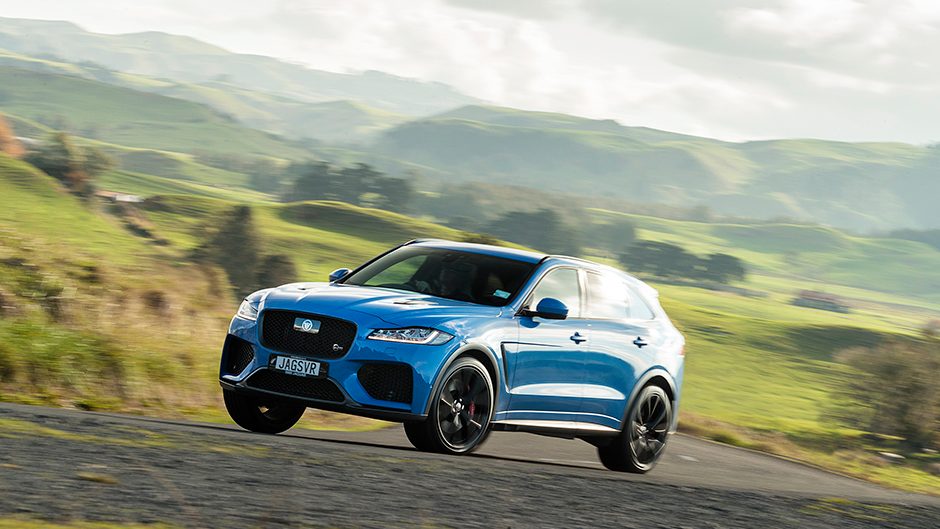 Looking good
It looks wild both on paper and in the metal. But then it would, wouldn't it, being a sporty upgrade of the World Car Design of the Year, 2017. Not so subtle additions include the enormous 'lightweight' 22-inch alloys, along with four pipes poking out of the rear apron. What you don't especially notice are the aero enhancements, with modified bumpers and active slots at the rear of the front guards.
Side fender vents lower pressure in the wheel arches, helping to optimise high-speed stability. The unique roof spoiler contributes in a similar way, as will the rear diffuser, both reducing lift. Under the fenestrated hood, the power increases by a hulking 44 per cent over the 3.0L V6 supercharged S model and therefore you're looking at 410kW of power and 680Nm from 2500-5000rpm, sufficient for a claimed 0-100 time of 4.3sec. The GLC 63 opposition is quicker, at 3.75sec, despite being roughly as powerful and only a bit lighter.
The difference is likely to be in the transmissions and the Jaguar's lack of launch control. Whatever, there's not that much in it – the Jaguar all but met its acceleration claim on run 1, and beat it by a whisker on run 2. For the overtake, the AMG is only 0.15sec faster. Given the SVR costs less, at just under $160k vs nearly $185,000 for the AMG, and looks pretty smart, the overall package seems appealing.
That's especially so up against kissing cousin, RR Sport SVR, which is 300kg heavier, not nearly as quick and costs a whole lot more besides. The lone rival which gives it a decent run for performance and price is the Alfa Stelvio QF.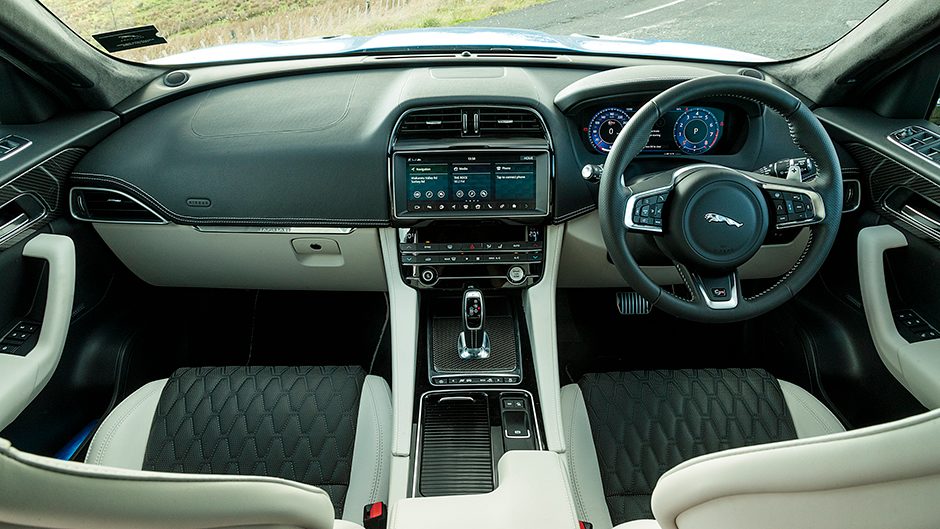 Running loud and hard
This Jaguar is no slouch. It easily accounts for the Macan Turbo the magazine tested in 2017, and costs less as well. In the end the SVR got to 100 in 4.18sec, while its best TED time was 2.47sec. It has various operating modes, not just in the literal sense where there's Comfort and Dynamic (Eco we'd guess is an ironic mode), but also in the operational sense.
You can make use of its low-down grunt and high gearing, with the sports exhaust switched off and the sport shift gear lever in D mode if you're just trying to keep your nose clean on the heavily patrolled state highways. Or you can go to the opposite extreme and run this like a hound from hell, baying with the Sports exhaust valves fully open (where on a still winter's day you can hear it coming from kilometres out), the suspension, engine and steering set to Dynamic and the transmission to Sport where it holds gears for much longer than normal and the average fuel use figure spikes.
In between, there are other sweet spots, given peak torque is available from about 2500rpm and from there to 4500rpm this hauls something serious. From that point to the limiter this is simply exhilarating not just because of how it accumulates speed at an improbably cracking rate, probably exaggerated by the elevated ride height, but also by the accompanying rock concert noise levels from the active exhaust system.
During the cornering shots Tom reckoned it was amongst the most riotous things he'd heard, and he's heard plenty. You may can the cacophony in Dynamic mode by simply hitting the dedicated exhaust button. Sometimes it pays to be a little less conspicuous. Fortunately the corner we were using for the shoot was miles from anywhere and the exhaust explosions on the overrun scared only the local wildlife. Of the supercharger itself you hear precious little.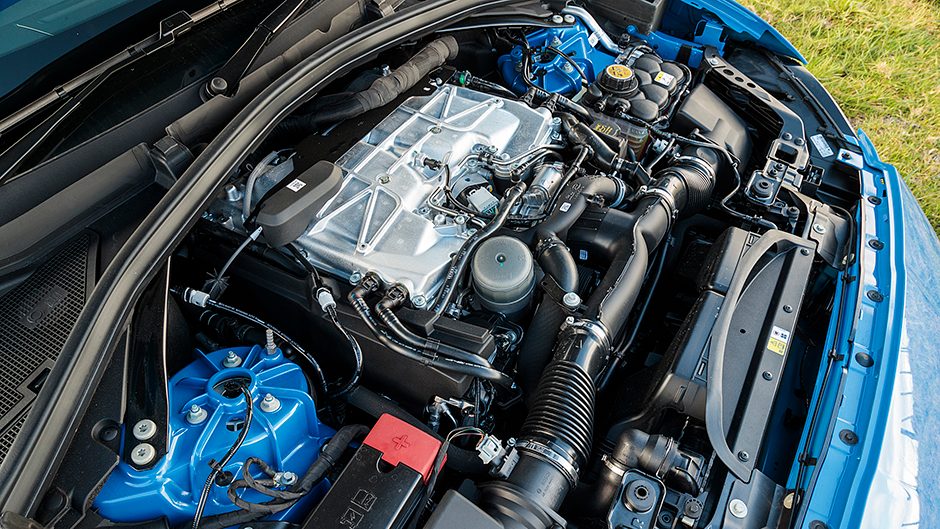 Chassis tweaked to delight
We shot off down highway 22 for the photography and drive experience as this heads out into remote countryside and is a proper test of vehicle dynamics. It's not a wide road and while the SVR isn't a full sized SUV at 4.74m in length, it sure has its measure of width at over 2m (2071mm).
The optional 22s are cloaked in Pirelli's finest PZero rubber. Fitted with torque vectoring by brake on both axles and an electronic active differential that can also apportion torque at the rear axle, along with a rear-biased AWD system and even weight split front to rear, this is something else to pilot down any technical road.
Eventually you can get it to understeer by being an animal yourself, but with its surfeit of rubber and clever electronics you're more likely to run into trouble with the sheer width of this vehicle rather than running it off the road. Its mechanical grip in the dry is epic.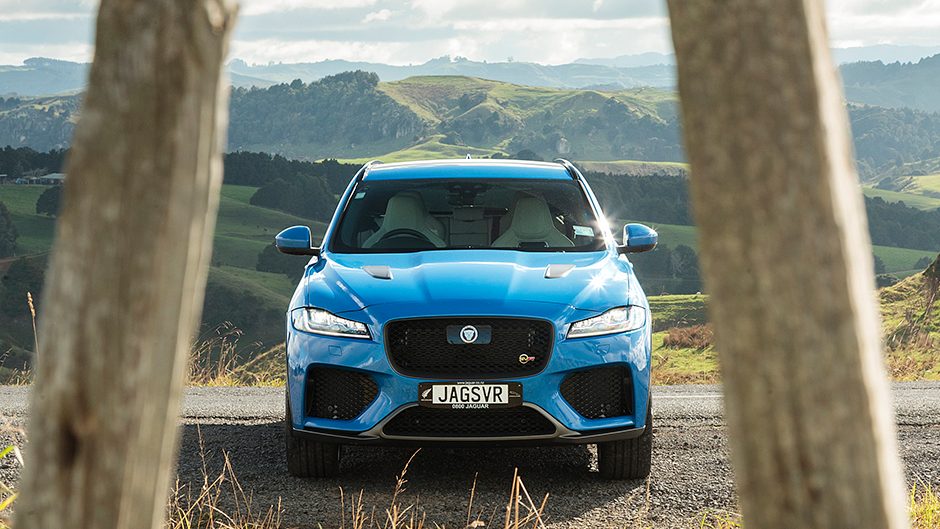 So is its ride considering it has spring rates upped by 30 per cent at the front axle, along with firmer damping. Yet in its Comfort mode, in which it can be left even through mountain pass-type scenarios, this is almost pampering. Mind you, the special seats help, finished in beautifully crafted two-tone quilted leather. Dynamic mode is best for milking the most of the SVR, it goes without saying, but with others aboard Comfort does a pretty decent job as well.
What works for UK roads works just fine for our secondary roads too. Steering feels appropriately quick without being too hasty, and is naturally weighted. Brakes are right up to speed too, using lightweight two-piece discs, 395mm in diameter, and acted upon by four-piston brakes up front. Its best stopping distance from 100 of 35m reflects the 2113kg kerb weight of the SVR.
Our particular top cat had a few optional extras including the fixed panoramic roof ($2500), privacy glass ($850), 22-inch alloys ($3700) and CF and aluminium veneers ($2450). There are myriad customisation options, including up to 15,000 exterior colours, and a choice of four two-tone leather finishes.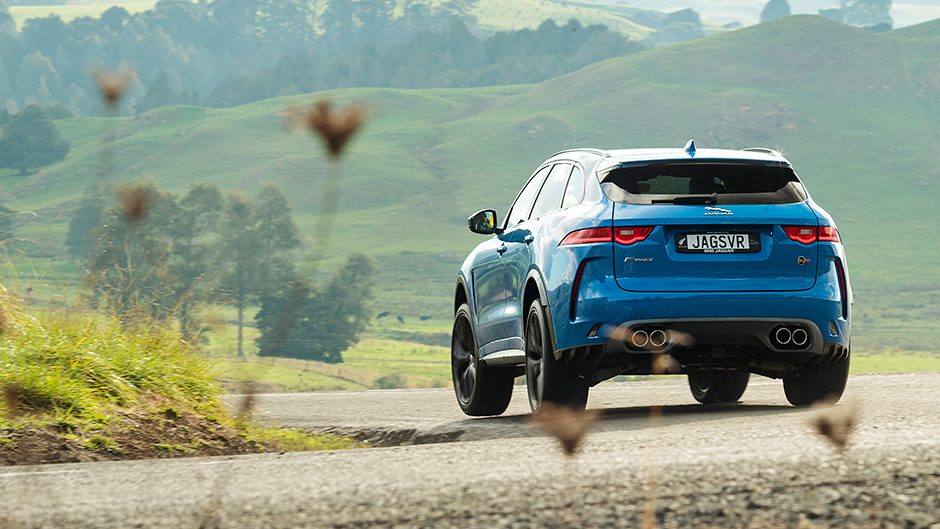 Standard kit includes heated mirrors (some of the fastest to clear when frosty) and toasty steering wheel, not to mention heated and vented sports seats, classy aluminium paddle shifters, a 10-inch touch screen (could be quicker in action), 4G wifi, navigation, Meridian sounds, comfort entry and powered tailgate. Lights are all LEDs.
F-Pace has been a winner for Jaguar, amounting to not far off half its recent sales. It now spans the price range from $90k-$160k. The addition of the SVR should help add a few more sales, given its bang for buck in the sector. Plus it's a bruiser and a rabble rouser.
| | | | |
| --- | --- | --- | --- |
| Model | Jaguar F-Pace SVR | Price | $157,900 |
| Engine | 5000cc, V8, SC/DI, 405kW/680Nm | Drivetrain | 8-speed auto, all-wheel drive |
| Fuel Use | 11.9L/100km | C02 Output | 272g/km |
| 0-100km/h | 4.18sec | Weight | 2113kg |