You will become a PR agent for McLaren if you own any of the company's exoti-cars. Everywhere we stopped, the GT attracted a selfie-mad crowd.
You'd think after twenty years on the job you'd have pretty much seen it all. But we're continually surprised (and occasionally delighted) by new machinery. In the case of this gorgeous red supercar, only one word really springs to mind and that's WOW. Wow that it looks this wild without going all wings and aeros like a race car, and wow that it actually does go like a race car. And yet, with a few dial twirls, this morphs into something much more everyday agreeable, able to waft around town without getting all antsy.
And it's forever pulling a crowd when all you're wanting to do, for example, is pick up a few pieces of plywood. Which the car duly swallowed in its most unlikely of holds. The rear one – there's a frunk as well – is shallow cos of the engine beneath but quite long so if you've got, say, some 1200x800mm ply to tote, the Macca GT is your car. Bunnings, by the by, was the only place where people gawked; elsewhere folk swarmed for selfies.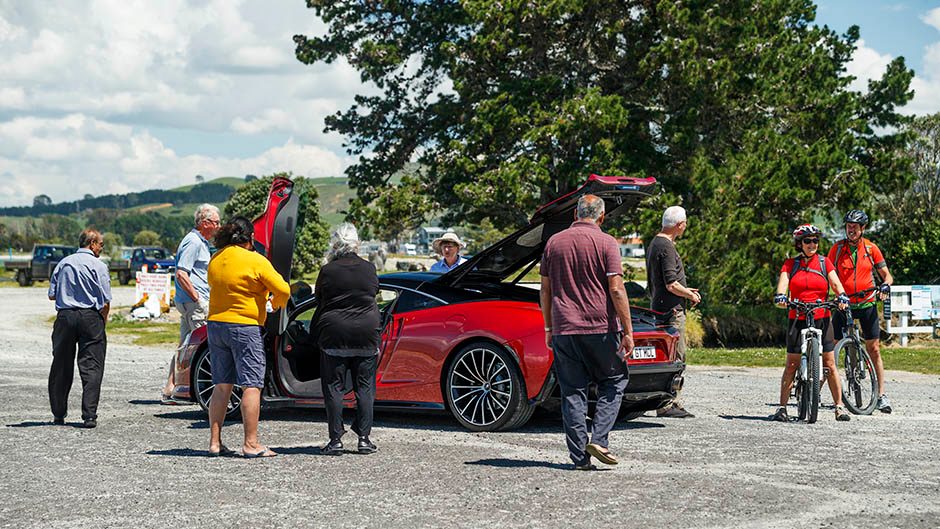 This is the first McLaren I've driven. Kyle has pedalled a couple and was pretty upbeat about how well they went, and in particular how sophisticated the suspension is. And he's right. Occasionally the GT crashed into sharper town bumps, as much the fault of the carbon fibre monocoque's rigidity as anything, but for the most part it is genuinely comfy trolling around the burbs, utterly controlling and compliant on the run.
And the biturbo V8 powertrain is absolutely willing to comply, even right from cold. Its pull in the low rev 1000-2000 area, ideal for just sloping round town, is heroic. At the top end, it wails like a V10 as it hits its soft limiter at 8500rpm. For the last couple of thou, you need to hold onto your hat.
Burbling along slowly in heavy traffic you get lots of stares, so dark glasses permit some dignity. People are in no doubt which brand it is because McLaren is writ large on the front. And the number plate is a complete giveaway for this is the McLaren GT, the first of a new series, sitting outside the traditional Sports, Super and Ultimate lines. It evidently uses the same basic engine architecture as the best selling 720 but has smaller turbos, and hence the in-between power output (the model numbers reference horsepower). Where some McLarens cost as much as an Auckland house, this GT, a 2021 model, is something more aspirational. Formerly with optional extras it was over the $420k mark; now all five equipment packs are standard and it kicks off at $367,900. Even a sports exhaust is a no-cost option. And get this – you can order carbon ceramic brakes at no cost. There are lots of no-cost customisable options too, mainly interior trim pieces.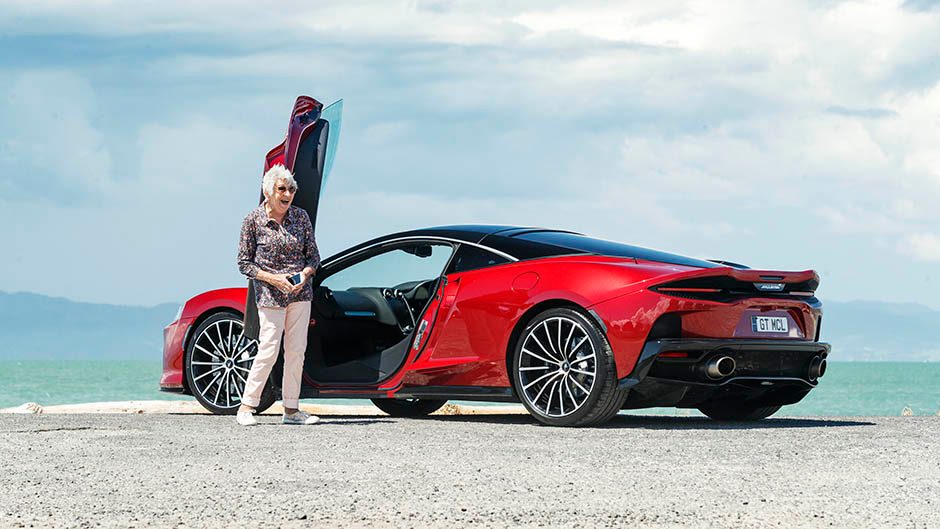 Kiwi Connection
It's a pleasure to drive a car that has a Kiwi as its symbol emblazoned on the 21-inch wheels, the steering wheel and even on the McLaren badges. The so-called 'Speedmark' grew out of a stylised Kiwi, used by Bruce McLaren's F1 team of the sixties. Yes, it's a British-built car but McLaren's legacy lives on; there's no mistaking the symbolic shape.
And it's there front and centre on the boss of the GT steering wheel which has utterly no other adornments, apart from the horn. How refreshing is that? Okay, so there's no gear lever in this car, buttons only, and you shift manually using paddles (unless in Auto mode), but essentially the device is just for actual steering duties, which it does in sublime fashion. That's because it's mid-engined so there's 60 per cent of mass over the rear axle, forty per cent up front. And it's rear-wheel driven, which adds to steering purity. When it's under the pump brake nipping on the inside rear wheel helps maintain your chosen line.
Steering assistance is electro-hydraulic. It doesn't take long behind the wheel to recognise this either, the patter from the road making its way to the rim unmolested. Nor is it overdone; it's just right in both the amount of feedback at the wheel, and the quickness of its responses. Even the weighting feels natural.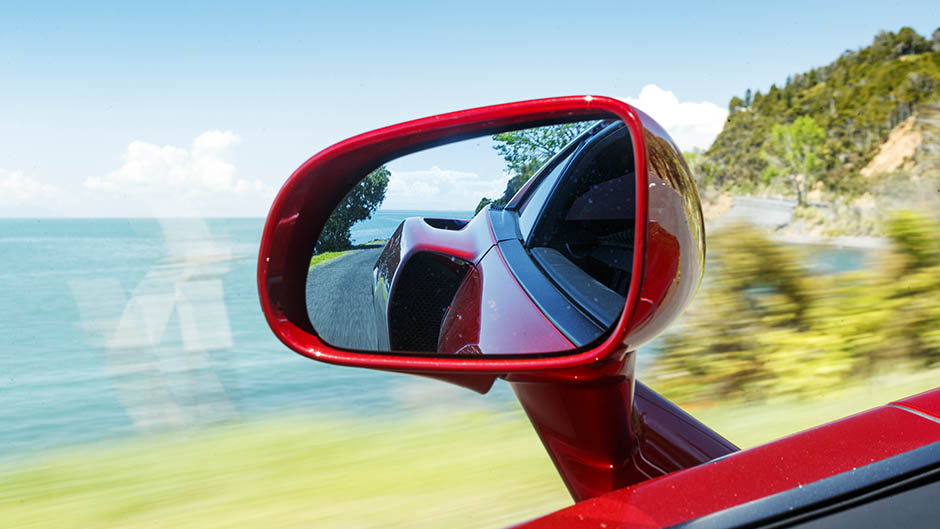 Record breaker
The other advantage of the unusual weight split is that this is one of the few rear-drive set-ups that generates sufficient traction to get off the mark efficiently using launch control without hazing the tyres in a cloud of blue smoke. McLaren rates the engine at 620hp, and torque at 630Nm, from a surprisingly high 5500rpm; there's plenty below that. Using a truly slick-shifting seven-speed DSG transmission, the firm reckons this can blast from standstill to 100 in 3.2sec, and on to 200 in 9.0sec. We checked the first, not the second, being ill-advised and illegal. On chip seal the GT broke traction in first and second gears, generating times wide of the mark. However, the first run on hot mix returned 3.19sec, so we called it a day on that. It was the same scenario for 80-120; 1.6sec on chipseal, but on hotmix it blazed to a 1.44sec time, eclipsing the Huracan's 1.51sec long standing record. Both criteria are bordering on superbike figures. It's quick to stop and all; McLaren quotes 32m from 100 and we recorded 32.9m.
And while all that's genuinely impressive (and memorable for the banshee noise this makes at top revs) it's the way it handles day-to-day suburban running in Comfort and Auto mode that marks it out as something different. This ambles along happily at 50km/h in sixth gear with just 1000rpm showing, and at 80km/h will haul up motorway inclines in seventh gear. Why it even handles speed bumps with aplomb. And if you're unsure about that, there's a front lifter device that switches out automatically at 60km/h.
There's little of the hesitation off the mark that so often blights dual clutchers either, and talk about fast shifting; it's slick Tex.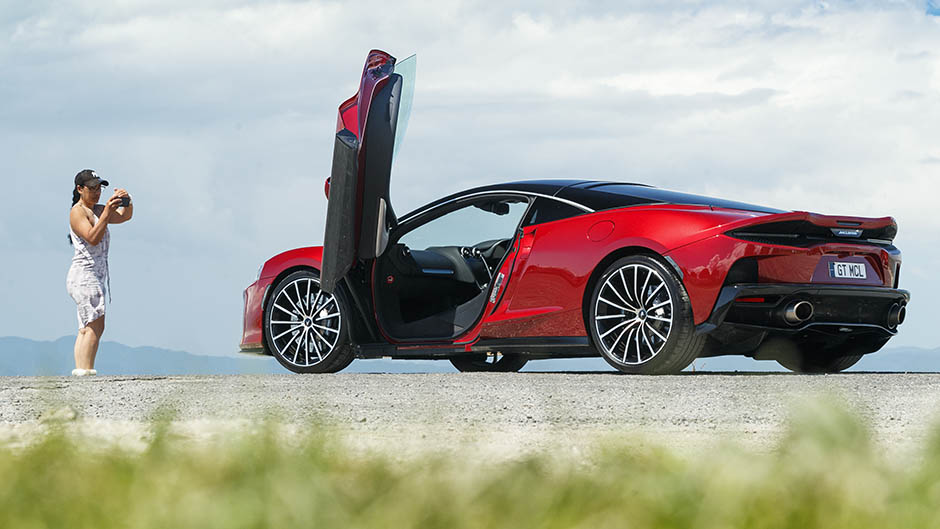 Crowd puller
So are its lines. By-standers are so taken by this car; it's racy but in a subtle way. The standard 21-inch alloys enhance its low-riding appearance and the lateral air intakes for the radiators and intercoolers look dramatic, especially when peering out through the rear view mirrors.
When you open the dihedral doors – the flush-mounted handles are a bit fiddly – it's swoon time for onlookers. Just be sure there's 2m of clearance above! These are certainly handy in a tight parking spot, but they also make entrance and exit a bit easier. Only a bit mind; it's still extremely grounded. Setting comfort-entry to auto helps, moving the seat back and the steering column away for ease of egress. But you're low riding; about the same height as the sidesteps of modern utes. It also makes the sense of speed seem greater.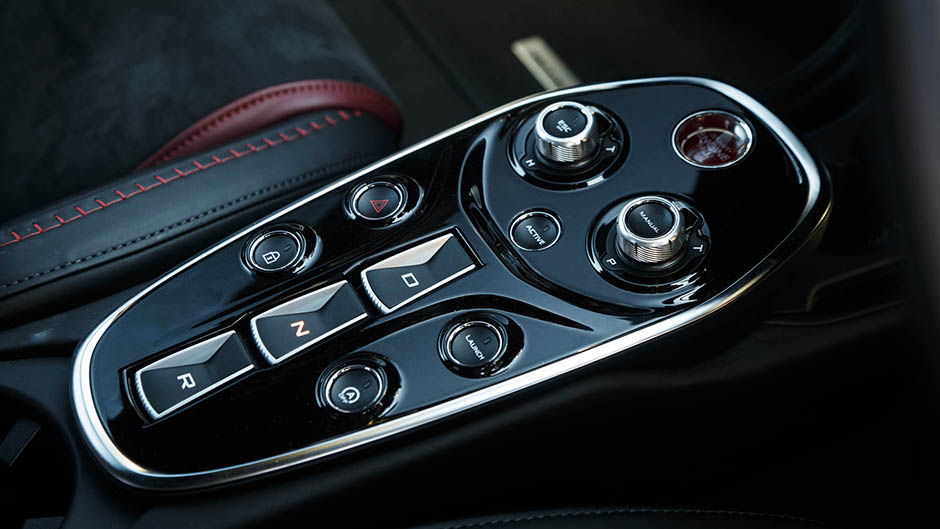 Hushed as
And this is utterly relaxed at the open road limit, pulling 1750rpm, apart from some exhaust drone which doesn't seem to disappear if you switch between Sport and Comfort modes. Hit sixth gear and it's gone but on a GT that's disappointing. On the other hand, we imagined that its PZero rubber would roar like the engine but it just doesn't. Most of the time the dB meter recorded around 70dB, and even on the worst test surfaces it rose only to around 73dB. That's simply amazing for a car of this calibre and capability.
The interior is wonderfully Spartan, made primarily of leather and Alcantara, and there aren't too many driver distractions either. There's no head-up display but directly ahead is a tacho featuring digital speed readout and gear selected. To the left is fuel use, averaging between 9s and 12s while we drove it, scarcely believable really but then low aeros and weight are significant contributors to fuel use. There's a big volume knob controlling the B&W sound system but we elected to listen to the wail of the engine instead.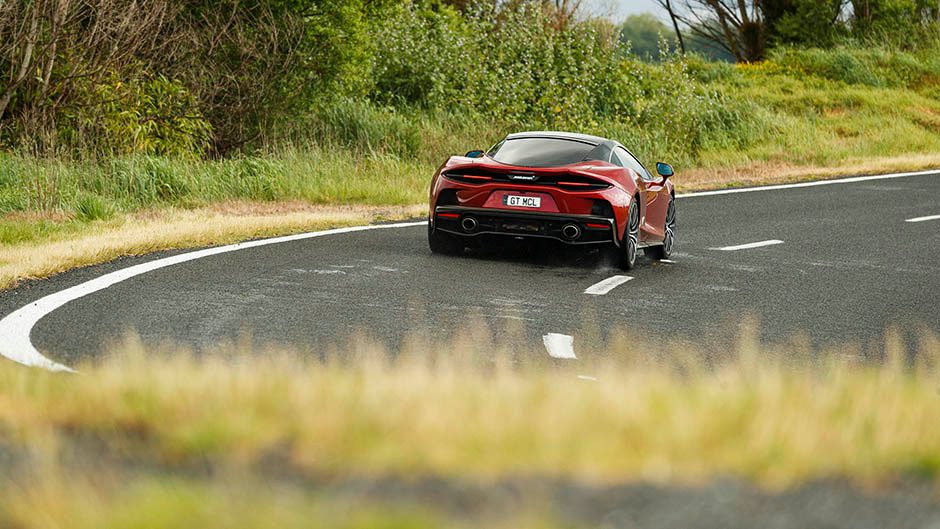 Mixed spec
While there's sat nav and dual zone air, along with full LED headlights, powered steering column, seats and liftback, and a standard practicality pack (vehicle lift, parking sensors, rear view camera and cargo cover) there are a few missing GT-type items like active cruise, traffic sign recognition, blind spot monitoring, AEB, lane keeping and some would probably say rear seats. However, this is also a driver's car, and here it eclipses more conventional GTs. Arguably the missing safety kit is more city than touring oriented anyway. The standard steel brakes require a bit much heft and the pedal is offset left, but just order the sexier no-cost ceramics. Power seat adjusters are hidden away and difficult to master, but the GT gets the important bits right.
Rivals are AWD, more expensive and/or heavier and not as quick, making this distinctly sporty and at the same time refined GT unique in the supersports world, and serious value.
| | |
| --- | --- |
| Model | McLaren GT |
| Price | $367,900 |
| Engine | 3994cc, V8, T/DI, 456kW/630Nm |
| Drivetrain | 7-speed twin-clutch, rear-wheel drive |
| Fuel Use | 10.8L/100km |
| C02 Output | 270g/km |
| 0-100km/h | 3.19sec |
| Weight | 1548kg |