Into the cauldron that is the medium SUV/crossover sector, ford drops its new escape range. Herein we drive the upper-middle ST-Line with AWD.
We've always had a bit of a soft spot for the Escape (nee Kuga) and while the Trend model we last drove in 2017 hadn't quite the refinement of, say, the more expensive Tiguan, there was nothing much wrong with the way it went.
Now an all-new Ford Escape has arrived, the fourth generation, featuring a stronger and lighter platform, a fresh set of clothes, and enhanced tech. It also has a beefed-up engine mated to an eight-speed auto, formerly six, so performs a little better, not that this was an issue for the previous model, even if it was a touch on the lardy side.
The new design is softer, sleeker and with expanded dimensions, liberating more interior space. And a rather nice feature is the sliding rear seat set-up, meaning you can choose between having increased luggage carrying capacity or more space for passengers, only not both simultaneously. There's roughly 30cm of travel and even with the seats set in the forward position, this is a pretty roomy rig in the back. But there's only room for five; there's no jump seat option with Escape. Split folding makes for a slightly inclined but decent sized hold, expanding from 556-1478L. There are remote levers in the luggage bay for this but they're a bit flimsy; we'd advise using the levers attached to the base of the rear seats instead. These, by the by, allow for two upright backrest positions. The tailgate isn't powered on this model, another weight saving solution. And the cargo cover is made of fabric for similar reasons. Beneath it is a big space; after split folding we easily fitted a 1.5m chiminea in the expanded space.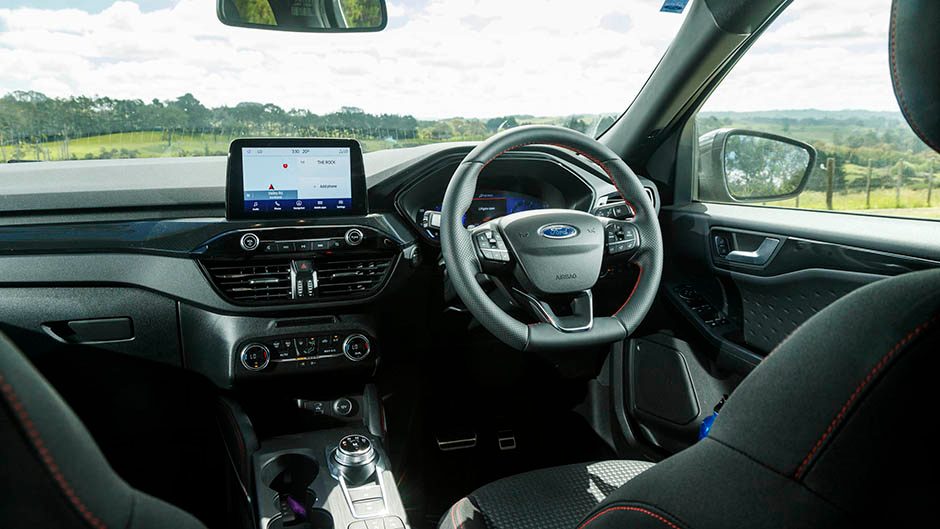 It's a much improved look from its forebears too, but then so is Focus; you can see aspects of the latter in the latest Escape. It also happens to be underpinned by the same C2 platform, which explains in part why Ford reckons this is the best handling Escape to date. Like most new cars these days, the steels are significantly stronger and lighter, making for more rigid underpinnings – torsional strength rises by one-tenth – and palpable differences to ride and handling, not to mention improved safety credentials.
Also helping with the ride and handling package is an increase not only in wheelbase but also in track (it's 44mm wider overall, and track increases by 20mm each axle) while height falls by 20mm. By some strange design feat, there's evidently 35mm more headroom in the rear, which necessarily means the seats are either mounted lower, are thinner or a combination of the two. A weight reduction of almost 100kg is promised and Ford actually delivers in this instance. In 2017 the middling Trend AWD version of Escape weighed 1740kg while the ST-Line AWD scaled up at 1650kg. How has Ford managed that? Well, there's an aluminium bonnet, alloy control arms and space saver spare, lighter bumper supports and brake system, hollow damper rods, and even lightweight speakers in the cabin.
Conventionally powered Escape models are fired by an uprated version of Ford's 2.0L petrolturbo. The base model is named simply Escape, and the next three are variants of ST-Line (front drive, AWD and ST-Line X AWD). There are also two trim levels of a PHEV model, due next year.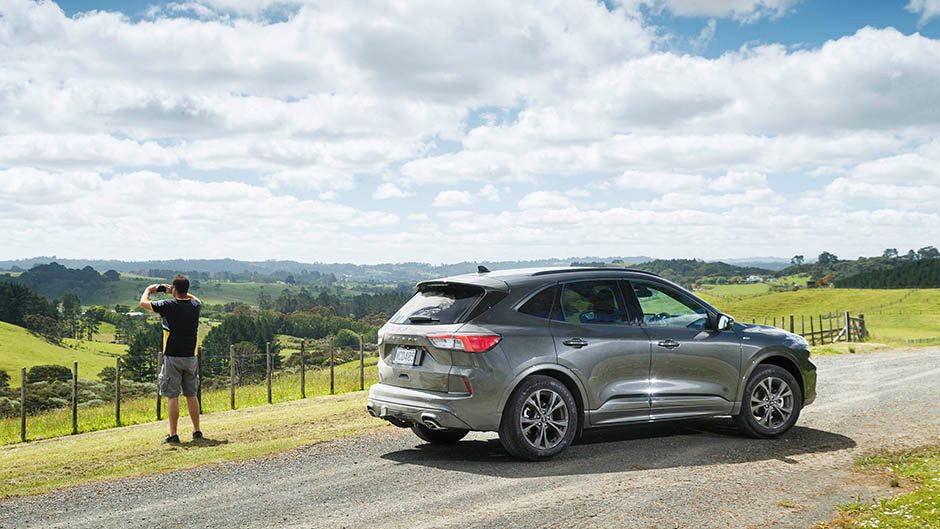 The output of the aforementioned four pot has risen modestly from the previous generation. Where that was good for 178kW and 345Nm, this produces 183kW and 387Nm. It's of note that both the front-wheel drive and all-paw variants have the same quoted combined fuel use figure of 8.6L/100km. We didn't quite achieve that number, much of the time in the nines and after performance testing and a run up our reference hill road, middling 11s. On flat sections of the motorway it's possible to meet extra-urban figures in the sevens easily enough, however.
From the outset, the Escape does a good job of quietly impressing, with the emphasis on hushed. A few times we started it up and couldn't honestly tell whether or not the motor was running; it took a gander at the tacho to confirm reciprocation was indeed underway.
And that quietness in operation isn't just at idle. Even over the worst roads we could find, the SPL meter never registered anything more than 73.5dB. At no time would you have described cabin noise as loud. That's in marked contrast to some of the sporty SUVs we've driven lately with tyres that generate an intrusive amount of clamour. Driven briskly there was the occasional time we thought we could hear a hint of steering gear rattle. Even the suspension, when worked hard, makes little in the way of functional noise. The lack of road rumble is largely because the rubber Escape runs is not particularly sports oriented, being Conti's PremiumContacts, a generalist tyre, and nor are they low profile, being 225/60R18s.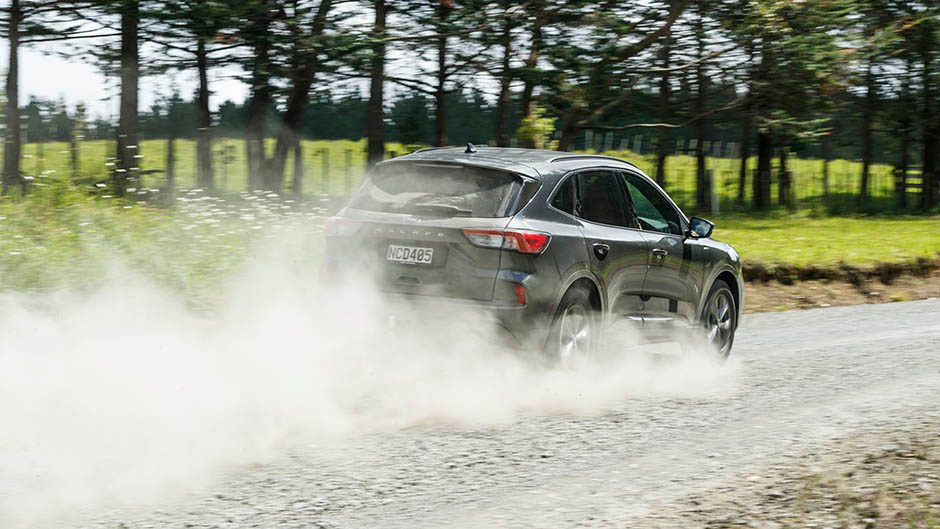 Despite that, this is hardly what you'd describe as corner shy, but then Escape never has been. While its underpinnings may be skewed more towards the ride side of the ledger (at which it excels) ST-Line runs what the engineers describe as a 'lowered sports suspension' setting. And indeed this rounds up the corners in a way that is really very reminiscent of a regular medium sedan. Okay, so you ride higher at the wheel and the view is better (A pillar excepted) but otherwise this is way more car-like in its demeanour than SUV, as you'd expect of something more crossover in its design. There's a touch more roll, partly a reflection of its 191mm of ground clearance and being 1670mm tall but this sure does take to cornering duties with enthusiasm. Turn in is surprisingly quick, just as the Ford engineers promised in the design brief. There's a bit of heft at the wheel, especially in Sport mode, but the electric steering isn't bereft of feedback.
And it really doesn't matter which mode you select. Response in Normal is entirely adequate, with generous acceleration across the 2000-3000rpm band, sufficient for town work, and 2500-4000rpm is ideal for rural running. Paddles are present, but are simply not needed; if you need more go power, just stick it in Sport where the transmission is more responsive.
There are six versions on offer; ranging in price from $42,990 to $64,990 for the top PHEV. We'd bet the front-drive entry Escape is a very good thing while this one might be the go if you live in the SI or want to explore the great outdoors some more. And if you're after green credentials, the PHEV has a 50km electric range, and is claimed to use fuel at the rate of 1.5L/100km, overall. However it's arrival has been delayed while they sort out battery problems.
We like specification too; the bits you expect like active cruise, dual zone and all the passive safety gadgets are ticked off. It got a strong five-star rating too, via EuroNCAP testing. Even the small things are well designed, like a drinks holder in the door that keeps a bottle firmly in place. There's also full smartphone compatibility, and sat nav. And lest we forget, all new Escapes come with FordPass Connect modem embedded, offering dubiously useful things like remote locking and unlocking, and scheduling a service online.
In summary, new Escape is the quiet achiever, and well worth a look.
| | |
| --- | --- |
| Model | Ford Escape ST-Line AWD |
| Price | $50,990 |
| Engine | 1999cc, IL4, T/DI, 183kW/387Nm |
| Drivetrain | 8-speed auto, all-wheel drive |
| Fuel Use | 8.6L/100km |
| C02 Output | 199g/km |
| 0-100km/h | 6.65sec |
| Weight | 1655kg |