The freshened Mazda6 gets a new range-defining variant, the Takami, enlivened by the CX-9's 2.5 turbo engine. Any good? No, it's sublime.
It doesn't seem that long ago since the elegant third-generation Mazda6 launched here, and yet it was in 2012, over five years past. How time flies. A new one is due two years hence but right now there's an update and it's rather significant. Perhaps in hindsight we should have suspected it would incorporate aspects of the Vision Coupe, unveiled at the 2017 Tokyo Motor Show. Since then that stunner has been named the 2018 Concept Car of the Year.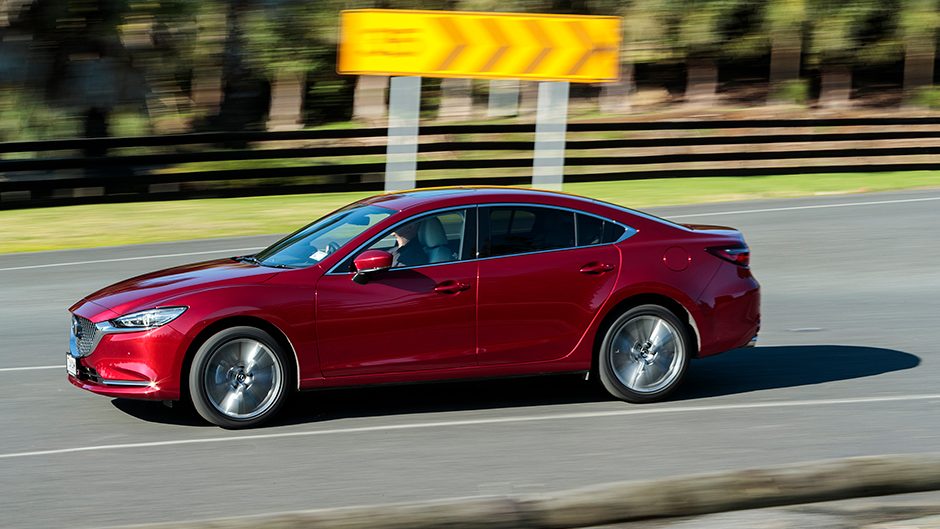 The Mazda6 has long been a style icon and with the latest iteration of Mazda's Kodo design language the refreshed Mazda6 takes on the "mature elegance" theme, "developing a pure expression of movement and removing any non-essential design elements". There are the sculpted curves as before but a lower and wider mesh grille comprising patterns of tiny blocks imparts a more grounded look to the 6.
For those not wanting the feel or look of a big SUV, the options aren't quite what they used to be. Large cars now are confined essentially to the luxury segment, while those a size smaller comprise barely five per cent of new vehicle sales, a good proportion for fleet use. Amongst those are Mondeo, Legacy/Outback, Commodore four-cylinder models, Superb and Camry.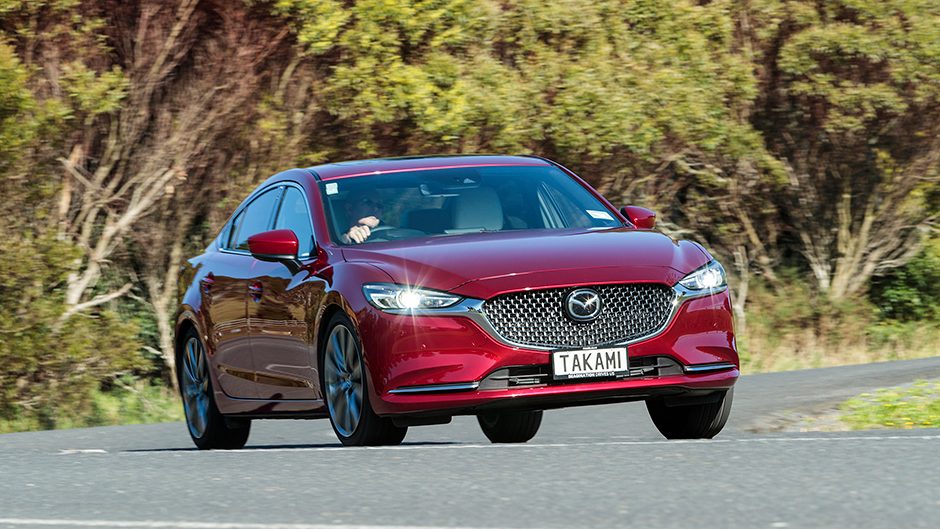 What makes the new 6 line-up a bit different is the addition of a Takami sedan variant. Evidently it means uppermost, so the fact it takes over as the top model above Limited is appropriate. The Limited remains. Takami is not only the most expensive new Mazda6 available right now but it's also the best equipped and it promises to be the most premium model yet. Standard specification rivals that of the more expensive Euro competition. There's dual zone air, a powered sunroof, LED headlights and DRLs, a head-up display, paddle shifters, sat nav, comfort entry, a reversing camera and the list goes on.
Same deal with safety too. Active cruise includes stop and go functionality, and there are auto dipping headlights, powered heated and vented seats clad in Nappa leather and UltraSuede, 19-inch rims, privacy glass and a big Bose audio system. Figure too on a black cabin headliner, seven-inch TFT screen for the instruments, 360-degree monitor and flat split folding. Yet for all that it still weighs in at just over 1600kg.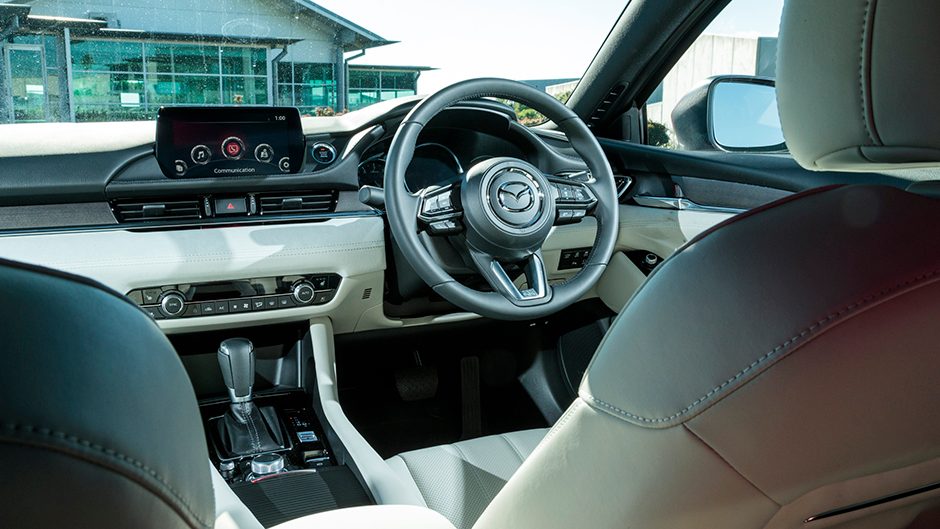 List price is $56,990, only $1000 more than the Limited sedan it kind of replaces at the top of the tree. And while it is the most expensive in the rejigged line-up that's because models like the Limited diesel wagon have come in for a price shake up, falling from $58,245 to $54,495.
Anyhow, the core of the new car is its new engine, the first time a sizeable Mazda sedan has had a petrol turbo since the original Mazda6 MPS. The turbocharged 2.5 develops 170kW and pumps out 420Nm of torque from 2000rpm, all happily on 91 unleaded gas. What makes it a bit different from your run of the mill turbo is a unique Mazda design feature, Dynamic Pressure Turbo, that aims to eliminate turbo lag. It's akin to running water through a hose that's partially blocked off at the outlet. A small inlet port accelerates gases, forcing them into the turbocharger more quickly after applying the gas, reducing lag.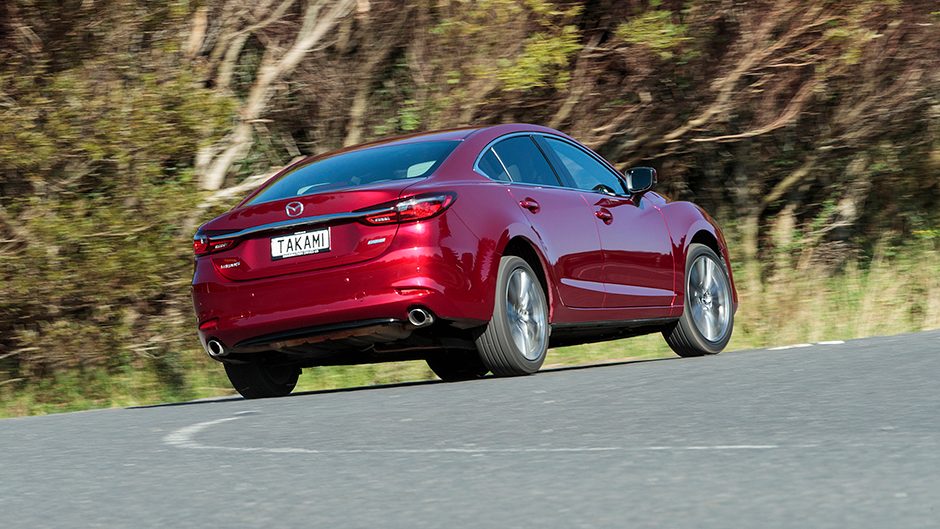 It works brilliantly; there's simply no delay when you hoof it off the line. At higher revs, a valve opens for increased gas flow. With a 'pulse-scavenging' manifold and cooled exhaust gas recirculation Mazda reckons on fuel use of 7.6L/100km overall, or 184g/km of CO2. We recorded a top figure of 12L/100km. Like other 6 models, it is hooked up to Mazda's six-speed auto except with the 2.5T engine the torque converter remains locked for longer, imparting a "more connected sense of controllability" than with other autos.
No new Mazda6 uses carryover chassis engineering and in this iteration, the techs have chased "a smoother, more linear ride and greater NVH refinement". For more direct response and improved steering feel, the rack is now rigidly-mounted to the chassis, while the bones have been stiffened (body reinforcement, thicker sheet metal in the rear wheel wells, stronger trailing link mounts) chasing improved dynamics and an even smoother ride. Other changes include revised suspension geometry, and roll-steer tweaks to promote more neutral handling. The changes are said to have made the latest 6 'dramatically' quieter on road than before when it was merely hushed.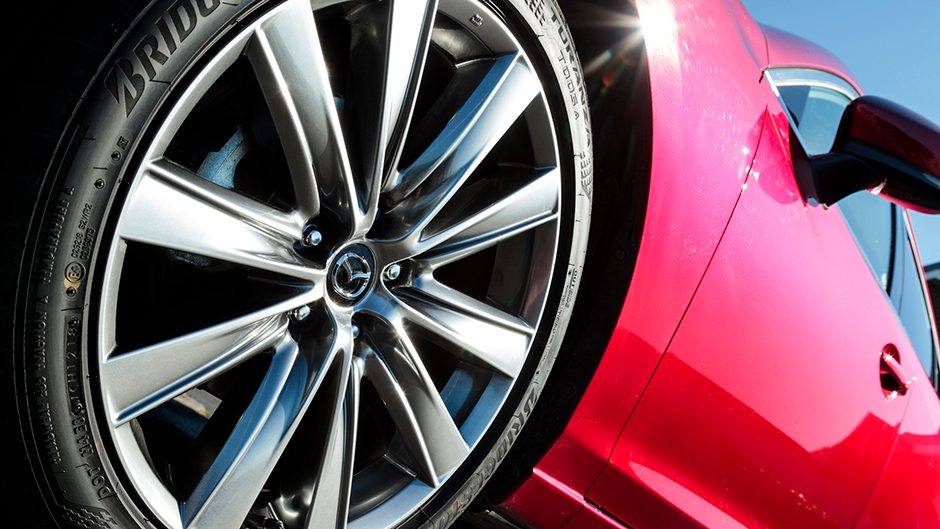 The interior is befitting of a top model, and is virtually all new, only the wheel and a few bits of trim carried over from before. Seats are bigger, use a new type of high density, vibration-absorbing foam and are covered in Nappa leather. There are both heater and venting elements within, and on the dash are Sen wood inserts. Scattered about the cabin are cream suede highlights that mark rather too easily but look great. The dashboard is new, with expanded width, as are instruments. The centre console screen has a central rotary controller and seems similar to that in the previous 6.
Is it like an MPS then? Not really, and rather than being vastly quicker than the model with the 2.5 atmo engine it comes across as more relaxed, effortless. The naturally aspirated version manages a sprint in 7.6sec and an overtake in 5.0sec. The addition of the turbo gives these figures a bit of a boost. It's not in the league of an MPS Mazda6 which was 4WD, smaller and much lighter. It managed a 6.47sec 0-100 pass and 80-120 overtake in 3.67sec.
Think of this as more the GT, affording effortless passing power. It's really not a particularly easy car to launch, with or without TC engaged. Axle tramp can be an issue, but holding your tongue right it breaks 7.0sec easily enough, ending with a best of 6.7sec on chipseal, while a TED time of 4.33sec is also 0.7sec improved on the naturally aspirated vehicle. Back when we last tested the current generation, the GSX sedan weighed 1450kg; this is much better specified, and has undergone further strengthening, so now weighs in 150kg heavier. Little wonder it's not massively quicker.
But it does drive better, without question. Body control improves, with less of the lolling and pitching that the softer third-generation exhibited when it first arrived. This retains the cossetting ride and improves upon it because of superior body control and the new firmer more ergonomically correct seats. Steering's better too, especially through lumpy corners where patter is palpable through the wheel. Despite all that torque flowing through the fronts, there's little in the way of torque steer.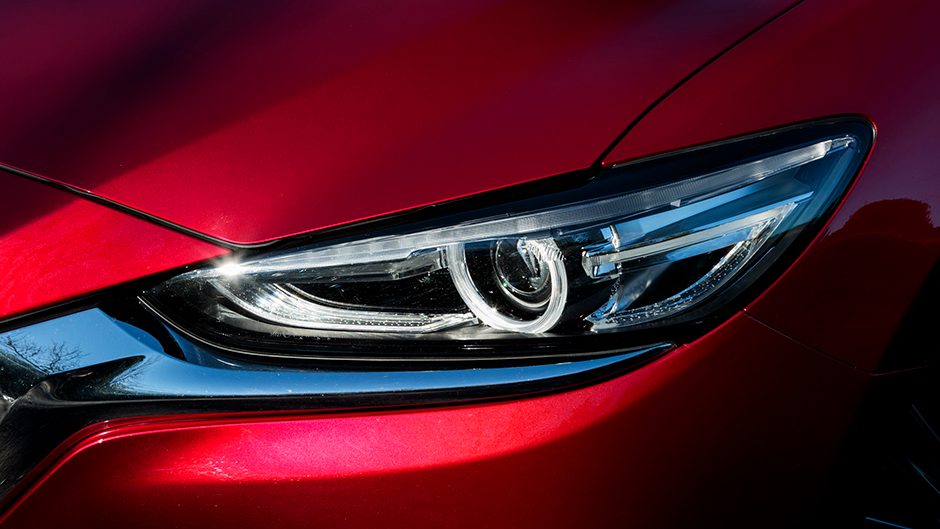 As mentioned in another article, you can get to about 80 per cent of what's possible for one-quarter of the cost of the ultimate class leader; the final 20 per cent is expensive. And that's what it feels like with the Tamaki; the feel of a well sorted executive offering but at entry-exec pricing. It's a bit special.
| | |
| --- | --- |
| Model | Mazda6 Takami |
| Price | $56,990 |
| Engine | 2488cc, IL4, T/DI, 170kW/420Nm |
| Drivetrain | 6-speed auto, front-wheel drive |
| Fuel Use | 7.6L/100km |
| C02 Output | 184g/km |
| 0-100km/h | 6.73sec |
| Weight | 1607kg |