Mazda's compact competitor is now in its fourth generation and refinement is the catchphrase. It's quieter, smoother riding and more sophisticated. Can it compete at the next level?
Who would have thought that the once indomitable compact hatch class would face a crisis of confidence? Corolla's dominance as Kiwi's favourite new vehicle was long ago usurped by Ranger and Hilux. In retrospect, the writing was on the wall. The slowdown began with large cars, then the rot set in for the medium saloon sector, so it was kind of inevitable that the decline would trend down further. We wonder whether the supermini sector is next, though doubt that given how popular it is amongst retirees and singletons. Yet small SUVs are a happening thing so…
Anyhow, the compact class has halved in size here since 2014, now down to eight per cent of the new car market. With some models leaving, Mazda (like Kia with Cerato) sees it as an opportunity to gain market share, its fourth-generation '3' coming here in both sedan and hatch formats, costing the same for the sake of simplicity. Moreover, it's only available in automatic guise. So the one per cent requesting a manual transmission misses out. Not to worry because the six-speed automatic has an MS box slot at the stick and the Limited gets paddles.
Mildly updated engines
On transmissions, is six gears enough given some others in the class now have seven or eight? A few years ago we'd have said yes but at times we felt a cog between second and third would be handy. On the other hand, the 2.5-litre atmo four in the Limited has such a vibrant midrange (and the box is an efficient shifter) that it's not really a deal-breaker. Both of the 3's upgraded petrol engines are naturally aspirated, unlike many competitors in the class.
Mazda continues to hone its naturally aspirated mills, the 2.5 in the Limited now getting displacement on demand, the two outer cylinders taking a break on light throttle openings below 3500rpm. Power peaks at 139kW when not in doze mode, and torque tops out at 252Nm. While Mazda nominates 4000rpm as the point where all the torque is on tap, in reality it gets going well before that figure, coming on strong from around 2000 rpm in town. Expect a combined fuel use figure of 6.5L/100km.
No performance figures are given locally but overseas publications quote a sprint time of 7.9sec for the 2.5 models (GTX and Limited). That's what we got too (7.7sec), the same as its forebear, though the 80-120 was off by over half a second. Blame the extra 50kg of sound deadening for that. It really is much quieter and you don't notice the performance deficit. The 2.0 GSX isn't quite as quick (10.8sec claimed) so if you want a bit more pep in your step, the bigger engine is for sure worth the extra.
It's gutsier everywhere than the 2.0L, proper urge building from about 3000rpm out in the wilds. Being radically oversquare, 89x100mm, helps on that front. That spread of torque keeps fuel use real too. Even given a serve, this maintains consumption (of 91 ULP) in single figures. We had to work hard to get a worst figure of 10.3L/100km.
The turbo opposition can max out around 50 per cent higher than this. In town, the sharp throttle response is a pleasant change from the generally laggy off-the-mark start of turbo-fired small engines hooked up to twin-clutch transmissions. Low-down grunt makes this an easy town drive, aided by active cruise that now works down to a full stop.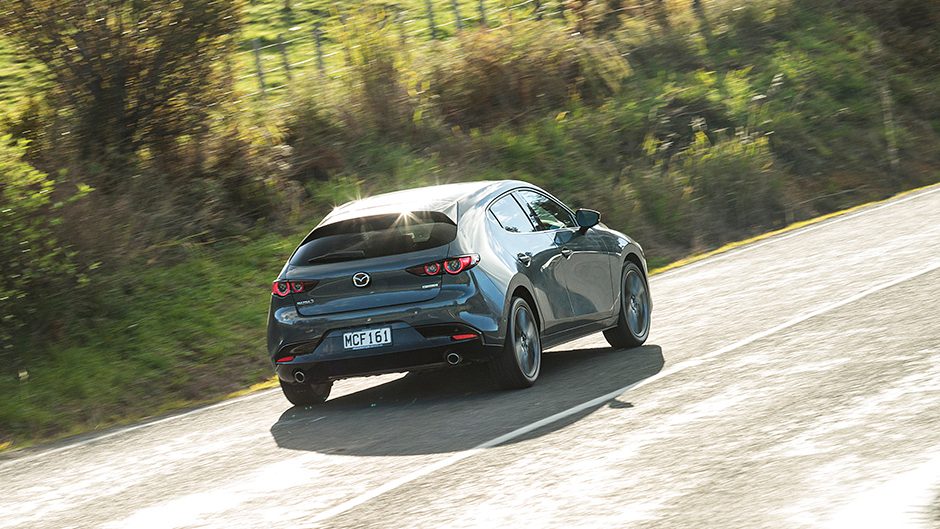 Handling and ride both improve
The new chassis set-up is a bit different from the previous generations, but in a predictable way.
Each successive generation of the 3 series sees Mazda attempting to rebalance the ride and handling ledger towards refinement, without losing body control. So cue an even more rigid chassis, with ultra-high-strength steels now comprising 30 per cent of the structure compared with three per cent previously. They've also stretched the tracks. At the rear, multilink suspension makes way for a torsion beam, again for added rigidity. And Mazda has also done what some of the premium car makers do, getting tyre suppliers to design rubber specifically for this model.
The sidewalls are less stiff, more squish softening the impact of squared-off bumps, helping with overall compliance. If you want an even smoother ride, the 2.0L GSX model gets 205/60R16 rubber versus the lower profile 215/45R18s on the middle-range GTX and Limited. The top-level Mazda3 has always been a fun fling and this new one moves the game on, only not in the way the Blues have.
Body movements remain well contained, and with wider tracks the 3 gets on with the grip and go thing better than ever, holding good speed in turns without running wide. Helping the dance is torque vectoring by brake. It's quieter on the go too, only the worst chip seal surfaces giving rise to any significant road-generated roar. An average of just under 70dB is about 1.5dB quieter than its forebear. The engine is hushed as well.
Stopping power has never been an issue with the Limited but the pedal feels spongy, even on significant applications. It's something we noticed on the launch, across the range. And while steering is accurate and quite quick, despite its 2.9 turns lock-to-lock, it's not especially interactive. Not that these detract overly; given free rein, this is still one quick, competent and refined compact hatch.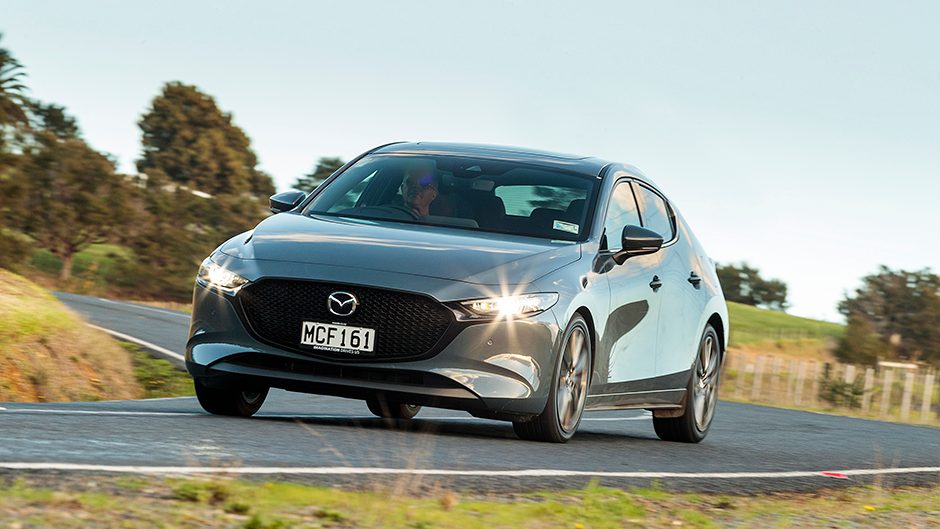 Stylish but more compact in the rear
Going against the general rule of bigger must be better, luggage space isn't as generous as before, despite a 25mm stretch in overall length to 4460mm. Luggage capacity actually drops slightly from 308 to 295L, and while there's enough space in the rear seats for two adults, it's cosy rather than commodious, the result of a standard sunroof and plunging roofline. The centre seat occupant will necessarily be short or headless. You need to watch your noggin on entry for the same reason. Up front, it's all class.
New instruments borrowed from the 6 are larger, more legible, and there's now a proper head-up display. Represented are speed, the limit in the local area, cruise setting and nav instructions. You're sitting on a new more encompassing seat too, leather-clad, powered and heated in Limited, and it's supposedly designed to encourage good spinal posture. Lumbar adjust in Limited is by a pump. Build quality and simplified ergos finish the 3 in style. A new generation rotary command controller oversees what's on screen.
And it's even more intuitive than before so less distracting. The central screen itself is oblong in shape and nicely integrated, unobtrusive. Even the details aren't overlooked. In the Limited the knobs have a Bentley-esque knurled finish. The audio is a bit special too. Mazda asked Bose to rethink woofer location and enclosure design. They came up with an asymmetric rigid plastic box for the bass drivers, rather than just slapping them in the door cavity down around your ankles. Bass is better resolved, more tuneful, the overall sound above the class norm. There's also compatibility with Apple CarPlay and Android Auto.
And a rather cool feature is the well sited, multimode volume control. With digital files, you can move onto the next track or go back by simply pushing the volume control to the right or left. It's a clever bit of ergonomic thinking. And lest we forget the styling, it's the latest less-is-more version of Kodo, and is based on the Kai concept of 2018 which is a squat, sporty design. That means subtle curves and a fewer character lines.
We're not so sure about the chunky C pillars and abbreviated glasshouse which restrict rearward visibility. Both hatch and sedan are striking though, particularly the latter which also offers a heap more luggage space (444L). Which one then? Prices have risen, especially as there's no longer an entry-level GLX variant. If your budget is around $32k, look to Focus Trend instead. The GSX is therefore now the base model, kicking off at $36,595.
All variants come with comprehensive safety kit, including active cruise and head-up display, AEB, blind spot monitoring and lane keeping. The Mazda3 range has just been awarded a five-star crash rating from ANCAP, registering the highest equal occupant protection score for 2019 of 98 per cent. Other standard gear in the Limited includes LED lighting, sat nav, dual zone air, leather seats (available with an optional black and red squab design) and comfort entry.
The hue you see here is the hero Polymetal grey colour, though we rather like the Soul Red metallic colour too. Rounding out this rather convincing package is a new five-year unlimited kay warranty, backed up with free servicing throughout that period. Warranty is also transferable.
If the Limited breaks the budget at $48,795, the GTX gets the same mechanicals but less fruit, and costs $40,795. Want even more tech? Await the novel SkyActiv X engine, arriving early next year in the Takami version, only it won't be cheap, likely exceeding $50k for this thrift-meister (4.7L/100km). Don't want a hatch or sedan? Hold fire for six months when the 3-based CX30 crossover becomes available. It should prove a popular halfway house between CX-3 and CX-5.
Such is the improvement in NVH and overall build, we believe the new Mazda3 has the wherewithal to compete with anything in the sector, and that includes the premium compacts, only this costs rather less. Mazda now has one of the most impressive compact offerings on the market, regardless of price.
| | | | |
| --- | --- | --- | --- |
| Model | Mazda3 2.5 Limited hatch | Price | $48,795 |
| Engine | 2488cc, IL4, DI, 139kW/252Nm | Drivetrain | 6-speed auto, front-wheel drive |
| Fuel Use | 6.6L/100km | C02 Output | 154g/km |
| 0-100km/h | 0.00sec | Weight | 0000kg |