There's something electrified for everyone in the MX-30 line-up, the pure EV and now the mild hybrid. How's the newcomer compare?
When we drove Mazda's electric MX-30, we made mention of a mild hybrid version coming, packing a 2.0-litre engine and a belt starter generator, offering roughly the same amount of power and torque and similar performance to the EV, but at a more affordable price of $46,790.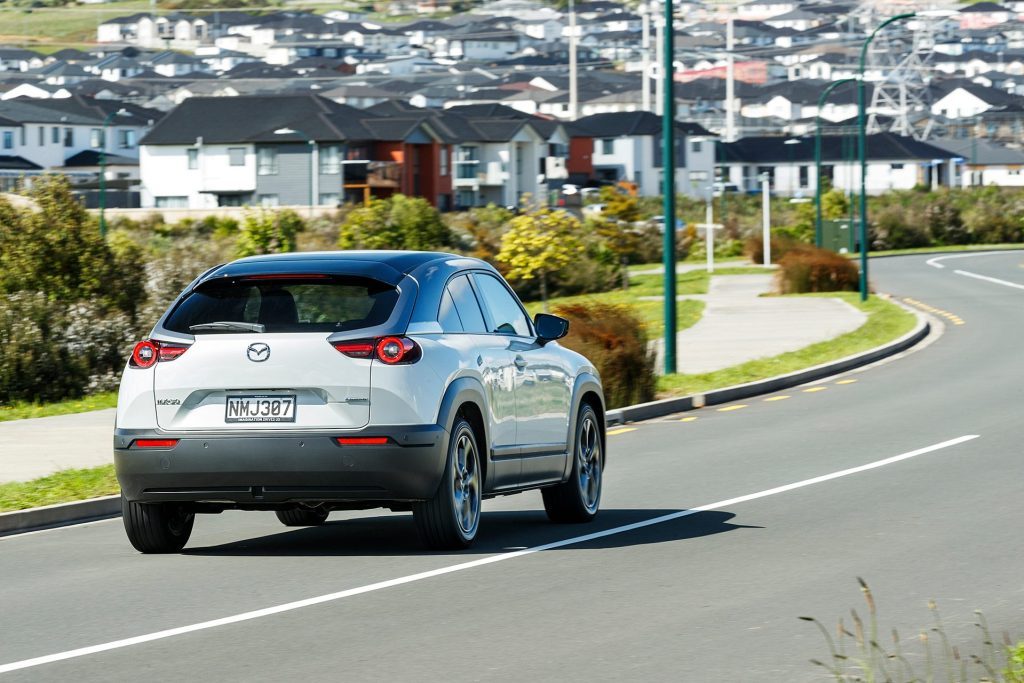 That said, the ask for the EV has come down with the clean car discount to $66,275 and if you consider also the wallbox Mazda is giving its MX-30 customers, you're looking at a premium of around $18k for the zero emissions alternative. Which is still a fair wedge, no denying.
And for those who live out of town and/or cannot get their head around a range of 250km, the mild hybrid alternative with three times the roaming ability and a few minutes of refill time might look rather more appealing. No plug-ins either, being a mild hybrid.
The question is – how does the e-Skyactiv-G 2.0L M Hybrid, to use its full name, stack up? Darn well, being almost as quick and quiet, and as impressively capable on road. Sure, it's not emissions free but with its integrated starter generator on board it is a claimed nine per cent more fuel efficient than a conventional Skyactiv 2.0 variant would be, with an overall fuel use figure of 6.4L/100km. That still means it is poking out of 150g of CO2 per km. On the motorway, figures in the fours are possible, but round town you're more likely to see in the eights.
And on the CO2 thing, Mazda is committed to being carbon neutral by 2050 using a multifactorial approach, the most crucial of which is that all models will be partially or completely electrified by 2030. Because that's not a comprehensive carbon solution, the company is also working to get the optimum efficiency out of its ICE power engines, and working on the development of e-fuels that can potentially make ICE power vehicles carbon neutral. But just how they'd deliver this gas in the real world is yet to be determined.
The right level of spec
Drivetrain differences aside, the other reason this is less expensive than the EV is it runs a Limited grade spec, whereas the EV runs the top-shelf Takami level. That said, you're hardly limited, sorry, in terms of what you get. So there's no sunroof or leather (only artificial stuff here) but there's lots of safety tech.
The seats have mainly a textile finish, with a dash of leatherette, but they're really comfy, the commander's in particular with power operation. The entry is easy too, being slightly elevated – GC is 180mm – and, being of the coupe-SUV mould, the longer travel suspension gives it a sumptuous ride. Out of town the body control is notable and so too progress over all sorts of rumpty roads you might encounter on a typical Kiwi outing.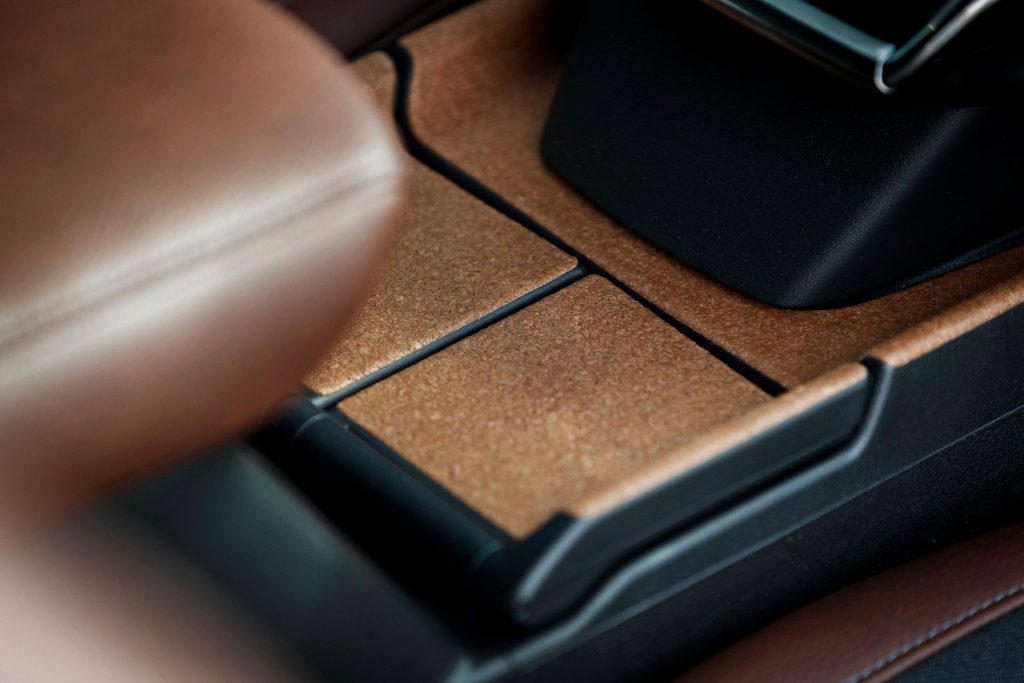 What also impresses, greatly, are noise levels or lack thereof. Okay, there's a bit of wind whistle about the A pillar but road roar from the Toyo Proxes is so well contained it kind of makes you wonder how Mazda does it. We'd guess it's because the EV runs quiet so you want road roar to be kept in the background and in the mild hybrid variant that's also the case.
Back to spec then; so there's no self-opening fifth door – who cares when it's this light? – but there's active cruise that works nicely indeed, along with dual zone air, heated seats, a head-up display with traffic sign recognition, comfort entry and push button start, plus self locking as you walk away, and a human-machine interface that's about as logical and idiot proof as you'd want. For example, there are two buttons for active cruise, one with autonomous lane keeping, and you can flick between them. A pity the buttons aren't a bit easier to read in poor light but you'd soon know which is which. It's nice to have a conventional volume control as well as a remote one. This also acts as a command unit for an attached music source. And the main circular controller for the touch screen is easy to fathom.
Fires as well as the EV
This second MX-30 model features what Mazda calls its M-hybrid system, combining a Skyactiv 2.0 110kW/200Nm petrol engine with a belt starter generator and a 24V battery that charges using energy regenerated during braking. This then powers the electrical gubbins on board and the motor torque supports the engine during take-off and overtaking.
As a drive, this goes nicely in the everyday rev band, and doesn't need as much stirring along as, say, its close relative, the 2.0 Mazda3. Even out on the open road it gets along just fine in the 2000-3000rpm area, keeping fuel use reasonable as a result. Best performance is from about 3000-4500. It's almost as quick as the EV, taking just under 10 sec to reach 100km/h, and seven for the overtake. Not as quick as the fastback appearance though.
The auto trans is typically Mazda slick, the six speeds enough to get by on. Sport mode we didn't use much; it's a bit too hyperactive. On the other hand, the auto in the Normal mode works so well that the shift paddles must rust with lack of use. The shifter layout is a bit different, with Park and Reverse on a horizontal plane but again, with use, it becomes second nature. Just slip it left for reverse, and pull down for D. So shifting between R and D is really easy, handy when performing a three-point turn.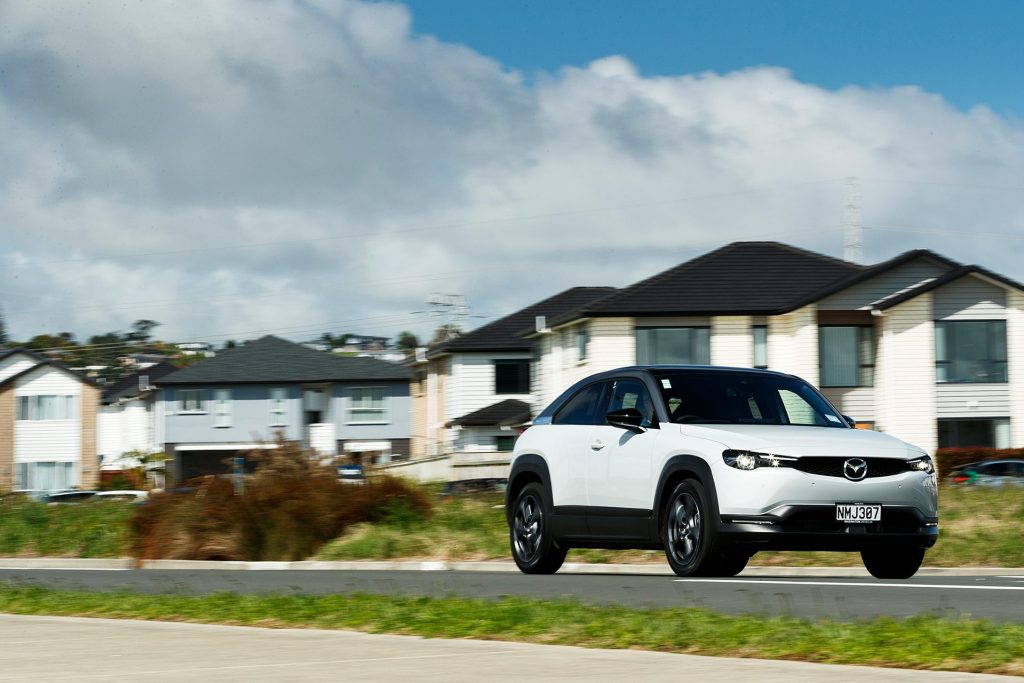 Styled different
This is essentially a compact coupe style SUV and with that does come some compromise, especially for rear seat passengers. Headroom there is a bit tight for taller folk but knee room is at a real premium. While we admire the entry into the back seat area thanks to the freestyle doors and lack of B pillars, you have to unlatch the front doors first. And these don't shut resoundingly either, vibrating after closure due to lack of a B pillar.
The other downside to all that style is somewhat average luggage capacity of around 370L, though it expands to 876L with the rear seats folded flat and out of play. It's quite fetching with its two-tone paint (three if you include the blackened roof and mirror caps) and plastic cladding for that tough off-road look. Don't even consider venturing off the black stuff though.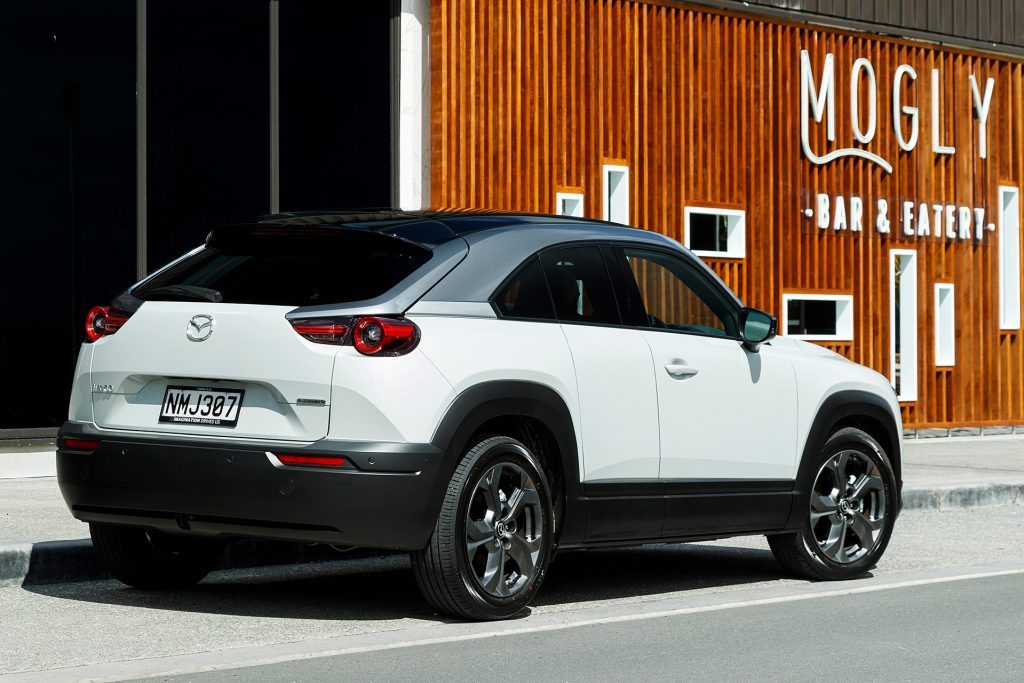 Given how expensive EVs still are, even with the clean car discount, it's nice to have the choice here. Not that the mild hybrid is exactly an environmental eye-opener. But you get five years servicing to go with the five-year warranty and five native trees planted on your behalf. And like most Mazdas, it's an inspiring drive.
Rivals like Eclipse Cross, a plug-in hybrid, might be more frugal but they're not as stylish and kick off at $50k. Honestly though, if I was spending mid $40s on a compact SUV, I'd probably go for the CX-30 GTX instead, with its more potent 2.5 engine that uses only 0.4L/100km more, thanks to cylinder deactivation, and has proper room in the rear seat area for actual people. It's almost as stylish too and you get the security of AWD with GTX. Plus you don't have to pile out to let back seat occupants escape. Just sayin'.
| | |
| --- | --- |
| Model | Mazda MX-30 Limited e-Skyactiv-G |
| Price | $45,990 |
| Engine | 1998cc, IL4, T, DI |
| Power | 114kW/200Nm |
| Drivetrain | 6-speed automatic, FWD |
| Fuel Us e | 6.4L/100km |
| C02 Output | 150g/km |
| 0-100km/h | 9.75sec |
| Weight | 1492kg (claimed) |