Mazda has introduced mild hybrid versions of the CX-30 and Mazda3. We drive the former with its new Skyactiv-X engine.
You've probably heard of those countries planning to ban the sale of combustion engined vehicles in the coming years. Of more note are all the countries that aren't. So what's a car maker to do? Mazda is taking a multi-strategy approach; it's developed an EV but shows no intent to halt its quest for combustion engine perfection. This is the firm that persisted with the rotary engine; it's as stubborn as it is brilliant.
Mazda's latest engineering feat is the Skyactiv-X engine, which debuts here in the Takami versions of the CX-30 and Mazda3. The 2.0-litre Skyactiv-X engine is one that combines aspects of petrol and diesel combustion tech with the aim of lowering overall emissions. They call it Spark Controlled Compression Ignition (SPCCI), and it produces more complete combustion using a very lean fuel mixture with reduced NOx emissions. For more read the sidebar at the end of this article.
Mazda says its SA-X delivers more power and torque than its conventional 2.0-litre, while reducing emissions by 10 per cent. For comparison, in the base FWD CX-30, the conventional 2.0-litre produces 114kW and 200Nm at 4000rpm and is rated at 6.5L/100km. The AWD 2.5-litre is good for 139kW, 252Nm at 4000rpm and 6.8L/100km. The 2.0-litre SA-X falls in between on output, making 132kW with 224Nm at 4000rpm. In the AWD CX-30 Takami, it is good for 6.0L/100km on the combined cycle.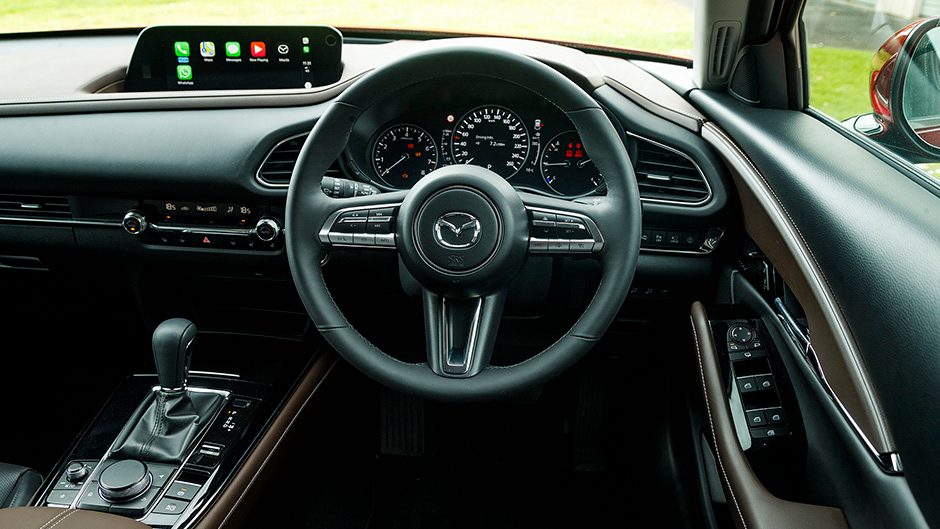 The SA-X is actually a mild hybrid with a belt-driven integrated starter generator and a 24V lithium-ion battery. This is used to power systems and devices that would usually have been a drain on the engine, and also provides longer idle/stop periods. The idle/start system kills the engine before you come to a halt (under 20km/h) while the restarts are near instantaneous, better even than Mazda's excellent i-stop tech.
Mazda engineers didn't get everything they desired out of the engine, the SA-X CX-30 with a higher final drive to help with acceleration. Which is odd as that goes against general wisdom suggesting a lower final drive helps improve fuel efficiency. As such, this CX-30 is turning at a busy 2500rpm at 100km/h. Despite the altered final drive, the Takami needed 9.5sec to hit 100km/h, while the overtake required seven. From an earlier test, we only have figures for the 2.5-litre CX-30, which ran 8.7 and 5.6sec respectively. The Takami with its hybrid bits and additional specification is 45kg heavier than its Limited brother.
Driving with a thought to economy, the Takami's trip computer indicated an average of 7.3L/100km for urban running, which included a few easy motorway miles in the mix. There's an infographic showing you what mode the engine is operating in, which for the most is SPCCI, only reverting to conventional spark under full load. After some more spirited running, the average was up to 8.1L/100km. Looking back at our report on the CX-30 2.5, we noted consumption of 9.2L/100km.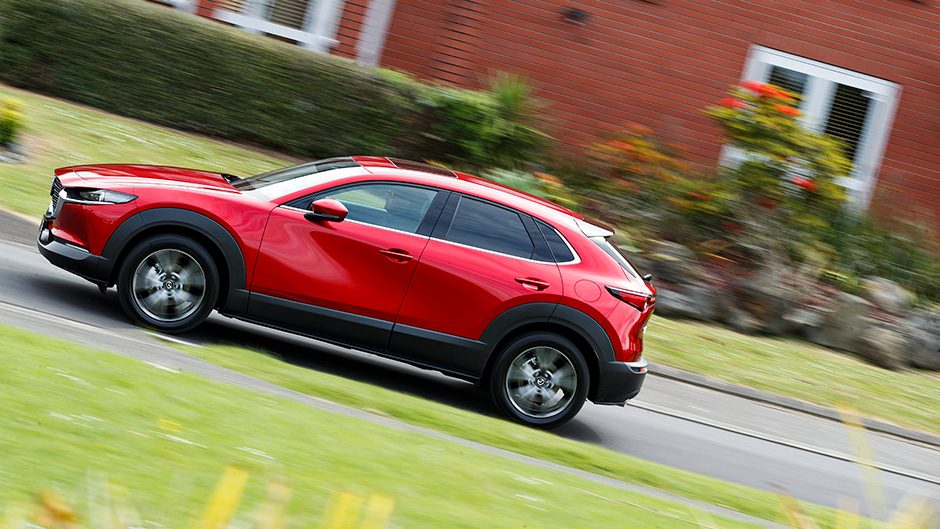 What should you compare the SA-X with? A turbodiesel, a turbopetrol or a run of the mill 2.0-litre? The fact it has a supercharger causes some confusion but Mazda labels it an 'air supply unit'; it's needed to ram more air into the cylinder to attain that desired lean mixture. The SA-X doesn't have the same in-gear pull from 2000rpm as a boosted engine, yet it hauls more happily than a naturally aspirated engine from right down low. It's an in-betweener then.
The throttle response is crisp, and it revs freely, spinning to around 6500rpm. The transmission knows when you're on the sort of road that requires action and duly keeps the SA-X swirling above 3000rpm, where it's perkiest.
The Mazda3 Takami goes for just over $50k, which is a stretch for a hatch, whereas buyers are more likely to part with $55k for a top CX-30, given it's an SUV of sorts. The Takami grade adds a few adornments to the spec sheet; a powered tailgate (a slow-moving affair), the option of white leather trim (for the Miami Vice fans), a heated rim, and a 360-degree parking camera. The cabin quality fits the price tag, for it's finely crafted and brimming with cushy touch points. Some will find the CX-30 right-sized, just that bit roomier than a Mazda3, and comfortably larger than the CX-3.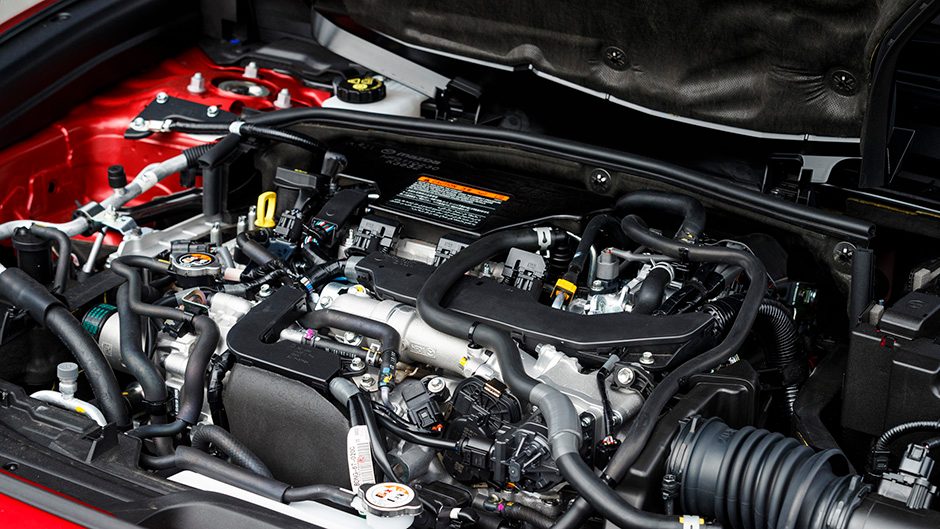 This rides and drives well too. Not quite like a Mazda3 however, it understeers sooner and leans that bit more in the turns. But the steering is thoughtfully conceived, and the chassis has a deft mix of refinement and connection. The CX-30 has the full serving of Mazda's safety minders. Initially these were set to maximum awareness; cue insistent warnings, beeps and bongs. It was the Mazda that cried Wolf, but it took just a few moments (once parked up) to delve into the submenus to calm its nerves.
Mazda calls its Skyactiv-X a stepping stone towards perfect combustion, and we hope they get there. As this is a mild hybrid, it's best reserved for urban buyers, travelling lots of city miles, for they'll gain the most benefit from the technology. We'd opt for the sweet 2.5 instead, however, and plant a few trees to offset the carbon.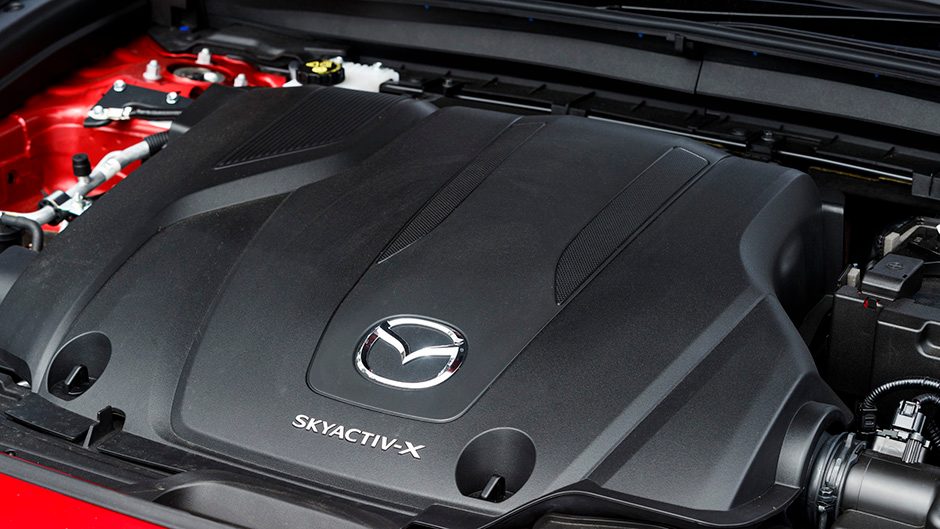 X-plainer
Mazda's Skyactiv-X can burn its fuel with both conventional spark ignition and also a form of 'spark controlled compression ignition' (SPCCI).
With spark ignition, the combustion starts from the top of the cylinder, where the spark plug is, and the mixture burns gradually from the top down. With compression ignition, the pressure and resulting heat ignite the mixture simultaneously, leading to faster and more complete combustion throughout the cylinder. It's part of the reason diesels are so efficient and is what Mazda wants to replicate. However, this engine still uses a spark plug to initiate and control the combustion process. The engineers haven't quite reached the holy grail of homogeneous charge compression ignition.
Extra efficiency comes via a lean mixture, which has more 'air' than usual and just a squirt of fuel. The SPCCI process first sees that lean mixture injected into the cylinder during the intake stroke. A second injection of 'atomised fuel' is then injected around the spark plug during the compression stroke. This helps propagate a better burn and increases the in-cylinder pressure to help combust the lean mixture more efficiently.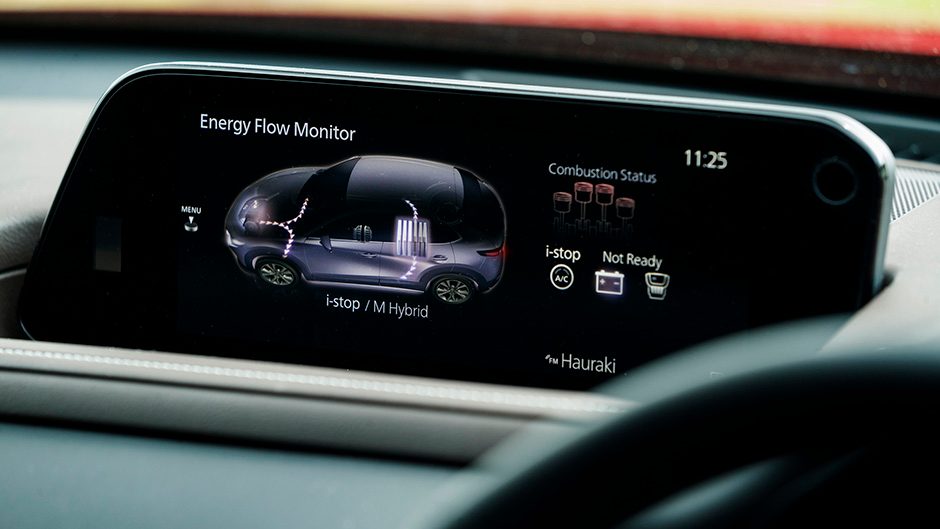 The whole process requires a mass of data on cylinder pressures, airflow and temperature, and Mazda has devised a unique in-engine sensor, a tiny little thing on the end of the solenoid injector that monitors pressure and temperature. That's important as running lean often leads to excess heat and unstable cylinder pressure. Helping in that regard is exhaust gas recirculation- some of the burnt gases are fed back into the intake, these being less inert to help keep temperatures in-check.
The SA-X runs a 15:1 compression ratio, so requires 95 octane fuel and the injection pressure is about twice the norm, at 700bar. As mentioned, extra air is rammed into the engine, and there's a particulate filter to clean up the emissions further.
You could be thinking, it's a lot of effort to go to for a 10 per cent reduction in emissions, but it's said to be between 15-17 per cent better in urban conditions, as most hybrid types are.
| | |
| --- | --- |
| Model | Mazda CX-30 Takami |
| Price | $54,990 |
| Engine | 1998cc, IL4, SC/DI, 132kW/224Nm |
| Drivetrain | 6-speed auto, on-demand AWD |
| Fuel Use | 6.0L/100km |
| 0-100km/h | 9.54sec |
| Weight | 1585kg |