CX-30 was a genuinely smart addition to Mazda's SUV range. While the CX-3 is cute, it's a bit tight while not everyone needs something as big as a CX-5.
So why not something that measures in between. Oddly enough CX-30 pricing overlaps with the CX-5; you can buy the base variant of that for less than the entry-level CX-30. While they both feature the same powertrain, the CX-30 kicks off as a higher spec GSX variant.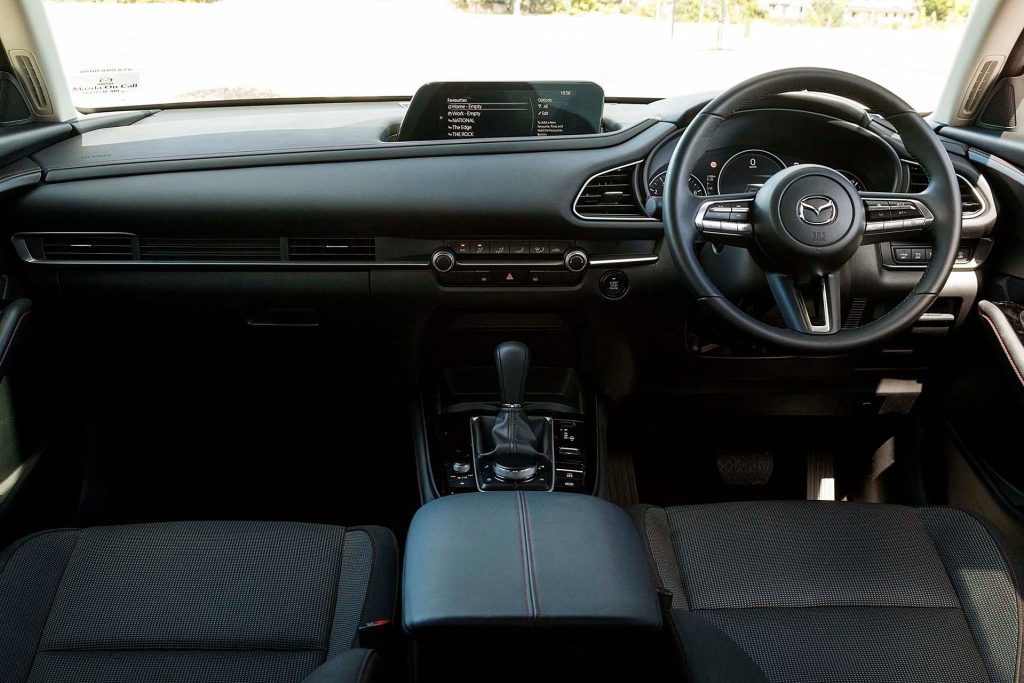 The reason we're driving this particular CX-30 is because it's a new addition to the line-up. Its title is a doozy too, the CX-30 SP20 M-Hybrid Blackout Edition (let's go with SP20; BO is just wrong). Price is $44,390 plus ORCs and there's a $300 surcharge for the metallic grey you see here. That includes a five-year factory warranty and free servicing in that time.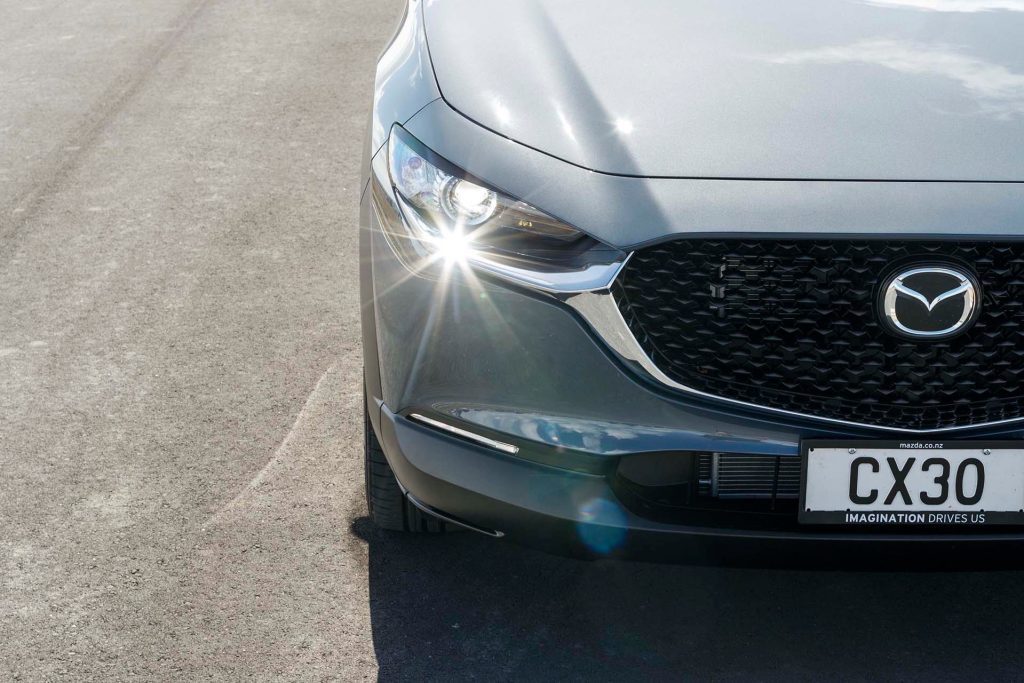 Because it's an SP20, a storied model name in Mazda lineage, you'd be thinking this is a bit of a goer, right? Especially with its blackout styling, that includes alloys, mirror caps, and plastic bits on the front and rear finished in piano black paint. Well, er, sadly, there's not quite the storm to match the horn looks or name.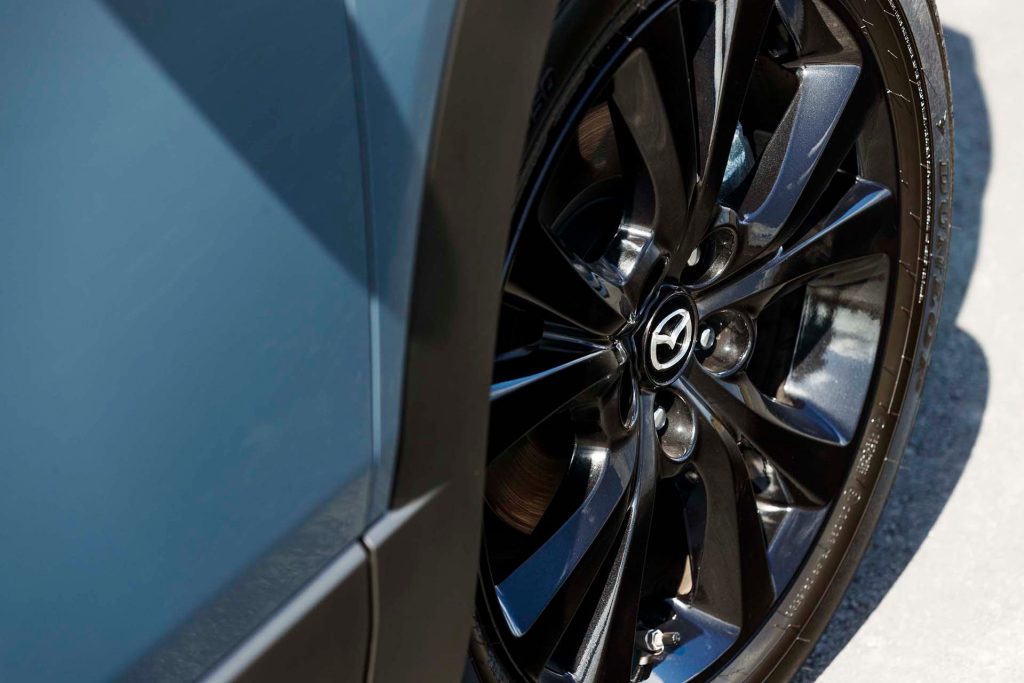 The SP20 comes with a 2.0-litre e-SkyActiv G 24-volt mild hybrid powertrain, almost as verbose as its title. Put simply, a two litre with a bit of an electric prod along. And when we say a bit, we mean just that because the power and torque figures are literally no different from those of the GSX entry point, with 114kW and 200Nm. 
If you genuinely want decent poke, you need to opt instead for the GTX which comes with the rather more vibrant 139kW/252Nm 2.5 four featuring cylinder deactivation.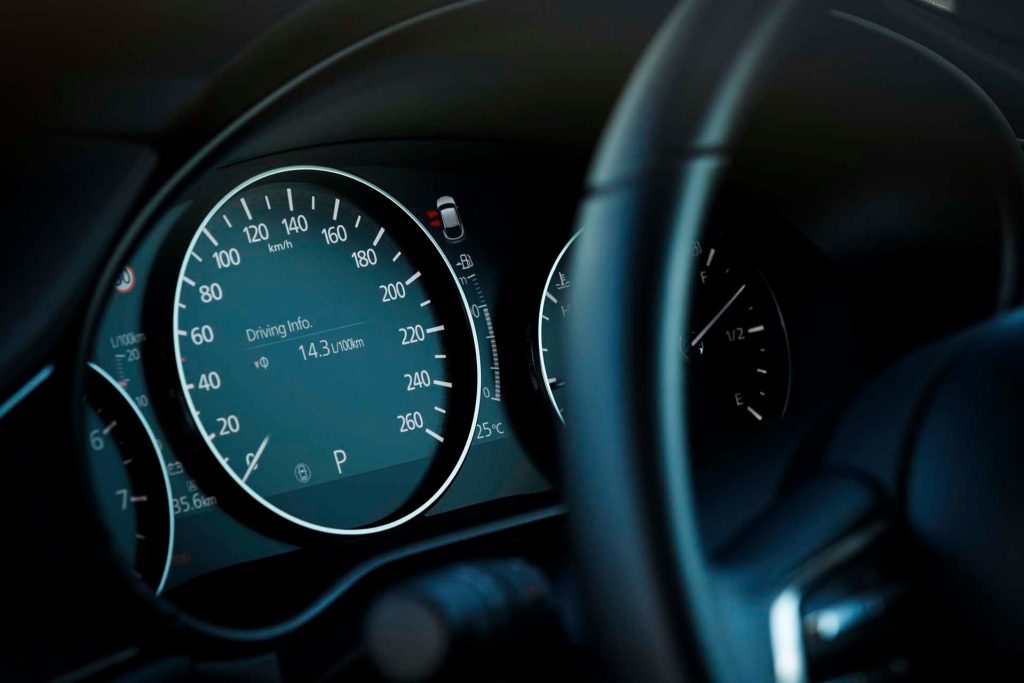 The idea behind the SP20 is a slightly easier drive at everyday revs, and better economy as a result but it's only slightly better. The quoted figures are 6.3L/100km compared with 6.5L/100km for the GSX and 6.8 combined for the GTX. On the open road, we saw double that at worst, and middling sevens when cruising along. Helping is that it runs on 91 ULP.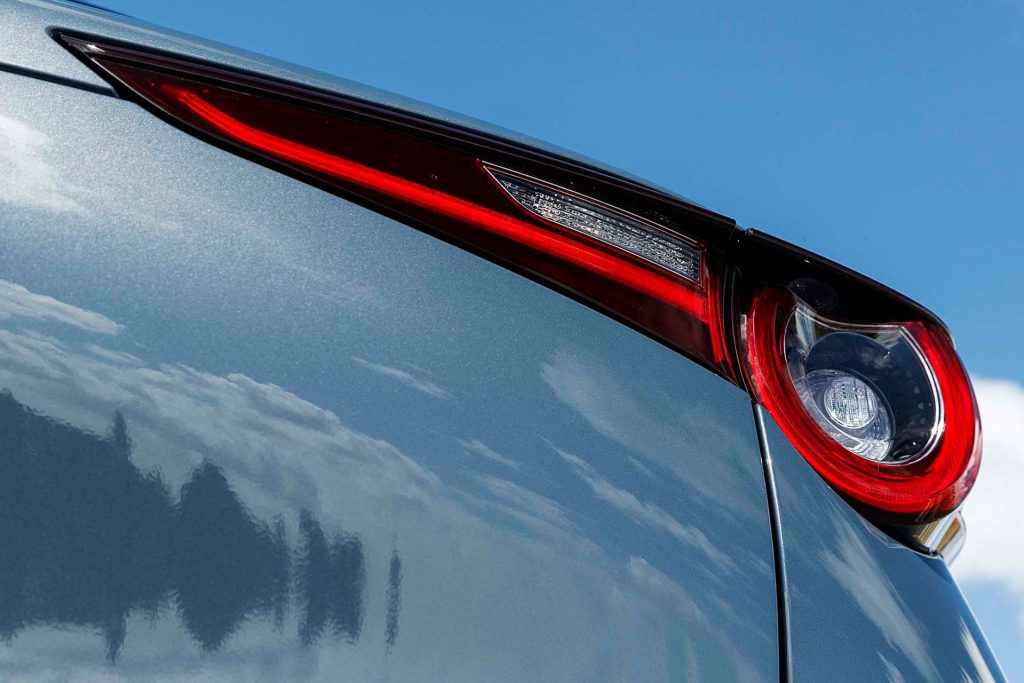 As to performance, we struggled to get a sprint time out of double figures, while an 80-120 overtake requires seven seconds. Not quite SP20 material then. That said, the six-speed auto works smoothly enough and the engine doesn't share the needy characteristics of the base 2.0L mill from Mazda. That's more reliant on revs above 3500rpm to feel zippy. From 2500-3500rpm this gets along really quite respectably. Which is presumably why fuel use is ever so slightly better in mild hybrid guise. But the emphasis is on mild more than hybrid. And that's fine if you want something that will drive okay at low revs without using too much juice. Dynamically this is reasonably interesting, with positive steering that's nicely weighted and it has capable cornering characteristics thanks in part to G-Vectoring Control Plus (independent brake nipping). Arguably the ride is a touch busy over poorer surfaces at urban speeds but for the most part it's absorbent and it certainly is hushed, with no SPL measurements exceeding 72dB. Brakes aren't quite standout, the spongy pedal feel a reflection of its regenerative function and emergency stops were hardly record breaking.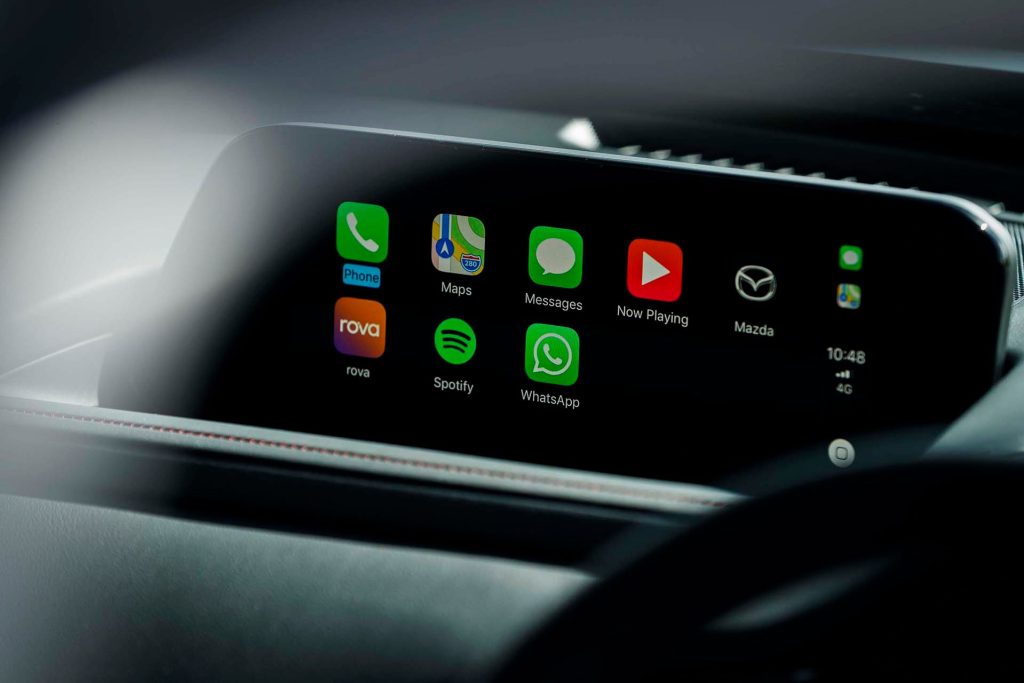 But it surely does look fast, with its modern Kodo design that eschews flourishes in favour of gentle reflective curves. It's rather appealing on the inside too, and the human-centric interior is typically Mazda sensible, being easy to fathom and sensible in use.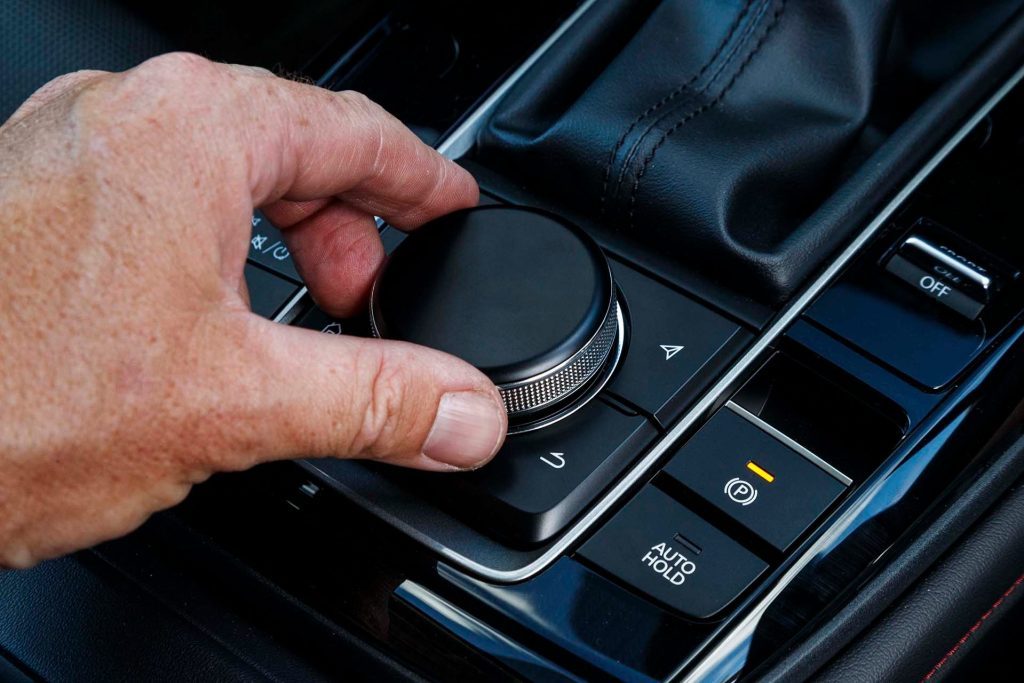 Being a townie style high rider, it's easy to enter and leave, simplified by comfort entry and pushbutton start. There's no power operation for the fifth door but it's not really missed. Mazda says there's 317L of space back there, reduced from 430L because of a full spare. So that's a modest increase on the 267L of the CX-3. With full split folding my e-bike fitted in the back, sans wheel, and partial split folding swallowed golf clubs and trundler. There's more wriggle room in the rear for adults compared with CX-3 too, with adequate head and knee clearance.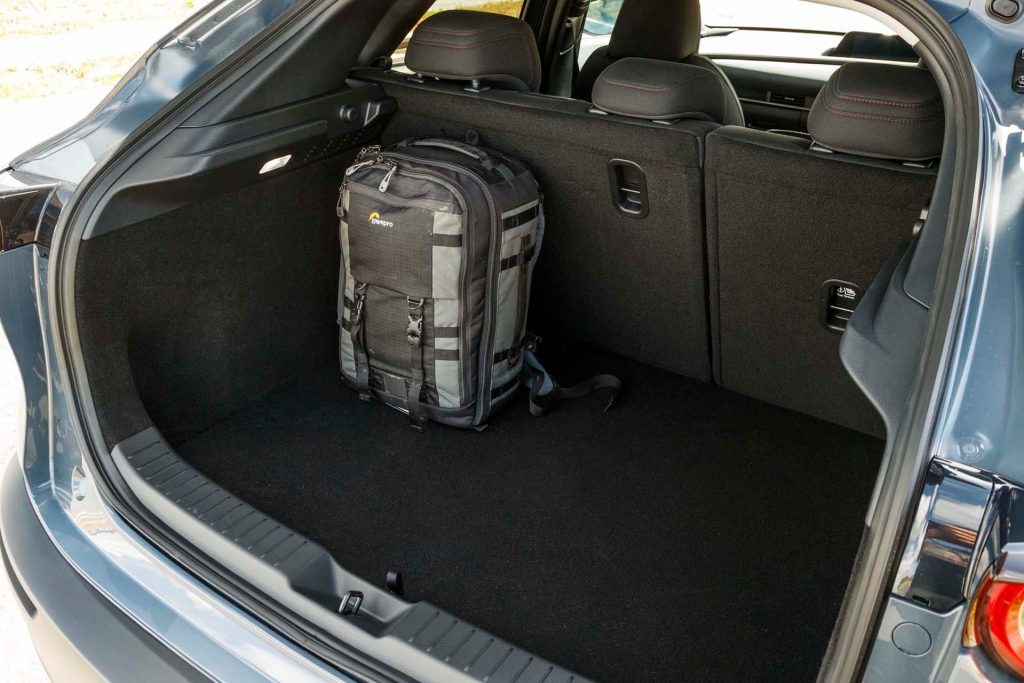 Up front, there's roughly the spec you'd expect for the money asked ($44,390). No leather trim, power seats or lumbar adjustability but you do get a head-up display, always welcome, and it includes traffic sign recognition, so in combination with active cruise control there really are no excuses for speeding. Everything falls nicely to hand and traditionalists will appreciate a conventional volume control, even if it's sited on the wrong side of the gear lever. You appreciate the self-locking aspect too, and the well shaped seats.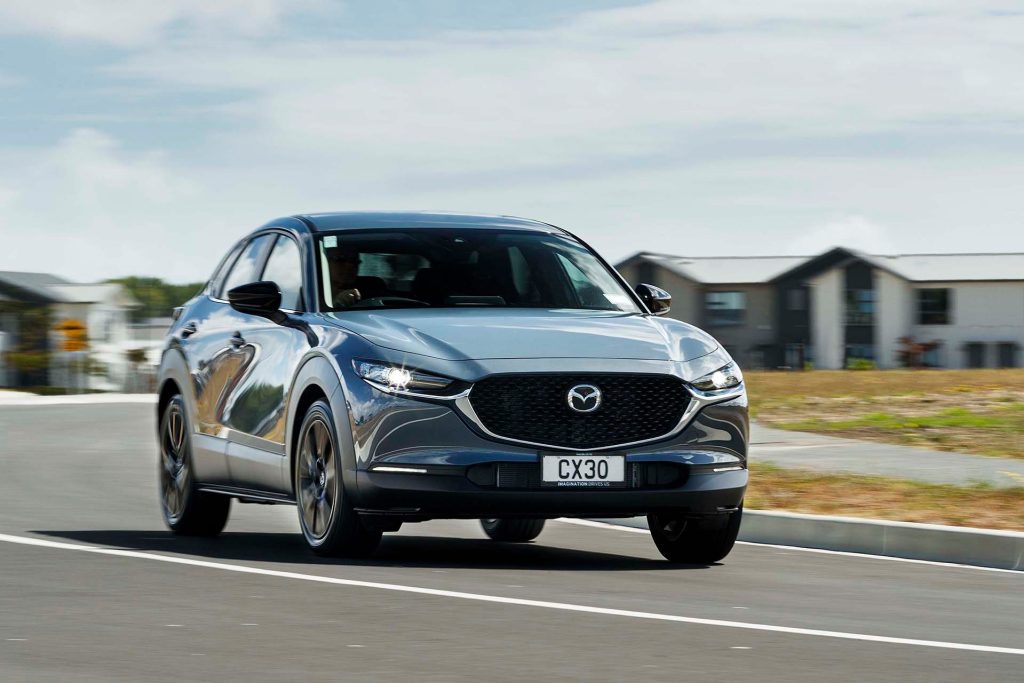 We imagine CX-30 will appeal to buyers wanting something compact, practical, easygoing and visually appealing. If you've a need for speed we'd advise checking out the GTX 2.5 variant which also gains AWD capability and it's less than $2k more expensive than the SP20.  
| | |
| --- | --- |
| Model | Mazda CX-30 M-Hybrid Blackout |
| Price | $44,390 |
| Engine | 1998cc, IL4, T, DI |
| Power | 114kW/200Nm |
| Drivetrain | 6-speed auto, FWD |
| Fuel Use | 6.3L/100km |
| C02 Output | 148g/km |
| 0-100km/h | 9.98sec |
| Weight | 1460kg |