Spring seems to have sprung at the same time El Nino arrived, if the big winds are any indication. However I recently took a bike for a spin on a blue-sky zero-wind day, and completely forgot about being cold. For the first time in a while, riding and not thinking about winter temperatures. So indeed Spring must be here. And what a pleasant ride it was, despite the bike being a diminutive single-cylinder LAMS offering from BMW, its standard G 310 R.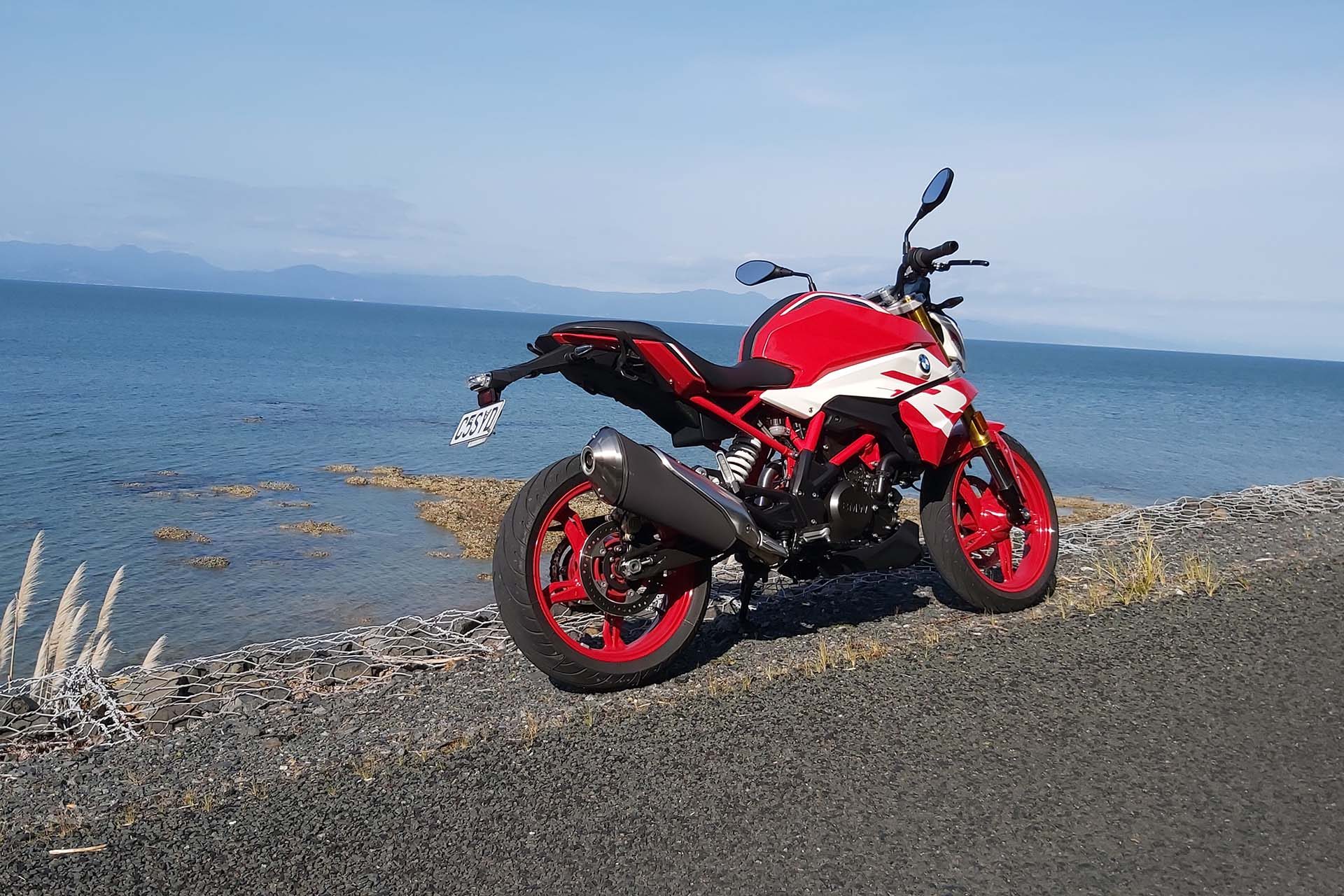 There's a saying that it's preferable to ride a slow bike quickly than a fast bike slowly. Guess that depends to a degree on the bikes in question but after a whole string of big cruiser-style bikes it's refreshing to jump on a decent small standard that just surprises the hell out of you with superb handling and decent brakes, along with performance you might not expect from a 310cc single. This thing will do 150km/h flat out so cruises easily at open road speeds, the tacho reading 6300rpm, all the while using fuel at a rate of around 3L/100km. Which means over 300km to an 11L tank and when we filled up it cost $19, though it wasn't absolutely gasping when we fed it some juice. Still, a similar refill with most cars these days costs more like $119, and this G 310 R for Roadster happily imbibes 91 ULP.
Smart colourway
The 2023 model of BMW Motorrad's smallest offering isn't an update per se because that was undertaken in 2021 but the paint job is new and quite striking, in (Passion) red and contrasting white. It looks particularly good with the red frame and wheels, also found on the white and blue version but not on the blacked-out model.
New from the last update were an 'electronic throttle grip' aka ride-by-wire for a more sensitive and sportier delivery, plus an assist and slipper clutch for smoother getaways and downshifts. It also now has full LED lighting, even the indicators, and is Euro 5 emissions compliant. And happily the G 310 R now comes with adjustable brake and clutch levers that should help smaller sized riders or at least those with stumpy digits.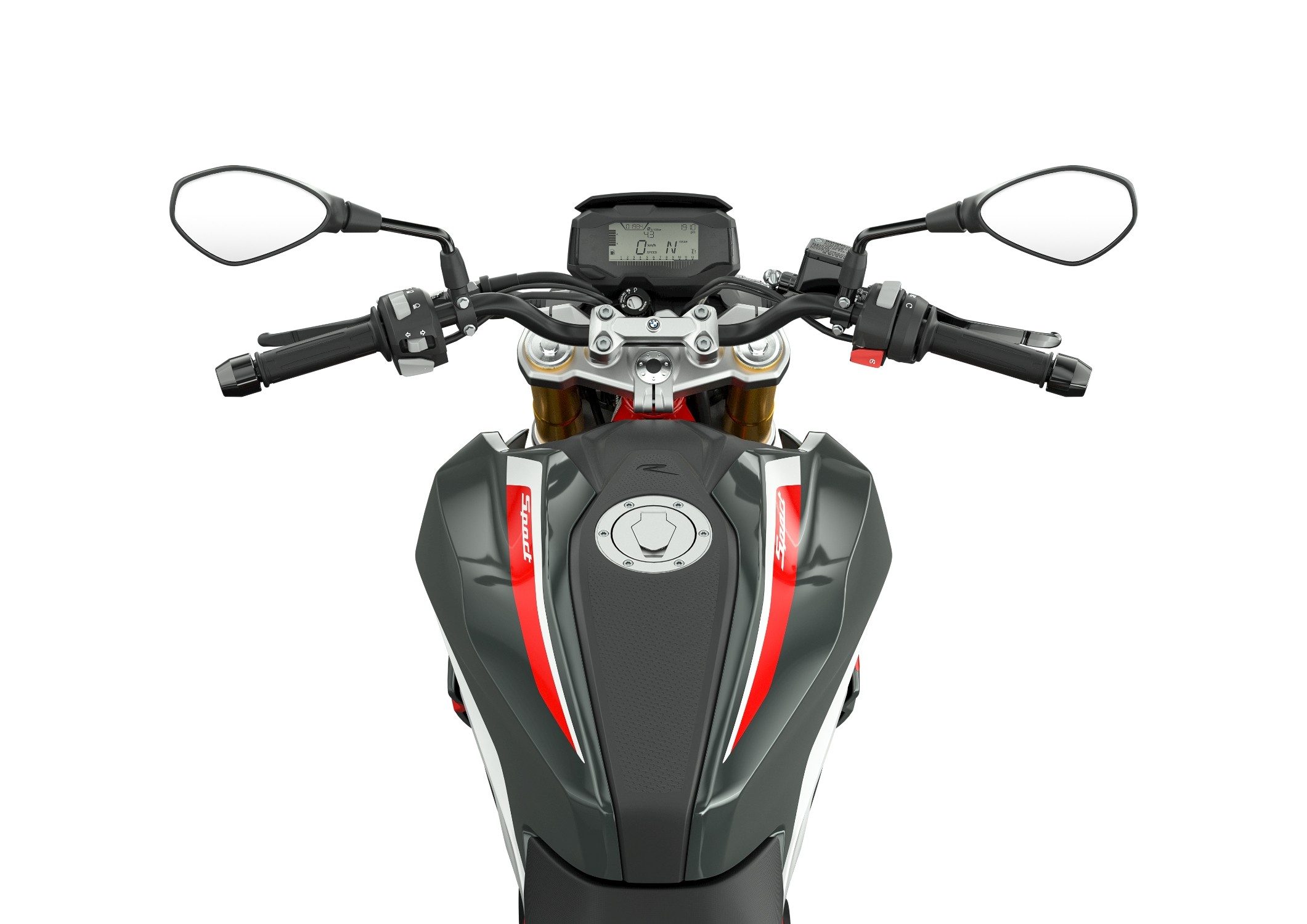 Fits most rider sizes
On size, at just over 180cm I'm probably a bit tall for this, a little bunched up. But riders with a shorter instep should suit this well, especially with a 785mm seat height. It's otherwise a rather sensible riding position, the knees probably a bit more flexed than ideal in my case but there's no stretch to the bars. The seat could do with a little more padding but its dual level so you can brace yourself by sitting right back under full acceleration.
Not that this will rip your arms off, being a LAMS machine with 25kW and 27Nm but since it's a single it isn't heavy either at 159kg and is easy to manhandle in the garage. With just the lone piston you expect some vibes but its high frequency buzzing isn't especially intrusive. Unfortunately it sets in around 80km/h and doesn't improve any as speed rises. The mirrors reflect that, with less than pristine imagery.

Fast enough and slows well
We ran a check on performance figures because of the new throttle system but they were no different from when we last rode the bike in 2020. Unlike some LAMS machines where the 80-120 time is a blowout compared with the 0-100 effort, this is much closer because it will easily top 120km/h, and both figures are under seven seconds.
Right from when it was first launched the G 310 R had a radial-mount four-piston caliper, a ByBre number, ie, by Brembo, out of India. As is the entire bike, built by TVS under licence. A radial brake is somewhat unusual on a LAMS offering costing less than $10k, though not unheard of as rival KTM's Duke 390 single features the same. Last time we checked the best emergency brake stop from 100km/h took 45m. This time all were closer to 40m with a best of 39m. I cannot recall what tyres it ran back then but perhaps these Michelin Pilot Street radials are a step up on what it used originally.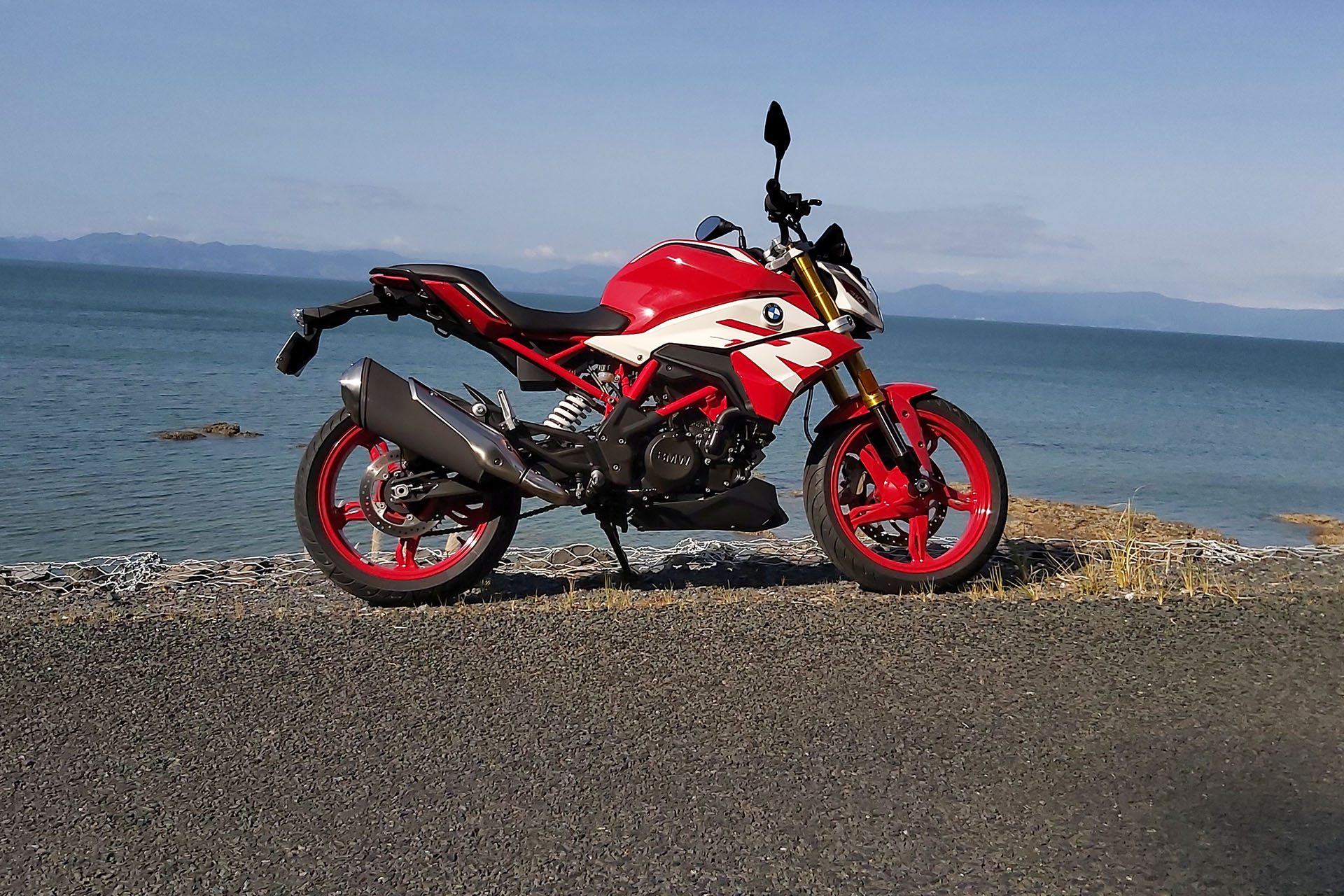 Corner carver
What's unchanged is the great on-road ability of this bike. BMW attributes the mix of agility and stability to the switched head orientation. By running the exhaust out the rear of the single, they've been able to stretch the swingarm length but keep the wheelbase abbreviated, enhancing the stability side of things while retaining agility. And that's just how it rides, arguably the best aspect of the bike, alongside its strong braking ability and surprisingly well sorted suspension, despite it being fixed up front and only preload adjustable at the rear.
The LCD display is quite comprehensive, including distance to empty and a fuel gauge on the left, but the numerals are pretty tiny, especially the revs. Not that it matters that much; so long as 4000rpm is showing you're good to go, with the best power kicking in at around 6000rpm and building gently from there. A light positive shifter makes it easy to keep the engine on the boil but it has decent midrange pull so in general commuting duties 4000-6000rpm is sufficient.
Lots of good LAMS choices
As before, this is a good honest LAMS machine that's not that expensive ($7995) considering the blue and white rondels on the tank. It's the least expensive new BMW you can buy and is nicely built. For similar money the other single you should be considering is the slightly quicker, slightly better equipped KTM Duke 390.
For around a grand more there's also the GS adventure version of the 310, while twins from Yamaha (MT-03) and CFMoto (450 SR) are also in the frame.