LDV's D90 is put to the toughest test of all, a family road trip. How does the big seven-seater fare?
Ok, so not quite the centre of the earth but the central plateau is pretty close, right? Our original winter getaway plans were somewhat scuppered due to a lack of flights leaving the country, so we swapped sun and surf, for er, sleet and rain and headed south in the LDV D90 to give our kids their first taste of the snow (literally).
When it comes to carting the family around, it's not so much power and torque figures or 0-100km/h sprints that matter, but more mundane stats like the number of Isofix mounts, USB ports and cup holders. Luggage capacity is another biggie, especially when you've little ones to consider – the amount of clobber they require is astounding. Thankfully, the D90 comfortably swallows all the gear you could possibly need (up to 1800litres worth), and some you don't (like the slow cooker and bread maker my wife insisted we take). This Bi-Turbo model even gets a fast-moving electric tailgate which makes filling the large hold that little bit easier.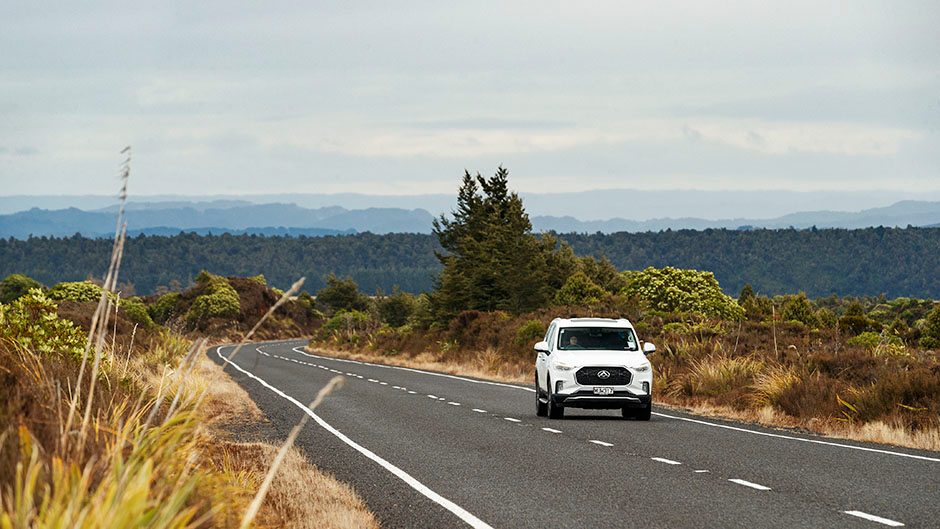 The D90 lapped up the first leg of our journey from Auckland to Rotorua with ease. We opted to take the Number One Highway to check out the new Huntly bypass (it's surprisingly picturesque, just like Huntly isn't) and to make a pit stop in Tirau, because what kid doesn't want a photo beside a giant corrugated iron sheep? We found the interior to be remarkably quiet and the ride agreeable, especially for a full chassis rig. There's precious little tyre roar or wind noise which meant Master Jack slept well, making our travels just that little bit more peaceful. Even the windscreen wipers are super quiet – a good job given the amount of rain we encountered. On the downside, there do seem to be a few too many electronic dinging noises which we just couldn't disable. Change the drive mode, ding! Change the wiper setting, ding! Turn the lights on, ding!
Once in Rotorua our time was spent doing the usual touristy things. The luge is a must-do and despite it raining Datsun cogs it was still busy. We were initially disappointed that the Advanced track was closed, but we soon discovered that the luge's handling is super sketchy in the wet so it was probably for the best. No A&E visits for us!
For the less adventurous, there are plenty of activities that won't get the adrenal glands pumping. Kuirau Park has geothermal features like foot-pools, bubbling mud, boardwalks over said mud and a great playground. And of course, there's the er, interesting odour which quickly became the butt of many jokes among the kids. Less odiferous attractions include the lakefront and Government Gardens while the walk around Sulphur Point is worthy too.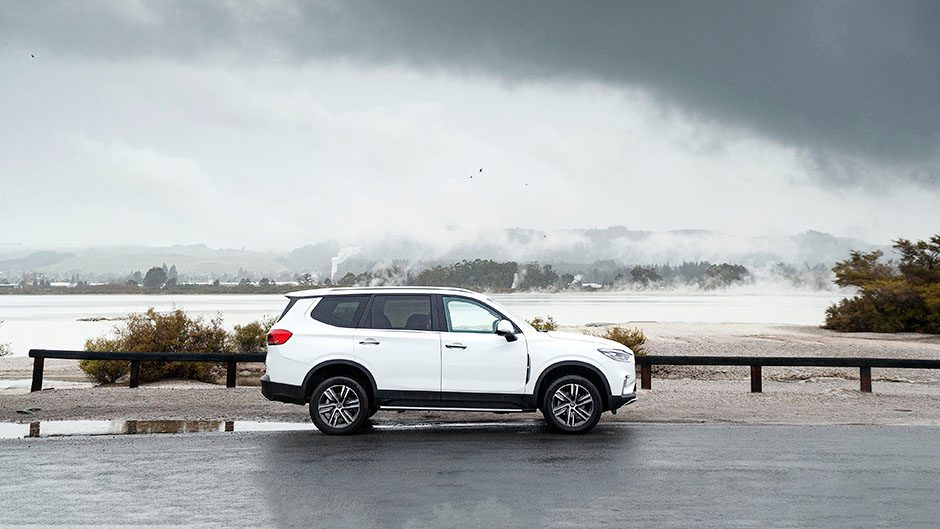 Some of the more interesting thermal activity is found outside of the city limits and as we were headed to Taupo, we stopped off at Wai-O-Tapu Thermal Wonderland enroute. Here there is a geyser that erupts daily (with a little encouragement) along with a number of unique geothermal features and hot springs. The park is huge and boasts miles of walking tracks which meander around fluorescent coloured lakes.
The next day saw us hitting the mountain for the first time. We flicked the D90 into Snow Mode, just in case and headed up Whakapapa's Bruce Road. Despite some sleet in the air and slush on the road the D90 felt sure-footed. The Continental tyres provide heaps of grip and not once did we rouse the traction control. The mountain top was pretty packed as it was school holidays. We reckoned that there was no point spending up large on entering the ski areas with little kids. There are plenty of opportunities for free snow play around the car parks – just pack a sledge (or borrow one of those pesky election signs) and a carrot to finish off your own snow person. We had a great time despite the dodgy weather and the kids left tired and happy with bellies full of snow (why is it that snow is immediately presumed edible?) Win. We also took time to visit cheap and cheerful Turangi hot pools. A word to the wise; if the car park is full, give it a miss. It was standing-room only during our visit. Human soup anyone?
Day two's mountain visit was less successful. We watched the air temperature drop to below zero on the D90's dash as we ascended into horizontal snow. Oddly enough, the family was not keen on leaving the comfort of the warm cabin. So while silly old dad took photos, the kids demolished the day's snacks along with a thermos of Milo (actually Pams brand which tastes like Milo used to).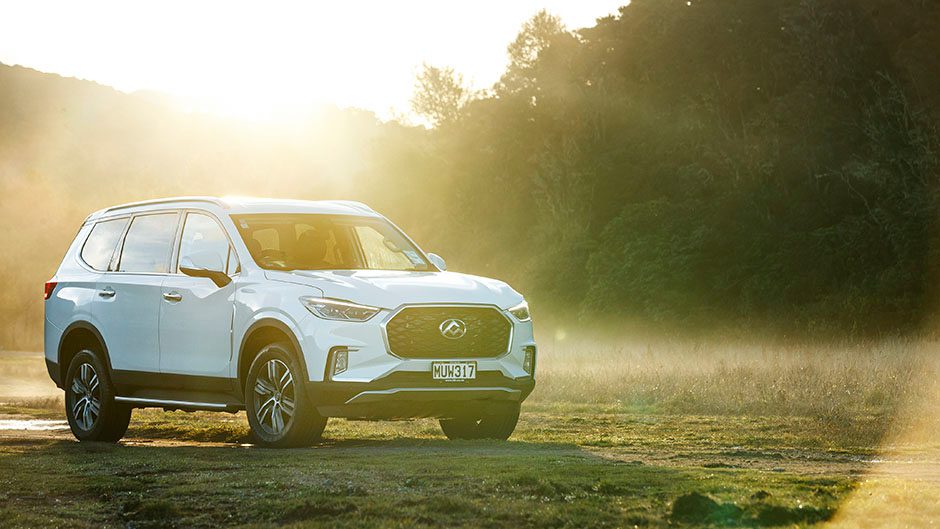 After a rapid-fire photoshoot without gloves I was pleased to have an excuse to test out the heated steering wheel which gets toasty quick smart. I was left longing for heated seats though. Maybe for the facelift eh LDV?
From 1600 metres above sea level we then travelled a few hours to our next destination which happens to be below sea level – the Waitomo caves. I was keen for a detour over the Forgotten Highway to test out the D90's cornering prowess, but the rest of the family was not. The stereo got a workout though thanks to the inclusion of Apple Carplay. Once we had tweaked the sound to our liking, we were impressed. Not that we got to stream anything other than classics such as Baby Shark and Wheels on the Bus. Ugh.
We've visited Waitomo previously but with two young'uns in tow rafting was off the menu this time around. Instead, we visited Ruakuri caves which are great for those who want to check out the underground rock formations without getting wet. With an elaborate set up of man-made walkways it's even suitable for wheelchairs and pushchairs. At around one and half hours long the tour is perfect for those with short attention spans. And yes, there are plenty of glowworms. Highlights of neighbouring Otorohanga include a giant (and rather tatty) roadside apple, the kiwi house and the curious Hadadds menswear store which displays its wares in a wonderful higgledy piggledy fashion.
When tooling around the D90's engine doesn't feel quite as feisty as Ford's Bi-Turbo offering, despite it having almost identical power outputs. However, the Ford's extra oomph comes at a hefty price as even the base model Everest commands a whopping $24,000 premium over the top D90. Yikes. LDV claims the Bi-Turbo consumes diesel at an average rate of 9.1L/100km, a figure we easily beat without trying. Over our 1200km jaunt we averaged 8.9L/100km – impressive given it was achieved with a groaning cargo hold and four bods on board.
We reckon the D90 looks sharp, especially with the Bi-Turbo's unique honeycomb grille and 19-inch alloys. We were also impressed with the way it drove. Sure it has a few quirks, but that it significantly undercuts all of the competition on price while offering the same or better spec means the D90 is a worthy contender for anyone shopping in this segment.