With the increasing softening of SUVs for on-road use, it's refreshing to come across an old-school version like Nissan's recently upgraded patrol. We get down and dirty in the 3.0 litre diesel version.
For those buyers looking for a big 4×4 with a touch of luxury but also the ability to get really down and dirty, there's very little in the market that suffices. There's the old favourite from Toyota, Land Cruiser, or its long-time rival and genuine competitor from Nissan, the Patrol. Nissan has now released a makeover of the Patrol, a vehicle that has found much favour in this country over the years, particularly since hordes of Safaris have found their way over here as used imports.
A completely new Patrol it is not. The 2005 version is unchanged underneath, but the body on top of the chassis has been revised and the interior given a spruce-up to appeal to a greater variety of buyers. While most SUVs are being re-engineered to behave better on road, the Patrol is remaining true to its rugged, tough-as-nails roots that extend back to the first example released 50 years ago, when post-WWII Japan was full of the occupying forces driving around in Willys Jeeps. By the late forties, Japan's Ministry of Security needed a solid four-wheel-drive vehicle and Nissan reached an agreement with the American government to produce a Japanese version of the Jeep. In June, 1951, the first Patrol was produced, a carbon copy of the Willys. This used a Nissan 3.7 litre inline six producing 85bhp, with the Willys' chassis design and four-wheel-drive system. Now in its sixth generation, the Patrol is still rolling and remains true to the original philosophy.
We'll say it up front: the Patrol is no Porsche when it comes to dynamics and on-road performance. Its vital stats make it more a rough rider than road warrior. Editor Owen was drooling as he looked at its solid live axles front and rear, ample suspension travel and full chassis. He knew it was utilitarian, an off-roader in the best tradition of the breed, and a vehicle that could take all the punishment he could dish out, and still beg for more. [Actually, the drool was a result of old age – Ed.]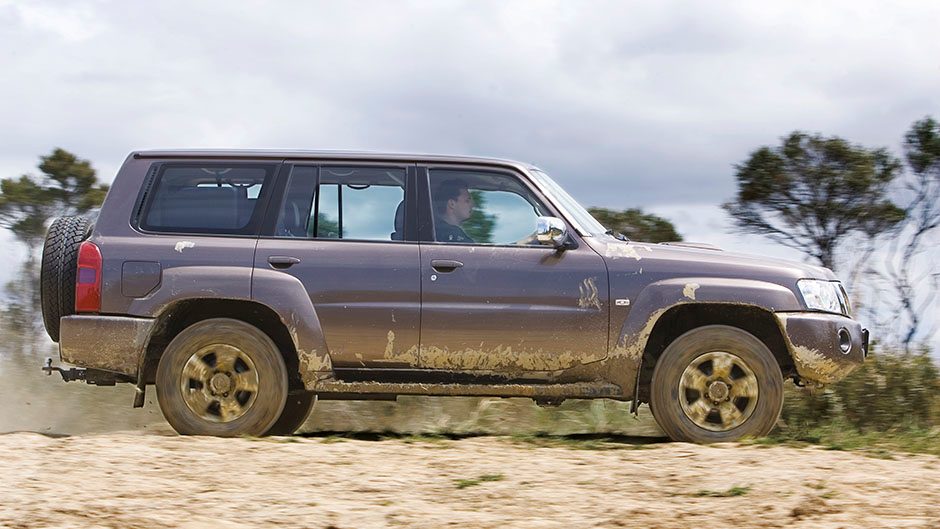 Around town, the Patrol is big but in a world where might is right (eh, George W.?), it doesn't prove ungainly to steer through traffic. Other road users feel obliged to give the Patrol space, even to the point of moving out of the fast lane on the motorway to make way for it. The engine can be caught off boost at low revs but getting it above 2200rpm has the turbo producing the torque you need, and it moves the Patrol along well at town speeds. There's the large turning circle to contend with, and at 3.75 turns lock to lock, plenty of swinging on the wheel is required for parking, but the steering is lightly weighted.
Despite the simple suspension (a three-link front, five-link rear with coil springs and sway bars) and a separate chassis, the Patrol rides well, helped by its long wheelbase. The ride can get jiggly over potholes and corrugations but over a metal track the Patrol comes into its own, smoothing a path and enabling a quick pace. Cutting a quick track across a twisty section of road isn't its forte. It needs a slower approach to tighter corners; a high centre of gravity, compromised off-road tyres, soft suspension and its mass all conspire against it. It does all right on the faster bends as its solid axles remain flat and certainly aren't upset by bumps in the road.
The 3.0 litre engine has its work cut out to move the Patrol at higher rates and the four-speed auto makes the most of the power and torque available. It shifts smoothly and is quick to kick down when you need more go. It can hunt between gears on hilly sections, but locking it in second overcomes this, and the engine remains in its torque-laden sweet spot. In two-wheel drive, power goes to the rear LSD and steering is light but vague. Switching to four-wheel drive, which can be done on the go below 40km/h, gives the front wheels life, the steering gets a nip more feeling, and the vehicle provides a more positive drive through corners.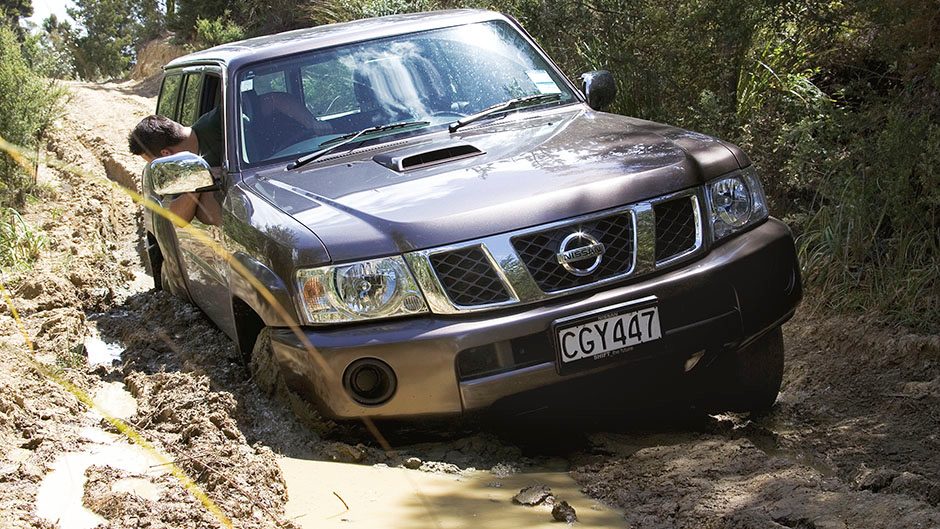 Where the Patrol excels, however, is in the rough. For such a big vehicle, it can really go anywhere. This is where the 210mm of ground clearance, long travel suspension and big, solid diffs come into their own. We found a nicely rutted track to tackle and the Patrol performed marvellously. With low range engaged and diff lock armed, the Patrol walked up precipitous and gnarly paths, only ever touching down at the rear when coming off a steep slope. Nissan's unique disconnecting rear stabiliser bar allows more axle articulation at the rear, and all four wheels are constantly in contact with the ground over terrain where other vehicles would fear to tread. Short overhangs at the front allow for a head-on approach to most obstacles. There's no electronic trickery in the driveline, and a seriously geared low-range transfer case has the Patrol inching down steep slopes on engine braking. Only the compromise tyres hindered its progress through extremely muddy tracks. Nissan claims the Patrol will climb a 39-degree gradient and wade through 700mm of water, even without a snorkel. Running boards are standard – no doubt to provide a step for shorter people to clamber in, but these will be a nuisance on more rugged, boggy terrain.
There's a dump-load of accessories for the Patrol, including bull bars with driving lights, a tow bar with a 3500kg braked limit, roof rails, and snorkels for deeper river crossings.
The Patrol retains its big, chunky looks, but Nissan has freshened the design; it claims just the roof remains unchanged for the MY2005 Patrol. The grille takes its cues from the new corporate face of Nissan's trucks and SUVs. There's lots of chrome and in-your-face styling for a macho attitude. Those flared arches add muscle, as do the larger 17-inch alloys. There's a new bonnet, front and rear bumpers, and the tail-lights are larger and brighter.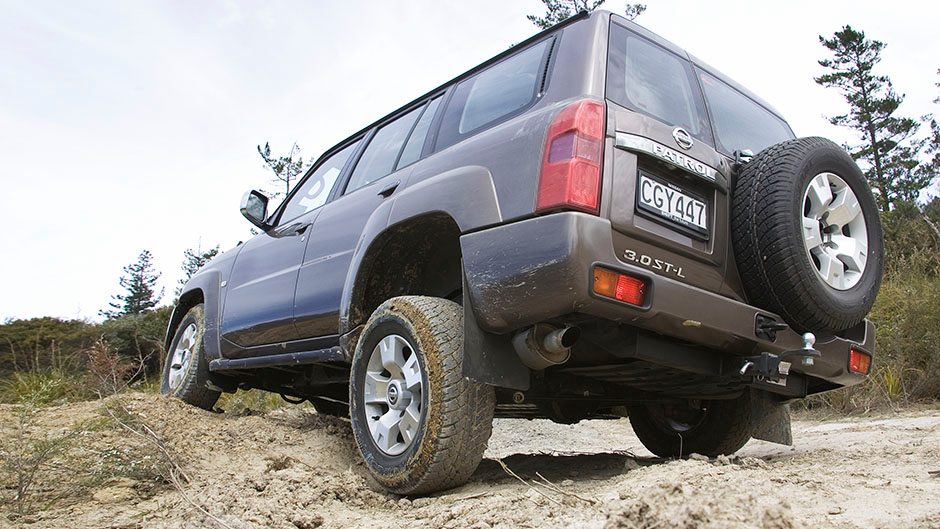 Inside, there's a redesigned dash that uses more upmarket materials along with a new instrument binnacle. In an effort to add some luxury, both models sport leather on their redesigned seats, and rear passengers get tray tables. Nissan has focused on refinement, and added more sound deadening for a quieter drive.
The 3.0 litre ST-L we had on test uses the ZD 3.0 litre turbodiesel from the Navara range but adds an intercooler to the mix to net more power. Ever-so-subtle revisions to the engine have seen a slight increase in power, now registering 118kW, up from 116, and 380Nm at 2000rpm, a rise from 354. Nissan still claims the same 10.6L/100km combined fuel-use figures for the up-rated engine. With a 95-litre main tank and a 30-litre reserve tank, the Patrol's theoretical range is close to 1200 kilometres between refills! In reality it's closer to 800km, with the rigours of stop-start city driving. The four-speed auto carries over. While the diesel can get a tad noisy higher in the rev range, it cruises quietly. The more expensive petrol Ti model uses the same big 4.8 litre six as before, with 185kW and 420Nm mated to the five-speeder with adaptive shift. Don't expect comparable fuel economy from this wagon however.
A full-sized SUV, the Patrol tips the scales at 2494kg fully fuelled. So, as you'd expect, performance is sedate, taking 16.12 seconds to reach the legal limit and 13.96s for the 80-120km/h passing move. Large discs at each corner and ABS do their best, but the Patrol's weight and compromised tyres mean a lengthy stop of 42.80 metres.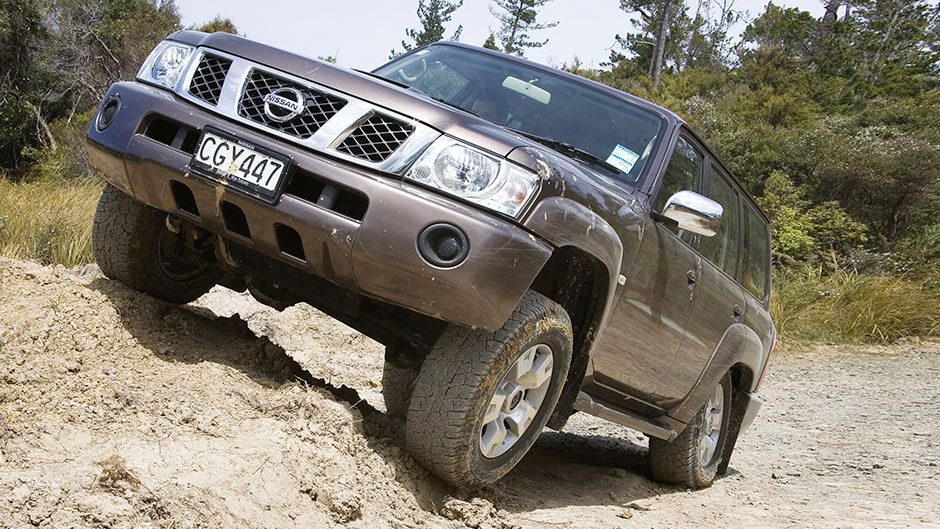 The Patrol is available here in two guises: the petrol Ti and the diesel ST-L. Nissan has decided to push the range further upmarket and both come with a decent amount of kit. As well as full leather, the Patrol gets front seats with electric adjustment, and dual airbags are standard. There's genuine room for seven. At just over six feet, I would be willing to endure a journey in the rearmost seats. Access is good, with just the big jump up into the cabin to hurdle. The second row splits 60/40, and tumbles forward for easy entry to the rear. The third row can be folded up and stowed to the side but it's an old seat design and not as user-friendly as others that fold below the floor. The split rear tailgate remains, as does the mounting of the spare on the rear door. Being a big beast, the Patrol offers rear passengers their own air con and plenty of head- and leg-space. The ST-L makes do with manual air con and misses out on the goodies reserved for the more expensive Ti. The Ti adds an upmarket wood-grain dash with classier controls for the ventilation, cruise, a six-stacker audio system with steering-wheel controls, a sunroof, and adds front-passenger side airbags. The ST-L sneaks under $70K while you'll get a fiver back from $85K if you fork out for the Ti. As always with SUVs, we recommend the diesel for its relaxed torque delivery, increased fuel economy, and better towing ability.
Rural buyers will like Patrol's honesty and ruggedness, particularly those with a real need for its off-road abilities. However, its dimensions and on-road dynamics may not be to the liking of some city folk, but then there's always a raft of crossover vehicles for them. The Patrol is staying tough and there are few vehicles better suited to every task than the largest Nissan. Just ask the UN.
| | | | |
| --- | --- | --- | --- |
| Model | 2004 Nissan Patrol ST-L | Price | $69,995 |
| Engine | 2953cc, IL4, TDI, 118kW/380Nm | Drivetrain | 4-speed auto, switchable 4×4 |
| Fuel Use | 10.6L/100km | C02 Output | 0g/km |
| 0-100km/h | 16.12sec | Weight | 2494kg |