Almost all manufacturers have a small ADV bike these days so it was only right that KTM had one. Now it's here the 390 Adventure and we rate it.
If this looks rather like our 2019 BOTY, KTM's 790 Adventure, that's because this is its little 390 sib, and it's appropriately half the price of the middleweight with half as many cylinders. What's pretty magic about the KTM 390 Adventure is that it costs under $10k and for that you get a compact, lightweight, fuel efficient motorcycle that will have a shot at going any and everywhere, if you're up for it.
KTM is such a success story it almost beggars belief. When the Austrian firm emerged in 1992 it offered only dirt bikes. But cleverly the firm decided to develop road machinery, and they've never really looked back, now selling as many bikes for tarmac use as for off-road use. In 2012 it was officially Europe's biggest bike maker, and it still is now. It also increased sales for, if memory serves, the past nine consecutive years, only falling back a bit this year because of the coronavirus pandemic.
But get this. In New Zealand, as of the first day in Spring, KTM has sold 20 per cent more bikes than in 2019. Because Kiwis can no longer take overseas holidays, they seem to be piling into bikes of all sorts.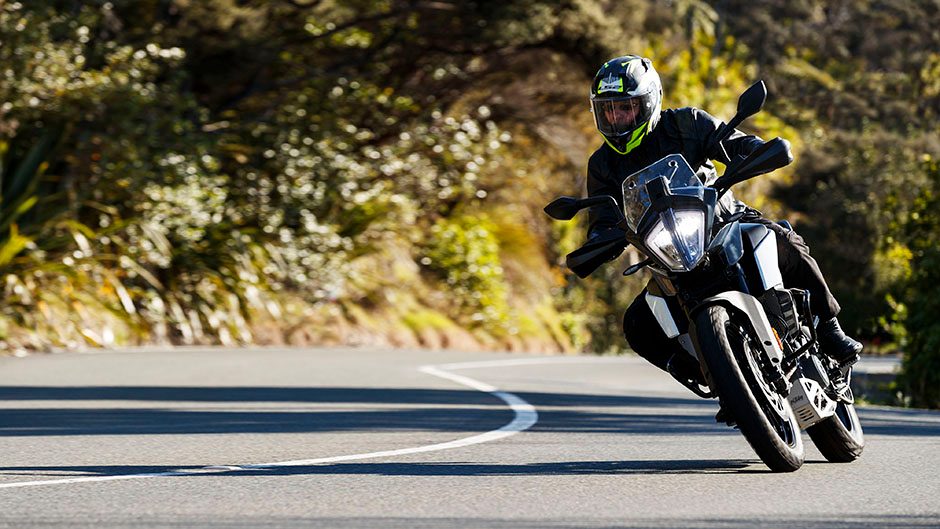 The thing that has held KTM back, at least in the initial years? It only had a small range of Duke machines, naked bikes for the streets. And there was no real middleweight. The mad-hatter single-cylinder 690 stunt machine doesn't count, given it sold for similar money to supersport 600 four-cylinder missiles.
Anyhow, KTM decided to outsource their small bikes to Indian bike maker Bajaj. This allowed them to sell racy bikes at really competitive prices and they've gone gangbusters with their 125s, 200s and 390s. They also climbed aboard the ADV bus, never looking back.
Nowadays, their adventure bikes range from well over a litre to, well, the bike you are looking at right here. This is the one we called the missing link a few months ago when KTM first said it was launching the 390 Adventure. Already, KTM NZ has sold through the first two shipments and is well on the way to having moved 100 of these little crackers. They could sell more but supply is limited, which is in part due to factory shutdowns for pandemic reasons.
So how does this LAMS legal ADV go then? Well, it's not exactly Ready to Race, even if that's how the dash lights up when you turn on the ignition. But it's certainly a KTM if that's an acronym for Keeping Things Manic. For the 390 Adventure is really rather like its excellent 790 Adventure sib. Only there's but the one cylinder instead of two in parallel configuration. And it's almost exactly half the size. Coincidence only.
We rode the 390 Duke not so long back and were impressed with the engine, which is odd because I'm generally more into grunt than revs. It's the same here; on the open road it doesn't have much pull until 4000rpm, and hauls like it's serious from 6000rpm. That's roughly the equivalent to 110km/h so if you're needing to get by something in a hurry best to drop it back a gear so you're in the zone. That said, just tooling along, revs between 4000 and 6000rpm offer a nice mix of performance and fuel consumption reality; it's easy to see averages in the threes, though mostly we saw fours.
The good thing about bikes this size, even singles, is that there's pretty decent performance. It takes about 5.5sec to reach 100km/h while an overtake is done in the mid-fours so it's quite quick enough. And it's natural gait is about 110km/h, with great engine braking so if you're unlucky with the law you might get lucky with this.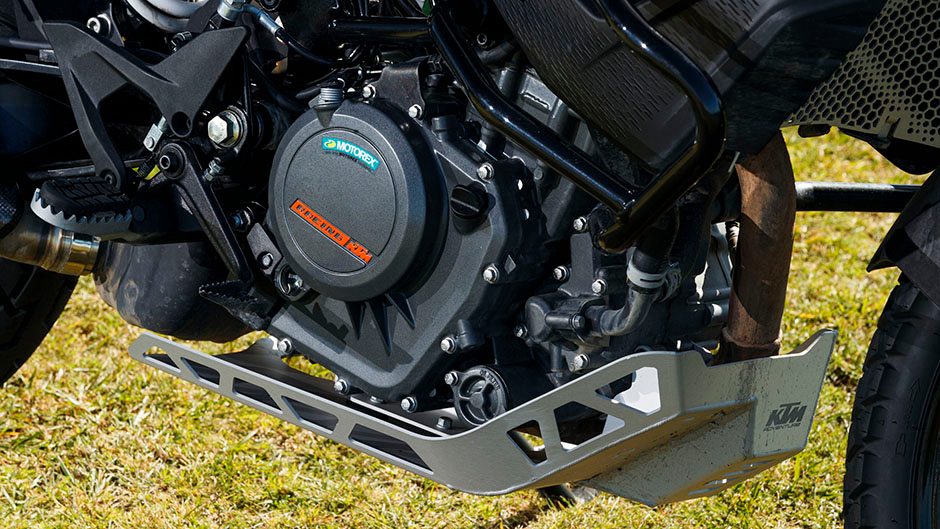 Singles are often a bit prone to vibes and this is too but they seem to be in bands at low and high revs, whereas tingles at those every-day revs in the middle aren't too bad. It does have a counterbalancer shaft.
Anyway, it's something you tend not to notice because you'll be having such a good time enjoying everything else about this bike that's rather special. Like how it goes from 6000-8000rpm, power building nicely, the beautifully liquid gearbox that gets the best out of the engine, and the truly excellent chassis and suspension this comes with.
Personally, lightweight vehicles do it for me. As with cars, so with bikes. And this weighs in at 175kg fully fueled. So it's a snip to throw around, even when you're just pulling it out of the garage and turning it around. A tight turning lock helps.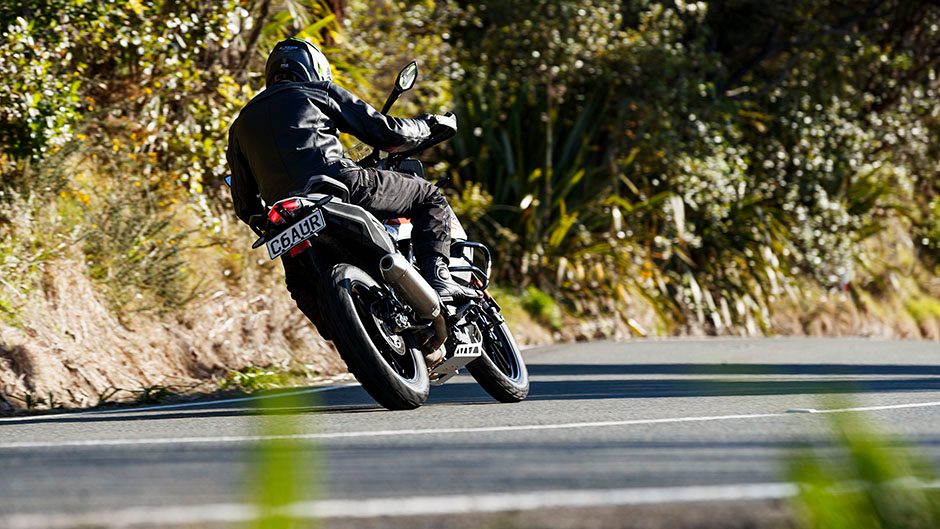 With its lightweight trellis frame, and moderately long travel WP Apex adjustable suspension, along with decent dual purpose rubber, an open, easy riding position, and well shaped if firmish seat, this is just made for Kiwi adventures, especially on tarmac. And that's why so many bikers have turned to dual purpose bikes for touring. They're practical without losing that sense of fun and in this case sportiness. This might not look like it's up for road work but you'd be dead wrong about that. So it's a bit taller than the Duke – some will want to use the footpeg to make it easier to swing a leg over – but that imbues it with such a comfy, easy-going riding position the knees tethered to the tank just so.
And it turns so readily, so enthusiastically, dropping onto its side with little effort thanks to the low weight and centralised mass. You'll be liking this on your favourite roads. It's certainly fast enough. The brakes are seldom needed, it being so light and there's the aforementioned engine braking on offer. But when needed, 42m is what it takes to get you back to dead stopped from 100. And for $9800 you get a TFT dash, ABS with an off-road setting, cornering TC and ABS, and fully adjustable USD forks, which we played with once and returned to their original just-right setting. Plus, there's an adjustable screen, probably best on low, given it's a bit nervy in blustery conditions. And for touring, panniers are available as a cost option.
So as good as the 790 ADV then? In its own scaled down way it sure is, especially at the price.
| | | | |
| --- | --- | --- | --- |
| Model | KTM 390 Adventure | Price | $9799 |
| Engine | 373cc, liquid-cooled, fuel injected, single, 32kW/35Nm | Drivetrain | 6-speed, chain final drive |
| 0-100km/h | 5.56sec | 100-0km/h | 42.07m |
| 80-120km/h | 4.47sec (128.5) | Weight | 176kg |