The least expensive machine with the blue and white roundel just got less expensive by $1000, making it a LAMS whiz.
Can't believe it, how time flies, but it is now three years down the line since BMW launched its smallest bike ever, the G 310 R. And it now costs $1000 less than it did originally but is otherwise unchanged.
That though was enough to say yes when offered a ride and all the more so because we had another three-hundred-and-something cc machine to test at the same time in the KTM 390 Adventure. These two aren't really direct rivals, other than sharing two wheels apiece, but the GS 310 is, the adventure bike based on the 310 R, and it costs much the same as the KTM.
After jumping down from the Austrian bike it was a bit of a shock climbing aboard the G 310 R because it is so much more compact, to the point where someone of my six foot height is a bit folded up on this. That said, maybe it's more a function of age than anything as the old hips ain't what they used to be. I discovered a (shambolic) workaround at any rate. Shuffle back and up and you can quite easily ride this from the pillion position, giving your hips a bit of an unwind. After a kilometre of suffering this indignity we were ready for another 50 or so.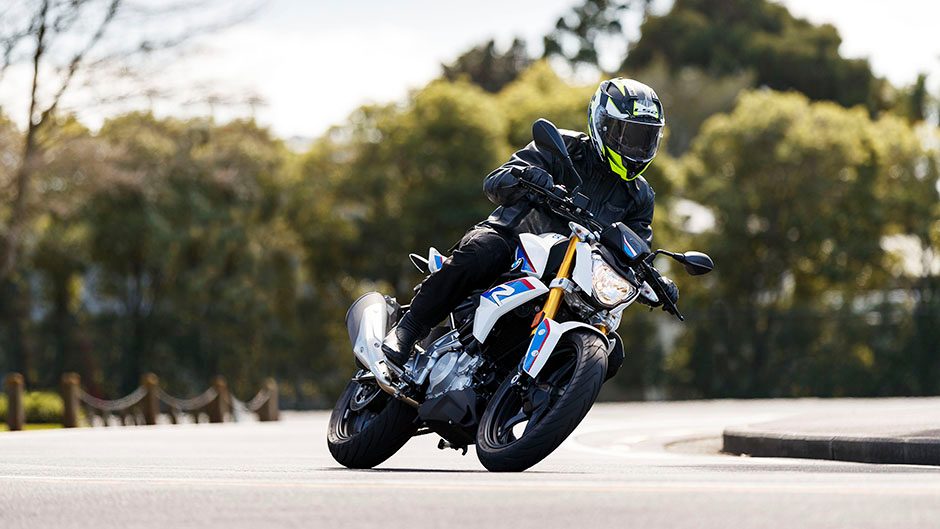 Enough of that malarkey and on with the ride. The very next thing you notice is that unlike the KTM this is almost vibe-free, at least until you're doing speeds the constabulary would definitely not let you off the hook for, not any more at any rate. The foot pegs never buzz, unlike on the KTM. And the other thing about this engine is that it has a mite more punch down low, happily pulling from 50km/h in top gear where the Austrian becomes crotchety. Up top the latter is certainly punchier as you might expect being one-third bigger. Still, this cruises along at 100 just as effortlessly, the engine spinning at 6500rpm merrily. There's more intake noise here which can be wearying with time, but we quite like the sporty exhaust note, despite this one having a standard pipe. It sounds a wee bit stroppy.
And the engine really is. The four-valve 313cc single-cylinder engine makes 25kW at 9500rpm and 28Nm of torque at 7500rpm. We didn't repeat the performance figures because the bike is essentially unchanged, apart from price. Both parameters measure just under 7sec.
It isn't quite as menacing as the Yamaha MT-03 twin of the same size (which it now undercuts on price) but it really does get the job done with little apparent effort. Revs between 3000 and 4000 are fine in town, while 4000-6000rpm on faster roads more than keeps up with surrounding traffic. It's doing around 7000 right on 110 indicated, 103 in the real world. At this point it is well into its cooperative zone and still without any real vibration to speak of, even though the mirrors don't really give any indication of such. They will show whether there's a truck or car behind, but not which model it is.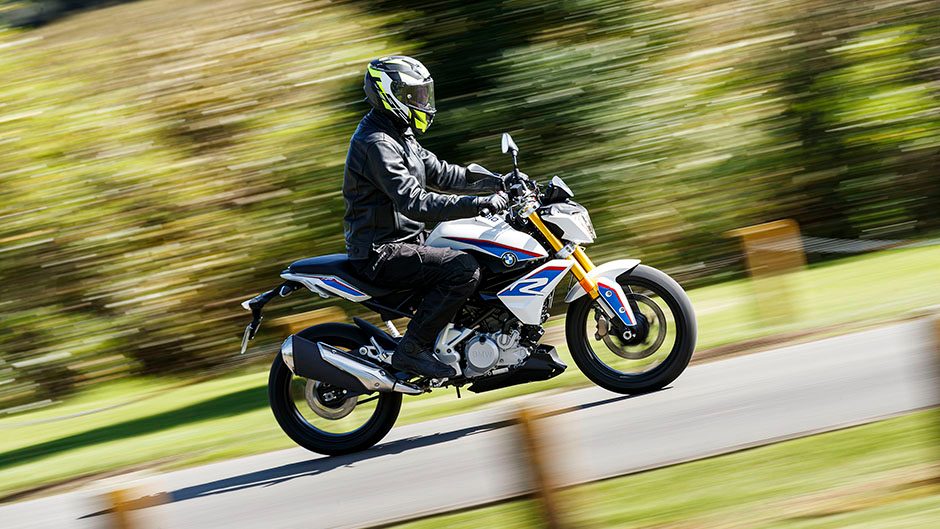 So the motor really is a bit of a gem, even with the breathy intake noise at higher revs. The gearbox is sweet too, better than the original which sometimes required a bit more effort than you'd expect to effect an upshift.
Economy is similar to that of the 390, a little better, with low threes around 100 when you're using middling revs, and into the low fours when you're being more liberal with the throttle. There's a fuel gauge too, which has arrows to indicate how many quarters left. Still, at least there's a gauge and a distance to empty function to go with that. Both are appreciated, as is the gear indicator. But the rev counter numerals are really too small to be of much use; actually the entire instrument could stand to be half as big again.
Unlike the KTM this doesn't have traction control, but it does feature ABS. The front is pretty good so long as you don't mind giving it a proper squeeze for those serious go-slow moments. If you've short fingers, the lever is a bit of a stretch too, as it's unadjustable. The rear brake works quite well alone, and using both together this stops nicely. Despite a similar design, it isn't quite up with the KTM's radial-mount, four-piston device. Nor is suspension, which has none of the KTM's adjustability up front. However, the settings are well chosen and this rides out the bumps rather effectively.
It's also a wee ripper through the tight stuff, out-gunning even the KTM 390 which is pretty handy for a small ADV. And it mainly comes down to the rubber used, as you might imagine. The adventure bike wears dual purpose tyres whereas this has dedicated road shoes. So it handles more lean angle with greater confidence and scoots into bends with real purpose and glee. It's a most confidence inspiring thing for learners and older hands alike.
Part of its ability stems from an engine that's turned about 180 degrees.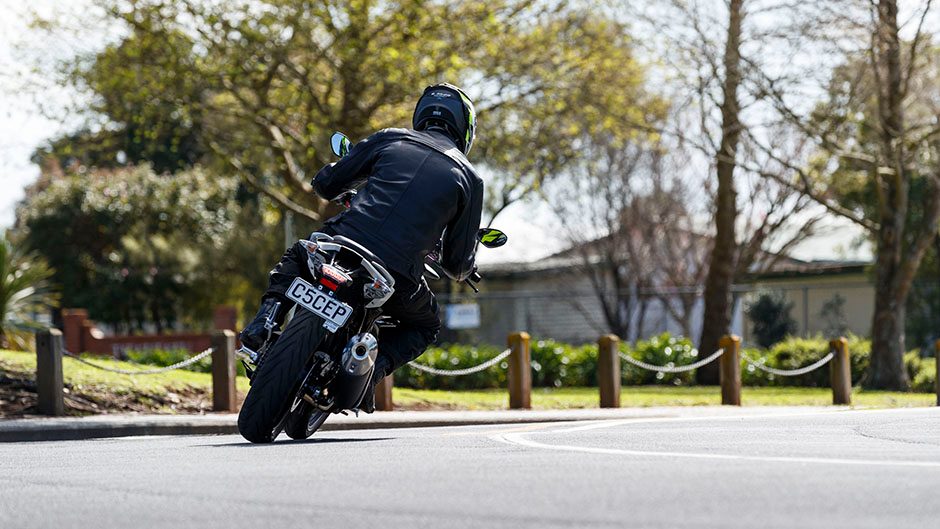 Normally the exhaust header emerges from the front of a motorcycle but in the case of the G 310 R it's the other way around. This means a longer swingarm is possible, conferring more stable handling. And it certainly is that, holding a line beautifully. You can have real fun on this, hanging off easily and with good ground clearance.
So there's some amazing buying in the sub-$10k area. It used to be that Kawasaki's Z400 twin was the best value but there's some serious competition now, with KTM's 390 Duke at $7500, Yamaha's MT-03 twin at $7300 and this G 310 R at $6999 all vying for best in class.
| | | | |
| --- | --- | --- | --- |
| BMW | G 310 R | Price | $6999 |
| Engine | 313cc, liquid-cooled, fuel injected, single, 25kW/28Nm | Drivetrain | 6-speed, chain final drive |
| 0-100km/h | 6.63sec | 100-0km/h | 45.2m |
| 80-120km/h | 6.86sec (217m) | Weight | 161kg |