Kia has today previewed a future model by revealing the fully electric Concept EV5 compact SUV at the Chinese EV Day.
The unveiling comes less than a week after the design of its larger EV9 sibling was shown to the public for the first time with the smaller model adopting a variety of its styling cues.
In designing the Concept EV5, Kia applied its 'Opposites United' design philosophy which reintroduces us to the 'Digital Tiger Face' up front including a smoothed off grille and 'Star Map' daytime running lights.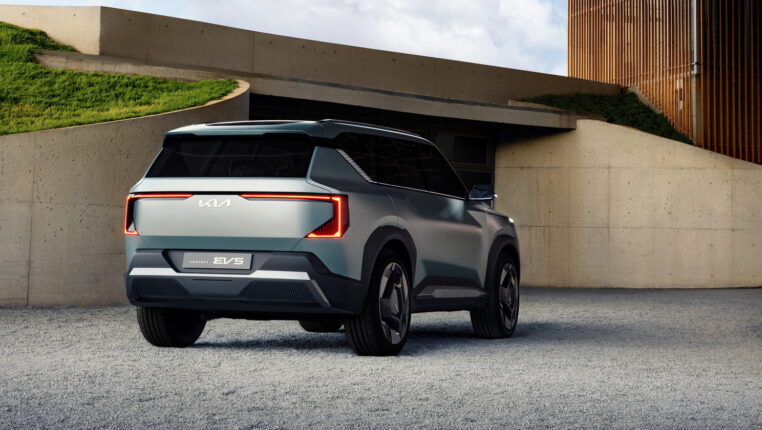 The compact SUV has been given a boxy side profile with its rugged-looking fenders housing 21-inch tri-spoke wheels. Like the EV9, there's also a "floating" roofline which sweeps down and back from the front windscreen.
Simple lines also adorn the rear end which includes a spoiler and a Polestar-esque wrap around tail light.
By far the most striking element of the EV is its spacious and nature-loving interior designed to let the outside in. The rear suicide doors and flat floor allows for each seat to swivel outwards while a rear-facing bench seat pops up from the boot floor along with a table.
There's also a panoramic sunroof (which also acts as a solar panel) so that occupants can take in the stars at night.
The interior is also made out of eco-friendly and plant-based materials like seaweed extract and upcycled PET bottles on the seats, doors, dashboard, and headliner.
Technical specifications like powertrain and battery information have yet to be revealed but the model will likely make use of the Kia and Hyundai's shared Electric Global Modular Platform (E-GMP).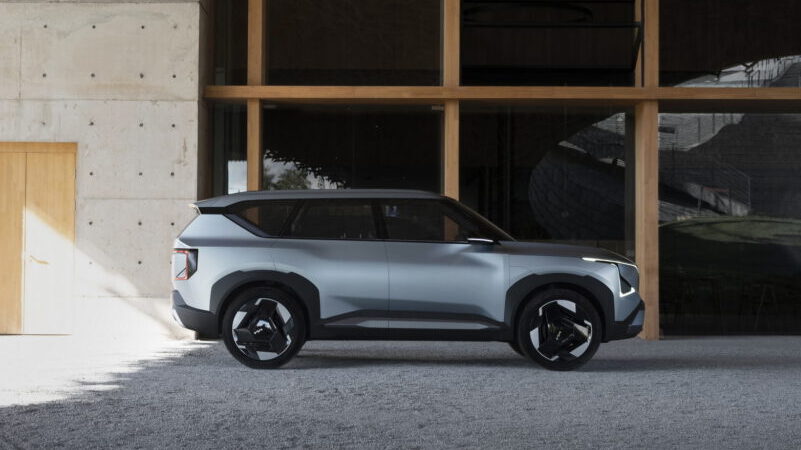 Kia says a production version of the Concept EV5 will be launched in China later this year, before heading further afield.
Multiple reports suggest the compact SUV could be the new Sportage or at least its replacement based on its size and two-row seating arrangement.