Kia has today revealed the full details about its upcoming electric flagship EV9 which introduces us to a fresh design for the brand along with a plethora of new technology.
We were first greeted with the design of the SUV just over a week ago, giving us our first glimpse of the model's new 'Digital Tiger Face' and nature-inspired looks.
We'll come back to that later though as this time, its all about what's under the skin of the model that's set to spearhead the brand's transition to becoming a "sustainable mobility solutions provider."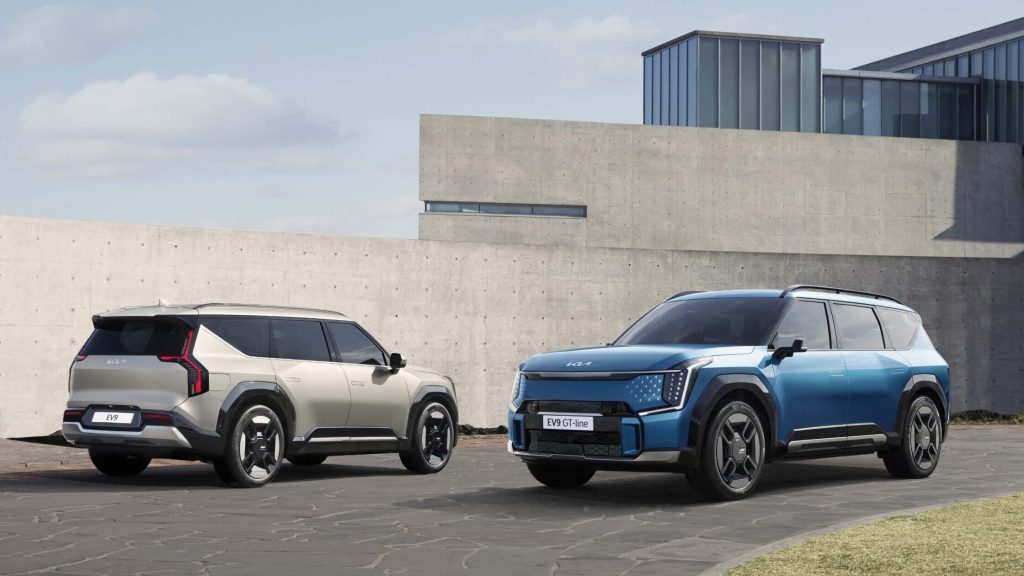 The three-row SUV is based on Kia's Electric Global Modular Platform (E-GMP) as found under the EV6 and shared by Hyundai and will be offered with both rear- and all-wheel drive powertrain options. Both will feature a 99.8kWh battery, boasting a targeted driving range of over 541km, while a 76.1kWh unit is also available for the RWD.
As for power output, the single electric motor on the RWD makes 150kW and 350Nm of torque, enough to see the SUV accelerate from 0 to 100km/h in 9.4 seconds. A more powerful 160kW and 350Nm unit is also on offer, bringing the sprint time down to 8.2 seconds.
The AWD model is equipped with two electric motors front and rear which release a combined 283kW and 600Nm to accelerate the Kia EV9 from 0 to 100km/h in approximately 6 seconds. However, customers can increase torque by 100Nm thanks to the optional 'Boost' feature which can be purchased via the Kia Connect Store, lowering the acceleration time down to 5.3 seconds.
It's only set to get quicker too with Kia also confirming that a performance-oriented GT model will arrive in early 2025.
Kia made a point of the EV9's ability to be recharged with enough power to travel 239km in around 15 minutes thanks to its 800V fast charging system.
Another feature of its electric drivetrain is that it comes with vehicle-to-load (V2L) capability which can provide power to external devices like laptops via the SUV's charge port.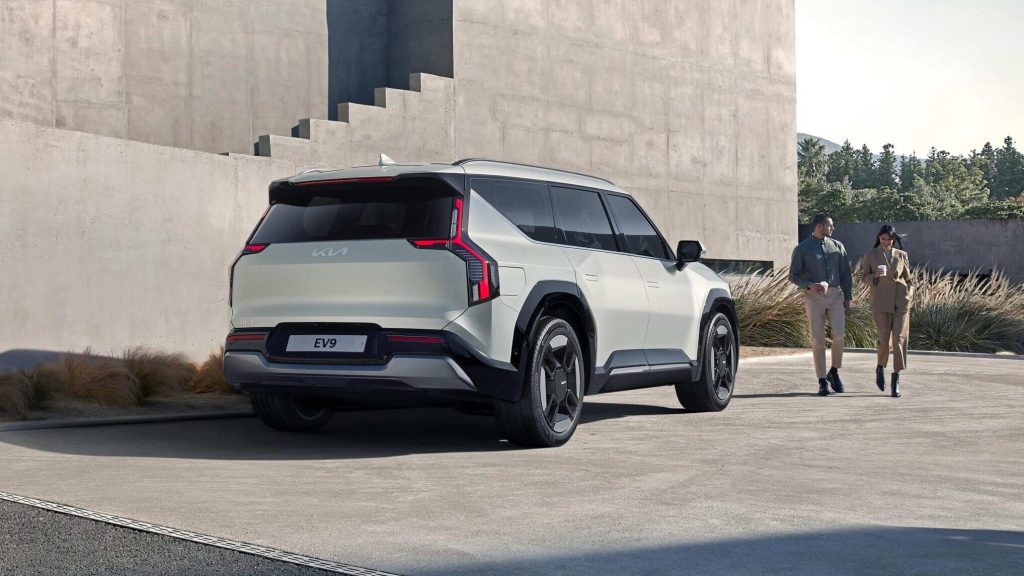 While we've already seen the interior and exterior of the EV9, we now know that the EV9 boasts a wheelbase of 3100mm and rides on a choice of 19-, 20-, or 21-inch wheels. Overall length comes to 5010mm, 1980mm in width, and 1755mm in height meaning its no small thing. However, it maintains a drag coefficient of 0.28.
By far one of the most striking features is its new 'Digital Pattern Lighting Grille' found between the vertical headlights which features 'Star Map' LED daytime running lights that shine through the bodywork.
As for colours, a range of natural bio paint options are available which draw inspiration from light, air, earth, and water. The interior can also be specified in a total of six different combinations, from light grey to more natural tones.
Distinguishing itself from the rest of the lineup is the GT-Line variant which features unique front and rear bumpers, wheels, and a roof rack, each coloured in black. It also gets an exclusive lighting pattern up front.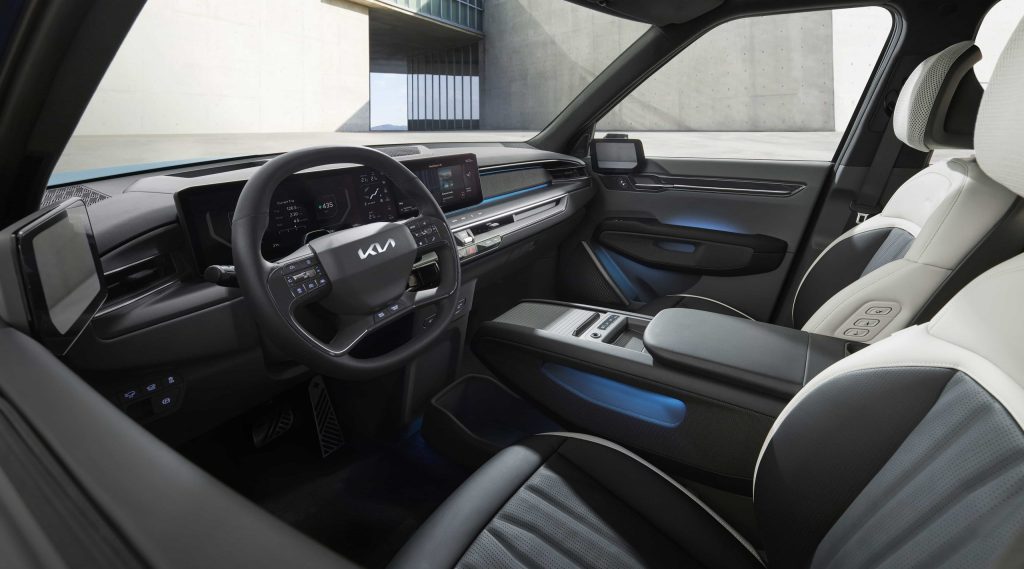 Sustainability would be the one word to describe the EV9's interior considering each vehicle makes use of 17 recycled PET bottles while there isn't a single piece of leather to be found thanks to the use of new materials made with corn, sugar cane, and natural oils.
Four seating options are available for the second row including a three-seater bench, as well as a basic-, relaxation-, and swivel-type two-seater arrangement. A trick feature of the swivel-type seats is that they can rotate 180 degrees.
We previously mentioned that upgrades can be found via the vehicle's online Kia Connect Store which enables customers to purchase digital features and services on demand. These can be accessed, bought, and updated over-the-air at any time.
As for safety equipment, the EV9 has been equipped with features like blind spot detection, lane keeping assist, speed limit assist, and much more.
Those who go for the GT-Line will also be greeted with Kia's Highway Driving Pilot (HDP) feature which makes use of level 3 autonomy, allowing the driver to take their hands off the wheel when cruising. The system makes use of fifteen sensors, including two lidars, enabling it to scan for and detect objects in a full 360-degree field of view.
The new Kia EV9 will make its physical debut at the Seoul Mobility Show later this month before pre orders open in the second quarter of 2023. A global launch is expected later on this year with local pricing and availability still to be announced.