Ute fans across New Zealand and Australia have long sung from the rooftops about their desire for a V8-powered double-cab ute.
Ford has long flirted with the notion, and some have rumoured that the next-gen Ranger could be getting some kind of V8 model (although we're skeptical). HSV, meanwhile, revealed last year that they were set to pull the trigger and release a V8-powered Colorado SportsCat … until Holden went under.
To date, there's still no such thing as a factory-made mid-size double-cab pick-up. But, that's not to say that it's not impossible.
Ford Ranger owners (and there's a heck of a lot of them) will be pleased to discover that South Auckland tuning firm CTB Performance has confirmed a V8 engine-swap programme for numerous Ranger variants.
The group confirmed the plans yesterday. It states that the swap is available to all 2.0-litre and 3.2-litre PX2 and PX3 models. The changes don't impact the existing warranty for things not relating to the powertrain or drivetrain.
It adds that the package "is as close to a factory fit and finish as possible". This is underlined by the tuning company's claims that the transplant has no impact on any of the Ranger's factory amenities. The four-wheel drive system, gauges, warning lights, cruise control, diff locks are all said to work as normal following the engine swap job.
The swap makes use of Ford's familiar 5.0-litre Coyote V8 engine, as utilised in the Mustang GT. CTB states that in this swap power and torque are rated at 435hp (324kW) and 542Nm, respectively at the crank.
These figures differ from the 339kW/556Nm you get in the Mustang GT due to the imported crate engines being American-spec models.
It comes paired with either a modified version of the Ranger's 6R80 six-speed or 10R80 ten-speed automatic gearbox, featuring a new torque converter in order to cope with the added mountain of power.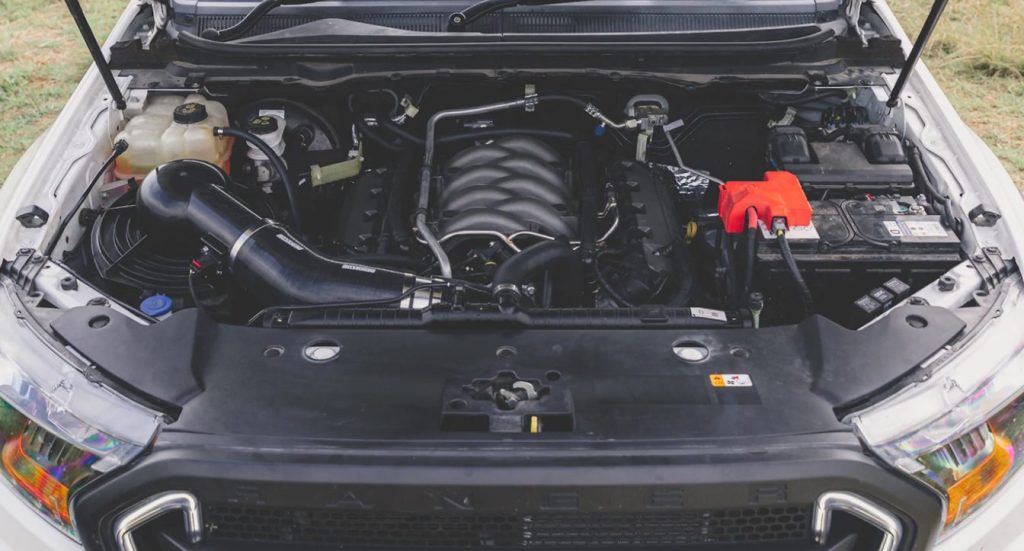 On top of including a big new donk and revised transmission, the conversion also includes a bevy of other new parts. These include a new twin 3-inch exhaust system with ceramic-coated headers, a new air intake system, air conditioning system, and a new fuel system. And all of it is LVV certified.
Speaking to NZ Autocar, CTB Performance chief executive Sam Bakalich said that the swap is a lengthy 55-hour job, requiring all-new wiring and engine mounts, among other significant changes.
Bakalich noted that the team is working on making an even quicker supercharged 5.0-litre Ranger, dovetailing the work they've done on the platform with the learnings they've had producing numerous supercharged Mustangs.
The conversion kicks off at $67,890, or roughly enough to buy a new four-wheel drive Ranger XLT. In other words, it's not cheap. But with the world of modified pick-ups clearly booming down under, we wouldn't be surprised to see this programme have plenty of takers.