Streetfighters you often think of as wild and crazy motorcycles. Just check the mean, predatory visuals of Kawasaki's new Z900. Yet this has the nature of a big lovable pussy cat. We get it whirring.
Yamaha MT-09, your reign as torque king may be over. For Kawasaki has done its homework on its budget middleweight Z800 and turned it into the Z900, now using a sleeved version of the Z1000 engine. Developing 92kW or 125hp it also conjures just under 100Nm of torque at 7700rpm. While that compares with 115hp and 88Nm from the Yamaha, the MT-09 still has a weight advantage, at 188kg when last measured in 2014.
The new model for 2017 adds ABS brakes so is probably now over 190kg. We found the Z800 was a touch flabby, weighing in at 226kg, but Kawasaki has changed its chassis thinking, incorporating a new steel trellis frame like that in the H2 so its latest supernaked middleweight now is a much more competitive 210kg. That of course results in better performance on both the stop and go fronts.
However, it's still a budget bike and somewhere along the line there will be compromises. There have to be to sell it at $14,599 for the version with ABS and $13,990 for the non-ABS version which, frankly, you'd be mad to consider. If, for example, you compare this bike with literally the last one we rode a few weeks earlier, the new SuperSport from Ducati with a similar sized engine, you're paying between $6000-$10,000 more, depending on model.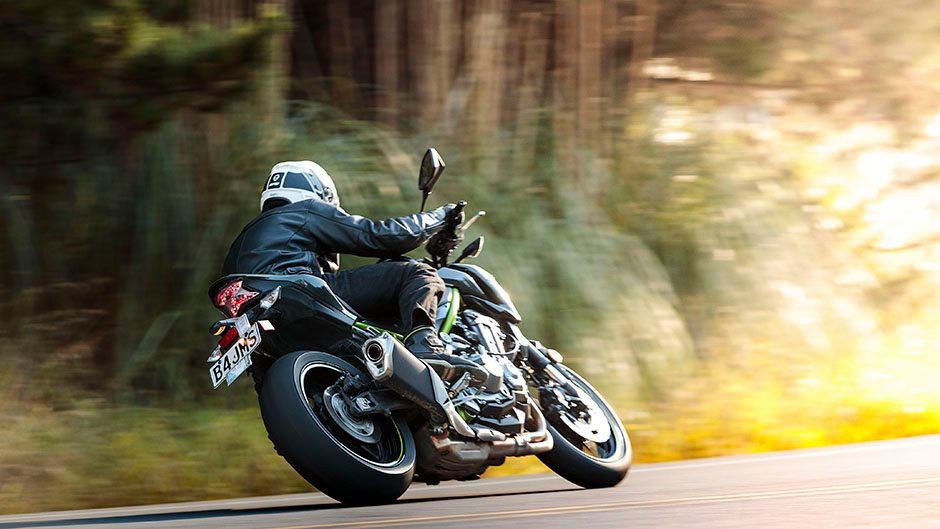 However, you do get that amount more in specification including a complete safety package of ABS, TC and engine modes, along with radial brakes, full fairing, variable screen, TFT dash, fully adjustable boingers and properly serious rubber. That said, buy the less expensive Kawasaki and you still get a quick and stylish streetfighter. However, it has the bare minimum of safety spec (ABS brakes only) and literally nothing else adjustable, unless you want to shift between three different tacho views.
So how does this similarly sized but less well specified machine compare? Well, actually, quite well. It's a far cry from the Z800 which was compromised. It was comfy enough, something at which Kawasaki has become rather adept of late, and quite quick, again something Kawasaki has never really had an issue with.
But it didn't stop all that well and compared with the MT-09 it didn't have that delicious lightness that makes it seem rabid quick in a straight line and so amenable in different situations. The Kawasaki crew that designed the new bike listened to criticism of the Z800 and it now has decent brakes that slow the bike well, despite not being radially mounted. Moreover, it weighs the better part of 10kg less.
Apart from ABS it still has no real safety features that most others in this class now possess, and on top of that the standard issue Sportmax tyres are nothing to crow about, but providing you take due care in the wet – we sure did but still spun up the rear a couple of times, unintentionally – then TC and engine modes really aren't missed. Experienced riders won't care that much, for they've learnt to temper their enthusiasm in dicey conditions, making TC and engine modes essentially surplus to needs.
What makes this bike feel safer inherently is exquisite fueling; there's never a hint of any throttle snatchiness midcorner, and the MT-09, even with its software updates, still isn't as smooth or confidence inspiring in this regard.
Moreover, the Z900 engine is simply a bear of a thing. Probably the most tractable engine we've ever encountered is that fitted to the Kawasaki Versys 1000, or perhaps Suzuki's GSX1000F, neither machine threatening to win any beauty contests. And the MT-09 mill is more of the same, though its 2017 visual update is quite appealing.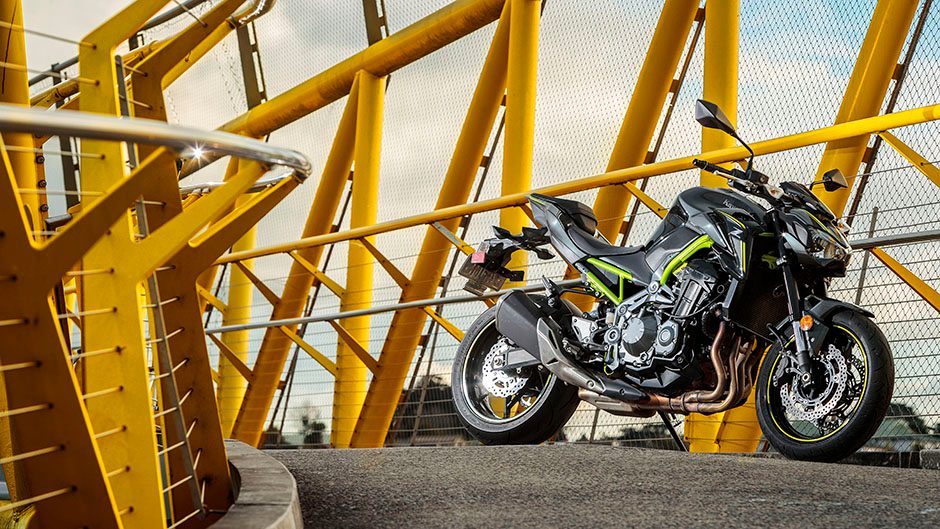 The new Z900 beats out this trio on the grunt stakes though. It's in a special league of torque production, especially at the bottom end. It hauls away smoothly and serenely from under 2000rpm, something few performance V-twins manage. And it's not finished there; it also accelerates with zip from 1500rpm in sixth, which is around 50km per hour so is as happy as a smiley face trolling through the burbs in top. Its party trick is hauling away without complaint in sixth from 30km/h, which corresponds to 1000rpm.
With very little in the way of clutch slip it can start off in top gear from standstill, and will easily pull away at the lights in second, or even third gear if you're feeling lazy. With no TC to intervene it also has the front wheel pawing the sky in second gear with little in the way of provocation, and given it revs out to over 11,000rpm, will hang the wheel happily until the front wheel stops rotating. And because the tranny can act almost like an automatic – stick it in top and then simply use the throttle to hasten or slow things – we achieved pretty decent overall fuel economy of 5.9L/100km, which included performance testing.
Making things in the way of performance even easier is a clutch and gearbox that are lightweight and liquid, respectively. No false neutrals, no sore left wrist in heavy traffic (a slip and assist clutch helps here) and as a result it flies when the timing gear is attached.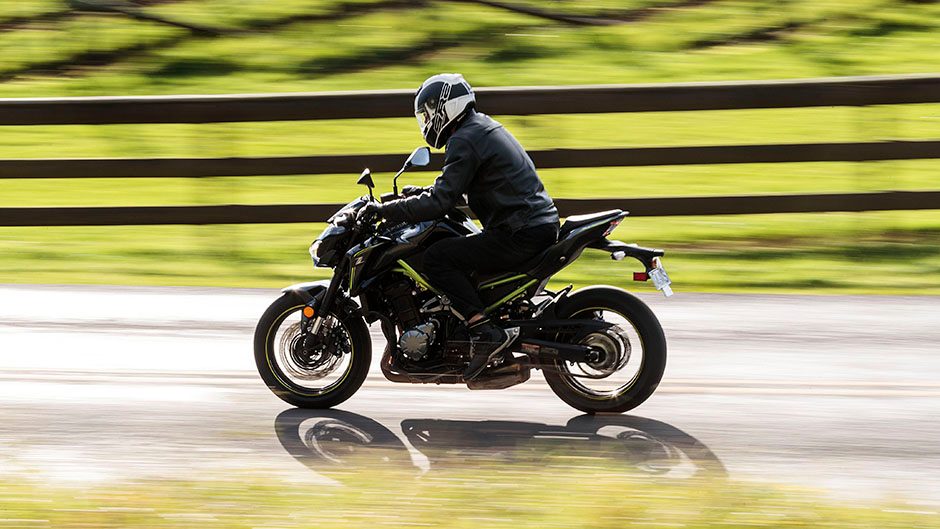 Any motorcycle that can crack into the 1.4s for an 80-120 overtake is not far off superbike status and the same can be said of its best 0-100 run of 3.4sec, which included a shift into second gear as it wouldn't quite run to 100 in first. Gearing is surprisingly tall given how well it pulls in top, with 100 an even 4000rpm – which is actually 95km/h – and 120 right on 5000.
We've waxed lyrical about the engine, but we're not quite done yet. There's almost nothing in the way of vibration evident anywhere at any revs so the mirrors only ever give a truly accurate impression of what's following. Moreover, there's no buzzing through bars or pegs. The engine doesn't even sound too bad, especially up the top end where there's audible intake gasping or is that rider surprise? For an engine that's still rather oversquare (73.4x56mm) the Herculean low down strength is astounding.
Okay, so the rest of the bike is merely decent; its brakes work pretty well once you give them a decent squeeze (anything on two wheels that can pull up from 100km/h in under 40m is doing fine) and the instruments are clear if hardly crystalline in the way TFT screens tend to be. But all the info is there, including distance to empty. Expect a range of 250km easily if you're being strictly legal, but good luck with that.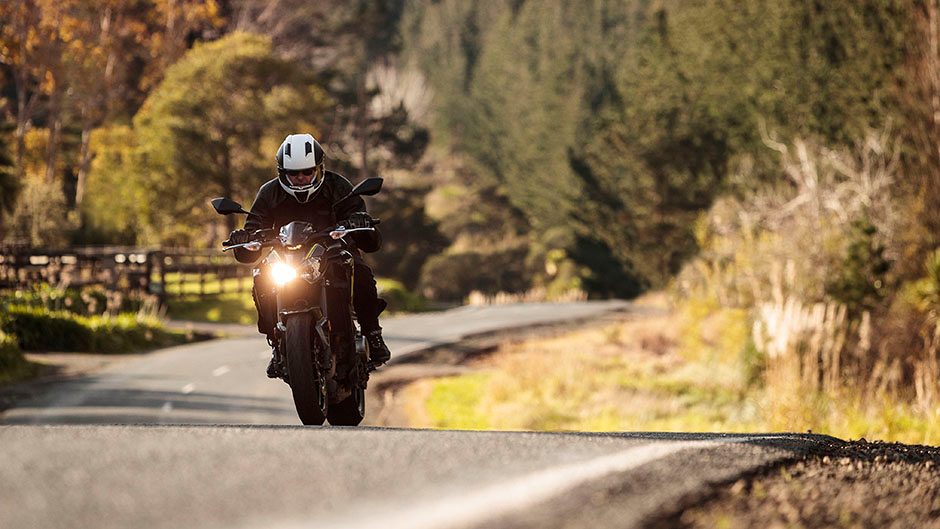 Theoretically you can expect over 300km from a 17L tank. The riding position isn't bad either, though would probably suit those around 175cm or so better than my 182cm, as elevated pegs flex the knees and hips some. Moreover, the seat tilts downwards slightly towards the tank so that's where you end up perched mostly, and the knees feel a touch spread compared with the almost perfect riding position of the SuperSport.
Both are easy to hang off of in corners. And you'll be doing lots of that on the Z900, especially with better rubber. It corners well, almost intuitively, without being twitchy. It's one of those bikes that simply rounds up bends without you having to think too much about any one thing. Just go with the flow. And the suspension doesn't feel in the slightest bit budget either, the front and rear adjustable for preload and rebound.
Even the big hits on this never feel bothersome. So the makers of Mighty Torque motorcycles have been outmuscled in an area where previously they were undisputed champs. There's a new tug of war middleweight champ and you're looking at it right here.
| | | | |
| --- | --- | --- | --- |
| Model | Kawasaki Z900 ABS | Price | $14,599 |
| Engine | 948cc, liquid-cooled, fuel injected, IL4, 92kW/97Nm | Drivetrain | 6-speed, chain final drive |
| 0-100km/h | 3.41sec | 100-0km/h | 39.91m |
| 80-120km/h | 1.42sec (39.25m) | Weight | 207kg |