BMW is targeting LAMS central with its new single-cylinder G310R. Is this sub-$10k machine from BMW Motorrad worthy?
So it's the smallest bike from BMW in the modern era, the G310R, and is the first motorcycle to emerge from the joint venture between BMW Motorrad and TVS of India. We don't often test ride bikes below 660cc, the top end in displacement terms of the learner or LAMS sector, unless they're unique in some way.
Clearly, this is. First, it's the only vehicle sporting the BMW roundel that costs less than $10k ($7999) and that's reason enough alone. You can tell your mates you bought a new BMW for $8k and they probably won't believe you. Second, it's the first BMW to emerge from India so we were keen to see whether it was up to snuff.
This bike costs much the same as some other 300cc competitors, such as Kawasaki's twin-cylinder Ninja 300R, Honda's CBR300 single, and it's only about $1000 more expensive than Yamaha's hit MT-03 twin. More critically, it is priced right on top of KTM's outrageously good value Duke 390, a bike that used to cost almost $9500 but now lists for $7900 and is selling well. One shouldn't be surprised that BMW is going down this route as the learner market has gone gangbusters here and in Australia since the cubic capacity limit of 250cc was replaced by the LAMS scheme, which is based on a power-to-weight figure.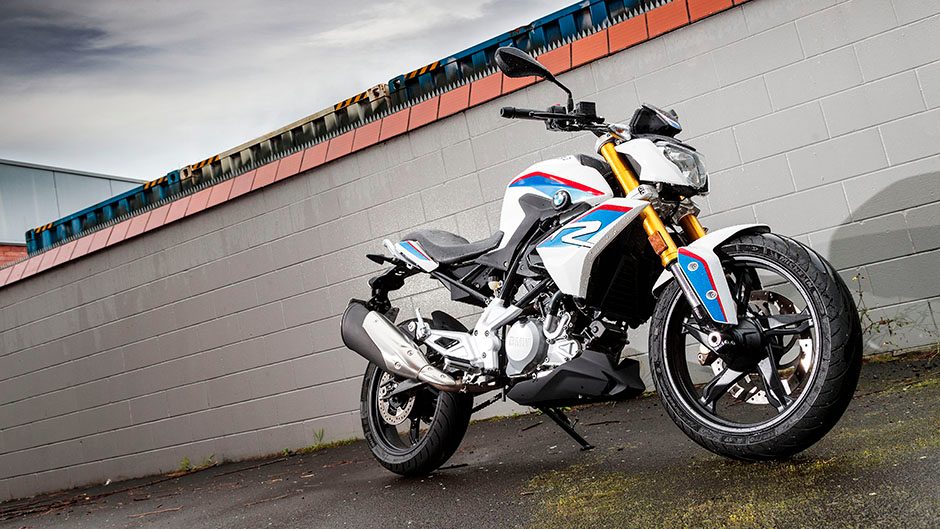 A maximum displacement of 660cc has meant that learner riders no longer have to suffer the indignity of riding a 250cc motorcycle which may not suit all body types.
At the entry end of the market BMW could never have competed with a bike built in Germany so it followed the route pioneered by KTM, partnering with an Indian-based manufacturer, in this case TVS. This huge motorcycle maker I'd never heard of previously but TVS is named after the group's founder, Mr TV Sundaram Iyengar.
The G310R is a naked or standard bike that was supposed to have launched roughly a year ago, but there were significant delays which BMW stayed quiet about. We suspected quality control, but it turns out the factory simply could not keep pace with demand in large markets. So rather than keep customers waiting, the launch to far flung parts of the globe was deferred from late 2016 to mid-2017. Worth the wait? Largely yes. We waited a week for the weather to improve enough to ride the G310R which it didn't so we just had to make the best of a short rain break. So it goes.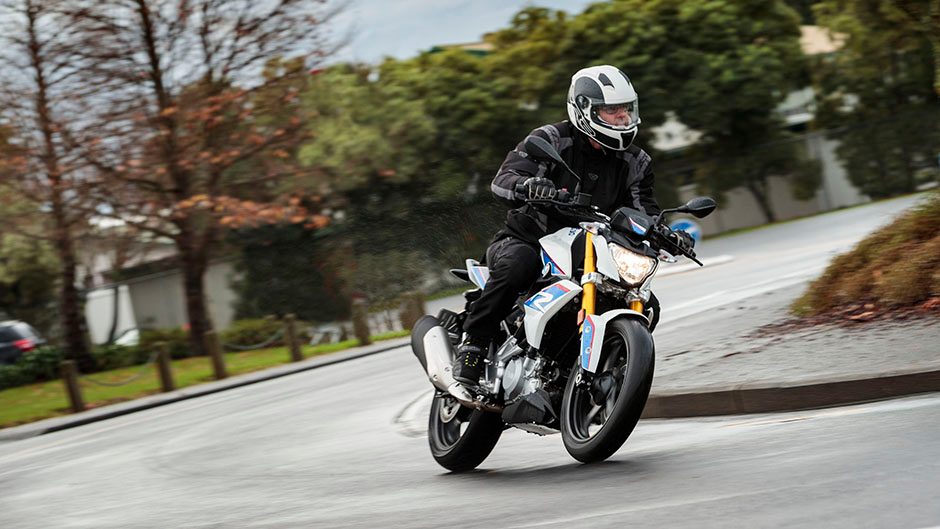 At least we got enough seat time to discover it's hits and misses. To behold it's quite something, especially in BMW race colours. You'd not mistake it for a bike from some other brand. Unusually it sports USD forks, unadjustable, but even odder is the layout of its single-cylinder engine. Normally the exhaust header emerges from the front of a motorcycle but in the case of the G310R it's the other way around. This means a longer swingarm is possible, conferring more stable handling (which it does).
Another slightly unusual feature is a radial-mount four-piston caliper for the front disc, linked of course to an ABS unit. We first threw a leg over the bike at a Hampton Downs ride day and it felt light, which it is at 160kg brimmed. It's not the lightest in class but nor is it the heaviest. The seat also felt good, with a nice soft pad at the rear, against which you can brace yourself under acceleration. The four-valve, 313cc single-cylinder engine makes 25kW at 9500rpm and 28Nm of torque at 7500rpm.
We're not normally fans of singles but this one doesn't display the usual trait of excess vibration. With a counterbalancer, at 100-110km/h indicated there's little in the way of buzzing at the bars, not that the mirrors don't suggest a different story. There's a decent spread of torque too, though engine speeds below about 3000rpm aren't its forte. But the chosen gearing has the bike easing along suburban streets in fifth happily. Fuel use is minimal too, especially if you don't rev the living crap out of the engine. At a constant 100km/h we generally saw low fours. What's gratifying about the single is its ability to slug it out, pulling with decent conviction from 5000rpm, and it will roll on in top quite convincingly too.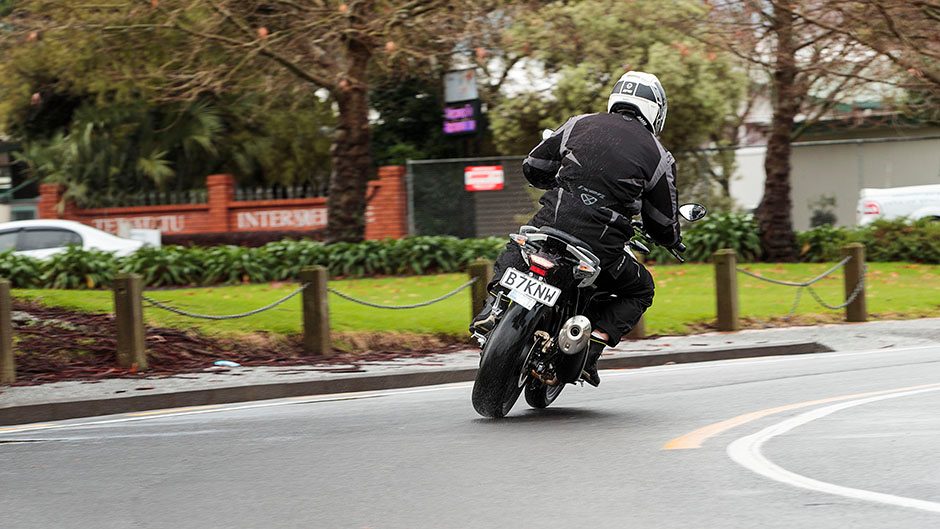 At 100, the tacho is showing 6400rpm, and 110 is spot on 7000rpm. We didn't try, it was wet, but evidently it will run to around 150km/h. The exhaust noise, is unexpectedly sporting, and it's not often you can say that about singles. There's quite a snarl to the engine, right from when it starts to come alive at around 5000rpm to when it hits the limiter at over 10,000rpm. Small bikes often produce odd performance figures. It's related to wind pressure over 100km/h. So the 0-100 time overlaid that of the 80-120, both around 6.8sec. That's quicker than all 250s we've tested in the past, but not quite up with the twin-cylinder competition like Yamaha's MT-03 or bigger singles like KTM's Duke 390. Still, it has more than sufficient power to tackle out of town jaunts.
It would happily cruise at 120 all day, given half a chance. Handling and ride are adept too. We didn't have an opportunity to really push the grip limits of this bike, but it was quietly confidence inspiring in the wet. The standard suspension works pretty well, in concert with a rather plush seat, such that most of the bigger hits are effectively dispatched. Gripes are minor on the whole. I'd change the brake lever to a dogleg type, as the reach, which is sizeable, means you're not really delivering the best possible leverage.
And on the brakes, despite their radial design they could be stronger. They function well enough but you do need to grab quite a handful to effect that. And the other minor quibble is the gearbox operation. It shifts well enough, especially when revved out but sometimes you exert what seems to be enough upward pressure and no gear change results. However, it had done only modest km so perhaps with a bit more running it will come better. The lone instrument works well, with all the key data you'd want easy enough to find using the push-to-change button. The numerals on the bar graph for the revs are too small to be readily legible.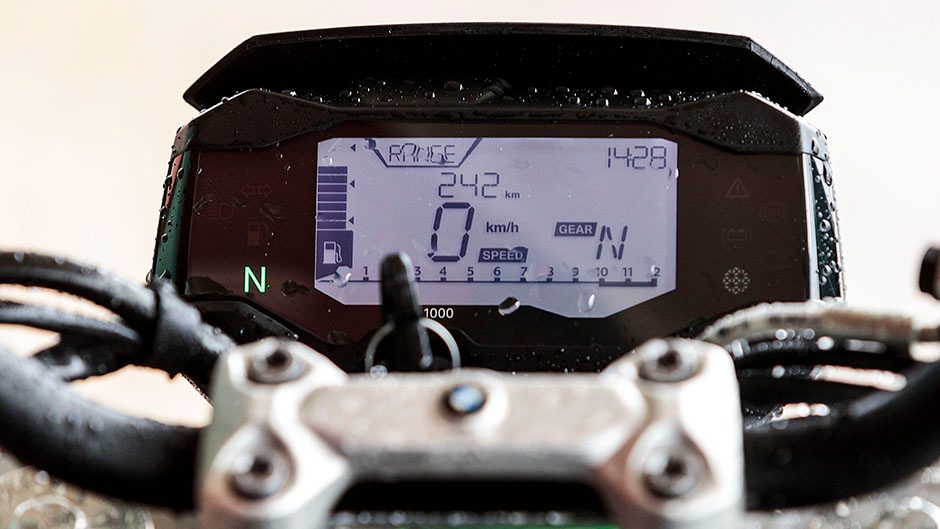 It's a bold move BMW has taken, entering the mid-LAMS area. If you're considering the G310R you need to check out the similarly priced Duke 390 as well. It offers more power and edginess if that's what you hanker for. Alternatively, you could wait until the GS version of G310 arrives. Nothing like aping the visuals of BMW Motorrad's best seller.
Whether or not the G310R supersedes the R1200 GS as the company's top mover will be interesting to monitor. Ultimately though, a BMW selling for four figures is intrigue enough.
| | | | |
| --- | --- | --- | --- |
| Model | BMW G310R | Price | $6999 |
| Engine | 313cc, liquid-cooled, fuel injected, single, 25kW/28Nm | Drivetrain | 6-speed, chain final drive |
| 0-100km/h | 6.63sec | 100-0km/h | 45.20m |
| 80-120km/h | 6,86sec (217m) | Weight | 161kg |