Think a 300 can't cut the touring mustard? Here's one that reckons it can, the Versys-X 300. We jump aboard and take it 'any roads' riding.
In case you hadn't noticed it would appear bike prices have risen recently, at least in the case of Japanese machinery. That's because a year ago a Kiwi bill was buying over 80 yen, and now it's at 74. So models like the Ninja 400 have risen by $500 as a result, with the nicely painted green and black one going for $8995 which happens to be the same price as the bike you see here, the Versys-X 300.
Both have fairings, though the weather protection on the Versys is much better, its upright fixed screen a wind jammer. Oh, and this is the first Versys yet you can look at without grimacing. So I guess the question is: for $9k where should your money be going? You'd think the answer would be obvious; buy the one with the bigger engine, right? Not necessarily, for these bikes are built for rather different riders in mind. Both are LAMS offerings though each might well suit someone with a full licence too; the Versys is, sorry, surprisingly versatile.
For someone wanting a bike that can virtually do it all (except perhaps proper off-road work) at a great price, look no further than this. On the other hand, the Ninja 400 is the one you'd much rather have for the very odd track day, and perhaps for taking out on a blast with friends who might ride bigger bikes. The Ninja is the martial road artist; it's more agile, goes harder, and sounds more interesting than the VX300.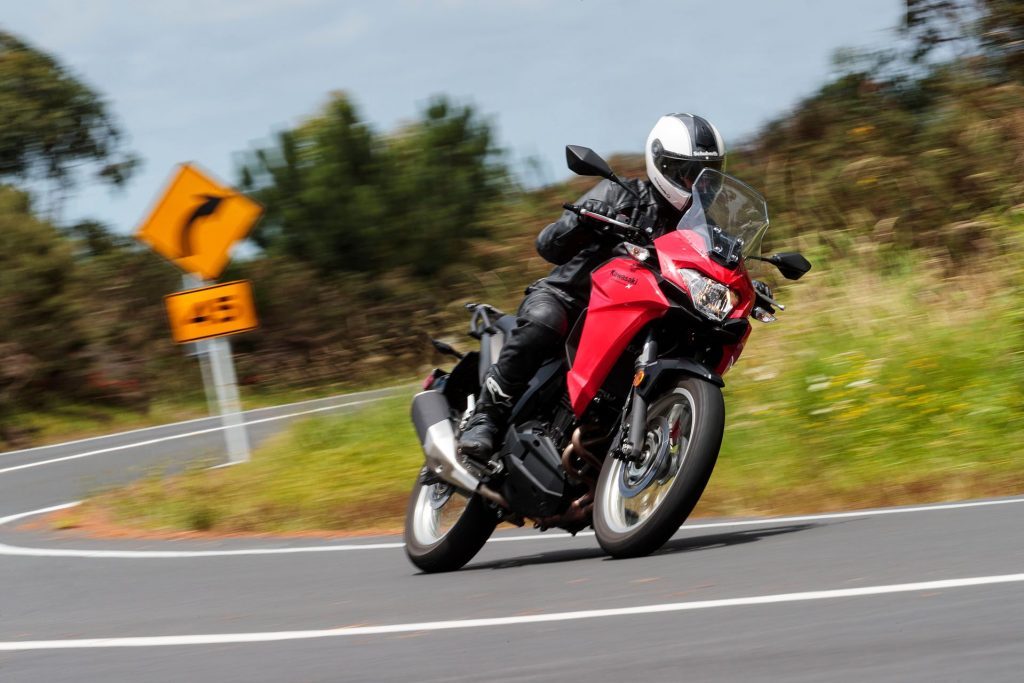 Moreover, it has a stronger midrange so you're not having to rev it out so much. It's a bit quicker as you'd expect, by about 1.5sec on both the performance criteria we use. So does that mean the Versys-X 300 is trumped here? Not at all. This is in a burgeoning class, akin to the subcompact SUV sector spawned a few years ago. The wee ADVs are faux in the main; they look like dual purpose ADVs but are optimised for all-road travel. All are LAMS offerings, and most costs less than $10k.
Rivals for the baby Versys include BMW's G 300 GS at $9495, a single, sure, but worth checking out, and the $8995 CRF250 Rally, a nice bike in search of a stronger engine. It should get Honda's new 300cc single some time soon. Oh, and the Himalayan for tightwads who don't mind nags for power instead of real horses. We've ridden some damn fine offerings from Team Green in the past 12 months, and ex-editor-Owen has been raving about the virtues of the VX300 since testing and buying one last year.
He reckons there are some nifty deals going on the Versys currently. Whether this relates to a new incoming 400cc model is unclear; locally Kawasaki is not confirming nor denying, but the fact that we are riding a Z400 naked bike soon is perhaps a hint. The Versys is not really a bona fide dual purpose machine, even if it looks like it might be. Kawasaki reckons it offers "any-road performance".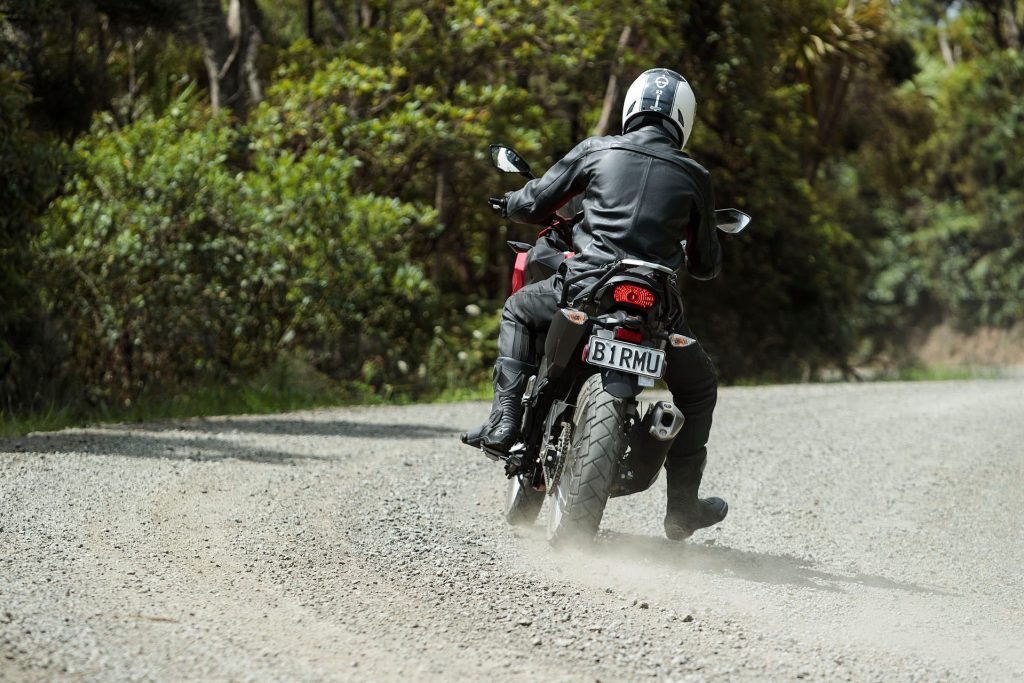 So it's more an adventure-styled touring model that happens to be quite at home commuting, and will probably even doodle about on trails so long as you're not trying to emulate Travis Pastrami and other such aerial gymnasts. It's light and low geared enough to be fun in the gravel too. If you don't believe about the touring thingy, check out the accessories available for "comfortable long-distance riding".
So why did Kawasaki use such rigid foam for seat padding? This is one of those questions that you really need to feed into a supercomputer and await the result. I understand that using soft grade foam is equally crazy; you soon feel the support beams beneath.
Owner Owen reckons it softens up in time. I opted to use padded MTB pants beneath the leathers which helped. Otherwise squirming begins after about an hour. Evidently there's a slightly softer seat option available that sits riders up by around 25mm. As is, just about anybody should be able to sit astride the Versys, the riding position hard to fault.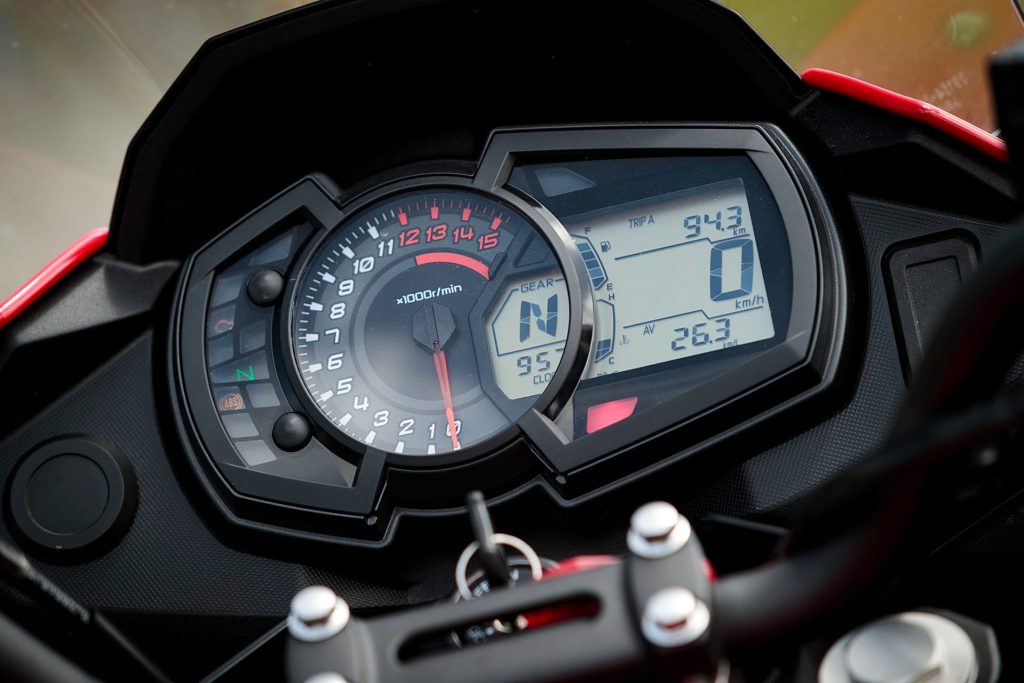 You sit upright, but reasonably low, and genuinely feel as if you're part of the bike. The knees are flexed a little, are just the right distance apart and the generous bodywork and modest windshield keep most of the weather at bay. The seat firmness is disappointing for another reason; potential fuel efficiency. We saw 25km/L (4L/100km) on the trip computer for much of the time we rode it, meaning a range of 400km should be possible. Later we saw 5L/100km but that included performance testing.
So how does it go precisely? Start-up is instantaneous, and it warms to the job quickly. The clutch is the lightest I have ever experienced on a motorcycle, with a take-up point at the final few millimetres of lever travel. Just a whiff of clutch pressure gets the job done. Pity the gear shift is a bit notchy, but given you really only need fifth and top once underway, that's no biggie and it seemed to ease with time. Fifth is great for overtaking because it slots the engine to around 8000rpm at 100 around where the torque palpably swells.
The engine is designed to rev high, the redline kicking in at 12k, but there's also a reasonably useful dollop of midrange urge, though not quite in the same league as that of the 400. But with short gearing it will ease around suburb-ville comfortably in top at 50km/h, pulling without hesitation if you wind on the gas.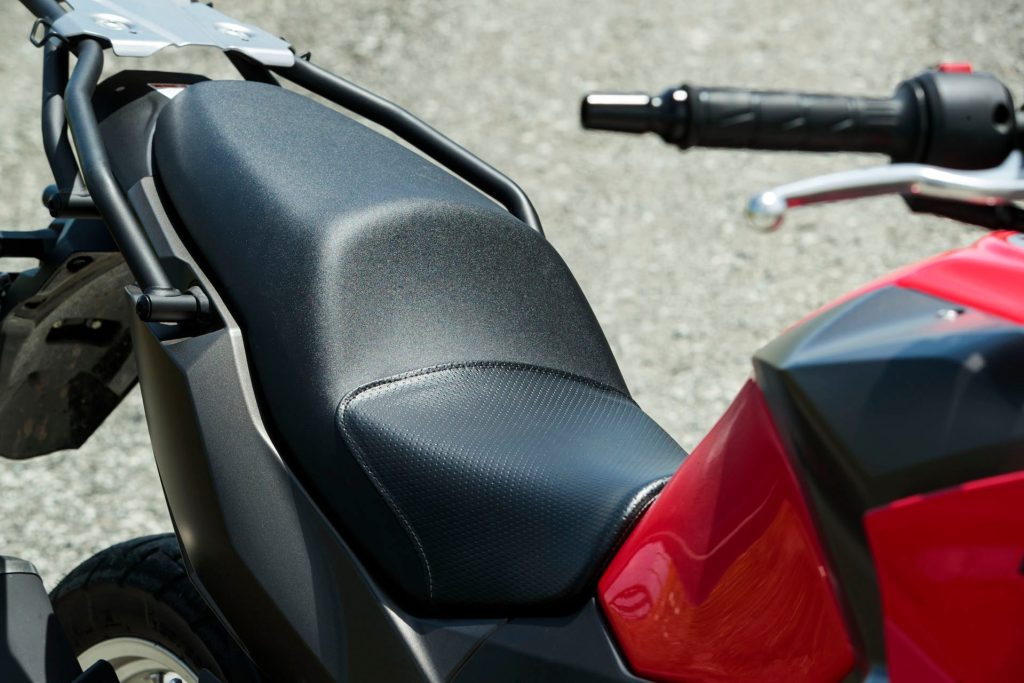 First gear is almost comically short, and you're into second before you're barely moving. It's a feeding-out-hay gear. At the other end, 100km/h is using up 7500rpm (versus 6000 for the Ninja 400) but given peak torque of 26Nm doesn't arrive until 10,000rpm, that's no deal breaker. However, with revs come tingles and, despite a counterbalancer system, they're not negligible, with some footpeg and bar vibes, the latter affecting mirror images.
They kick off at about 90km/h, naturally. Still, if you want to stay legal it's not hard to do on this. Especially as the speedo is a bit optimistic, 110 indicated actually 104km/h. Yes, you could get ticketed on this easily enough, not that I'm suggesting we did. Higher revs turn up the tingles. Kawasaki test riders have done a swell job of dialing in a mix of ride comfort, stability and agility.
With so much bar leverage and skinny tyres it turns without any great effort, and takes a lean that reflects how much rubber meets the road. Suspension is largely unadjustable but is absorbent and works well out of the box. Brakes are effective enough, nothing special though.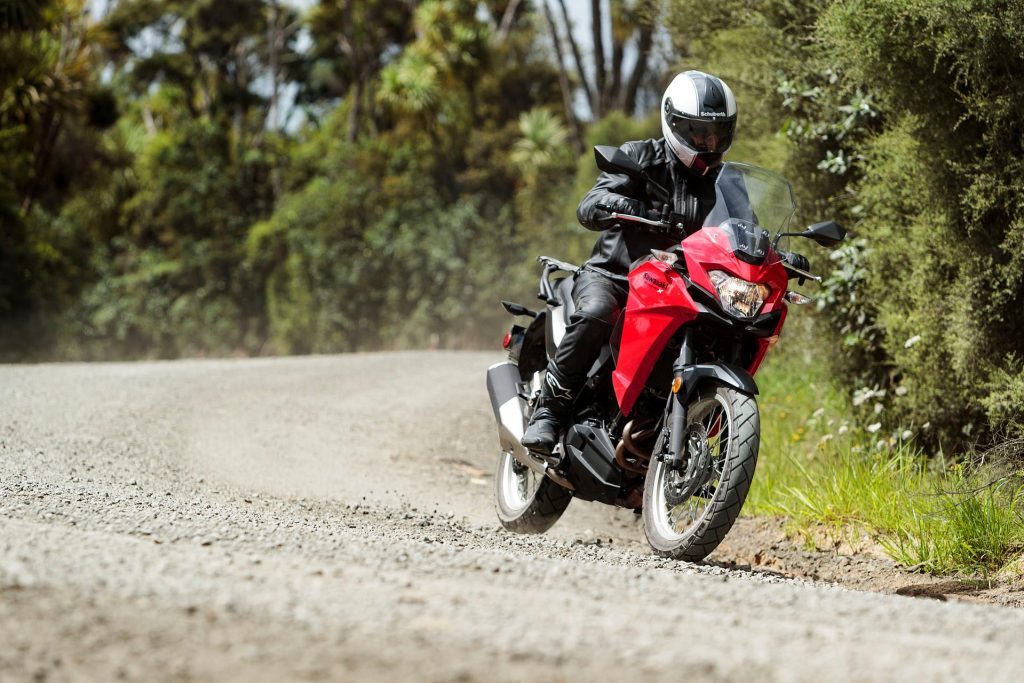 This is a decent little all-round road bike that performs better than you might imagine, given kW and Nm figures in the 20s. Folk used to buy big singles for touring NZ, and nothing wrong with that.
Here's something that does the job well too, especially with the rack and solid grab/pannier bars as standard fit. Some may be put off by the lack of displacement, and if that's the case hang tight as a Versys-X 400 is likely to emerge towards the end of the year.
But if you're after something inexpensive and that's up for just about anything, this compares more than favourably with the singles currently available in the class. Plus it doesn't look like the offputting examples of Versys past.
| | | | |
| --- | --- | --- | --- |
| Model | Kawasaki Versys-X 300 | Price | $8995 |
| Engine | 296cc, liquid-cooled, fuel injected, IL2, 29kW/26Nm | Drivetrain | 6-speed, chain final drive |
| 0-100km/h | 6.67sec | 100-0km/h | 40.38m |
| 80-120km/h | 5.54sec (166.6m) | Weight | 173kg |