The latest naked litre bike from Honda, the CB1000R, gets neo-retro styling, and pretty much new everything else. It's still the apex warrior, only it now features up to the minute styling.
Honda was essentially the creator of the first four-pot 'superbike'. I got to ride a CB750 once and sorry it wasn't that super. But that was the seventies for ya. What followed a few decades later was vastly better, and Honda did sterling business with its Fireblades. Others would eventually catch up and now Big Red finds itself in an unfamiliar rearguard position in the World Superbike arena. Course that doesn't exactly translate on road, the latest CBR1000RR as fast as any of the litre bikes out there.
When we tested that we mentioned a naked version was coming, but actually the CB1000R doesn't really bear any relation to the superbike whatsoever. Guess that's why it's a CB and not a CBR. The reality is, it utilises a long stroke (for a bike; essentially less oversquare) engine from a 'Blade' of a decade earlier.
This time around it gets a bit more power and torque, up 16 and six per cent, respectively, to 107kW and 104Nm, the former at over 10,000rpm, the latter in the mid-8000rpm range. However, it is said to have around five per cent more torque across the board. It's stronger mainly from breathing tweaks, like a new intake, head and exhaust, but also gains performance from four per cent shorter gearing and less weight, down 12kg to 211kg. That's in part due to a new chassis, and probably also due to the fact that it now features a 'neo-sport cafe' design, part naked bike, part cafe racer, the overall theme being minimalism.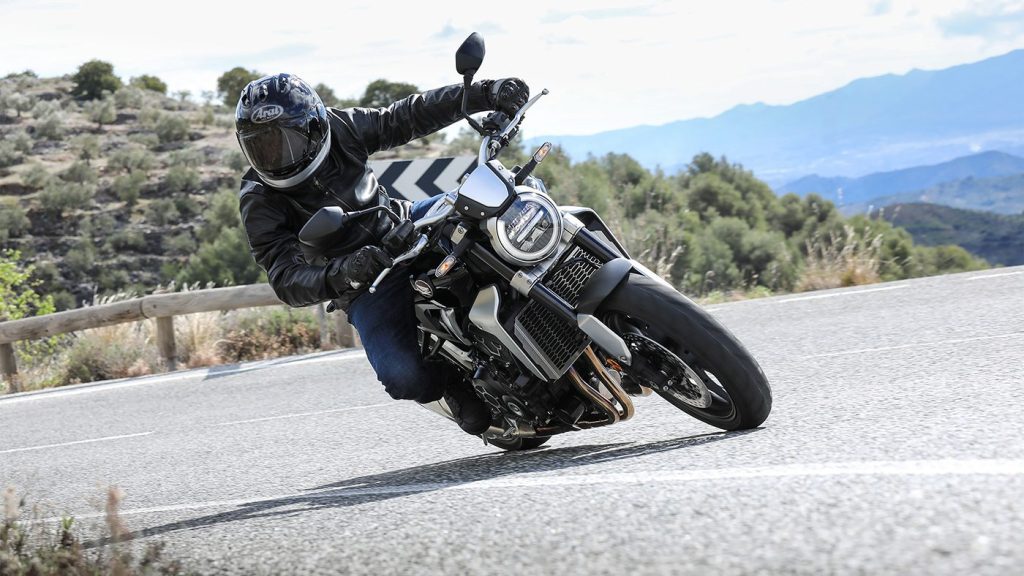 There are very few plastic components on this, limited to things like huggers, while there's a burnished metal finish for items like radiator cowls. To my mind, the design works well, more so from certain angles. I'm not entirely convinced by the appearance of the 4 into 2 into 1 exhaust, though it does sound a bit good when the gases are flowing hot. Nor is the round headlight with the Honda logo that alluring. The radiator's quite prominent too. However, the seat looks snazzy, the single-sided swingarm even as well, and so too the new LCD screen. Components are classy, with top notch adjustable Showas ironing out the road imperfections.
There's plenty more tech too. With a move to ride-by-wire throttle, there are now four engine modes, one user configurable, and changes are easy to make, all done by two switches, one a rocker type, both on the left handlebar block.
If your concept of a CB1000R is a smaller version of the CB1100, best get that idea out of your head right now. The latter is for retirees, the former for young'uns. It has a more relaxed riding position than a superbike. You feel more unwound, with just a small lean forward to the tasty tapered handlebars on risers.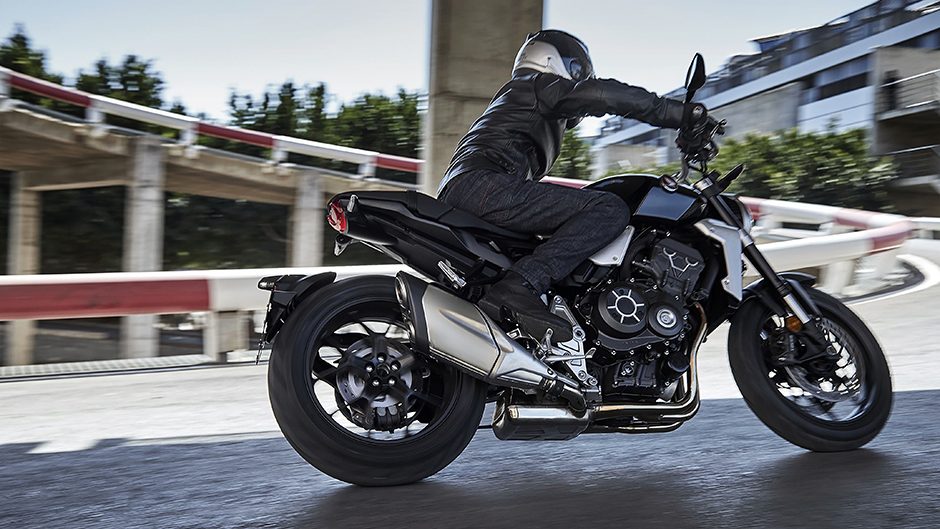 The numbers suggest a drop-off in performance but it still totes 143hp and is powerful enough to be a bit scary and lairy at times. Makes you feel alive, it does. Honda reckons from 30-130km/h the CB is quicker than the CBR. But no, not by our GPS testing gear it isn't. Neo gets to the legal limit in 3.15sec (CBR 3.06sec) but its 80-120 isn't quite as quick as some others, mainly because it can't hit 120 in first gear. Still, 1.5sec in second gear is plenty quick.
The interesting thing from a ride viewpoint is just how strong the engine is across real world revs. So Honda reckons its best torque is developed from 6000-8500rpm, but that correlates in sixth gear with speeds of 160km/h onwards. If you accelerate through the gears it really starts to barrel and warble its way towards the horizon from 6000rpm onwards. So likely they're spot on. Yet from 3000-6000rpm it genuinely pulls crazy quick. The engine is so darn flexible it will haul right down to 35km/h in top and accelerate away without wincing.
So when you're out on a weekend fang, you can effectively schlep through to sixth and leave it there. The howl when overtaking, without even venturing into the most vibrant part of the power band, is quite something. It sure wakes those asleep at the wheel. Its exhaust may not look like much but sound the business it does.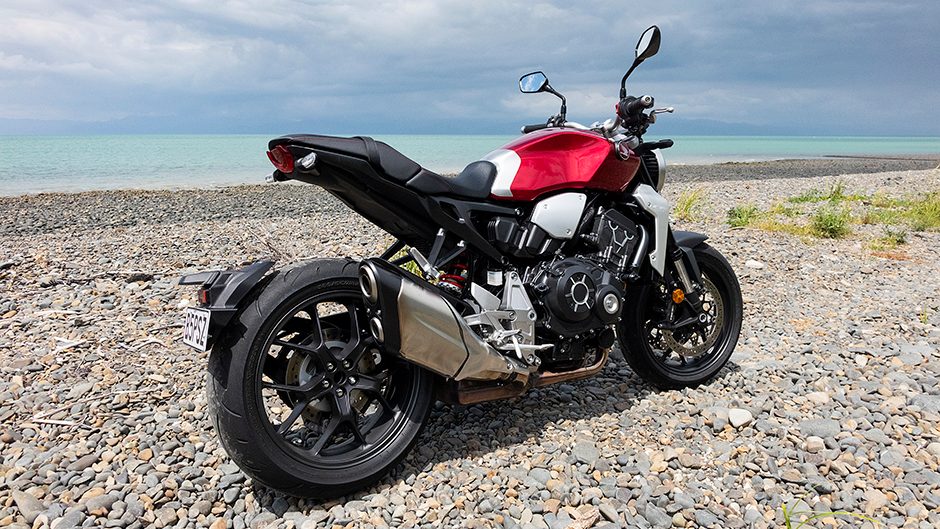 So while you don't really need the first five gears that often, they work rather well, as does the new slipper clutch which is light and precise. We hit a false neutral just once, and it was my sloppy effort rather than the fault of the gearbox.
Given as how you seldom need to shift back down through the gears, nor extend right up into the top end of the rev band (12,000rpm) fuel use is a bit higher than I was expecting. Especially as top gear has 100 come up at just over 4000rpm. We saw 5.9L/100km overall (5.8 quoted). It has a 16.5L tank and we'd pretty much juiced it by the time we were nearing home, at less than 200km. Perhaps the lack of wind protection pushes fuel use up a bit. But then it is a litre four, and I was exorcising it fairly vigorously in the midrange. Plus there were performance runs, so maybe I should just get off its case.
As to the engine modes, initially I thought Sport a bit lively but after a time I simply left it in that setting, the one that gets full power and full torque. Output is palpably better off the very bottom. Power diminishes a bit in Standard mode, but not so much as it's especially noticeable. We did performance figures with TC on its least interventionist setting to help keep the front end grounded. When checking out the overtaking time, 80-120, it pulled a couple of substantial and quite predictable power wheelies. There's nothing like a torquey litre engine to get a rise. The times are never as good, but the fun factor certainly is.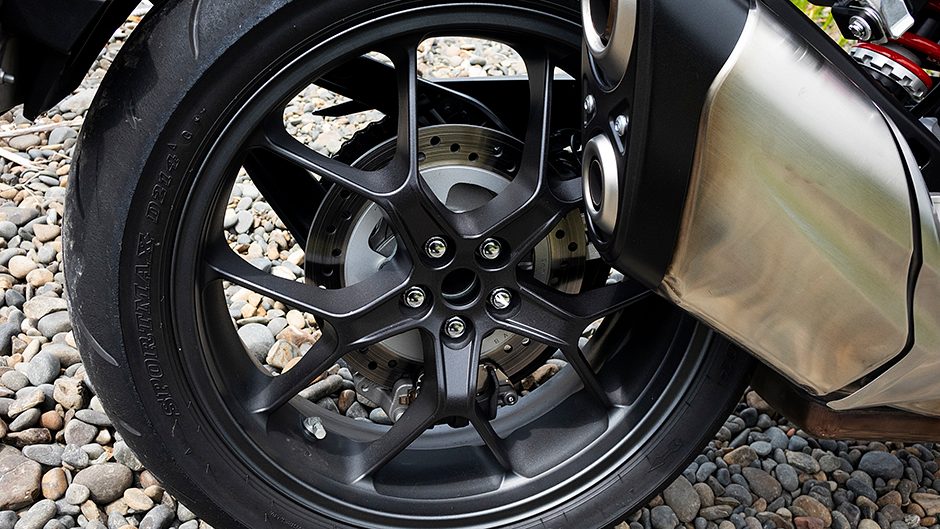 The CB stops on a dime too, like you'd hope. Potent Tokiko four-piston radial brakes see to that. On a bike like this you often find yourself doing above the odds, though it depends a bit on the day; into a head wind you're more likely to be legal much of the time, as there's no screen of any sort. On a calm day, it's a rocketship.
And a comfy one at that. The riding position is almost ideal, a bit of a lean on is required to counter the windsock effect. It's pretty compact, best for those under about 180cm, and has a middleweight feel about it, with really quick steering, particularly at urban speeds. On the open road, you can changes lines with just a whiff of lever pressure.
Its seat is superb, at least for the pilot, nicely shaped with a firm but not unrelenting foam texture. The pillion fares better than he or she might on a superbike, but not by a whole lot. Clever integrated handgrips are hidden, only apparent when you go to hang on or attach luggage.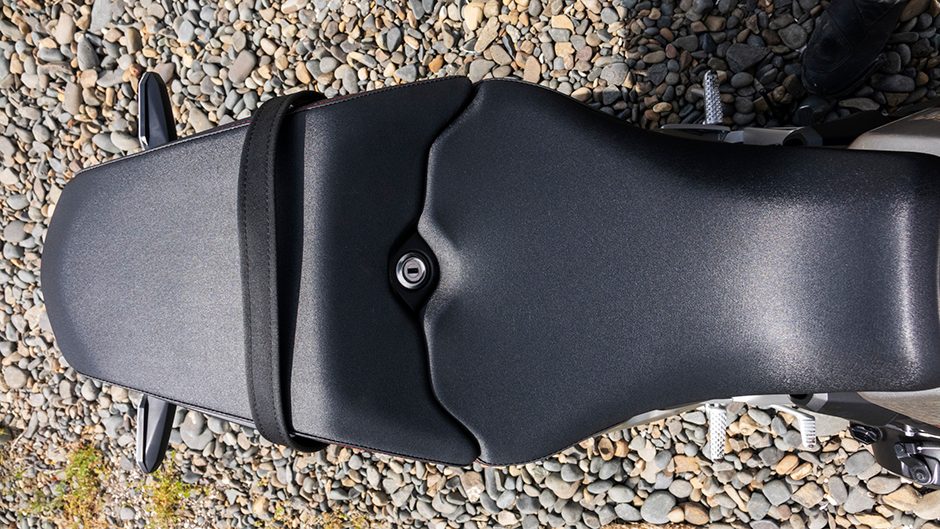 Supernakeds have become more popular of late and it's not hard to see why. At $19,995 this competes head on with Yamaha's MT-10 and Kawasaki's retro Z900RS, and undercuts the likes of Ducati's Monster 1200 and BMW's S 1000 R at $24,490, while Suzuki's GSX-S1000 and Kawasaki's Z1000 cost a couple of grand less, the former not as interesting to behold, the latter I've not ridden. For those tiring of the more demanding, track-oriented monstering superbikes, this is a sensible but still quite sports-oriented alternative on road. It's less expensive than the corresponding superbike, more comfy, looks smart, is only a gnat's whisker slower and is ripe for customisation.
| | | | |
| --- | --- | --- | --- |
| Model | Honda CB1000R | Price | $19,995 |
| Engine | 998cc, liquid cooled, fuel injected IL4, 107kW/104Nm | Drivetrain | 6-speed, chain final drive |
| 0-100km/h | 3.17sec | 100-0km/h | 40.27m |
| 80-120km/h | 1.52sec (44.2m) | Weight | 211kg |