Jeep enters the pick-up arena with the gladiator, though it's a different approach to the usual one tonner utes sold locally. Here it meets it's granddad, the original Gladiator.
Jeep has been toying with the idea of reintroducing a pick-up since the early 2000s with various concepts hinting at Gladiators and Scramblers (a CJ5-based pick-up) of the past. And with the rise in popularity of the 'mid-sized' truck in the US, Jeep has minted the new JT Gladiator.
As the look suggests, it's based on the JL Wrangler, Jeep stretching the wheelbase and adding a tray to make its latest pick-up.
Just like the Wrangler on which it is based, it has a full chassis set-up with all the off-road hardware bolted up underneath. The Rubicon model, on test here, has the 'rock crawling' low-range ratio, locking diffs and disconnecting sway bars. It's off roading chops we tested down Queenstown way last year during a media launch (back when foreigners were allowed to visit), and we concluded it pretty much goes wherever you point it.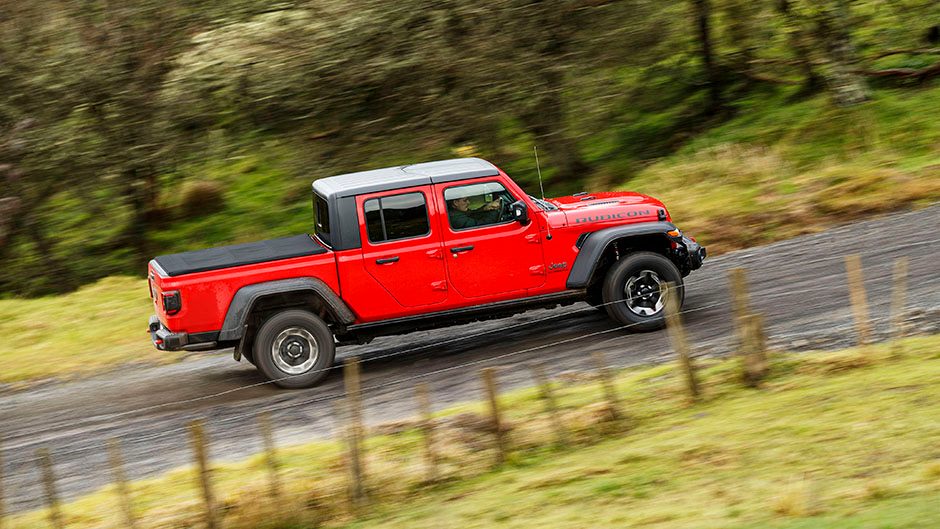 It's not all brute however, as on-road it possesses decent manners. This rides well at double digit speeds, for a ute that is, as the rear end isn't too hard in the quest for extra payload. It's long however (at 5.6m, it's 300mm longer than the Ranger) and the extended wheelbase makes for a sizeable turn around. But with those chunky tyres, you can mount the kerb (if no-one's looking) meaning u-turns aren't so problematic. Manoeuvring in carparks isn't something you'll be wanting to do often. The parking camera certainly helps, as there's not much of a view rearward otherwise. At least the steering assistance is easy and it's not too low geared either. With Fox shockers and long travel suspension, you need not heed speed bumps.
The 3.6-litre petrol V6 is the only engine offered. It has an able ally in the eight-speed auto, which saves the day here. The Gladiator is 182kg weightier than the Wrangler, so a little slower to stir things up. However, the eight-speed has a low first gear so it gets off the mark with decent zest, and no turbo lag to suffer of course. With a wide spread of ratios and quick acting changes, the auto helps disguise a lack of low- to mid-range torque. But given the V6 can rev, it's still quicker than most diesel-chugging one tonners. On the other hand, a petrol V6 hauling a big rig has never been a recipe for frugal gas use. Just cruising about, unladen, the fuel consumption was up around the 15L/100km mark. Did someone say where's the diesel? There's no definitive answer for that one in our market just yet.
The Rubicon, on its knobbly tyres, is a tad noisy on the cruise and with its solid axles, has a tendency to wander on narrower roads. It tracks better on major highways and gets the overtake done smartly, the V6 stretching itself to six and bit to fully tap the power.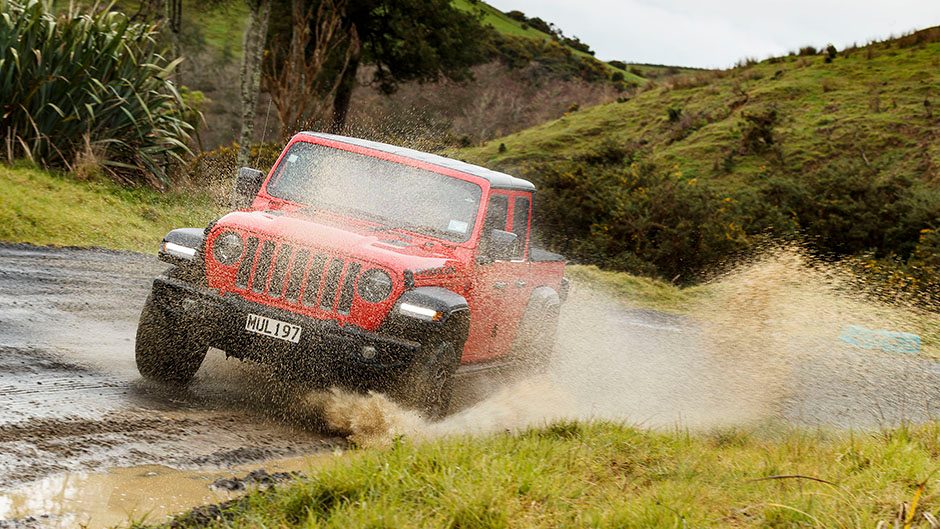 With those chunky tyres and solid underpinnings, this doesn't handle as diligently as your 'common ute' with an independent front end. Being longer in the wheelbase, it's slower on the turn than the regular Wrangler too, and the rear end moves around more. It bombs down gravel trails in dominant fashion though, unperturbed by ruts and corrugates.
It's all Wrangler inside, which makes it quite flash for a pick-up. This is one of the few with reasonably plush-feeling plastics on the dash and door tops. It's a rugged but functional design, the Rubicon-specific buttons for the front and rear locker and sway bar disconnect presented proudly. The infotainment system is up to muster, and chocka with all your connectivity needs. This truck even has adaptive cruise control, which will bring you to a halt but then switches out. It seems not even the computer wants to deal with stop/start traffic.
Unique in the pick-up world, Gladiator is a four-door convertible, so you can remove the hardtop to live a life of liberty. It's a feature designed for those desert-dwelling owners in the US/Australia, where here it's bound to get some novelty use. Of more use is the washable floor with removable carpets and drain plugs beneath.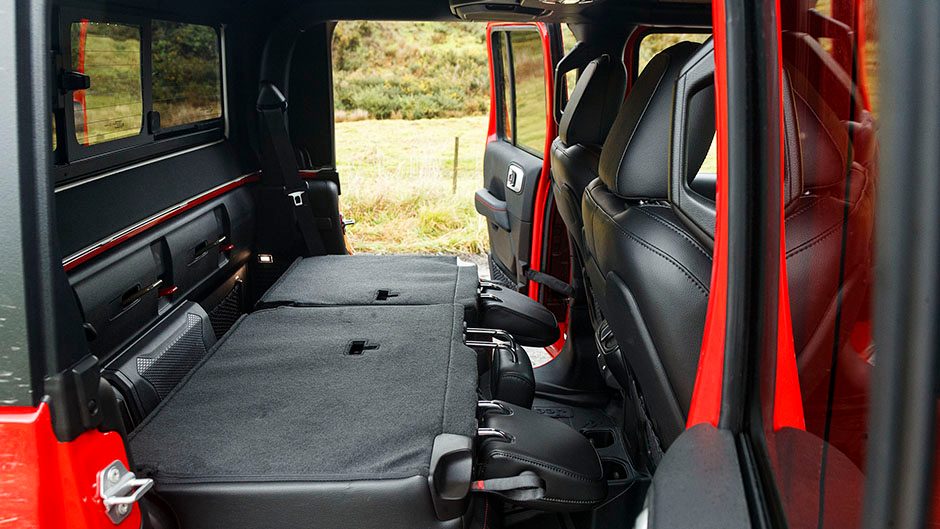 In the rear, passengers will find more than reasonable space. This is a roomy dual-cab ute in this regard, with ample rear leg room. And good storage too as the seat back can fold down, or the seat base can flip up – whatever suits the load you want to stow – while you'll find some storage lockers on the floor. This also had an optional removable Bluetooth speaker so you can take your tunes into the wilds with you.
With all that ground clearance, the loading height is a lofty 1.3m. The tailgate is family friendly, lowering gracefully and there's no heaving required to close it. The tray length is 1.52m, only 30mm shorter than a Ranger's but the width at the tailgate (1.24m) is about 100mm narrower. It's only 44cm deep (Ranger 51cm), but still a reasonable size overall. The (optional) tonneau is easy to use, folding over on itself when you remove it, and secured back in place easily too.
Towing (2721kg braked) and payload (620kg) aren't the Gladiator's forte, more in line with the Raptor (2500kg braked/758kg) than the workhorse Rangers (3500kg braked/1012kg).
And so we don't expect it to be bought by the usual ute buyer. The look, off-road capability and heritage will sway people, who will likely be true Jeepers, ones that have been waiting for a proper off-road pick-up to come to market.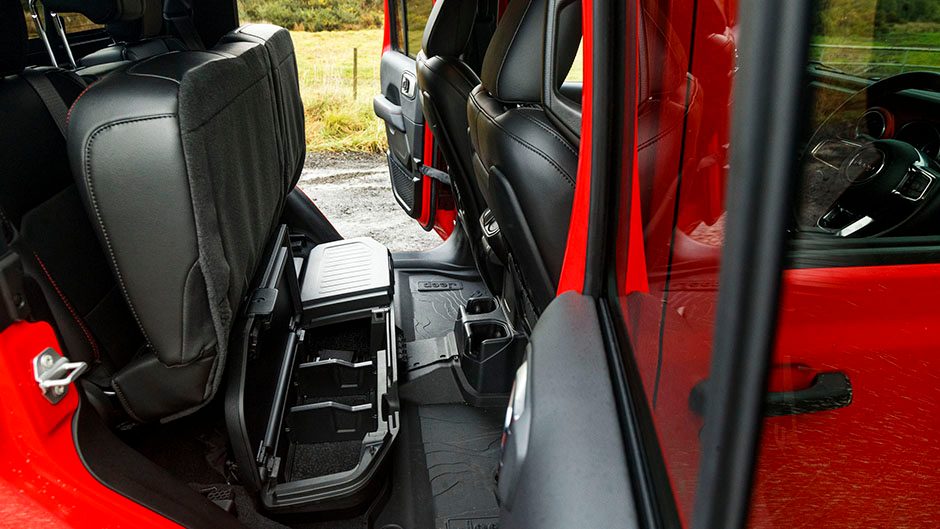 Gladiator ranks
There are two models offered, the Overland ($89,990) and the Rubicon ($92,990). Both use the 3.6-litre 209kW/347Nm V6 with the eight-speed auto. The Overland comes with leather trim, heated front seats, body coloured wheel arches, AEB, active cruise, blind spot monitoring, sat nav, Apple CarPlay and Android Auto, a smart key and it rolls on 18s.
The Rubicon gains the Rock Trac 4×4 system with front and rear diff lockers, Fox shockers, a forward-facing trail camera, 17-inch wheels with 32-inch off-road tyres, a steel rear bumper and cloth trim. The rear axle ratio of the Rubicon is 4.10, the Overland's 3.73, while the low range transfer ratio is 4.0:1 versus 2.72:1. Ground clearance for both models is listed at 249mm, with approach, breakover and departure angles quoted as 40.7, 18.4 and 25.1 degrees, respectively. It can wade through 760mm of water.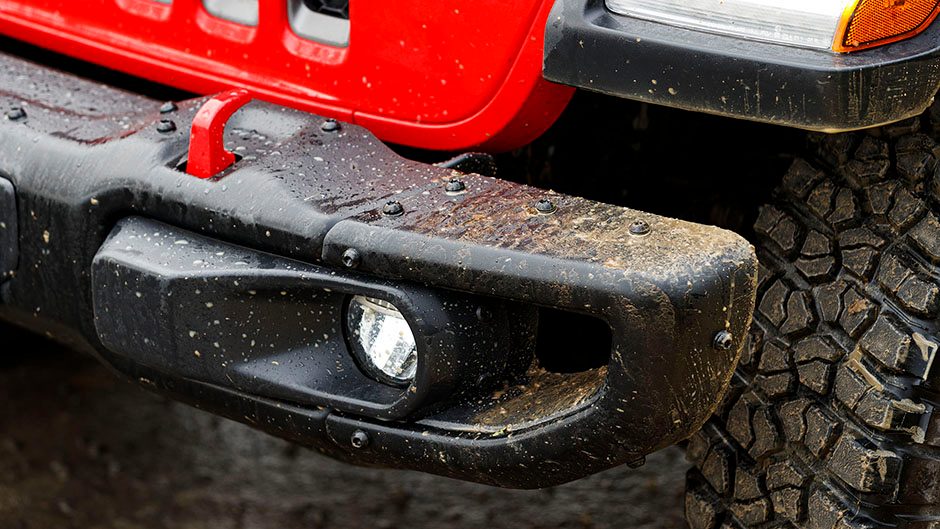 The grand old Gladiator
The first Gladiator dates back to 1962, Jeep using the Wagoneer underpinnings, giving them a pick-up to replace the old Willys Jeep truck. Like the Wagoneer, it was long lived, produced on the same platform for more than 25 years. While originally offered with rear-drive and independent front suspension, Gladiator buyers preferred the hardworking 4×4 models with solid axles front and rear. It had a payload of up to 2000kg and was powered by a range of inline six and V8 engines. It had various 4×4 set-ups over the years, including Quadra-Trac AWD with the option of an automatic. The Gladiator name was dropped in 1971, eventually replaced with the J10 and J20 (for LWB) designations. They were a more common sight here in the 80s, even used as ambulances in some cities. They were made in Australia too, where they were assembled from CKD kits, like this one, which now resides in Cambridge. Owned by Jeeper Bryan Williams (see more of his collection on page 92), he still puts his 1983 J20 to work regularly. He says it's an amazing tow rig thanks to the low ratio transmission, though the old inline six has since been replaced by a 6.2-litre Chevrolet diesel. It's a rugged machine with solid axles front and rear suspended by leaf springs, but he says he'd gladly use it to pull his bush Jeeps to Queenstown and back.
Williams has had the chance to experience the new Gladiator, and it's no surprise to find him impressed with the new product. He likes how it's made for people like him who would use it off road, and appreciates how capable the truck is in the rough, right off the showroom floor. As a retired builder, he likes the added versatility of the pick-up body style. He reckoned it would have been good to have had something like this in his day. He used a van for much of his time, but it kept getting stuck on work sites. So he eventually used a Wagoneer for his work vehicle, which he said never got bogged.
| | | | |
| --- | --- | --- | --- |
| Model | Jeep Gladiator Rubicon | Price | $92,990 |
| Engine | 3604cc, V6, EFI, 209kW/347Nm | Drivetrain | 8-speed auto, switchable 4×4 |
| Fuel Use | 12.4L/100km | C02 Output | 0g/km |
| 0-100km/h | 9.43sec | Weight | 2296kg |