Jaguar is the first premium car maker to deliver a long range EV. We climb aboard the I-Pace to check its European car of the year creds.
BMW's i3 has been on sale for a few years now but its focus is on urban mobility where 200 kays of range is sufficient. Its rivals have been concentrating on the 'no compromise lifestyle' of a luxury buyer. The wealthy have the means to travel freely, and they don't want to be stopping frequently to juice up en route to the holiday retreat.
Devoted zealots of the T brand will argue the Model X has beaten all the established players, but we find it a stretch to call Tesla a premium maker, more an expensive tech brand. The quality and substance are lacking, so too dynamism as they are all about rapid acceleration, and not a lot more. But their range is good and they've sold well.
They have given affluent buyers a taste of EV life and now the likes of Jaguar, and soon Mercedes-Benz and Audi, are ready for them to trade up to luxury EVs that do it all. Jaguar's all electric I-Pace sits on a bespoke EV aluminium architecture that's said to deliver the best torsional rigidity of any model from the brand. The 90kWh lithium-ion battery pack dwells down low between the axles to optimise weight distribution and C of G.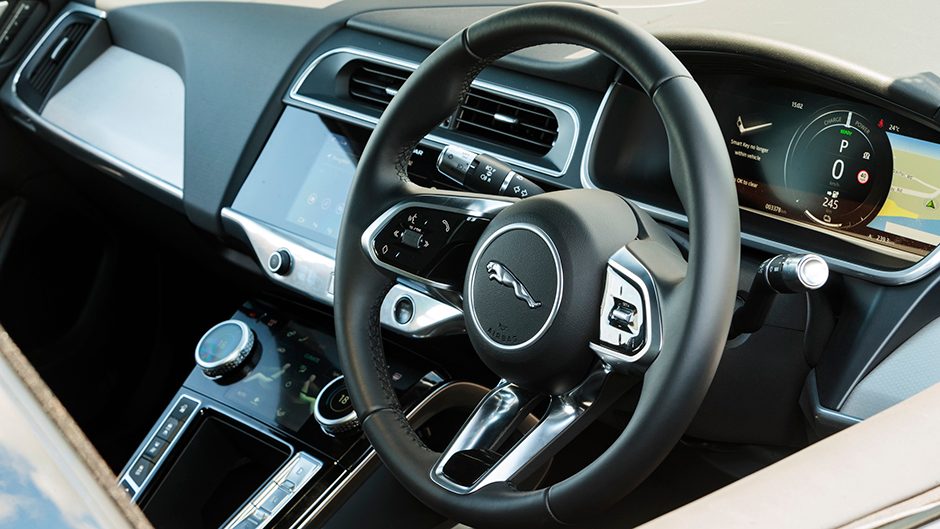 The split is claimed at 50:50, though we noted a slight frontal bias on the scales. There are two 'Jaguar-designed' electric motors at each end, delivering a combined 294kW and just shy of 700Nm. Performance claims include a 0-100km/h sprint time of 4.8sec, and this it reeled off repeatedly, no need for any comical modes, or battery preconditioning, just hit the go pedal and it's done. The other is a top speed of 200km/h which of course we can't verify, but from his stint on track, Louisson reckons I-Pace surges to 160km/h smartly before the velocity starts to wane.
What we noted on a range-testing Auckland to Raglan run via the chassis traumatising SH22, was the I-Pace's relentlessness. Another so-called performance EV, the Model S P100D, went into a blanket-cuddling safe mode after just 20 minutes or so of trial by fire. No such wimpiness here; we kept hitting the voltage pedal and it kept the surge flowing, with no drop off in steam noted.
And the I-Pace is genuinely decent to drive, like a proper Jaguar. It steers as it should, the action fluid, the assistance bang on with the front end bite building progressively to its surprisingly capable limits. You expect it to understeer more but then there's no big metal lump over the front axle. While there's a helping hand of torque vectoring via brake, this doesn't feel like your typical 2.2 tonne luxo barge in the bends. With the weight low and centralised, this feels almost nimble.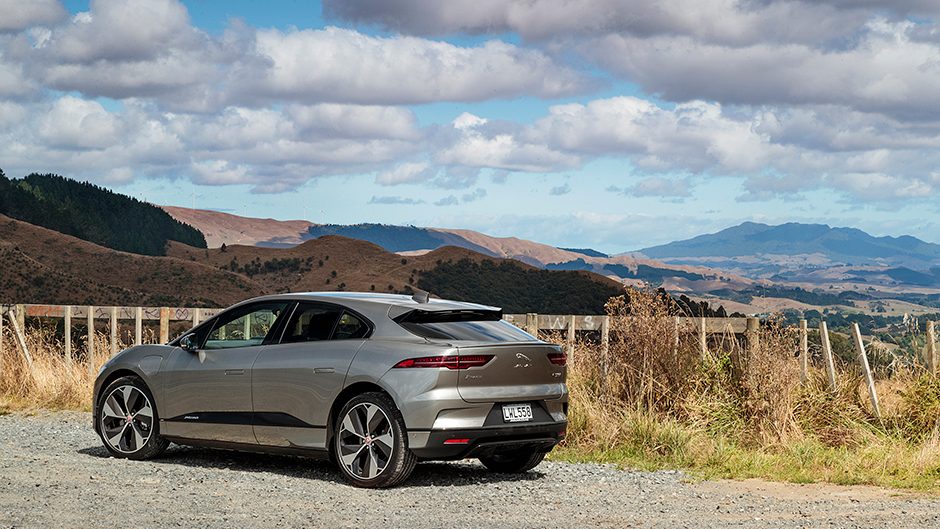 Our tester was fitted with the optional air springs, which we'd vouch for. This rides superbly on the oversized 22s (also optional), decoding the dips and dives of SH22's challenging black top while keeping the I-Pace stable and locked on line, with just the occasional wiggle at the rear. It sticks fast in tight bends, rarely straying off line, and with all wheels providing the go, it leaps off the curves when the thrusters are fired. The response from these electric set-ups sure is something, especially when amped up in Dynamic mode.
It's the way this fires from 60km/h to 100 that leaves combustion bangers for dead; there's no lag, no gearbox dithering, just instant surge. Jag has given the I-Pace a 'tuned soundtrack', a digital tone that has you thinking some atomic-powered turbine is providing the thrust. The only iffy aspect of the I-Pace is the braking department.
While they produce the goods in terms of arresting power, the pedal feel is all sponge. There's also the regenerative aspect. The I-Pace has two regen settings, high and low. The former is good in town for one-pedal driving, but isn't so grand for dynamic sorties as it's hard to smooth the transition from going to whoa-ing. The low setting works better, but it's still a little awkward.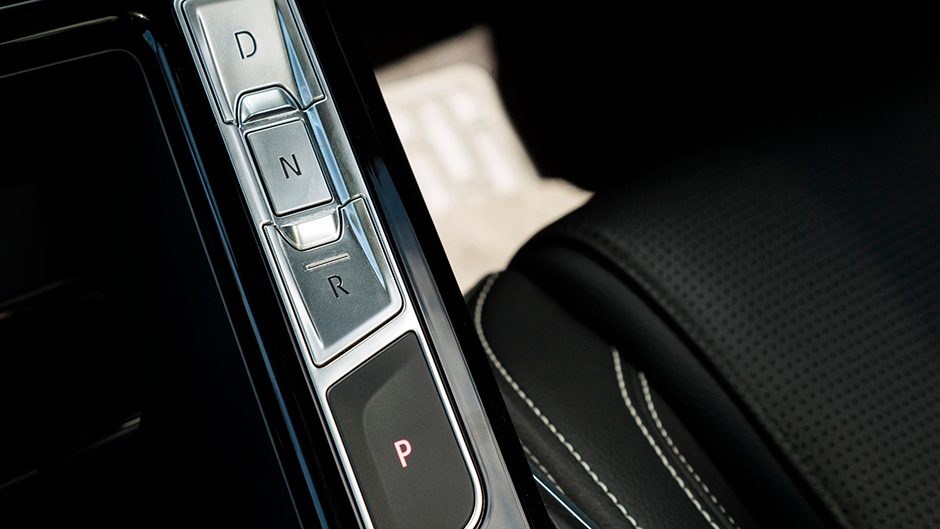 While it's dynamic, we aren't sure what box to put the I-Pace in. Jaguar uses the term mid-sized SUV, but it's really not. It's essentially a jacked-up five-door, so we think it's more a modern GT. One thing's for sure, it has mega presence. It's just over 4.6m long overall, but is two metres wide and is taller than your average sedan. It made a C-Class look insignificant next to it. Inside, it's suitably edgy but not complex.
There's swathes of leather and alloy which integrate well with the dual touchscreen controllers, a la Range Rover Velar. The driving position is raised but not commanding, the seats are form fitting with enough adjustment at both wheel and pew to get comfortable. Wing mirrors are on the small side, probably in the name of aeros, but the outward view is pretty good, complemented by a wide angle rear view camera, and a super-clear resolution for the screen.
There's a fairly comprehensive infotainment system too, though it does take a good 15 seconds to boot up in the morning (except for the camera which fires into life when needed). There is all manner of connectivity to delve into, including the Remote app which, among a host of things, can preheat or cool the cabin while the nav shows the most efficient routes and traffic flows.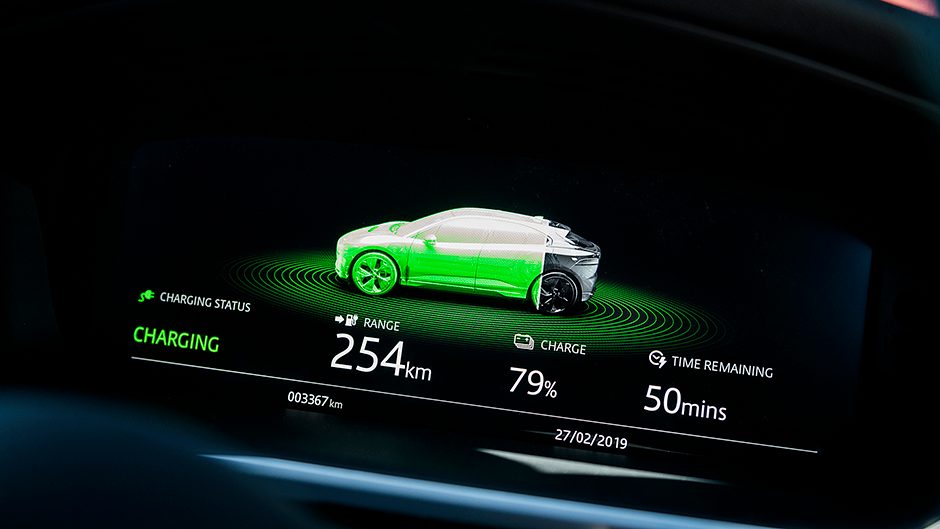 As a commuter car it's everything you'd want in a luxury liner; there's effortless urge from the silent and vibration-free motivators while the air springs in Comfort mode provide hushed and supple progress. These can also afford more clearance when needed. The steering is easy too, though the turning circle is a little larger than ideal. And that overall width can be a bane in narrow car parks.
Active cruise operates as it should, bringing you to a smooth halt in traffic, and there's also lane keeping which can be easily switched off. With the regenerative brakes on high, you can drive using just the go pedal. You quickly become adept at releasing it in time for the regen to slow you down, using the brake only to bring you to a final stop.
With no trans tunnel, there's a big centre storage bin, and the middle seat in the rear isn't completely useless in this Jag. There's a good supply of head and legroom, and even the entry isn't bad with the sloping roofline, though the bench itself is firm in the padding department. Its boot is a generous size and well shaped, accessed via a powered hatch.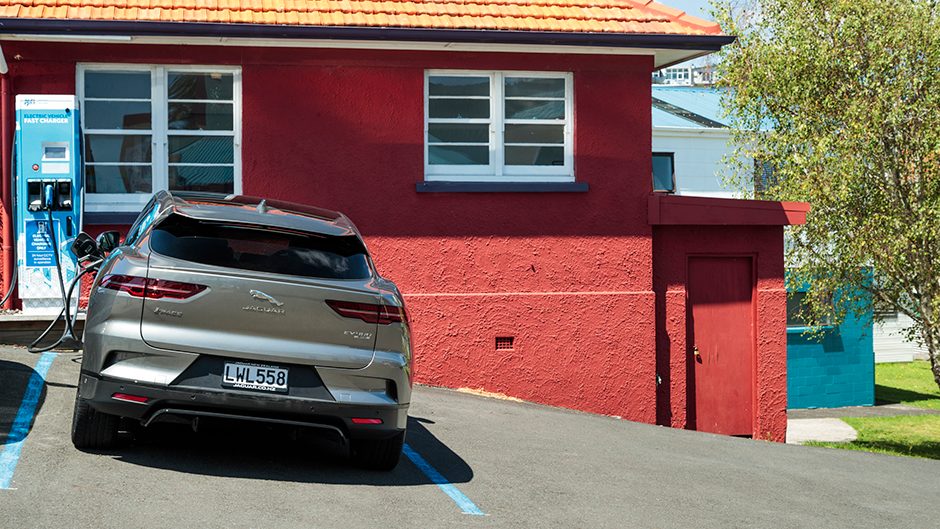 Everyone gets hung up on how far an EV will take you and the I-Pace's WLTP rating is up to 470km with consumption of 21.2kwh/100km. Overseas tests have failed to replicate those figures, saying about 350-400 is more feasible and it's all down to how and where you drive it. We started out with 401km showing when we tripped to Raglan, the battery at 95 per cent. On our wayward way south, we were more keen to check the I-Pace's dynamics than its ultimate range.
And so we ended up covering a fairly hectic 228km, the consumption up to 36kWh/100km at one point, and we had but 23km left when we rolled into town, the battery at 15 per cent. There is a fast charger at Raglan, and thankfully it was free both in a physical and fiscal sense. You don't want to wait any longer than necessary and we'd also left the wallet on the dining room table that day.
The 50kW charger got us to 80 per cent in an hour and 15, equating to 269km of range. For comparison, we've done this run in a few conventional fast machines, some needing a refuel at Raglan (taking five minutes), some managing to get back north as far as Huntly before requiring more hydrocarbons. We took an easier route on the way back, covering 181km, with 65km left when we got home.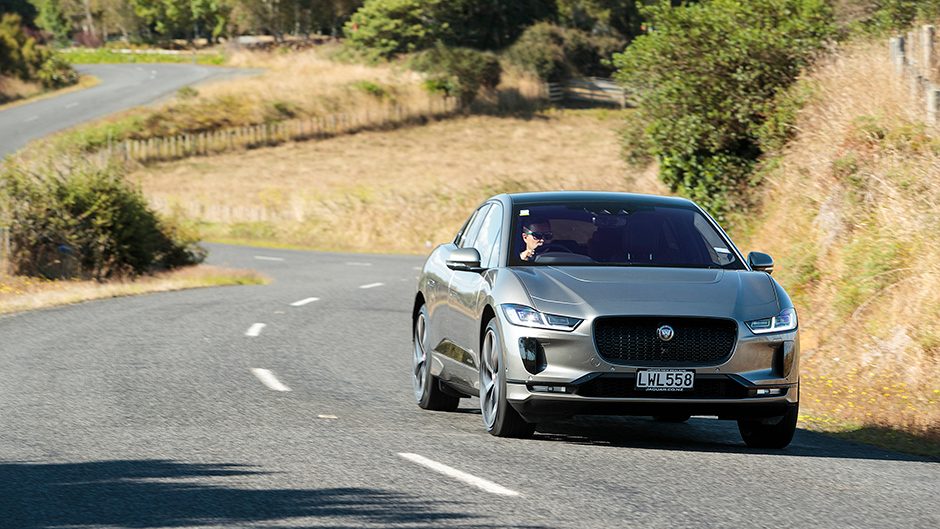 So, as always, range depends on your right foot and mean speed. Charge rates vary drastically. With the battery at 18 per cent, the three-pin charger suggested it would take more than 45 hours to refill. You'd buy the $1500 7kW wallbox, which Jag says will charge the battery pack to 80 per cent in 10 hours. On a 30kW charger, the battery went from 27 per cent/83km to 56 per cent 178km in 40 mins.
These EVs work best in traffic, getting the most from the regen mode of the brakes and using light inputs on the throttle as I-Pace sure doesn't need much to get moving. Overall we completed 552km with consumption of 29.1kWh/100km. As to the range, there are three grades, starting at $159,990, though you'd be mad not to go for the $169,990 SE version at least, while the HSE is another $10k.
This SE, which has sufficient spec as standard, was rolling at just over $190k with a few options, though the air springs would suffice for us. This I-Pace has plenty going for it, including proper Jaguar dynamics and performance.
It might not go quite as far as they claim, but the range and recharge times are more than sufficient for most. NZ just needs to get on and install more charge points.
| | | | |
| --- | --- | --- | --- |
| Model | Jaguar I-Pace SE | Price | $179,990 |
| Engine | 294kW/696Nm | Drivetrain | e-AWD |
| Fuel Use | 0L/100km | C02 Output | 0g/km |
| 0-100km/h | 4.65sec | Weight | 2236kg |