How hard is it to achieve sector leadership? Identify the front runners, build a better widget, get the price right and bob's your uncle. Does Jaguar's F-Pace, do the business?
When a car maker enters a new sector they want to do so with a splash, introducing novel technology. So, amongst other things, Jaguar dreamt up the Activity Key, a secondary lightweight device for locking and unlocking the F-Pace.
Now sometimes it pays to read the how-to bits first, like when you're trying to impress a friend with said new piece of technology. I learnt this lesson the hard way with F-Pace, showing off the Activity Key which no-one else has thought to incorporate until now. The idea is that you can lock the master key inside, and access the vehicle using a lightweight and waterproof secondary key. It resembles a rubber watch strap, sans the watch. Where the timepiece would normally go there's a transponder instead. This device allows you to do rough and tumble outdoorsy things, including water sports, without worrying about the regular 'key' falling out of your pocket or filling with water.
So there we were, hovering the Activity Key over the J in the Jaguar badge at the rear of the vehicle, and the car locks as expected. Cool huh? Rather, except that when I go to repeat the process and unlock it, nothing happens. Er, that's not right, I ventured, suggesting a coffee would be a good idea as a distraction while I try and try again, with the same result. It's funny how repeating what you just did earlier almost never works but you give it another lash anyway. Maybe I'm not holding my tongue right but it wasn't that either. Glad I brought the F-Pace technical stuff with me…only that's locked inside too. Wish I'd read up on the how-to document before trying it out, but I'm not one for handbooks, unless I'm truly stumped, like now. This sort of stuff should be intuitive, surely?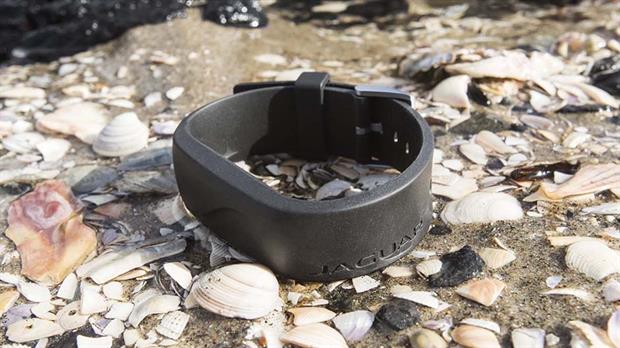 I had visions of a rescue mission out of Auckland, an hour away, but we weren't licked yet. I decided a quick call to Jaguar New Zealand would sort it all out. After battling with 018 staff I eventually made it through to Jaguar technical personnel. What's the unlock procedure? Yes, you hover the transponder over the J in Jaguar alright, but you must also touch the electric tailgate release. Whereupon the system works as intended, and I look like just slightly less than a complete dickhead. Still, I had been saved from my own stupidity, always a blessing. The take-home here is that showing off is silly, especially without preparation, and that the Activity Key is a smart (if flawed) piece of thinking. It will appeal to those who like venturing into the great outdoors. So will the F-Pace, though on-road dynamics take precedence over bush bashing.
Where's it fit?
So to the big question – is the elegant new off-roader from Jaguar a sector buster like the XE deserves to be? In some ways it actually doesn't matter because the mere act of having an entrant in this market is almost enough; Jaguar reckons that F-Pace will account for around 50 per cent of sales volume over the next year, and it wouldn't surprise if it exceeds that. However, if the base car is any indication, it does deserve sales success as it matches and betters the opposition for similar money.
The base Prestige model, as tested here, is slightly more expensive than entry-level Q5 and X3 which start out at $91,900 and $92,500, respectively, while GLC 220d kicks off at $89,900 to the F-Pace Prestige's $95,000. But for better dynamics alone the extra ask is a trivial amount that would quickly be eaten up by ticking an option box or two when ordering one of the others. In reality, on the dynamic front it rivals the likes of Porsche's Macan, the diesel version of which costs $30k more.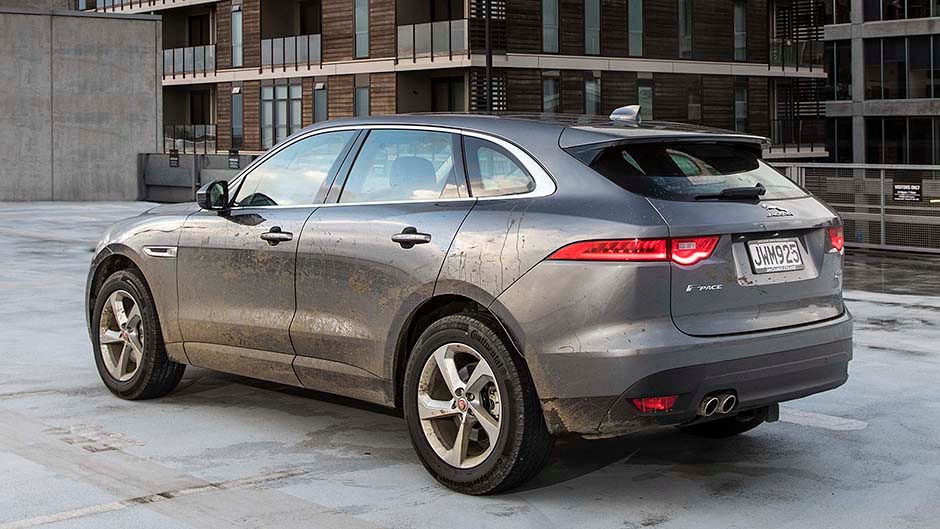 The base 2.0 turbodiesel model does indeed offer a good turn of pace (sorry) and to our minds the only blight on a decent score card is a malfunctioning Activity Key. Kidding. We reckon there's a touch more turbo lag than you'd want ideally, which becomes apparent if you're going for a gap and forget to compensate for the delay. Moreover, there's not quite as much haste in a straight line as Jaguar promises. The spec sheet – yes, we do read those – promises a 0-100km/h time of 8.7sec but we couldn't better 9.1sec. I guess that 8.7sec is another of Jaguar's theoretical times. On the other hand, it makes quite acceptable progress on road, pulling with intent from 2500-3500rpm, and going reasonably hard from 3000-4000rpm. Its best 80-120 overtaking time of 7.0sec really doesn't do it justice. And the engine is quiet too, surprisingly refined on the go. As mentioned in our initial drive report, if you hadn't checked out the V6 turbodiesel, you'd probably think this Ingenium-fired machine went pretty well indeed.
Helping it along is a great eight-speed automatic transmission, which is a quick shifter when optimised in the Dynamic mode. You can shift it manually too with the affixed aluminium paddles, and in the Sport transmission mode it only upshifts when you say so. We seldom bothered with these, despite their sweet action.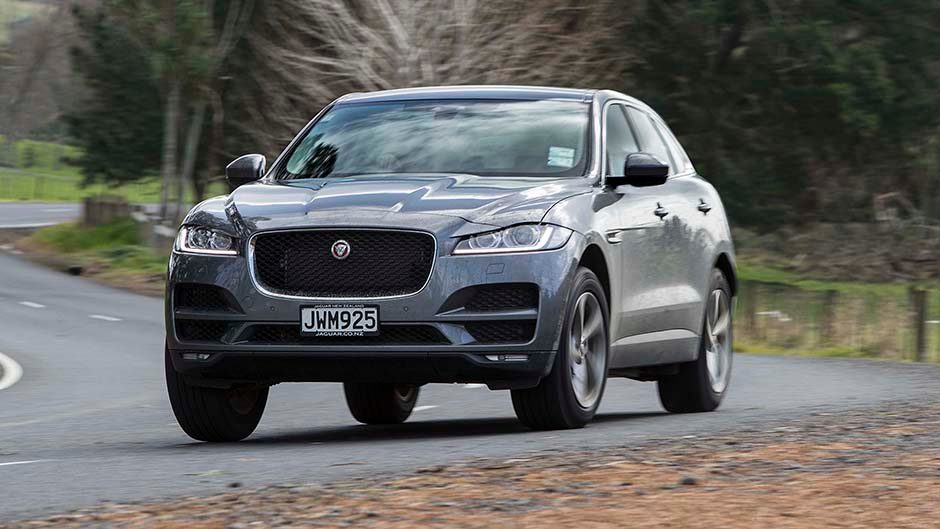 A bend swinger that rides
The gearbox works just fine left to its own devices, so you can concentrate on how pleasant the electric steering is. It turns in so darned quick that at times we found ourselves oversteering, with too much lock wound on. That's not unexpected for two reasons. Firstly, the weight split of the F-Pace is just about spot on and second it has variable ratio steering, so the more the wheel is wound on, the more responsive it becomes. Jaguar engineers targeted best-in-class dynamics and to that end adopted aluminium architecture for the F-Pace, like XE, XF and XJ. So 80 per cent of its body structure is aluminium, including most body panels. Much of the rest is in high-strength steels so torsional rigidity levels are high, rivalling those of XF.
Chassis developments from models like the F-Type and XE have ended up in F-Pace, including torque vectoring, integral link rear suspension, the aluminium architecture as mentioned and also Jaguar's torque-on-demand AWD system and Intelligent Driveline Dynamics. The latter is important, for like AWD F-Type, the F-Pace is essentially a 100 per cent rear-drive machine that can quickly shuffle torque northwards to a maximum of 50:50 should traction go west.
That means a definite wedge of rear drive character on road, and with torque vectoring by braking, mainly to the rear inside wheel to preserve steering integrity, the F-Pace promises and delivers a drive experience that eludes the opposition. It turns faster than its rivals, holds a line better (understeer is virtually banished), and by some tricky suspension quirks manages to ride better as well. And that's without active damping which the top model gets. The integral link suspension impressed in F-Pace as it did in XE, with monotube dampers, separated from the springs physically, evidently responsible for improved ride comfort. The highish profile 255/55R19 rubber likely contributes in part.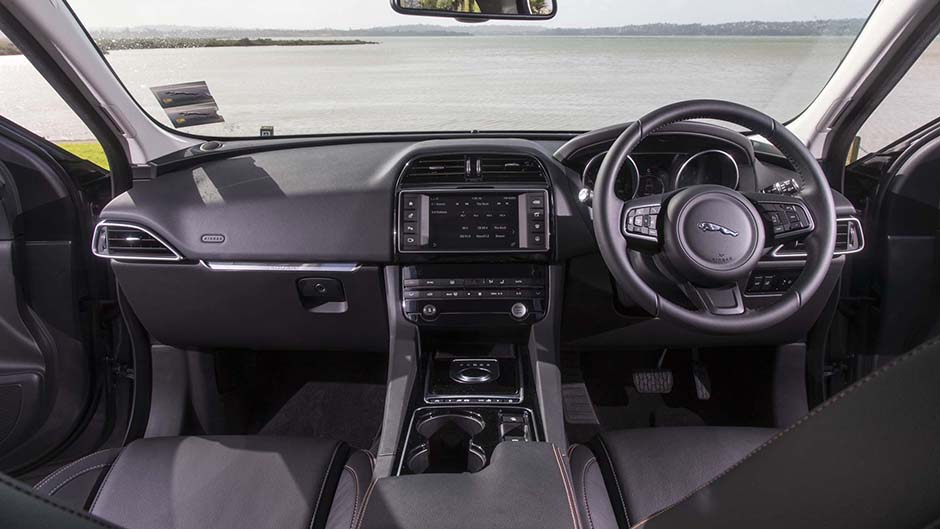 Noise levels hushed
The F Pace is bigger than X3 and Q5 overall, and similar in size to the GLC but undercuts the latter by 100kg. We prefer the F-Pace aggressive look to the others, with slimline headlights and power bulge in the bonnet. Yes, it resembles the XF at the front, and lights are also distinctive at the rear so this is unmistakably a Jaguar. Inside, the family resemblance is even more pronounced, with the rising circular shift mechanism, central touch screen, soft touch lights operation and the like. It's quiet too, registering just 70dB on coarse chips seal at open road speeds, and even the suspension operation is silent over uneven surfaces.
The same could be said for the 2.0 Ingenium turbodiesel; it's notably hushed in operation. This is a modern Euro 6 offering with 33,000km/24 month service intervals. Featuring a variable geometry turbo, direct injection and variable valve timing, it conjures 132kW and 430Nm, the latter from 1750-2500rpm. Its turbo effect is discernible from 1500rpm, all the while sipping diesel at a claimed mean rate of 5.3L/100km. It wasn't quite so abstemious in our hands, but then what is? For all that, consumption never hit double figures, and was generally in the sevens and eights.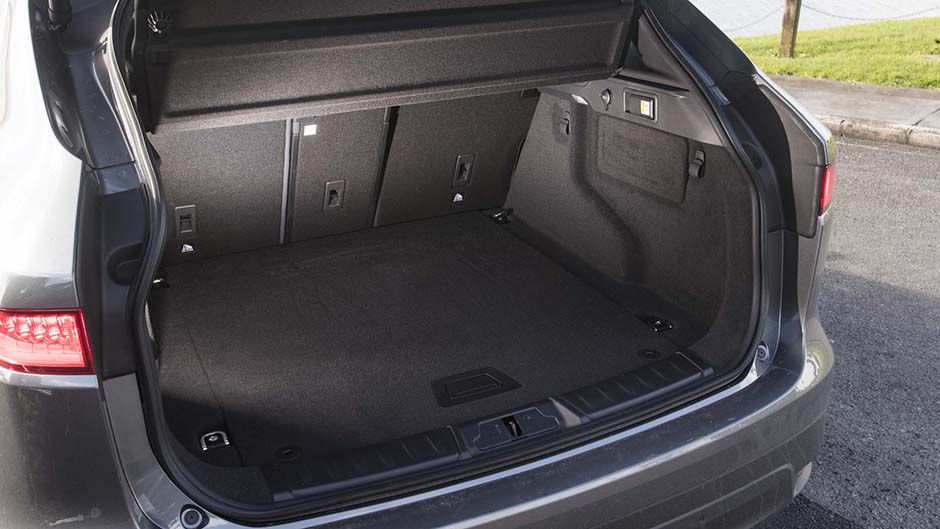 On par for space and gear
As to the interior, it's like the saloons, only roomier. Accommodation in the rear seats is good, with ample stretch room for 2.5 adults, as is access. Luggage space is adequate if not class-leading at 508L, expanding by handy spring-loaded split folding to 1740L. Access is by powered fifth door.
There are comfy hide covered heated and powered seats, with a strong lumbar pump, and spec runs to passive cruise, auto wipers and lights, dual zone air conditioning, and idle stop. On the safety front, you get forward collision alert, auto emergency braking, lane departure warning, a reversing camera with front and rear sonar, and tyre pressure monitoring. A permanent digital speed readout is appreciated given tall gearing in top gear, which has the F-Pace almost idling at 100km/h (1400rpm). There's a speed limiter too. Options aplenty include adaptive LED lights ($4200), comfort entry ($1950), surround camera ($2350) and adaptive cruise ($2350) and damping ($2850). There are numerous bundled option packs.
Does this do enough to usurp its existings rivals? We believe so. Sure, it's not quite as quick as some, but it has sufficient pace in Prestige mode to please and mows them down through the corners. What's more, it's engaging to drive, and it looks fine too. There are other models, R-Sport and S variants, most with more powerful engines, one a supercharged petrol flyer. There's also a better specified 20d variant. So, job done, we reckon. They should just make that Activity Key easier to use for dummkopfs.
| | | | |
| --- | --- | --- | --- |
| Model | Jaguar F-Pace Prestige | Price | $95,000 |
| Engine | 1999cc, IL4, T/DI, 132kW/430Nm | Drivetrain | 8-speed auto, all-wheel drive |
| Fuel Use | 5.3L/100km | C02 Output | 139g/km |
| 0-100km/h | 9.10sec | Weight | 1885kg |