Flying cars have been in the wings for some time now, proving a nightmare for rule makers at civil aviation authorities. Adding to their angst will be the latest reveal….of a hoverbike, dubbed XTurismo Limited Edition. And yes, you can buy one, although there's a 'but', several in fact.
A short demonstration 'flight' took place at Fuji Speedway last week, showing off technology that can be yours for the price of a rather nice supercar or a modest house in the suburbs. However, neither of those can take to the air whereas this can, though evidently for only around 40min at a time, and flat out it's about as fast as a supercar at the top of second gear. Bet it doesn't sound as good either. And it sure doesn't look as interesting, resembling a jet ski atop a maze of fans.
The firm behind the hoverbike is A.L.I. Technologies (A.I.R Tech would have been catchier) and they've now done enough development work, five years of it, to take orders for this machine. The firm is promising deliveries in the first half of 2022. An initial production run of 200 Limited Edition XTurismos is planned. Backers of A.L.I include Mitsubishi Electric.
There have been several launch flights posted on YouTube already, and the vehicle has been on display in Tokyo recently while a website is now up and running for order taking.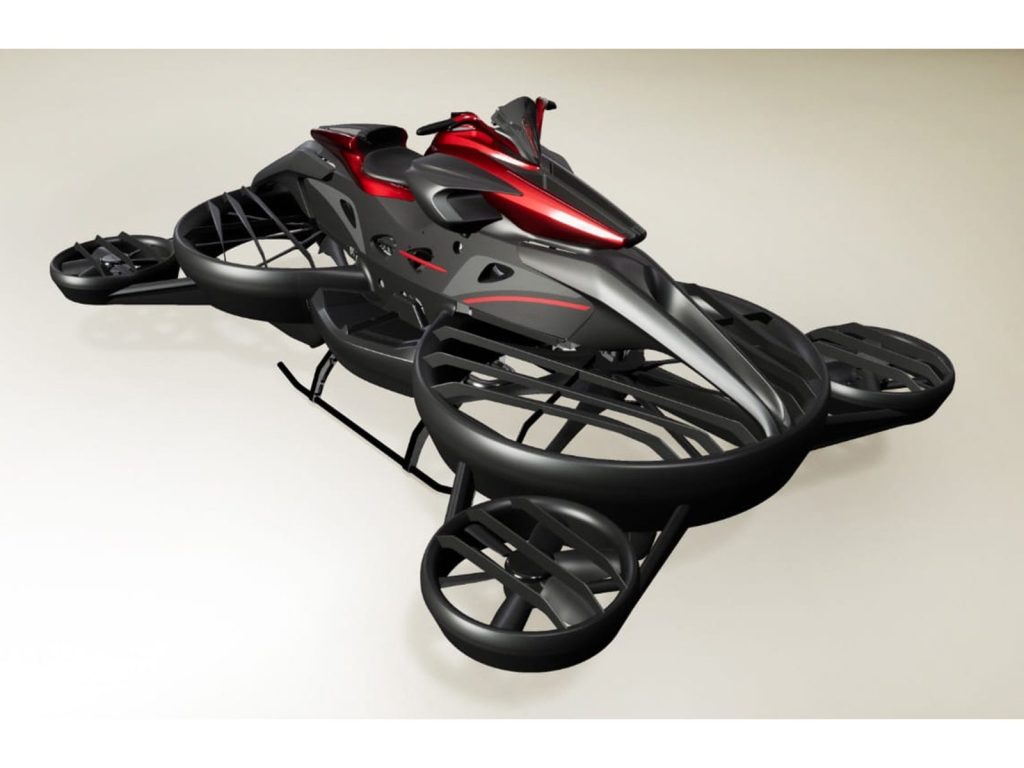 Specifications aren't exactly detailed but the single seat flyer is said to be powered by a mix of ICE power (Kawasaki engines) and four battery powered electric motors. The main chassis is made from carbon fibre, keeping claimed weight of the 3.7m long machine to a reasonably trim 300kg. The pilot sits atop a half dozen caged propellers, so think of this as being akin to a supersized drone; it launches vertically as well. 
Evidently the Xturismo can hit a top speed of around 100km/h but flight time is fairly limited. It comes to a halt on a pair of skids, so is more like a mash-up of flying motorcycle, jetski and snowmobile. It can apparently support a pilot weighing up to 100kg, so we guess the pillion rider will just have to watch proceedings from below. Until humans can apply a zero gravity forcefield to a vehicle, the concept of personalised aerial transport remains a dream for most. 
Meantime, good luck flying to work and back on this; in Japan it can't be operated above public roads for obvious safety reasons and it's likely to be the same elsewhere because rules and regulations for flying cars/bikes have yet to be enacted.
One possible application for the XTurismo is to partake in rescue operations involving tricky terrain where terrestrial vehicles may not be able to venture.
The one other possible stumbling block to popularising the XTurismo is its near enough to $NZ1m asking price. Moreover, it's likely to be Japan only to begin with, but maybe some lucky punter will pick one up as a used import?