Sometimes you get thrown a curve ball and that's kind of how it felt when at the last minute I was seconded to head to Hampton Downs to experience…the Lamborghini Huracan STO. Gotta love those curve balls.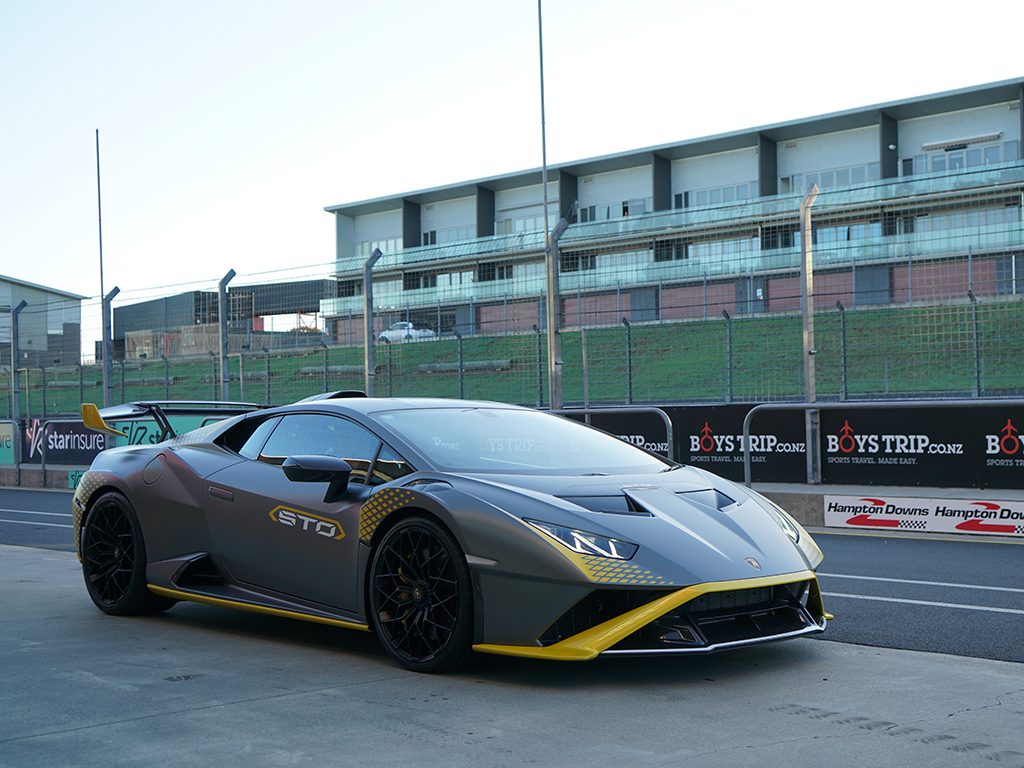 No, I wasn't familiar with the STO either, but turns out it's a rear-wheel drive, rear-wheel steer lightweight version of Lambo's supersport car. Google put us to rights on STO, an abbreviation for Super Trofeo Omologata. Put simply, it is the "road-legal homologated version of the Huracan Super Trofeo Evo and GT3 Evo race cars".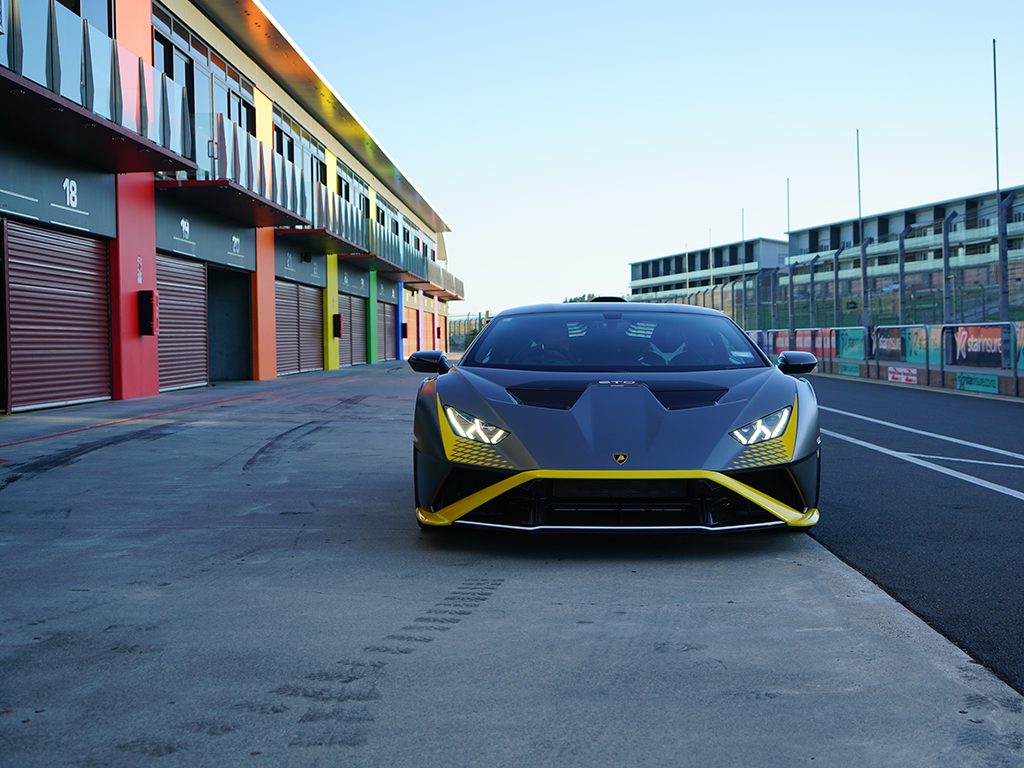 The numbers and the look pretty much tell the story. Oh, and the noise, which is utterly epic. The engine rebel yells all the way to almost 9000rpm.
And as to the numbers? Also epic. It's powered by a 5.2L naturally aspirated V10 that outputs 470kW at 8000rpm (630bhp) and 565Nm at unspecified revs. Dry weight is 1339kg, and with 305/30R20 Potenza Sport rubber on the rear, it can evidently sprint from zero to 100 in 3sec flat. Combined fuel use (WLTP) is 13.9L/100km, in case you're wondering.
It's essentially a road car based on a race car, the GT3 Evo having won the 24-hour Daytona endurance race three times consecutively. The STO laps Daytona only 2sec slower than the GT3, so it's race car quick, despite road tyres. 
What helps plenty are two things – sorted aerodynamics and weight saving. With extensive use of carbon fibre, such as the one-piece bonnet and fender set-up, and magnesium rims (real mag wheels) 43kg is shed. At 280km/h, there's evidently 420kg of downforce generated. Heaven knows how much is added at its 310km/h top speed. The Brembo brakes are CCM-R units, or carbon ceramic resin matrix, an F1 development. The upshot is reduced fade and better stopping power. Lamborghini quotes 100-0 in 30m flat.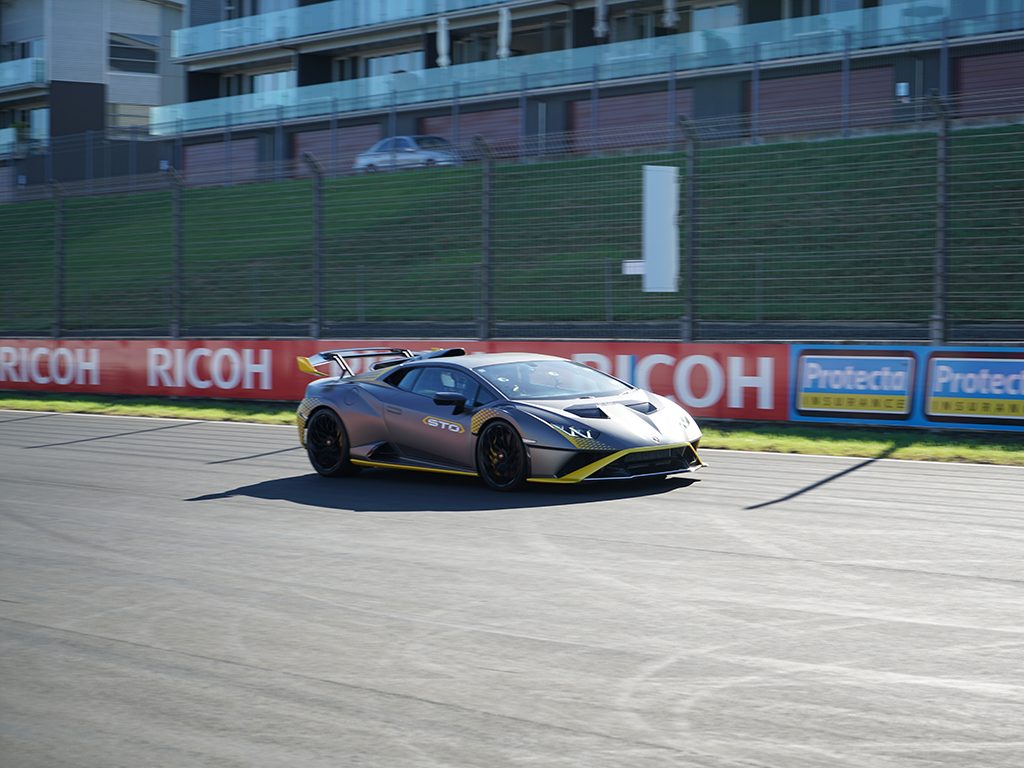 We mentioned the look – it's extraordinary. Carbon everywhere, configurable aerodynamics, and dramatic character lines. Inside, just as sensational, dripping carbon and alcantara.
Getting in there with a helmet on is a mission, but once in a secure and natural driving position is just a few manual adjustments away. Raise the jet-fighter style ignition cage, push the button and the V10 erupts into life, sounding like it's ready to rampage, bull-like. Hit the D button and we're off down the shute, checking the brakes (sensational), the seven-speed twin-clutcher upshifting automatically for the first familiarisation lap. A zero to 160 acceleration test illustrates just how quickly this accumulates speed (9sec claim) and loses it even quicker under brakes into the sweeper.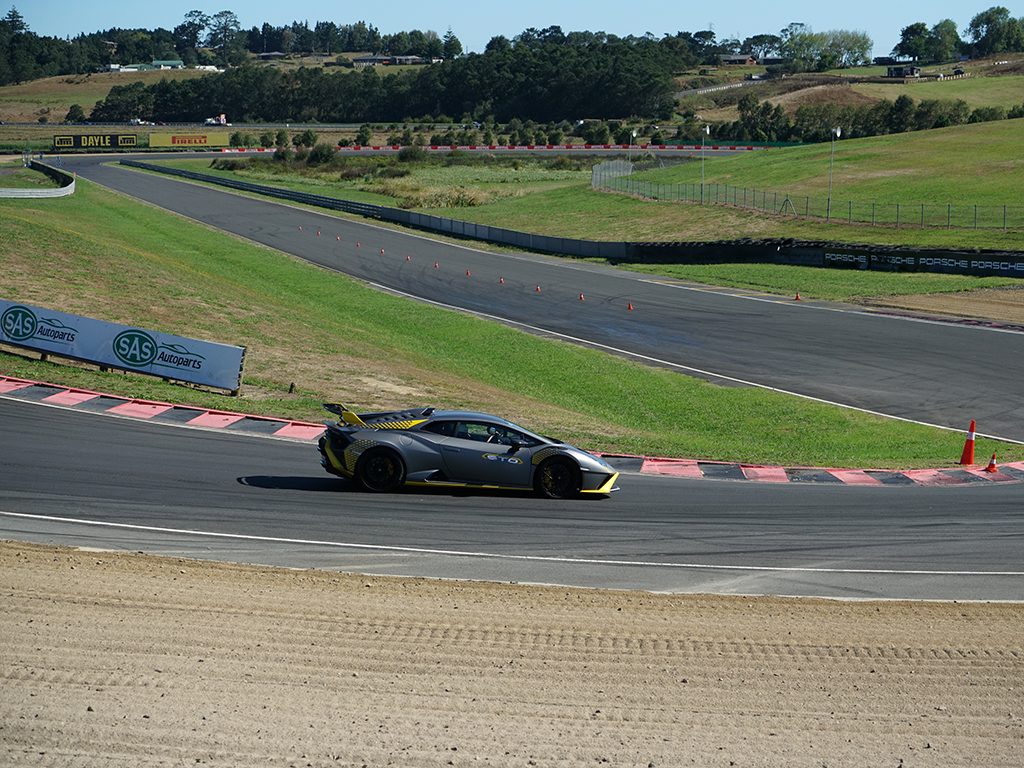 A slalom drive through a series of cones shows off the ease of direction changes and then we're off for a couple of flying laps. Not literally flying as this is stuck fast the quicker you drive it. During a hot lap with Greg Murphy, he commented on its true race car capabilities, its astounding brakes, sensational rear end grip and predictability, and how stable it is at speed because of the aeros. He hit 250 at the top of the start-finish straight, and we weren't far behind, just ticking over 240km/h before our instructor suggested we hit the picks.
The car doesn't roll in corners much or dive under brakes, aided by MagneRide adaptive damping, and that's just in the standard STO setting. It's even firmer in the Trofeo mode but we never had a shot at that. That it's so hunkered and pinned down in the road mode says plenty. Torque vectoring by brake keeps things under control at the grip limit.
Quick version – if you want a serious track car that will also handle road duties, and the cash from the Auckland house sale is burning a hole in your pocket this won't disappoint. While the ask begins with a five, only 49 are allocated to Australasia, and most are already spoken for.