You'll have seen them around the place and probably wondered what they are. These things are usually square, secured with a black pvc cover and are plonked on top of a vehicle. The mystery packages are actually fold-away tents, outdoor types carrying around the means to make camp for the night anywhere their vehicle can park up.
It's a novel idea; hauling the tent around on top of your car leaves the boot free for the rest of your gear. But the real drawcard is the ease of erection; these tents don't require much handiwork to get them up. We recently discovered not all roof top tents are made the same. The family braved a couple of midwinter nights atop an Amarok in a pop-up made by iKamper, a recent arrival on the market here.
This X-Cover model is currently the only coverless soft-shell roof top tent available in New Zealand. That is, it doesn't have a PVC cover that you need to wrestle on and off each time. It's all about convenience these days and it's one less thing to worry about. So how does it work then?
There's a zip that runs right the way around the unit, and unzipping this is perhaps about as tricky as the whole operation gets. Once you've made your way around the vehicle, unzipping the entire tent and unfastening one clasp, then you can retrieve the extendable ladder from inside the folded tent. This you hook to one side of the X-Cover unit and the ladder provides the leverage to unfold the tent with little real muscle power required.
It then takes a moment or two to adjust the ladder into place, finding the right angle and height for it before you can lock it off securely. Once that is set, the only thing left to do is climb up into the tent and secure the steel rods in place that hold open the awnings over the windows and front entrance.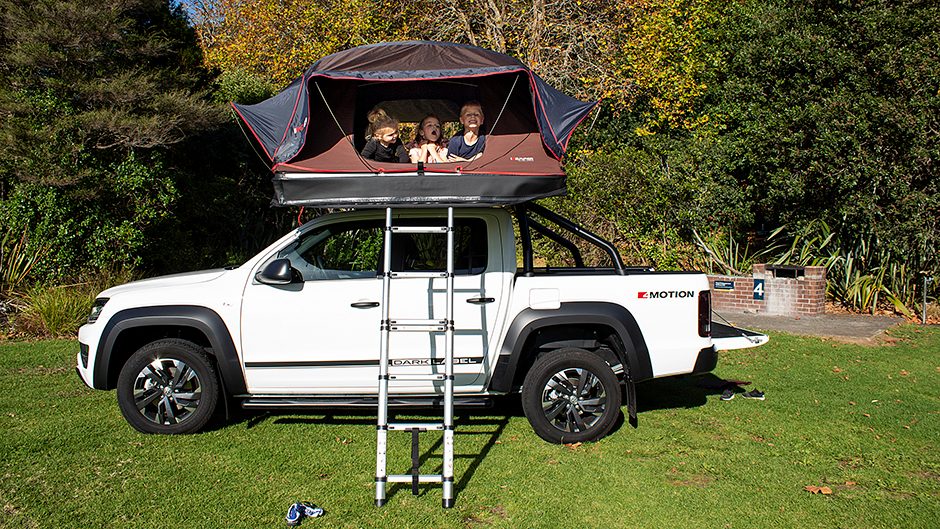 Then unfurl the sleeping bag and crack open a cold one, because you're done. They reckon it takes as little as three minutes to get it set up, whereas we took about seven minutes on our second attempt. The unzipping bit is tricky when the unit is placed up high on a big ute like this, and you want to be careful when slotting the steel rods in place around the windows as they are under a bit of tension. But otherwise, it's one of the easiest tents you'll ever erect.
But otherwise, it's one of the easiest tents you'll ever erect. Dimensionally, it's 1900mm long, and is 1150mm wide when closed, meaning it opens up to be 2300mm wide. I spent the night in there with the two kids wriggling around on one side, and me on the other. It would be cosy with two adults and two kids but doable, while two adults will sleep well.
There's a high density foam mattress in place on the floor, which is 6.5cm thick, though you might want to throw an extra layer of foam down if you're a side sleeper; my hip was a little sore in the morning. Despite being perched up high and hanging off the side of the vehicle, the tent is particularly stable. It certainly doesn't feel flimsy or wobbly when you move around in it. It's constructed of 300GSM poly-cotton canvas with waterproof zippers, and managed to keep out the drips of a few odd showers we experienced overnight.
There is a window on each side which can be zipped open for ventilation. You do need to be physically able to scale the ladder, which is not such a hardship, but something to grab hold of as you try to step back down would be helpful. This would be less of an issue if you had the tent on a car however.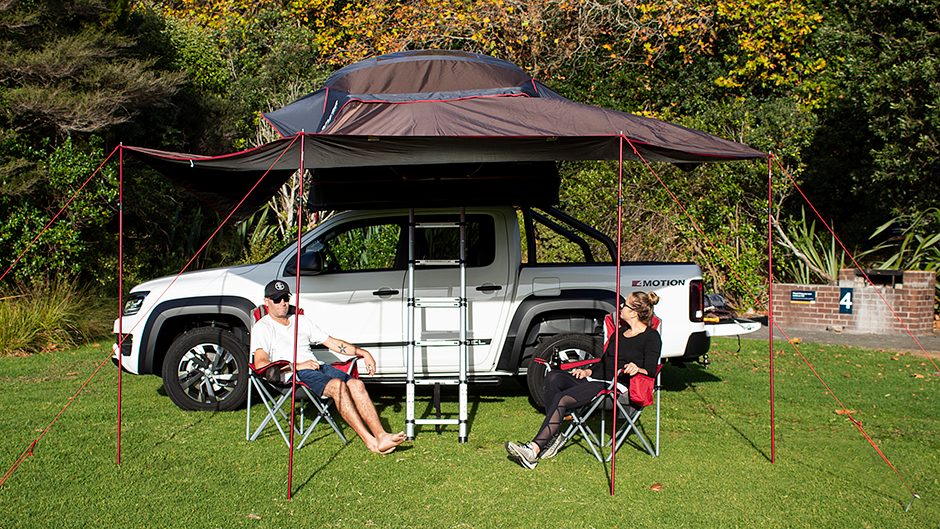 As our six-year-old discovered, it is easy to fall out of if you're being a clown. He did right himself on the way down, somehow managing to land on his feet, so we gave him an 8.9 for the dismount.
Those wanting more can add extras such as an annex. This attaches to the main tent via a zip and then you peg the sides down and secure the poles in place, adding some living space below. You could probably get erection of this set-up down to about 10 minutes once you knew what you were doing.
If the annex is overkill, there's an awning that can provide a bit of shade. Like the tent, these accessories are well made, the fasteners, poles and tie-down points all of a high quality. The X-Cover unit is 270mm high, and weighs 47kg. It will fit on literally any car that you can attach roof racks to, and it can be removed by unfastening the connectors which attach it to the roof bars.
This is made easier by a special tool. And you can add cross bars to the top of the unit itself, meaning when it's folded you can still carry your kayak or whatever else you have, up to 50kg.
The X-Cover will cost you $5299, the annex is a further $1199, the awning $699, and all are available from ikampernz.co.nz.