Hyundai's Santa Fe renews for the fourth time and it's bigger and more luxurious than ever. The top model again nudges past the $80k mark, making it amongst the priciest in the segment. Worth it then?
It's now customary that a new generation of vehicle arrives bringing more of everything. Usually that's more refinement, space, comfort and safety, at least if it's a family wagon a.k.a a large SUV.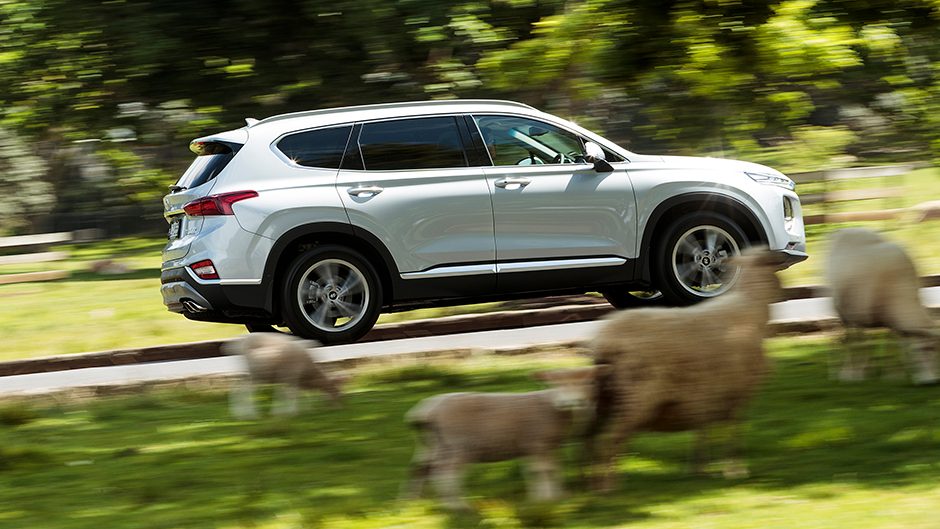 Hyundai's Santa Fe has been ferrying families about for the past two decades and it's now a bigger bus, growing in length, width and wheelbase to deliver more interior space. Adapting to market preference, all three variants (Entry, Elite and Limited) come with all wheels driven and seven seats. Buyers can opt for a 2.4-litre naturally aspirated petrol or a 2.2-litre turbodiesel, both carryover engines.
Santa Fe was an early adopter of diesel in the large SUV market (we're talking unibody crossovers here) and it's still the popular choice. Hyundai's R Series diesel has been around for some time and with constant tinkering it's still a fine engine, made better with the upgrade to an eight-speed auto.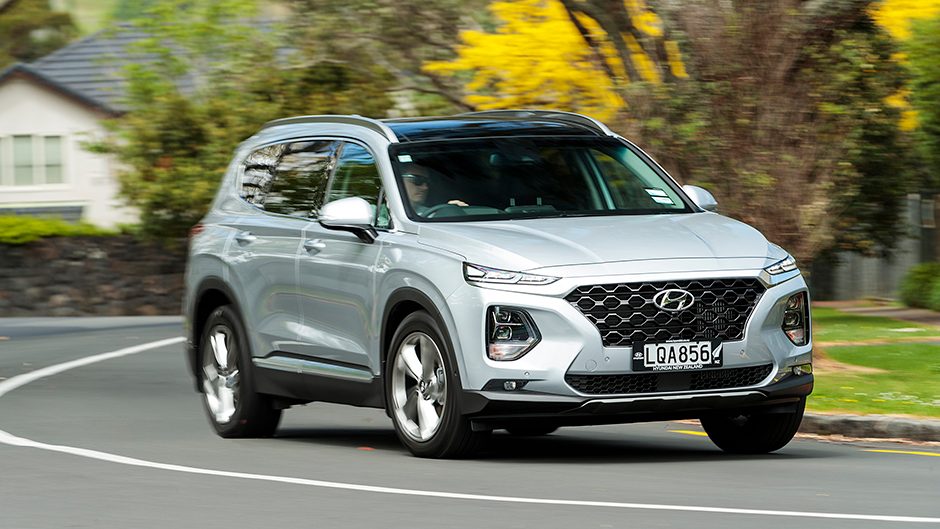 The Santa Fe also makes the leap to more modern underpinnings, now sharing the platform of the Kia Sorento and benefitting from an improved AWD system. Following on from the local launch, we spent some more time in the Limited model recently, powered by the 147kW diesel. It delivers 440Nm from 1750-2750rpm, helping move the Limited's substantial 1950kg mass marvelously, as John Campbell might say, though he probably still drives a Mazda.
There's a decent premium for the diesel, between $6000 and $7000 more than the petrol, but we reckon it's worth it. To be fair, we haven't driven the petrol but given Santa Fe's weight and the 2.4's 200Nm deficit, we reckon it would be working a lot harder much of the time. But the diesel is pretty easy going, under way smoothly (no stop-start system to worry about here) with only a whiff of turbo lag, and it steams along well when it needs to.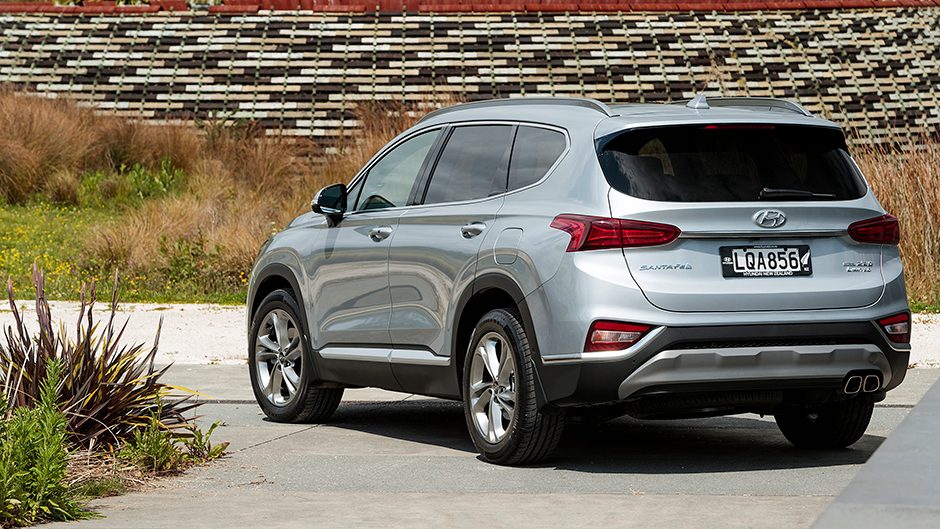 The eight-speed is generally well programmed thanks to a new Smart drive mode. This quickly became our default setting (which the Santa Fe then remembers, no need to reselect it after every start up), sorting itself between the Eco, Normal and Sport modes as determined by your driving style.
Go wild and the word Smart on the display turns red for Sport, while it will glow green on an easy cruise as it enters Eco mode. Town and around it's usually blue for Normal, though flatten the gas and it goes red pretty quickly to stir things along. As the name suggests, it's fairly astute.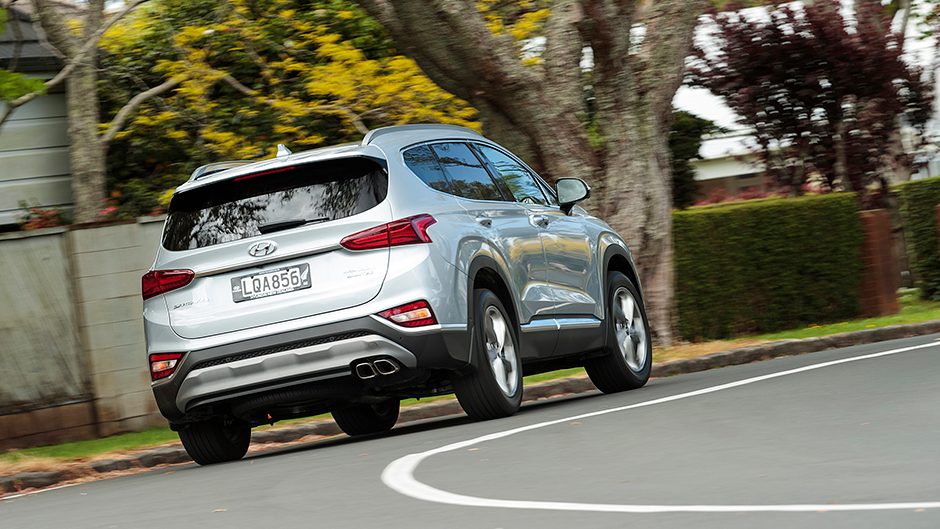 The diesel Limited is rated to return 7.5L/100km on average and we saw 9.8L/100km for mainly commuting miles, but it will get down into the sevens on long distance cruises as we experienced recently from a drive up north.
Trotting around town, the ride's alright, not quite buttery smooth but not nasty like margarine either; it's just the big wheels collect a few of the harsher edges. While we're being picky, the steering, while not exactly heavy, could be lighter at low speeds.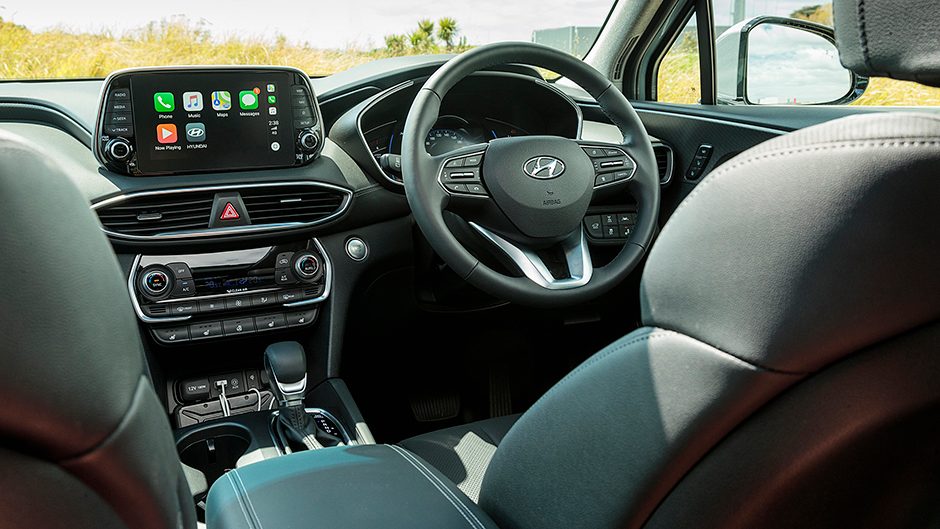 There are no problems with the outward vision, no blind spots around the A pillars or wing mirrors, themselves quite good and helped by blind spot monitors. These are conservative with their warnings, flashing and beeping on the motorway when there's heaps of room to squeeze across.
The cruise works right down to crawling traffic speed, though sometimes brings you to an abrupt halt, and the lane keeping system can interfere with the steering a little too frequently, so it's off with that then. Only for it to reset after every start-up. There are plenty of safety helpers on board here, including a new warning of oncoming traffic when you go to open your door, and a rear occupant detection and alert system that won't allow you to forget about anything living in the Santa Fe if you lock the doors.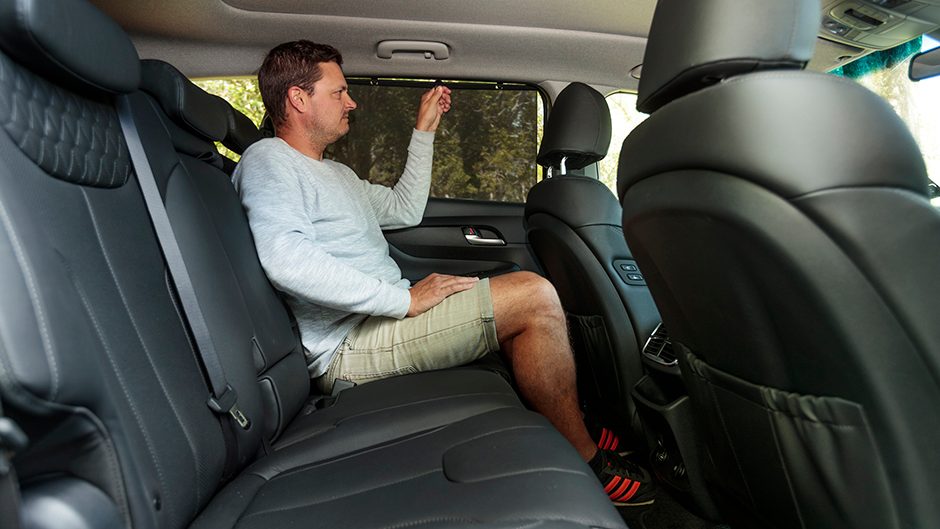 If you ever have need to stretch the Santa Fe's legs, it's now even more competent. There's a more rigid body, improved AWD system (still predominantly a front driver but will vary the split when traction demands it) and the dampers and spring rates have been revised for local (read Australian) roads.
Nudging it along, the Smart indicator goes red as it initiates Sport mode and the steering gains a bit more purpose. The assistance is consistent with just enough life to keep the nose flowing faithfully while filtering all the road nasties. There's some tyre noise evident but the big Contis really make it stick in a bend; you have to press it along with intent before they get to squealing. At open road speeds, the suspenders sort most road irregularities soundly, while SF feels balanced and controlled for a big wagon.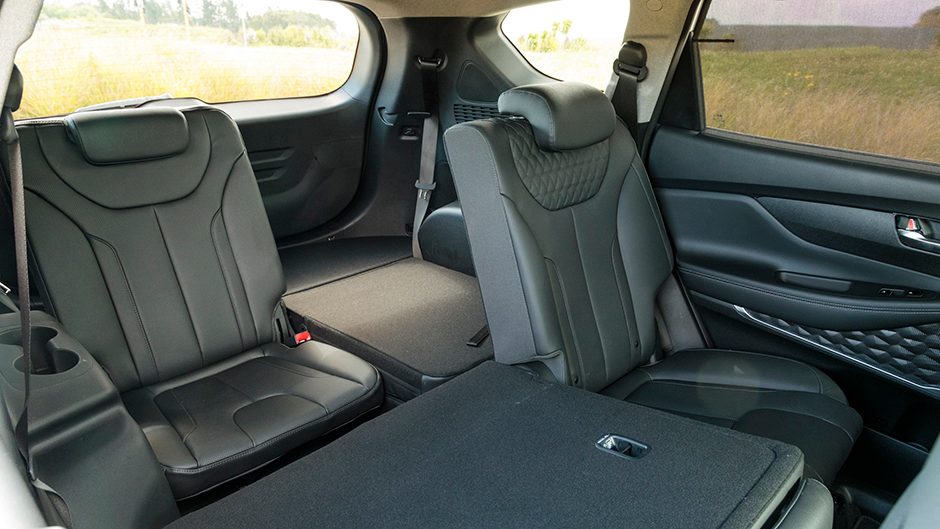 The AWD directs more drive to the rears in Sport mode so there's no untoward torque corruption up front, just efficient drive. The paddles went unused as the auto does its job properly, keeping the diesel in its zoom zone, that being 2000 to 3500rpm where the torque passes over to the power. There is life below 2000 for easy cruising but seeing as though the 2.2 revs keenly, we felt it rude not to. You can hear a bit of clatter under the pump but it's not too raucous in general driving.
The styling is new, taking the lead from Kona with an array of light sources and a sculpted grille. We didn't much like Kona at first, but it's grown on us and we think the new Santa Fe will too. The interior impresses with a more inspired design than the Hyundai norm, the flourishes melding well with the functional layout. Its marbled grey headlining contrasts nicely with the dark grey trim, replete in soft materials. The seats are clad in a 'I-can't-believe-this-isn't-real-leather' trim while their form is inviting, with adjustment, support and comfort all up to muster.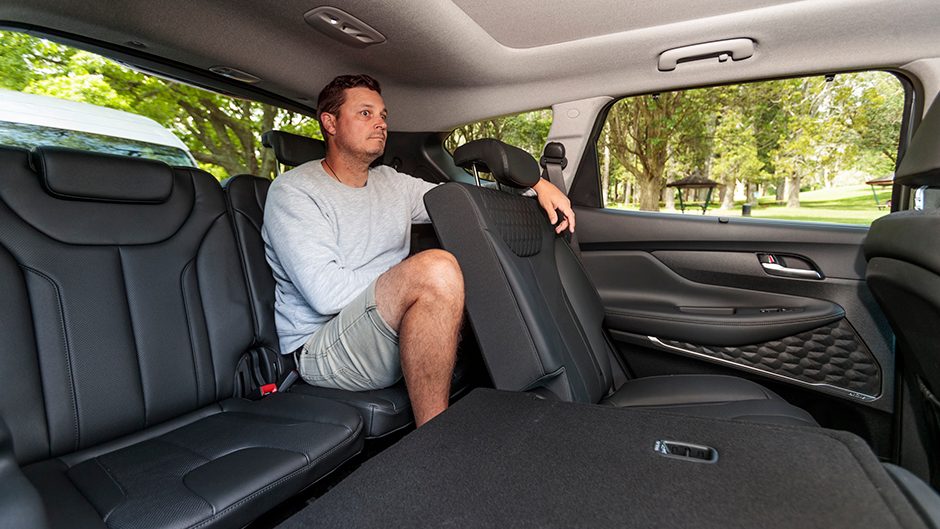 There's a big touchscreen and a range of conventional controls so everything is operated easily. The Limited's 360-degree camera lets you change viewing angles simply to see where you're going, what's alongside and where you've been. And with self parking, a charge pad, head-up display, glass roof, heated steering wheel, and seats with ventilators, you don't miss out on much here.
It's easy for the kids to clamber in the back with wide opening doors and this SUV isn't too far from terra firma. The back seat can take three adults at a squeeze, while there are two USB chargers and retractable window shades, which are a bit fiddly to hook up. Access to the rear is good as there's just one button to press to see the seat sliding forward under its own steam in one sweet motion. The middle rows need to be slid forward to accommodate third-row passengers as leg room is limited. These are still more suited for kids but there's now better headroom and a bigger side window.
There'll be times you wished the powered tailgate would hurry up already, but the boot itself is not a bad size or shape. More load space is quickly achieved as the seats fold flat with a button push. There's a full-size spare up underneath Santa Fe, which is still rated to tow a maximum of 2000kg.
The range starts at $59,990 with steps through the sixties and seventies, peaking at $82,990 for the Limited. That's the same price as the old model (pre-runout at least where it was down in the low sixties) yet with a lot more going for it. But it's at the expensive end of the competitive set with the top CX-9 Takami at $67,895 and Acadia LTZ-V at $71,990, the same as the top Highlander while Sorento goes for $73,990. Seems we'll need a comparison test to determine the value of the Santa Fe's premium.
| | |
| --- | --- |
| Model | Hyundai Santa Fe Limited 2.2 |
| Price | $82,990 |
| Engine | 2199cc, IL4, TDI, 147kW/440Nm |
| Drivetrain | 8-speed auto, on-demand AWD |
| Fuel Use | 7.5L/100km |
| C02 Output | 198g/km |
| 0-100km/h | 9.74sec |
| Weight | 1942kg |