While interest in the next-generation Honda Civic Type R continues to be drummed up (spurred on most recently by an appearance at Tokyo Auto Salon), the imminent Civic hybrid e:HEV is likely to be the more important model for the company.
According to the rumour mill, it's also set to be a pretty quick little hatch.
Japanese outlet Best Car has reported that the Civic hybrid is set to inherit the 2.0-litre hybrid powertrain from the Accord and CR-V, as opposed to utilizing the less explosive 1.5-litre hybrid powertrain from the HR-V.
The result makes for tantalising reading on paper. The 2.0 packs 158kW of power and 315Nm of torque. That's much more than the 1.5's 96kW/253Nm, and effectively pushes the Civic e:HEV into entry-level hot hatch performance territory — marking it as one of the most powerful Civics ever released.
For a bit of perspective, the outgoing Mk7 Volkswagen Golf GTI made 169kW and 350Nm. The Civic e:HEV's most logical rival meanwhile, the Corolla hybrid, makes a comparatively paltry 90kW.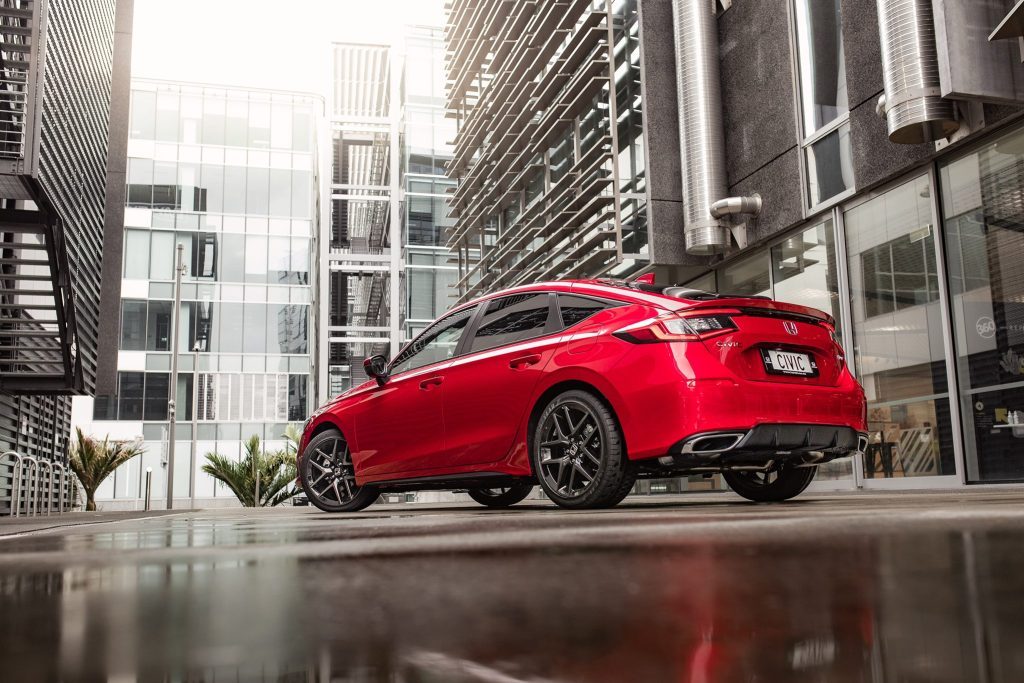 To be fair to the Corolla, the Civic is likely to be the much more expensive electrified option. While Corolla hybrid hatch prices range between $34,990 and $40,990, the Civic e:HEV is likely to be priced around the $50,000 mark.
There's also the electrified Mazda3 models to consider. These start with the $39,590 SP20 and its e-SkyActiv G engine, extending to the flagship $53,090 Takami, and its more powerful e-SkyActiv X engine.
To return serve and be fair to the Civic, the aforementioned 2.0-litre hybrid powertrain isn't your bog standard mild hybrid set-up. Its hefty digits are supported by dual electric motors — one a dedicated drive motor and the other a start-up motor that is used to mostly act as a generator.
The new 1.5-litre turbofour Civic recently debuted in New Zealand, with Honda's local arm (and Honda Australia, for that matter) releasing the model in just the one solitary trim level for $47,000.
Should the Civic e:HEV come to New Zealand, expect it to follow a similar high-spec philosophy as Honda attempts to take on more premium compact rivals. 
As far as efficiency goes, the Civic e:HEV should be able to beat the Accord hybrid's 4.3L/100km and the Corolla hybrid's combined 4.2L/100km claim. Performance chops with efficiency to match, at least in theory. Honda has yet to confirm the rumour, and is unlikely to make a peep until the model debuts.
In the meantime, you can check out NZ Autocar's full review of the 1.5-litre Civic in the February edition of our magazine — hitting shelves soon.