Determined to get a new car but pay no more than twenty large? The Mitsubishi Mirage and Holden Spark are in your price range, and we compare them here
It's a question not a whole lot of people ask – what's a decent new car you can buy for under $20k? – but we're determined to find out. The price is right in this class with all the benefits of new car buying for less than 20 thou but if you look at the numbers the segment remains a tough one to crack. As we concluded in our last Spark review, if you can afford a few more beans, the cars from the class above are generally better options, and the market tends to agree.
The likes of the two cars featured here, the Mitsubishi Mirage and Holden Spark, fall into what's known as the micro segment which, funnily enough, accounts for a minimal two per cent slice of the pie with 940 sales YTD. The next class up (officially and confusingly known as 'Light'), where the likes of Swift, Jazz and Mazda2 hang out, makes up 10 per cent of new car sales with 5489 units registered. So clearly most think mini not micro when it comes to small cars. But, as these two 'micros' both came our way at a similar time recently, and a few of our readers do ask for more tests on affordable cars, we felt duty-bound to match them up and let them duke it out.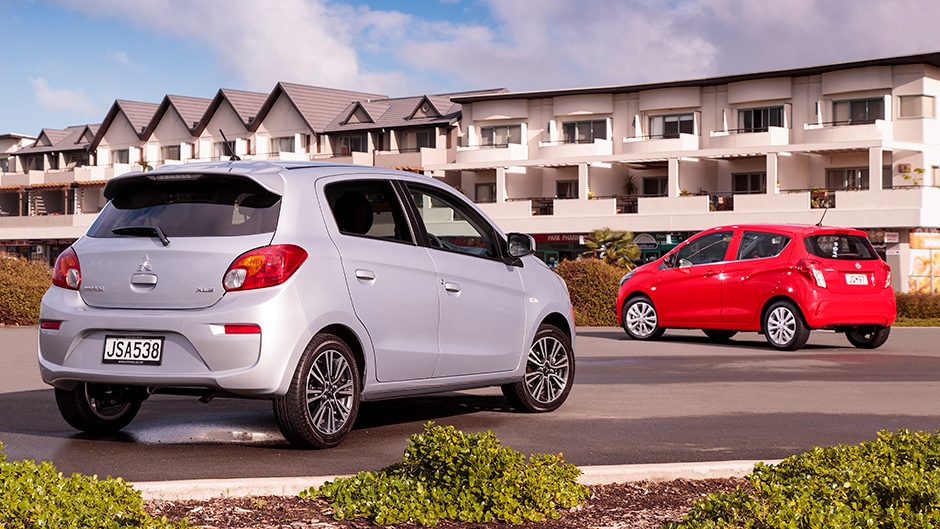 The combatants
The Mirage, released a few years ago, has undergone a minor makeover with a new bonnet and other bits up front, new wheels and a tweaking of the ride characteristics. There's only one model now, the XLS and in typical Mitsubishi style it has already been discounted, with 'promotional pricing' seeing $2000 lopped off the ask, which is down to $17,990. Holden has reignited the Spark, this new model much improved over the first attempt which lit very few hearts alight at the time. The Spark represents a two-pronged attack on the micro market with an LS model in at $16,490 (which could be yours for $99 a week over three years, insurance and servicing included, with nothing to pay up front; check the Holden website for all the details) where the LT featured here is $19,990.
You probably shouldn't expect much for the price, and that's sort of the case with the Mirage; A/C, remote locking, Bluetooth calling and audio streaming, and that's about your lot. The Spark LT's fitout is rather more impressive with smart key entry, rear parking sensors and a camera, faux leather trim, cruise control, and an actual infotainment system with both CarPlay and Android Auto capability.
Small car safety is always a prickly concept. While these two meet the criteria for a full five-star crash rating from ANCAP, there will always be those who will want a bit more metal around them, especially now with so many high-riding, two-tonne-plus vehicles on the road. It was disappointing to discover the Mirage lacked for a proper steel bumper bar at the rear, meaning the Spark will fare better (and be cheaper to repair) if you ever get rear ended. Both have ESP, six airbags and Isofix in the rear.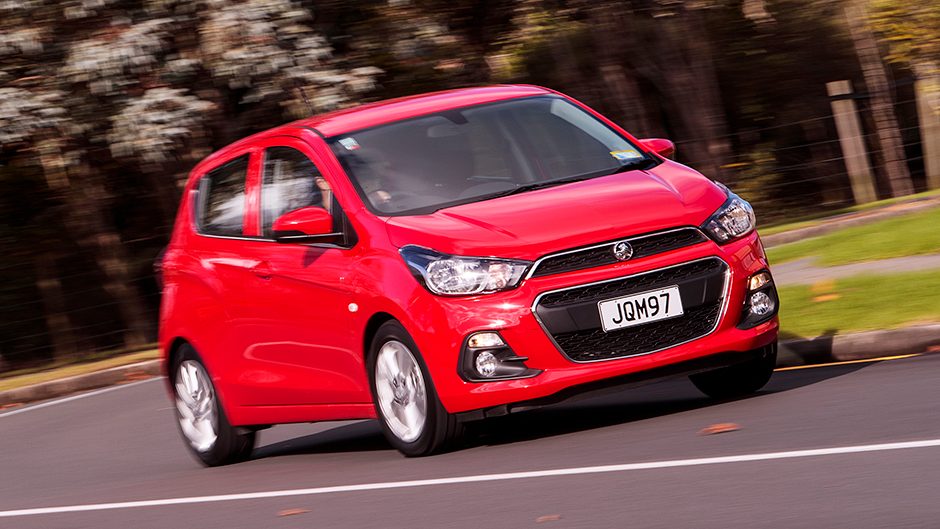 On the charge
Around town that is. Little cars are made more for city life, and after swapping the keys of the Colorado for a Spark, the world seemed a lot bigger from down low. But no parking space is ever a challenge in these wee vehicles, and if everyone who commuted alone drove micro cars, we could fit another lane on the motorway, and still have a dedicated truck and bus lane (imagine all the trucks and buses in one lane…). Okay, perhaps not quite, but you get the idea that commuting in small cars is just so easy. The Mirage has a reasonable ride about it, and while the little 1.2 triple sounds interesting, it needs a decent nudge along to get you up and moving with the traffic. Once up to speed the CVT settles it back down to between 1500-2000rpm at 50km/h. Slow and gentle acceleration is clearly required to replicate the 4.7L/100km quoted fuel use figure, however; expect about 7L/100km and we could certainly live without the lumpy idle at rest. The Spark's 1.4-litre four has more go about it (73kW/128Nm vs 58kW/102Nm for the Mirage) and so gets the Spark moving with less noise and fury. It's rated at 5.5L/100km, and it too was averaging sevens. The ride is more pleasant in Spark, but the Mirage has a better turning circle.
Further afield, the Spark easily burns off the Mirage, but also gets rowdy as revs rise (sounds like she's about to blow – a typical comment from passengers). Its CVT will 'change gears' nearing the upper rev limit, whereas the Mitsi does the usual CVT thing of whining away at the top end. The steering in both is light on weight and feel as you might have guessed, but both have reasonable stick in the bends. Potenza sport rubber was a surprise on the Mitsi, helping it adhere to the road right nicely, although its rear end tends to wander about the place and there's more roll to consider as well. These two little terriers can be reasonably amusing to punt along, though you need to carry as much momentum through each curve as possible as they hardly tear out of bends on the power, particularly the Mirage. But it's Spark that is more up for a rural run; though it's actually smaller, it manages to feel more stable and secure on road, and its extra power makes it less taxing to drive in the great outdoors.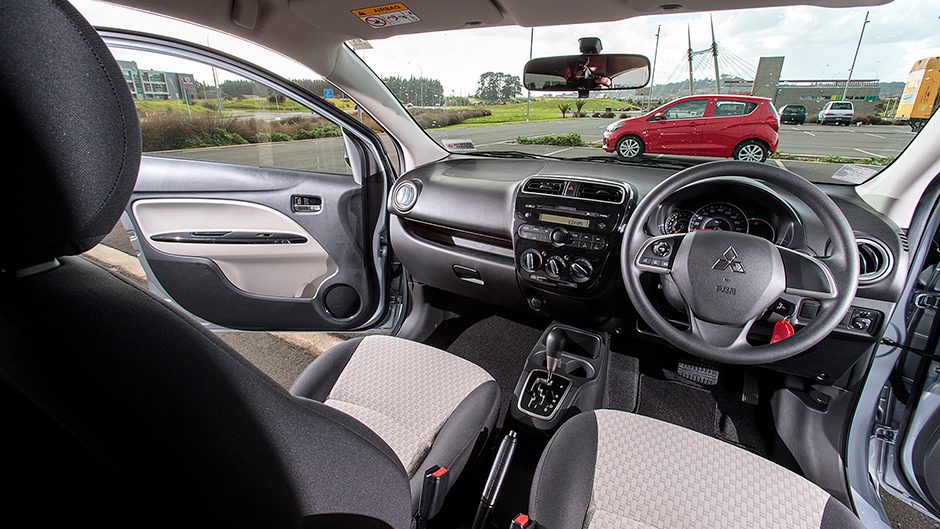 Inside out
All the surfaces are hard inside the cabins with just one or two soft spots about the place but then people seem to accept this sort of decor in $50k utes. Even so, the plastic wheel in the Mirage feels decidedly cheap, while the leather (like) trim in the Spark manages to feel reasonably supple. Spark has a better driving position, the seat being a little lower and giving a better view out. You're perched high in the Mirage, which is good for ease of entry, but it doesn't leave much headroom, while your forward vision is obscured partly by the position of the rear view mirror on the screen. There's better all-round vision in the Spark, and even in such small cars, a rear view camera really does help, even if Holden's screen lacks decent resolution.
The Mirage has been made shinier with glossy alloys and some chrome lipstick up front while we like the irony of the bulge on the bonnet, given the wee triple underneath. Spark has a bit more spunk to its design however and, for those feigning interest, Holden has a few design packs to spruce it up further. The disguised rear door handle catches people out and once in the back passengers don't enjoy a great deal of space.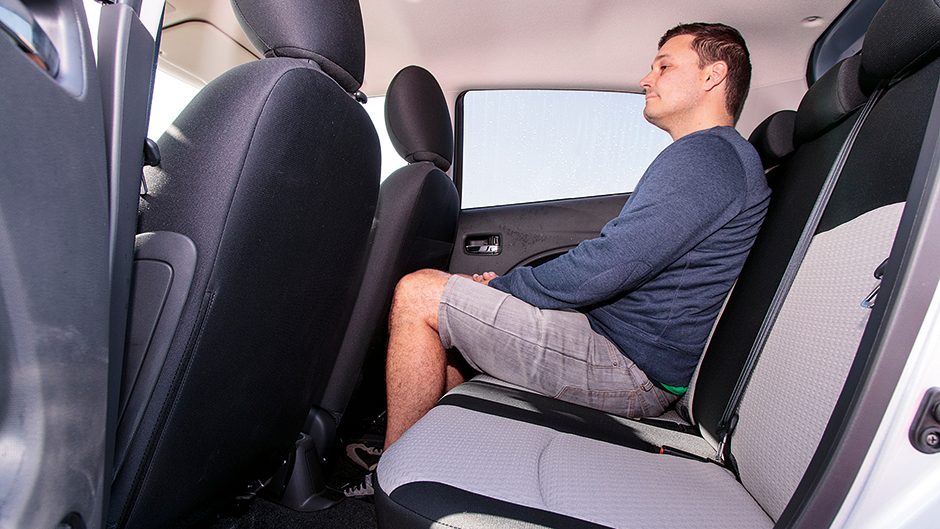 The seat is quite upright too, but half of the bowls foursome should fit ok, as will the grandkids, or a couple of your young bearded hipster friends, if the marketing hype is anything to go by. The Mirage has more space, the seats are comfier and the boot too is wider, longer and deeper while it's seats splitfold more easily. The Spark's seat squab needs to be flipped up like it's 1985, and then the front seats have to be pushed forwards to accommodate the procedure, making for an all-round fail. Not that you buy small cars for their luggage toting ability, but the Mirage has more space within its wee body. 
However, said space is about the only thing the Mitsi beats the Holden on. Yes, it's 10 per cent cheaper, but the Spark is more than 10 per cent better. It feels close to a small car on the go and in LT trim has plenty of useful stuff on board, while looking reasonably good and all for under $20k. But we'd still sell grandad's stamp collection to get a few extra thousand together and buy a Fabia/Mazda2/Jazz sort of thing.
| | | | |
| --- | --- | --- | --- |
| Model | Holden Spark LT | Price | $19,990 |
| Engine | 1399cc, IL4, EFI, 73kW/128Nm | Drivetrain | CVT, front-wheel drive |
| Fuel Use | 5.5L/100km | C02 Output | 166g/km |
| 0-100km/h | 11.39sec | Weight | 1010kg |
| | | | |
| --- | --- | --- | --- |
| Model | Mitsubishi Mirage XLS | Price | $17,990 |
| Engine | 1193cc, IL3, EFI, 58kW/102Nm | Drivetrain | CVT, front-wheel drive |
| Fuel Use | 4.9L/100km | C02 Output | 113g/km |
| 0-100km/h | 12.54sec | Weight | 903kg |