Harley-Davidson was in a funk and needed to regain its mojo. This new Sportster S represents a turning point.
Once upon a time new Harleys were pretty much like the ones they replaced; heavy, vibratory at idle and shifted with an almighty clunk until you learnt the workaround. Even Harley's Sportster really wasn't that.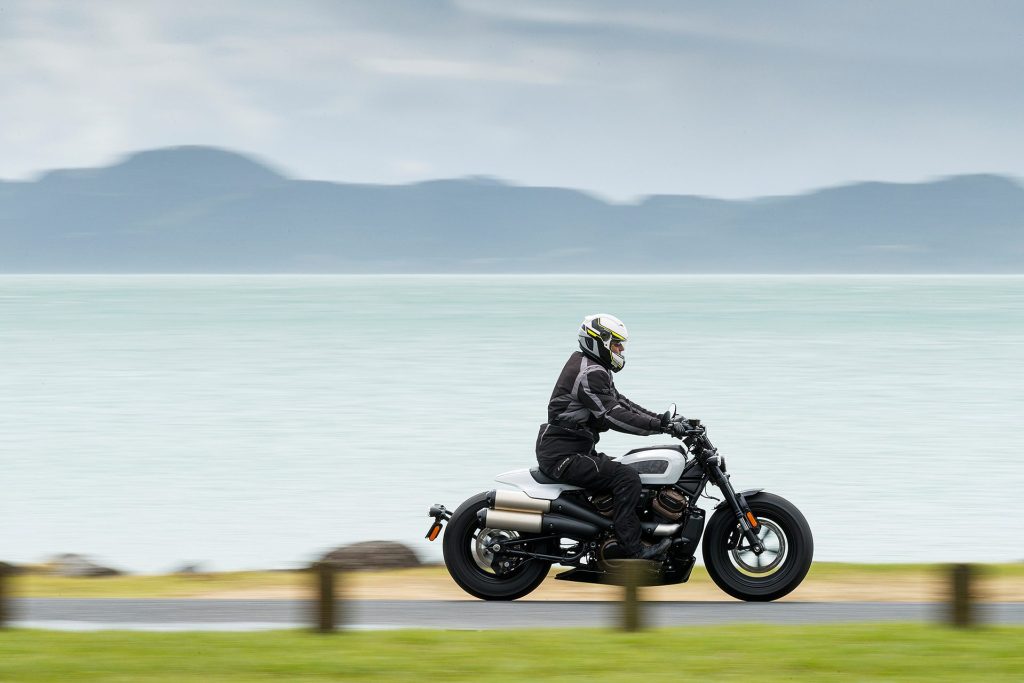 However, change was in the air, instigated by a rejuvenated Indian brand. H-D hit back with the Milwaukee-Eight engine, a massive step forward and later, unexpectedly, came LiveWire, the sportiest bike ever from Harley. Hot on its heels, Pan America, the first adventure bike from the Wisconsin powerhouse. And now there's the closely related Sportster S you see here.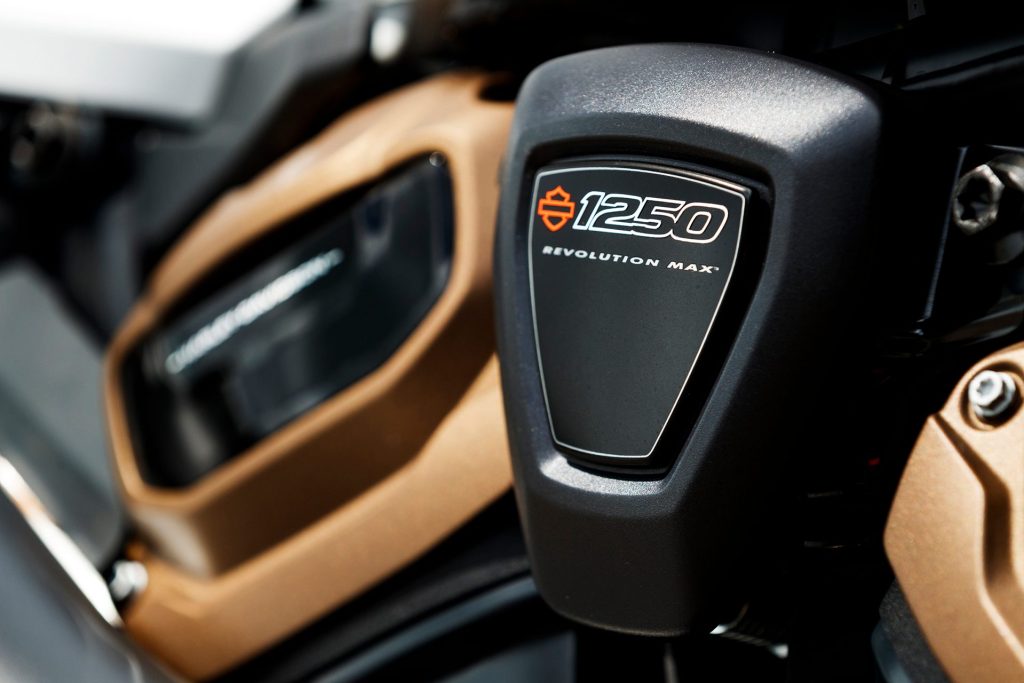 This is in a whole league of different from anything else Harley-Davidson has done before. The traditionalists might not appreciate the fact that it is almost unnaturally smooth at idle, thanks to dual balancer shafts, and that it doesn't clunk through the gears. Its clutch is even lightweight and, gasp, it has IMU-based safety items like cornering ABS and TC.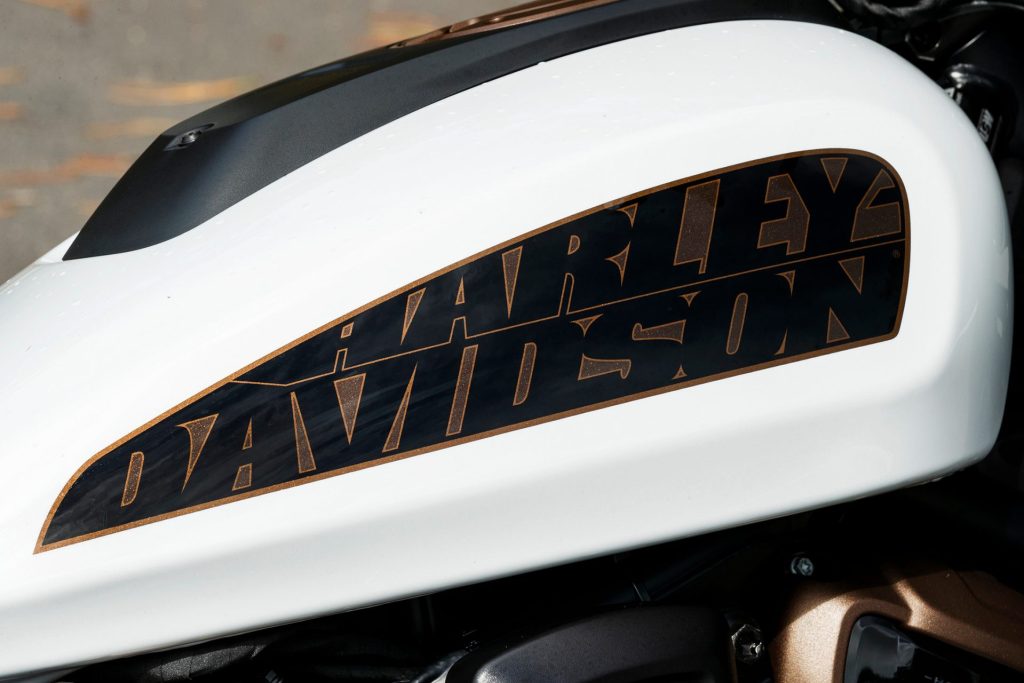 Riot of an engine
What Harley aimed to do was bring a bunch more performance to the middleweight cruiser sector and we'd say mission accomplished on that front.
The Revolution Max 1250cc liquid-cooled engine borrowed from Pan Am is heavily retuned for cruiser duties, but the bike is 30kg lighter as well. It is almost unnaturally unburdened for a sizeable Harley, 228kg ready to rampage, and is easy enough to move around, engine off.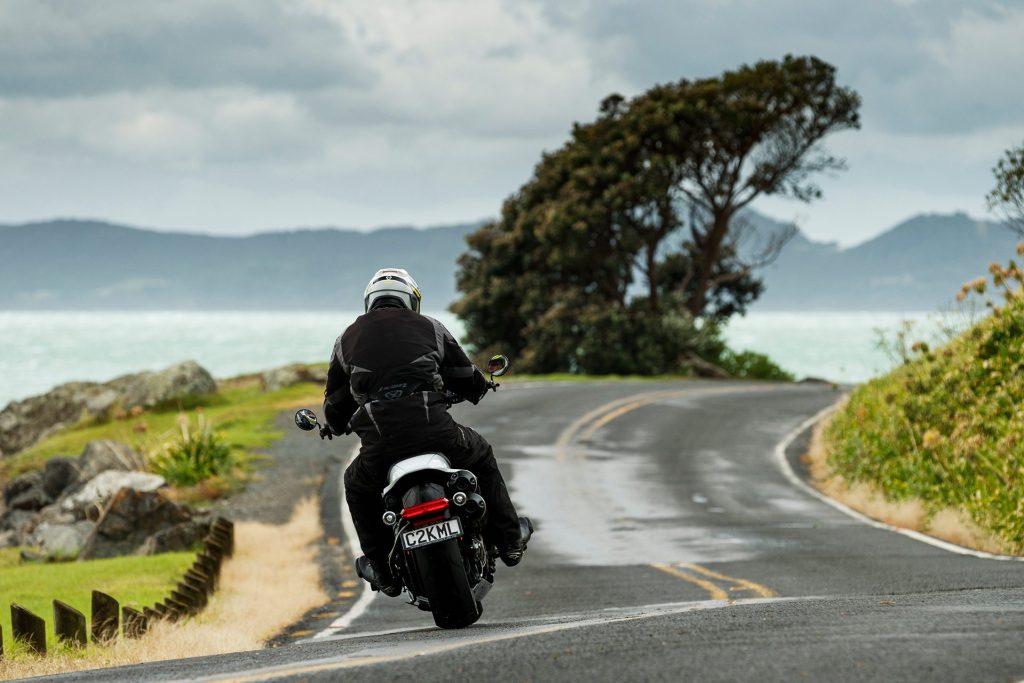 Sure, power is down to 90kW from the adventure bike's 112kW but it retains its decent slug of torque, with 127Nm on tap, and it arrives 750rpm earlier as well, at 6000rpm. The pull begins from 2000rpm, ramps up at 3000 and the torque 'curve' is virtually flat from there until sign off at just over 9000rpm, so there's quite the cruiser spread of easy going goodness here.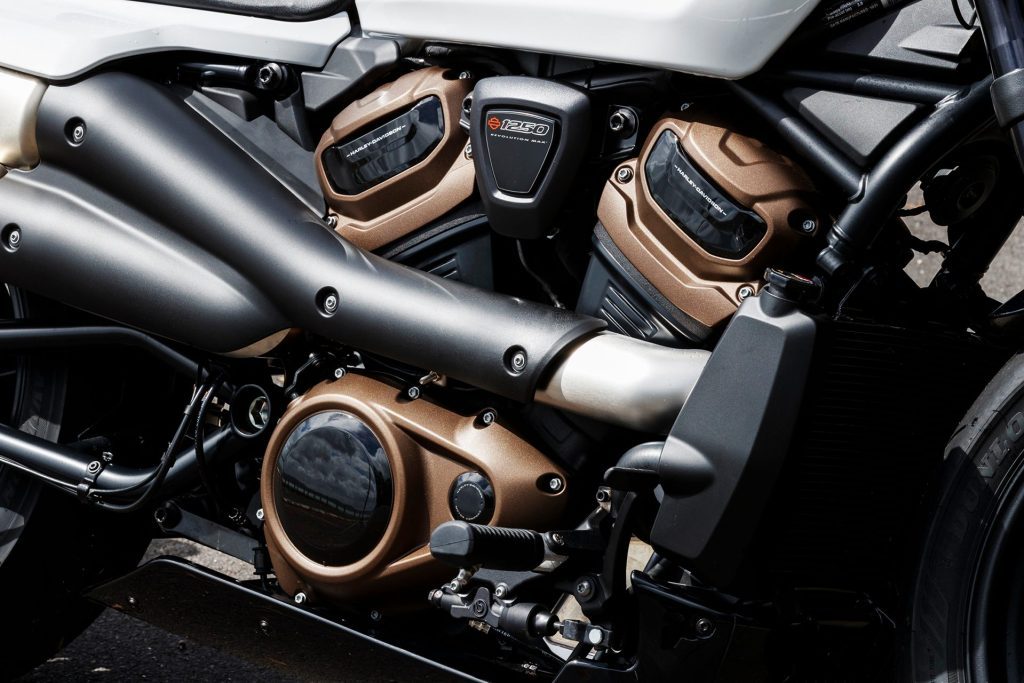 Yes, there's the V-Twin sound, but not much in the way of repeating potatoes, while there are some extraneous whirring noises too. Exactly how loud it is with aftermarket pipes is anyone's guess. Most new Harleys we get to ride are standard and therefore too quiet but this one has a bit more to say, and we like that.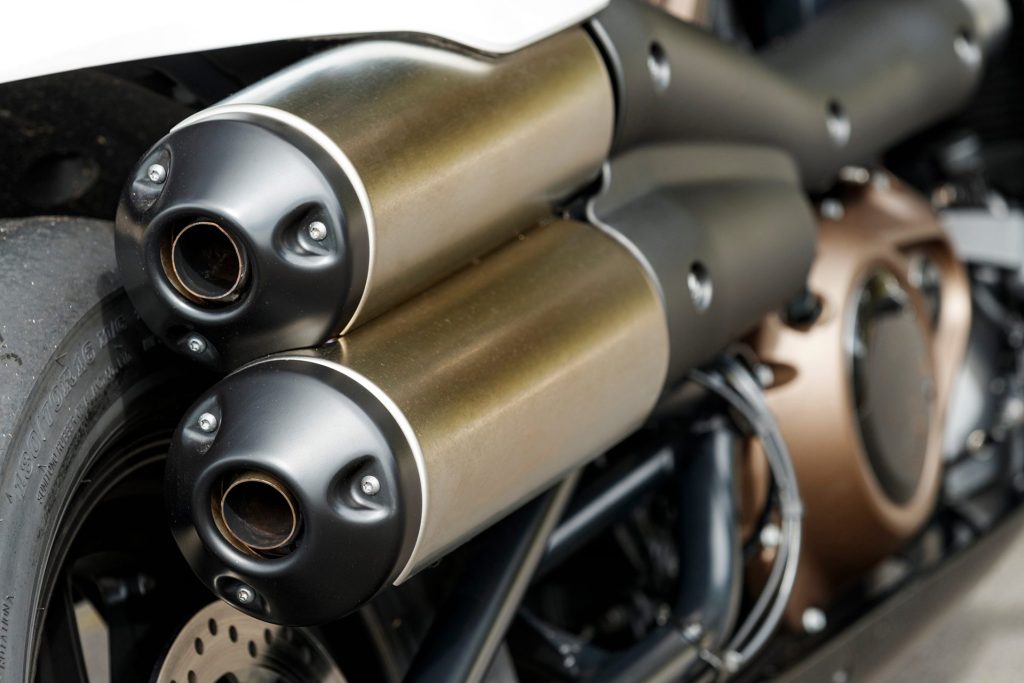 Sportster or Speedster?
To me, the Sportster S reminds of the V-Rod physically and in the way it gets up and romps. Both have big liquid-cooled motors, only the SS smokes the V-Rod (and the FXDR 114) for performance. That's because it's close to two-thirds of the weight of both those other machines, plus it's more powerful. Think of this then as a power cruiser, like Diavel and VMax.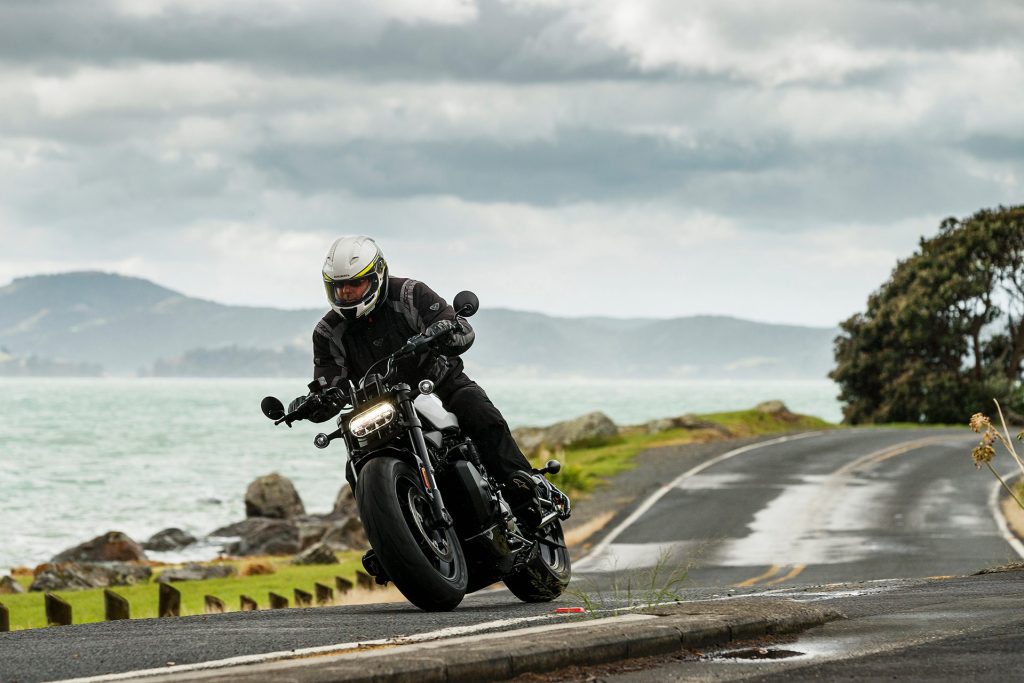 It's lighter because of its minimalist frame. The Revolution Max 1250 engine acts as a stressed member, and the remaining frame bits therefore just have to tie the wheels and forks and other miscellaneous parts to the engine.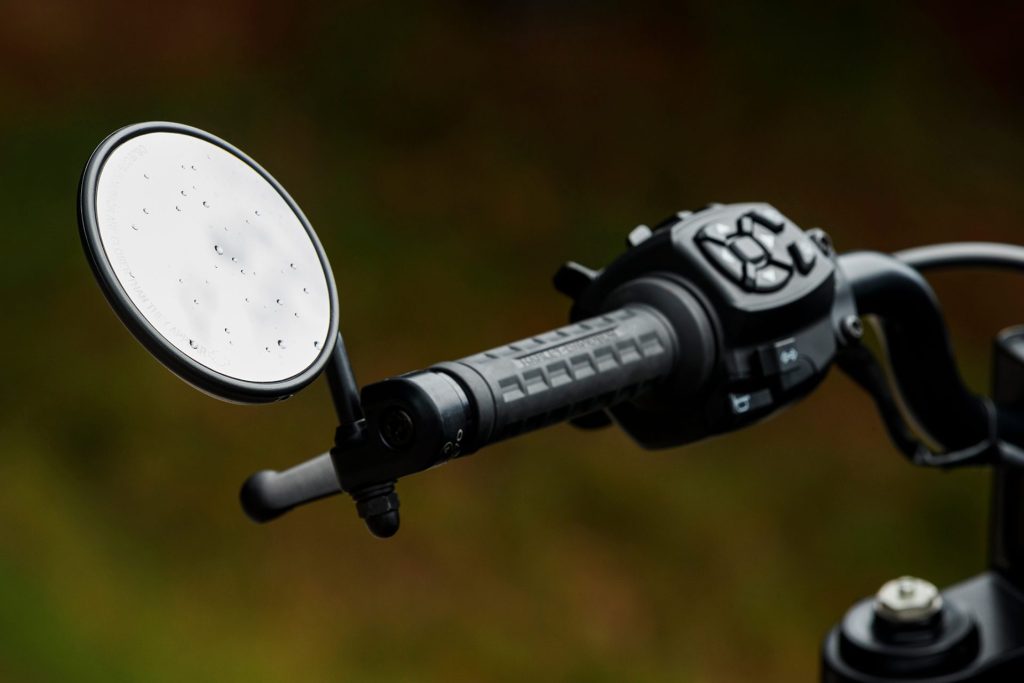 When I collected it, the Harley guys were keen to let me know that this was really quick in Sport mode and I'm thinking; "Yeah, but I know what you guys are used to and it isn't that quick". They were right, though quite how fast was unclear. A Google search on its potential acceleration turned up nothing useful. However, some reports said it would wheelie with TC off.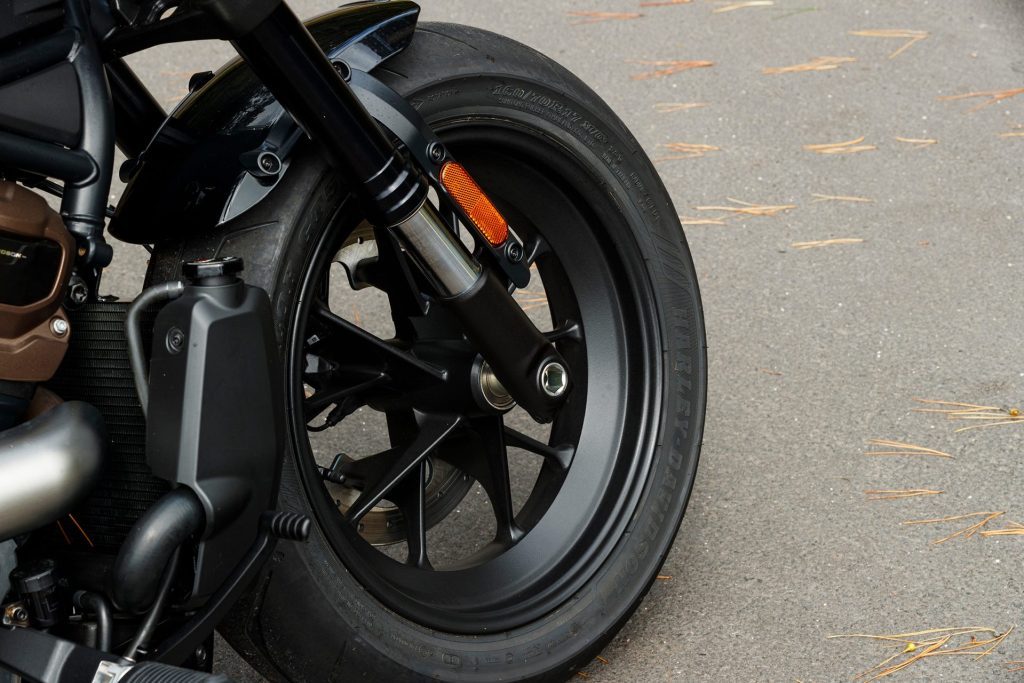 With a bit of gentle persuasion I'm convinced Sportster S would go into the twos for the 0-100 sprint, given we got a best of 3.12sec without even bothering to turn off traction control. And that was backed up by an 80-120 overtake in third gear alone of 1.55sec. Such figures are unusual in the cruiser world.
So this is amongst the fastest of cruisers available for any money at present and on that it costs $28,585 in green or white, a few hundred less in black. Sport mode is where it really gets its A-game going; Road and Rain are more laid back. In Sport it also hauls off the bottom, and can manage steep hills happily in top gear, providing you're doing 70km/h or so.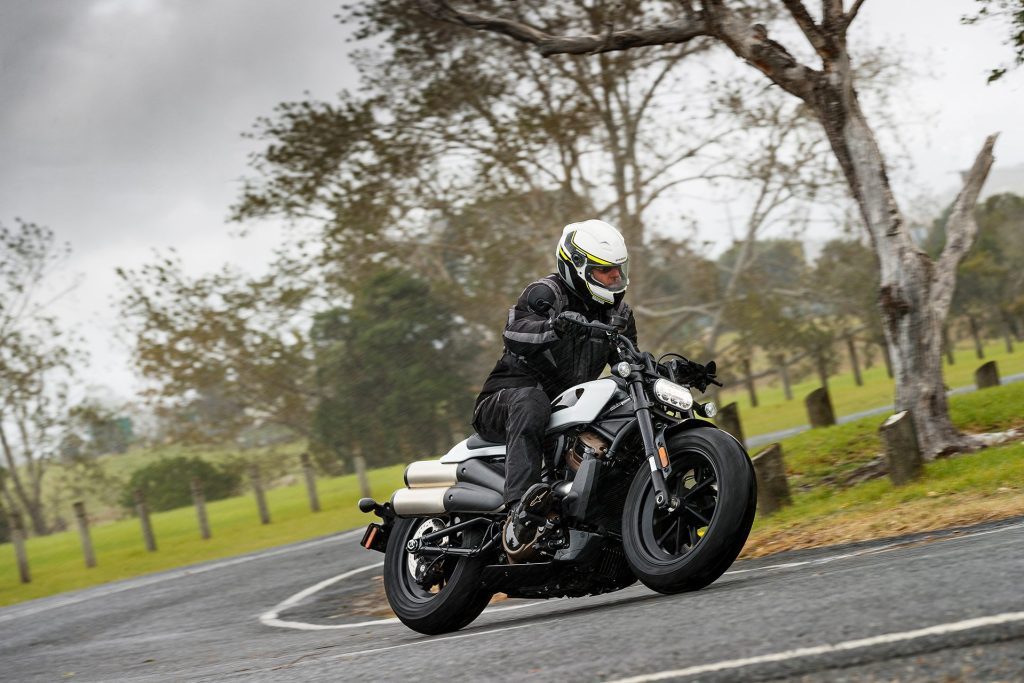 What about that single disc up front? Is it enough? We put the brakes to the test, formerly and also inadvertently. Following a line of traffic at 100km/h, I hadn't noticed everyone slowing ahead. When I did there was a brief uh-oh moment as I threw out the anchors, drogue and all. Briefly, I wondered whether it would be enough but then the front brake really hooked up, that huge tyre digging into the tarmac, and the crisis was averted. So yeah, the lone Brembo with the radial-mount four-piston caliper can do the business. The rear brake contributes but isn't that convincing. Still, the SS managed a 38m stoppie on the first measured attempt from 100. Moreover, there's the reassurance of cornering TC and ABS thanks to its IMU-based six-axis sensor system.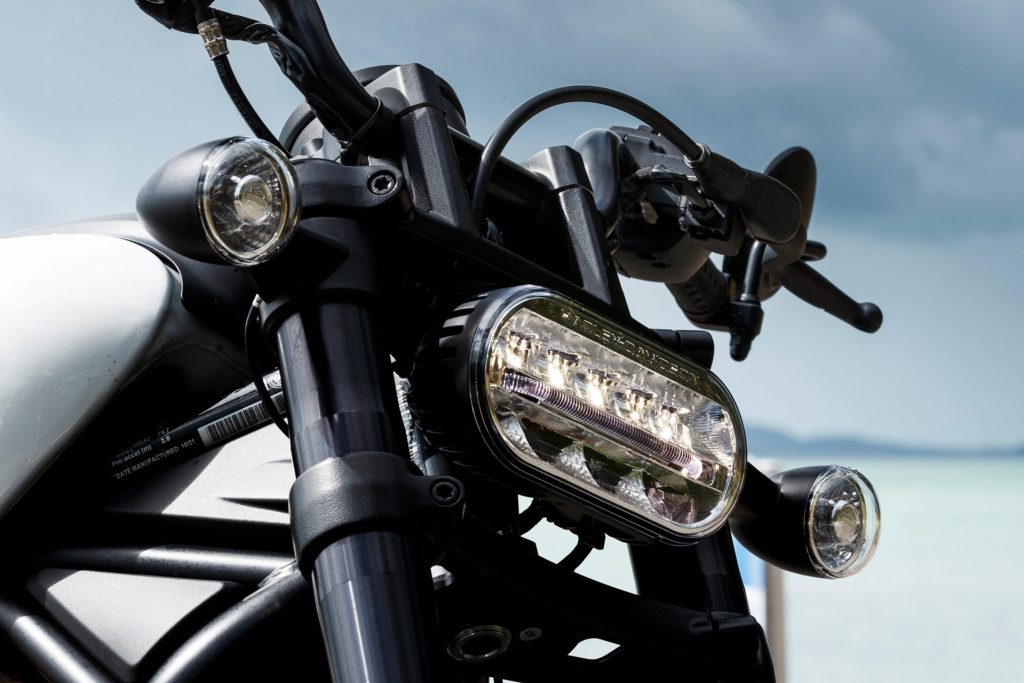 Yeah but does it corner?
Before examining the effect of those big balloony tyres on handling, we should talk about ride quality, more specifically the 53mm of rear suspension travel. While the Sportster S has fully adjustable Showa suspension front and rear, the latter's preload adjustable by knurled knob, no amount of fiddling will change the fact that this has limited travel at the rear. For sharp or repeating bumps, you must unload your weight to prevent herniating a disc. You soon learn which ones to rise up for. However, if you ride on predominantly hotmix surfaces, all that adjustability means you can dial in a genuinely smooth compliant ride for the minor road imperfections you might encounter but don't want to remember. It's just that our secondary highway system is laden with pockmarks that will sometimes catch you out.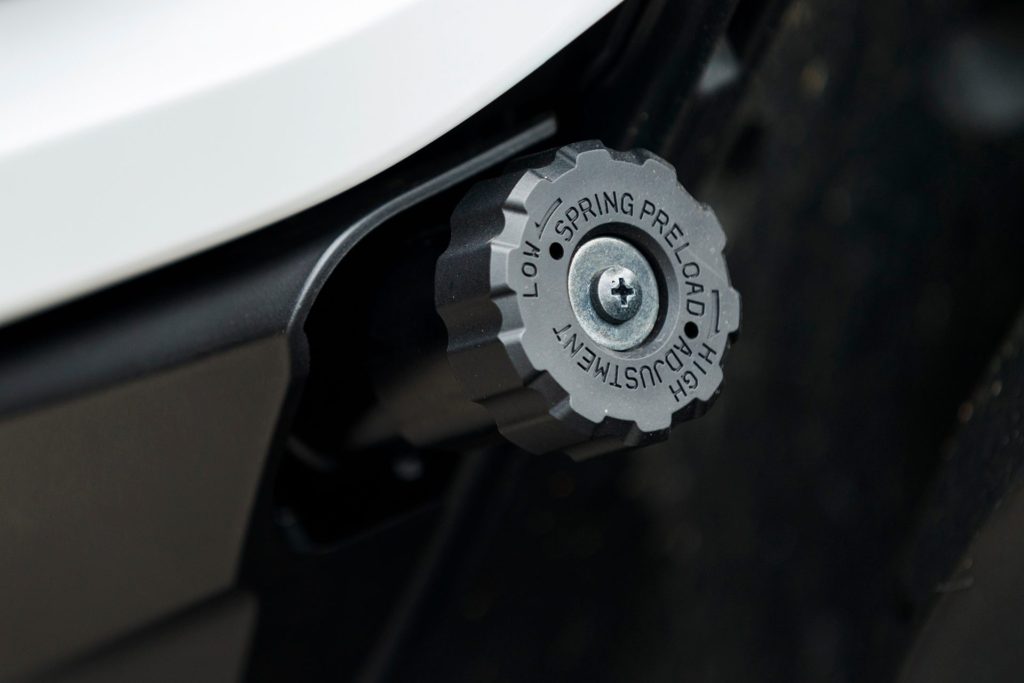 Otherwise, you'll be having fun on this machine. With 35 degrees of lean angle either side, it's more than enough to corner meaningfully on inspiring roads. Yes, you can touch down if you really get serious, the pegs pivoting up but you'll be a long way heeled over. The big tyres don't make this a bike that particularly enjoys quick changes of direction, nor being long as well, but it's certainly cooperative to bank over.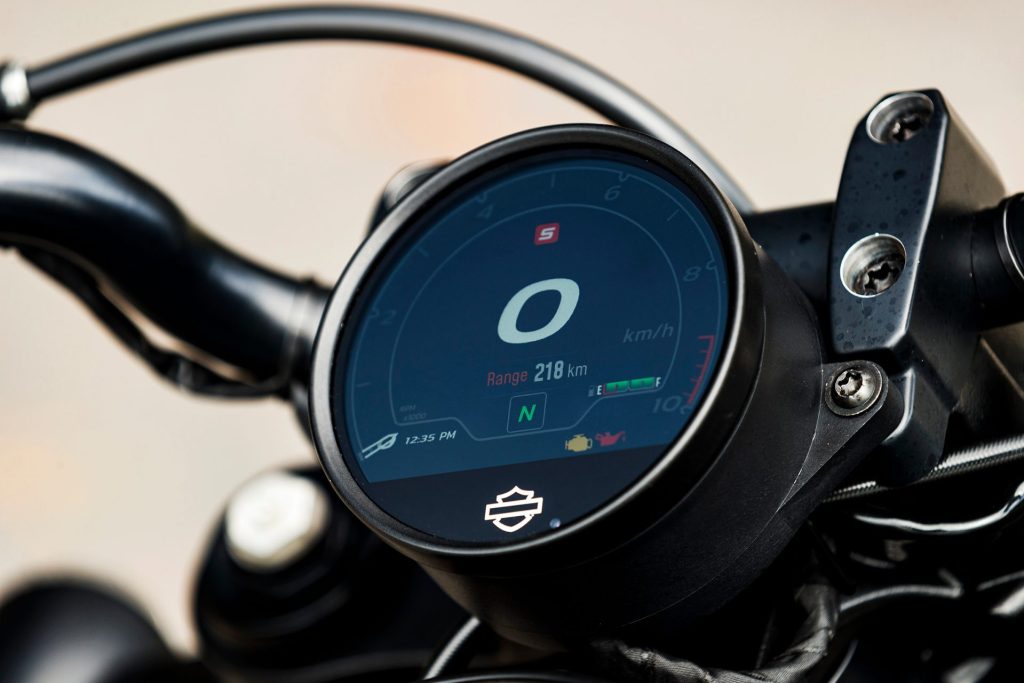 Killer looks
Cruiser appearances are paramount. The designers wanted something retro-modern and a bit different from the old school Harley offerings and so there's the high-mount stacked pipes and the long rakish outline that makes this almost immune to sidewinds. Its tank looks sizeable but really isn't at under 12L because the enclosure contains other items. That means a range of around 220km but with its thin minimalist single seat, forward mount foot controls and bony ride over lumpy roads, 100km at a time is about enough. The riding position is something some will find okay but abbreviated folk not so much. It's a look beloved by many but with the SS you have the option of installing mid-mount pegs. That helps with weighting the bike up for the turn, and also makes it easier to unload the seat if you spy a road crater ahead. Some might also like to opt for the better padded comfort seat. There's also a quick-release windshield.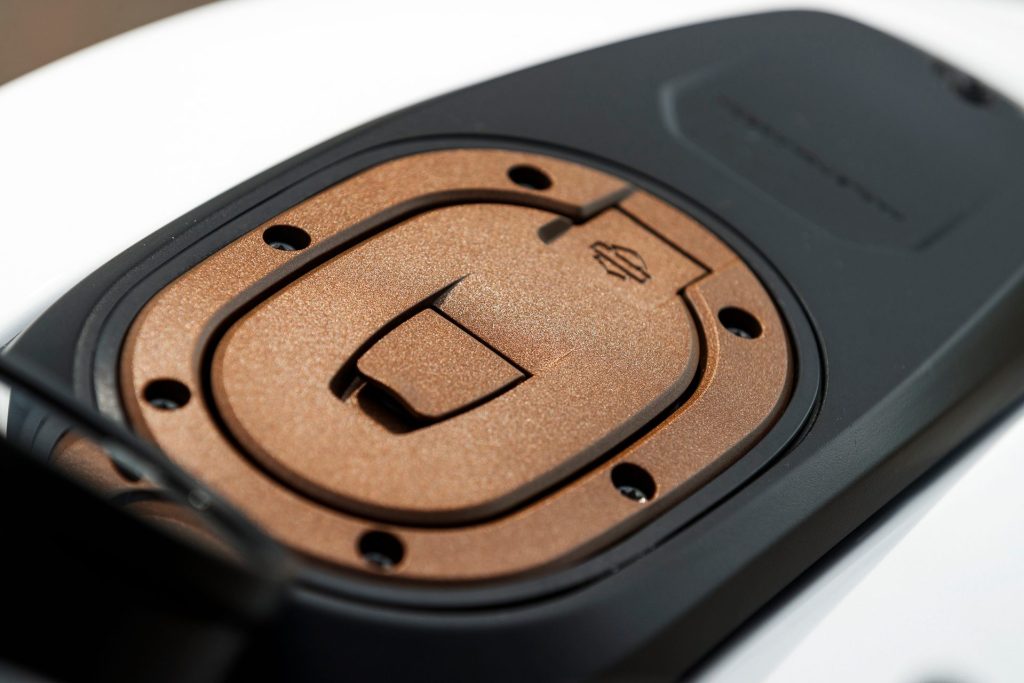 What else? Cruise control is intuitive in use, the single round TFT screen is bright and well sized, the digital speed and revs easily read on the go. It's mounted quite low so just remember to look up now and again. Bar end mirrors look great and clear visuals reflect the lack of vibes. They're also wide enough to show no elbows. We appreciate the hand span adjustable levers, where in the past Harley expected you to have the mitts of a mountain man to ride their machinery. A proximity key is a given on new Harleys nowadays.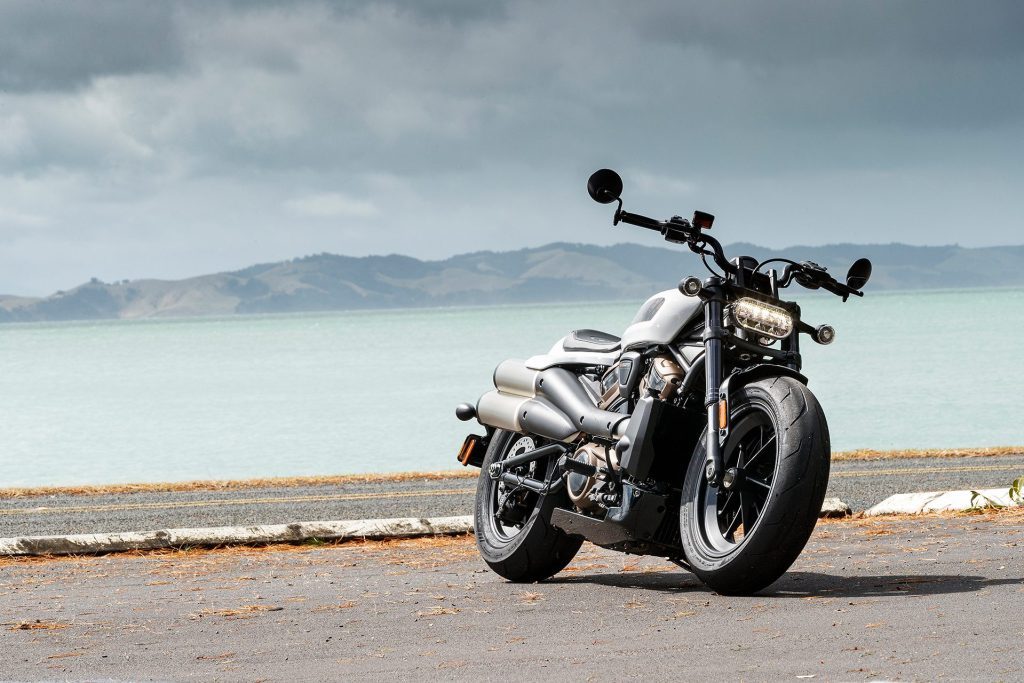 So here is a modern sporty high-end cruiser that also looks ornery and offers a turn of speed that has it vying with the handful of power cruisers on offer. Sure, it's a little travel bound by its short rear suspension and tiny tank but that doesn't stop it from being a whole heap of fun.
Model
Harley Davidson Sportster S
Price
$25,585
Engine
1252cc, liquid-cooled,
fuel injected, V2
Power/Torque
90kW/127Nm
Transmission
6-speed, belt final drive
0-100km/h
3.12sec
80-120km/h
1.55sec (51.26m)
100-0km/h
38.17m
Safety systems
ABS, TC, wheelie control
Seat height
765mm
Weight
223kg (claimed)