After years of mixed sales figures overseas (particularly in North America), Genesis' star seems to finally be on the rise.
It's been on a roll lately with the likes of its new GV70 and GV80 premium SUVs and the GV60 EV. From afar, it seems like the brand's reputation began to gain momentum with the launch of its current, slightly controversial looking G90 several years ago.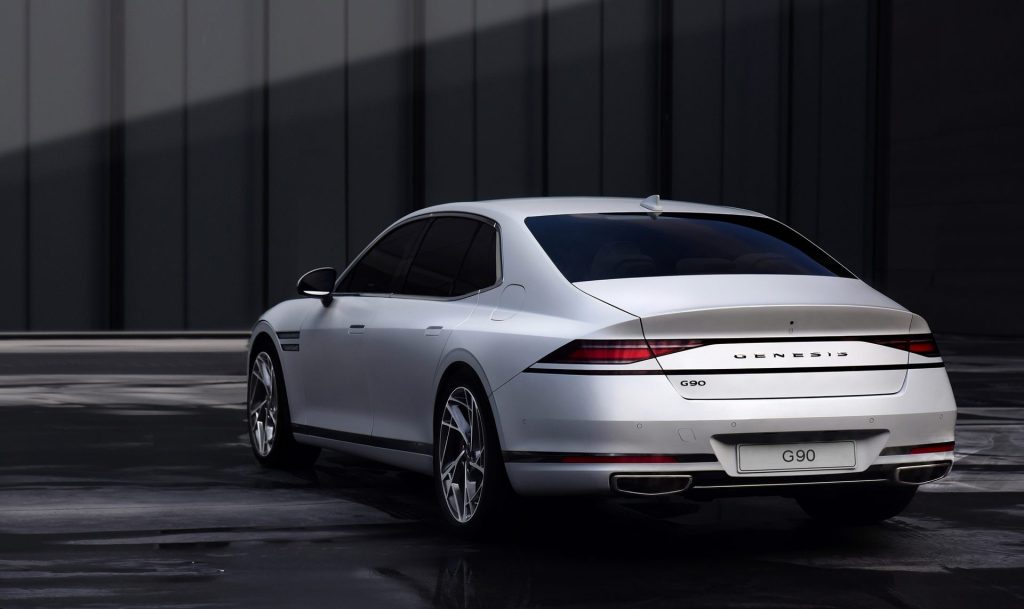 Now, it's released photos of the G90's first major update in the form of a series of exterior images. While a lot of the G90's familiar design tropes remain (like the large 'Crest' grille and 'Two-Line' headlights), a lot has changed, too.
The silhouette and surfacing have been altered to bring the model in line with the likes of the smaller G80 and G70. The shape of the glasshouse has completely changed, with a kink in the belt-line giving the model an athletic look. The C-pillars and bootlid look to almost be a new shape entirely.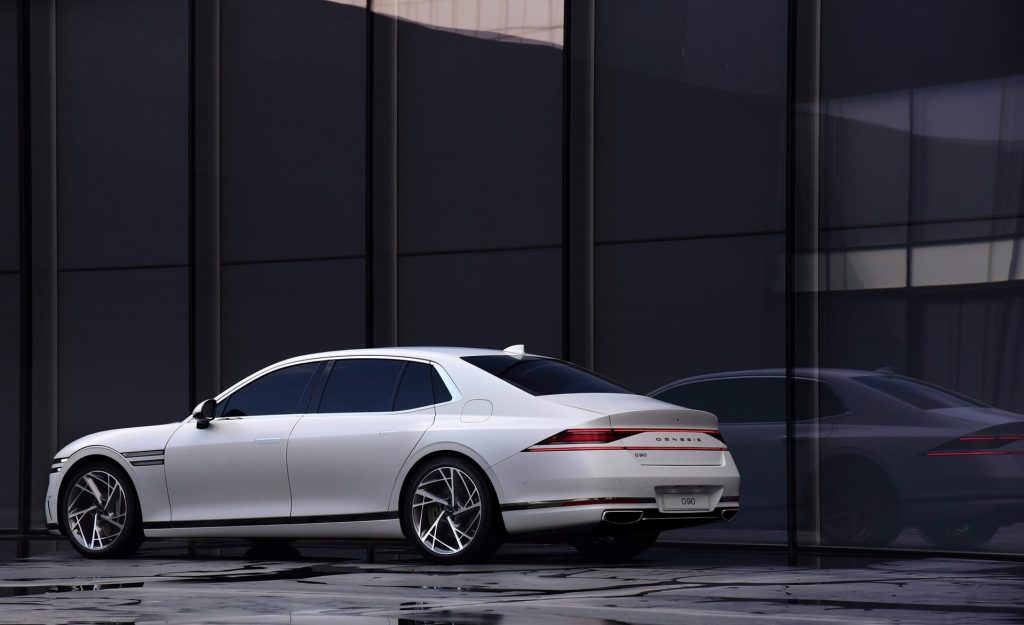 Genesis have put lots of hours in trying to make the G90 as slick as possible. The bonnet's clam-shell shape means less visible shut-lines. The door handles are flush with the door panels. And the reflectors on the rear bumper sit within the confines of the silver trim that skirt's the model's nether regions.
Genesis has yet to show off any images of the new G90's cabin, but it's probably safe to assume that it will feature new styling cues borrowed from the recently updated G80's suave-looking dashboard.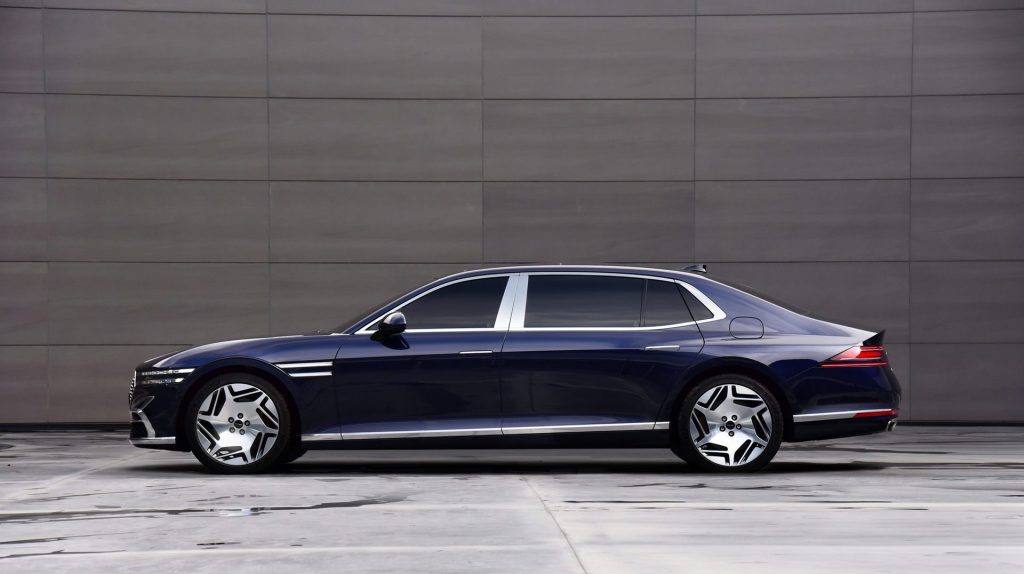 The luxury firm has also held off detailing powertrains. The current G90 uses a 3.3-litre twin-turbo V6 or a 5.0-litre V8. Expect some form of electrification to join the line-up with this update.
What Genesis has shown off is the G90's long-wheelbase cousin. It's 190mm longer than the standard G90, with one of the biggest back doors in the business. An American launch is expected next year, with the long-wheelbase variant tipped to be exclusive to selected markets in Asia.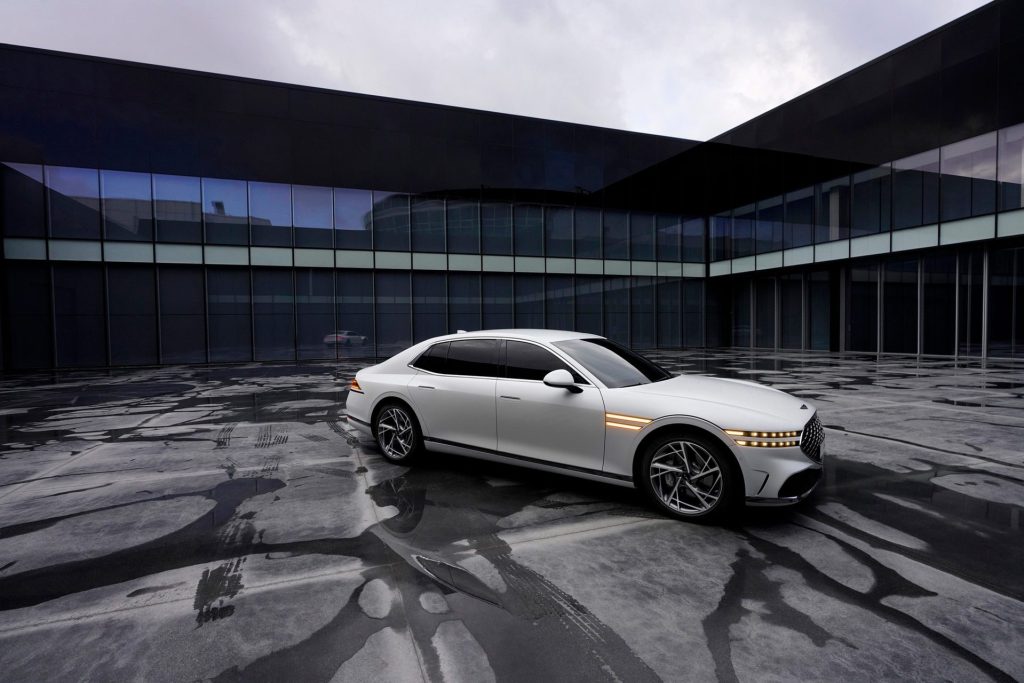 "The G90 will redefine the flagship luxury design experience in a unique way only offered by Genesis," says head of Genesis Global Design SangYup Lee.
"The G90 is the ultimate expression of Athletic Elegance that carefully balances dynamic driving and an elegant rear seat experience."