Camry has an enviable reputation as bullet-proof and roomy family transport but seldom features on the most-wanted list of top drivers' cars. The folks at Aussie TMC are out to remedy this with a supercharged TS-01.
There's a smile on my face, no doubt about it. I'm driving a Camry down a hairpin-festooned mountain pass and really enjoying it.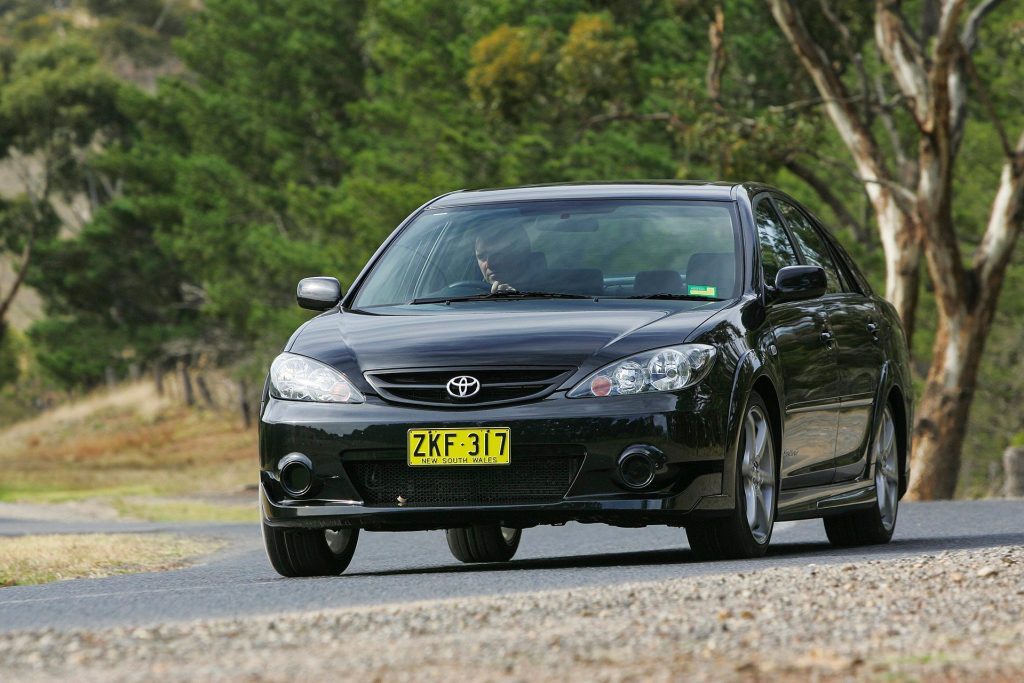 Toyota's Aussie-built mid-size sedan is a lot of things, but a honed sports machine? Never. Winding roads were more likely to produce grimaces than grins. But this is no ordinary Camry. It's called TS-01 and it's real evidence that, beneath their cardigans, the engineers at Toyota Australia know their stuff when it comes to sports tuning.
The good news is it's a precursor of things to come. Toyota Australia is serious about injecting some excitement into its range, recognising it needs to capture a younger audience with more stimulating cars. With no sign of any interest in affordable sports sedans out of TMC headquarters, the local Toyota men have bitten the bullet, established their own HSV-like SVO business, and built TS-01 as proof to themselves and Japan that they can really do it.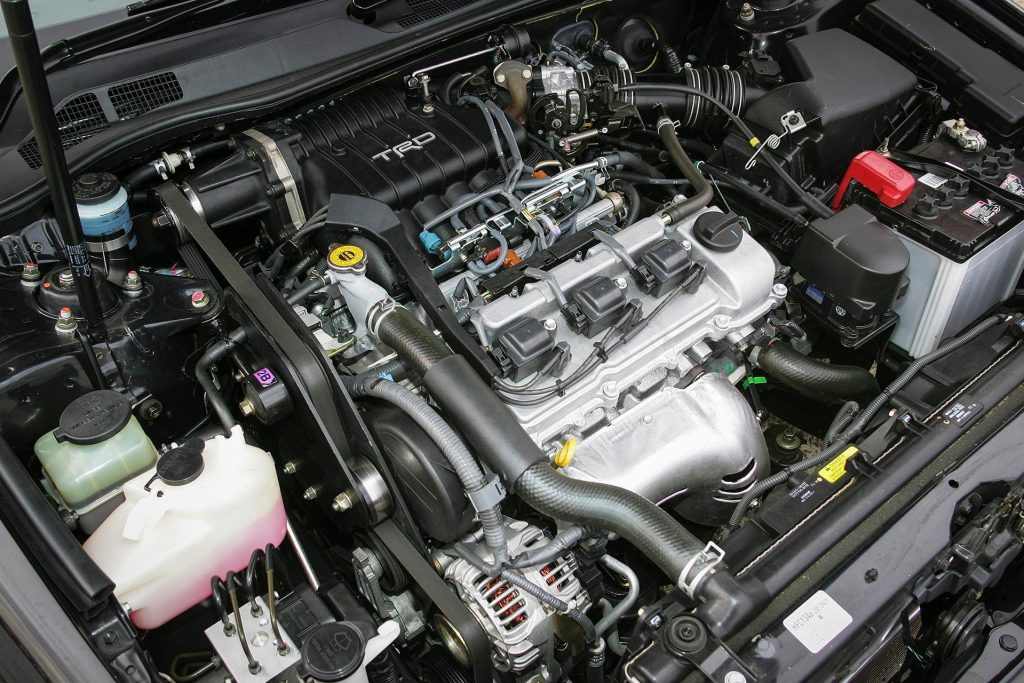 Sports Conversions – as the new division is known – will not build a production version of this car, but it will attack the next-generation Camry and the Avalon replacement that are due on sale next year. The imported Corolla and HiLux will also get the hot-car treatment.
"We want to stretch the brand and make it a bit more exciting," explains Sports Conversions boss, Greg Gardner. "We want to offer a bit more exciting product, given the current range that is coming from Toyota Motor Corporation is now without Celica and MR2."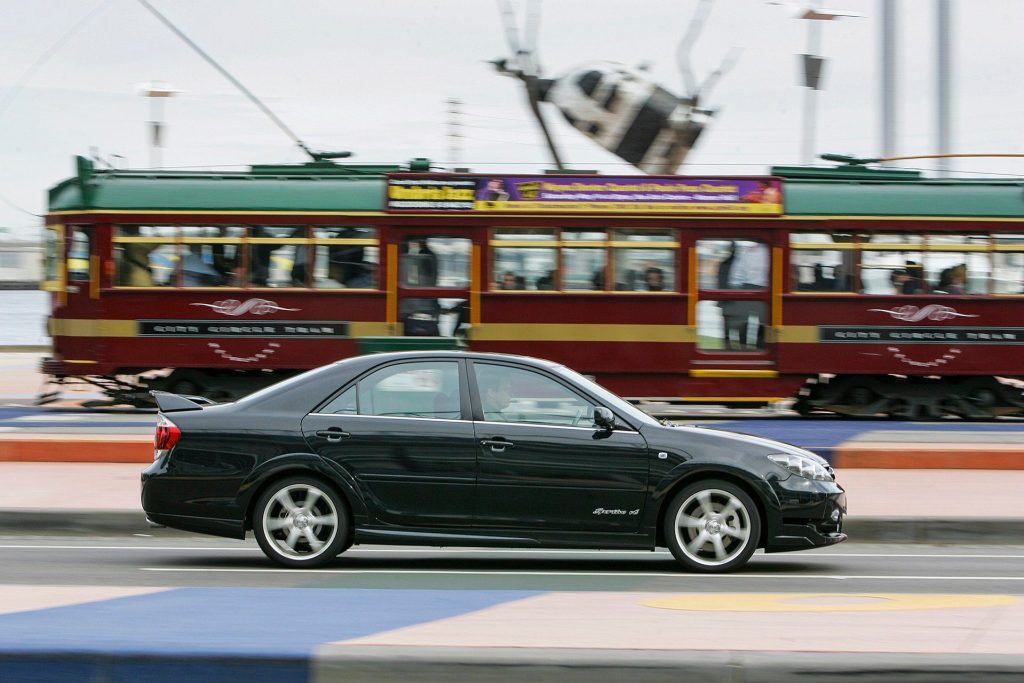 TS-01 came to light at the Melbourne International Motor Show in March. Fundamentally, it's a Camry Sportivo with a supercharged 3.0 litre V6 engine, sports suspension, big brakes, and a locally developed exterior body-kit and redone interior. You've probably seen the photos of that car (see gallery): wild red paint, bonnet vents, brake scoops, fog lights and latticed 18-inch wheels give it a look like no other Camry before it. If you're confused that the car in these photos is black, lacks the vents, scoops and fog lights, and has different 18-inch wheels, don't worry. It is a mechanically identical mule built at the same time as the show vehicle. Inside, it doesn't get the same amount of change as the show car either. The seats are leather with the same beefed-up bolsters, but there's no sign of the dark-tan suede trim or carbon-fibre garnishes.
Toyota's men aren't keen on letting anyone drive the show car, as its side airbags don't work and its specially cast 14-spoke wheels haven't been durability tested – there's no drama anticipated: it's just that the rules are black and white.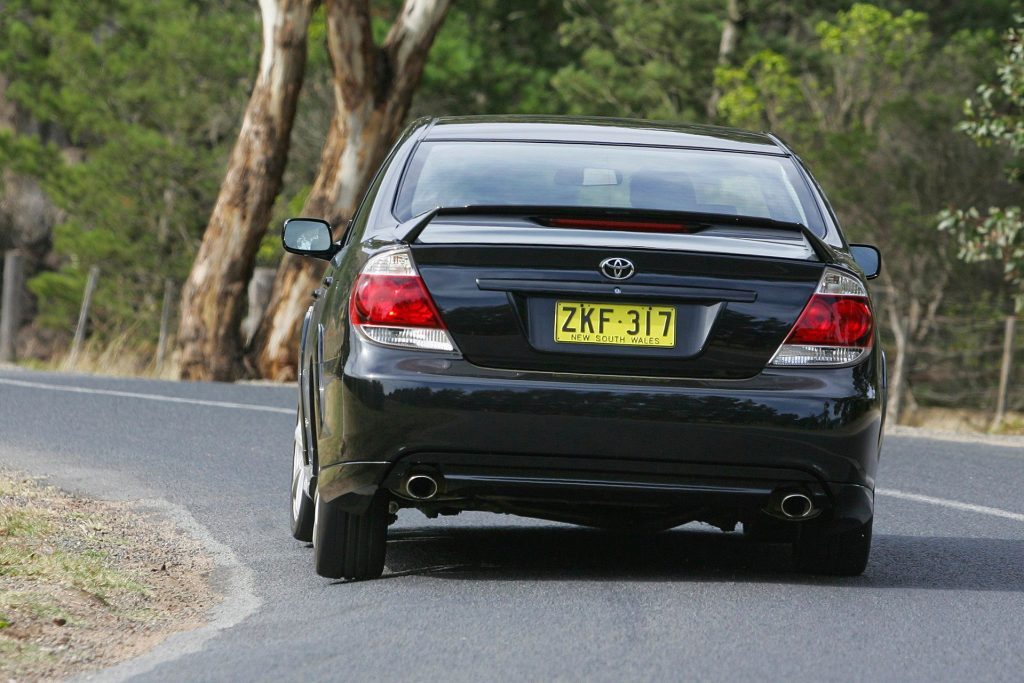 The black TS-01 is a more than acceptable substitute for the first ever TS-01 on-road (as opposed to circuit) test drive. It still looks potent enough with its rear wing, side skirts, wheel-arch flares, mesh lower front grille and low-profile 225/40 ZR18 Michelin Pilot Sport tyres, with chunky PBR two-spot calipers and 325mm rotors (also used on the current C6 Chev Corvette) visible behind the front alloys.
The good news is it has bolder performance to match the look. The TRD Rootes-type supercharger runs at only a moderate 0.5 bar of boost, but it still pumps power up by 28 per cent to 185kW at 6000rpm, while torque increases by 12 per cent to 320Nm at 4500rpm. The figures tell the story of where the TS-01 sits in the Aussie sports sedan line-up: pretty much butting heads with the entry-level normally aspirated Ford Falcon XR6 and Holden SV6 on power (182kW and 190kW, respectively), but behind them on torque (380Nm and 340Nm).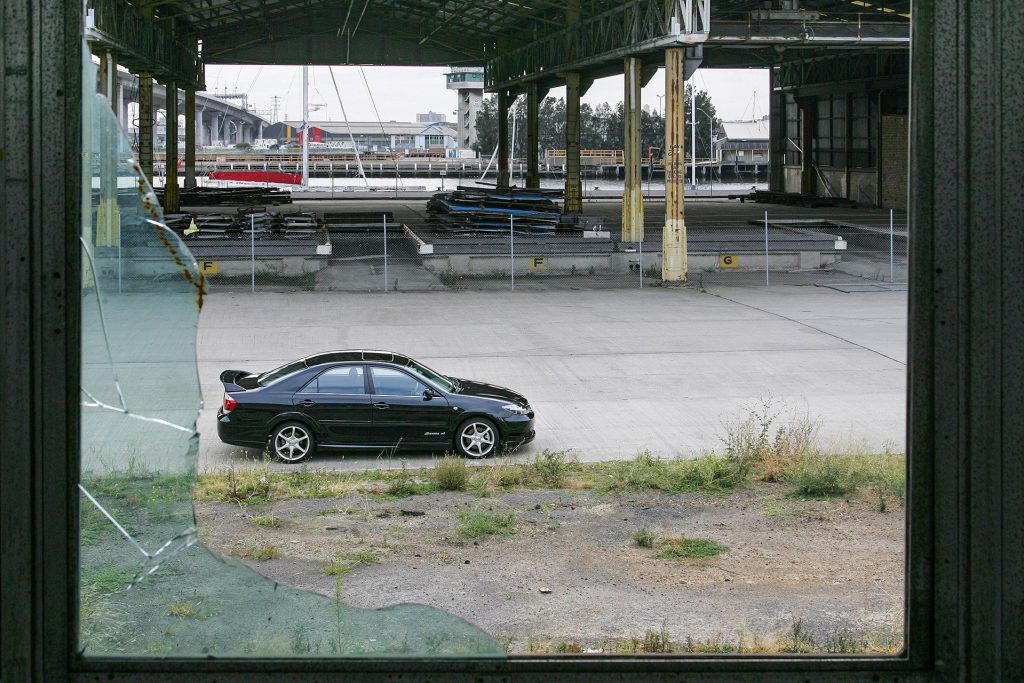 And that's fine, because the instant throttle response and power delivery smoothed out by a re-mapped ECU ensure the TS-01 exploits its newfound zing to the maximum. Wheel-tugging torque steer is only apparent when burying the throttle from almost zero revs, while wheelspin is restricted to tight corners – usually left-hand hairpins rather than right – and really slick surfaces.
At the drag strip, Toyota forecasts a low seven-second 0-100km/h and a 0-400m dash in the 15s region. That's respectable without being overwhelming, which the front wheels appreciate. The TS-01 has enough power and torque to motor along quickly, but not enough to compromise the front-wheel-drive juggling act.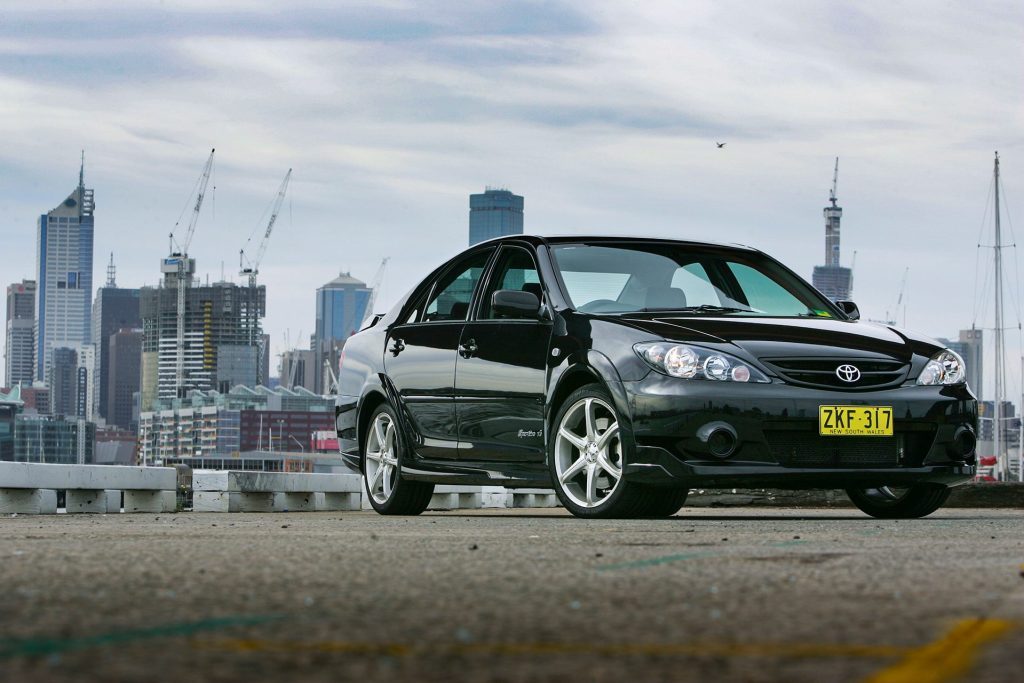 But any amount of extra power and torque would be limited by the traditional V6 Camry chassis set-up, which even in Sportivo form rolls and pitches too much. Some judicious bracing, re-valving of the Monroe shock absorbers, firming and lowering of the springs and the fitting of those Michelins have flattened and sharpened the Camry's Toyota Modular Platform (TMP) to such an extent it is almost unrecognisable. Yet there's still subtlety and absorbency to the car's ride, despite the elimination of the familiar Camry pitch and roll.
The 14 per cent faster steering rack lacks feel at town speeds but livens up with alacrity as the going gets sportier, the five-speed manual gear change is sharper courtesy of a shorter throw and new mounting bushes, the clutch is beefed up by a Celica GT-Four pressure plate, and the brakes complete the package with real feel and strength. There are inevitable rough edges like the hoarse tone of the dual exhaust and the hip point of the drivers' seat, which feels too high for a sporting car. But the refinement and completeness isn't that much less than a comparable production car.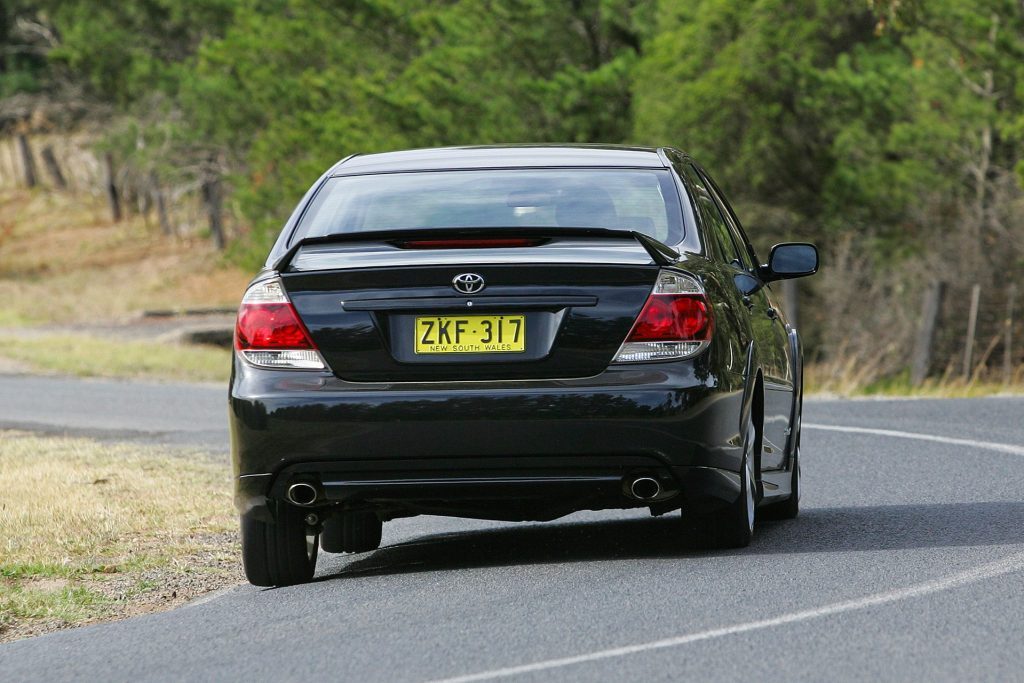 If a limited-run model eventuates, it is likely to be based on the forthcoming Avalon, which will be running a sophisticated 3.5 litre V6 producing over 200kW in normally aspirated form. Add supercharging to that and do your sums!
Meantime, Gardner says, "This was an exercise in proving what can be done with the Camry. We think of it as a proof of concept, something that proves to people inside and outside the corporation just what can be achieved."
And that seems to be a lot. A smile while driving a Camry? That is a serious achievement.
| | |
| --- | --- |
| Model | Toyota Camry TS-01 |
| Engine | 2995cc, V6, EFI, SC |
| Power | 186kW/320Nm |
| Drivetrain | 5-speed auto, FWD |
| 0-100km/h | 7.4sec |
| Weight | 1550kg |
This article originally appeared in the August 2005 issue of NZ Autocar Magazine.