You think they've reached a pinnacle and then another generation of Mitsubishi Evolution and Subaru WRX STi hits the launch pad. We check out the latest superheros to join the fast-as league.
Once again, into the breech for the Evo and STi, and this time it's closer than ever … at the helm. Yet they diverge on the engineering front, with the Subaru adopting a 2.5 litre engine, while the Evo stays with the traditional milk container displacement of two litres. Whichever you favour, you'll be hard pushed to get better bang for the buck. And if you do manage, nothing will keep pace with these when the roads turn gnarly.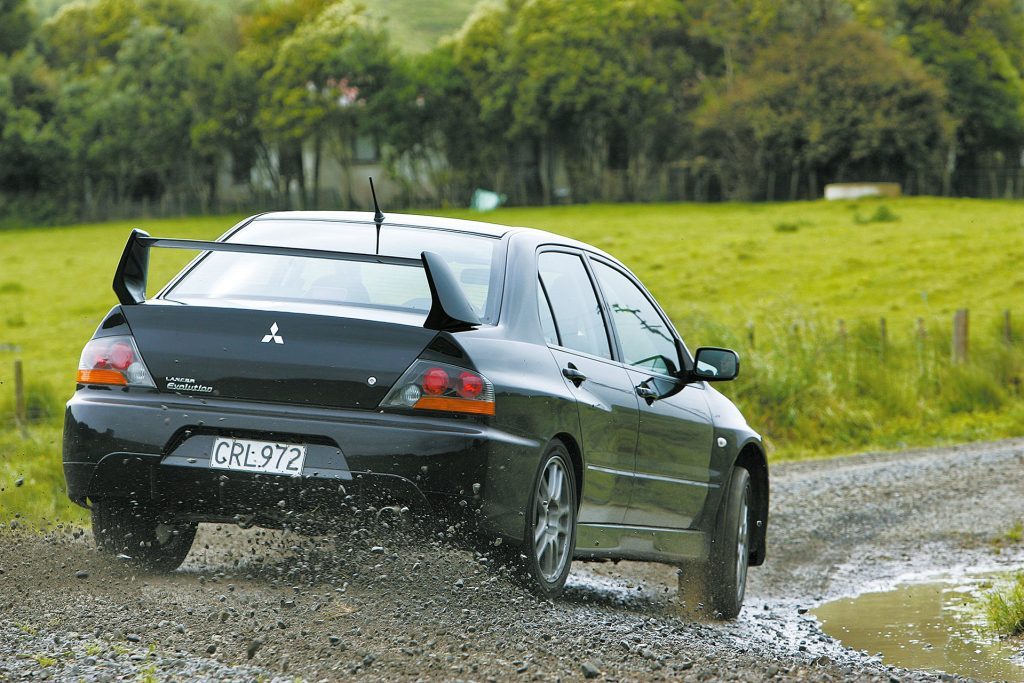 If you had to pick the fundamental difference between the two, a broad hint was evident in the pre-drive press fodder. In the Evo document the first number that's not a Roman numeral is 4.3, the new scarcely believable 0-100 posting. A perusal of the Subaru material reveals no counterclaim. There's a number for the new 2.5L WRX, but it's slower than that of its predecessor. Which had us wondering about the STi. 
There are other indications that the Mitsubishi is the real-deal rally spin-off here, with its use of weight-saving materials, like carbon fibre where none is to be seen in the STi. Which might also explain why Subaru can afford to include a six-speed box to the five-speeder of the Evo.
And speaking of affordability: fast entertainment is certainly cheaper than it used to be. Eighteen months ago, the Evo VIII was going for $75K. Now the Evo IX GT can be had for $59,990. With the recent arrival of the STi it was time to don the spandex racegear and fire these superheros back into action.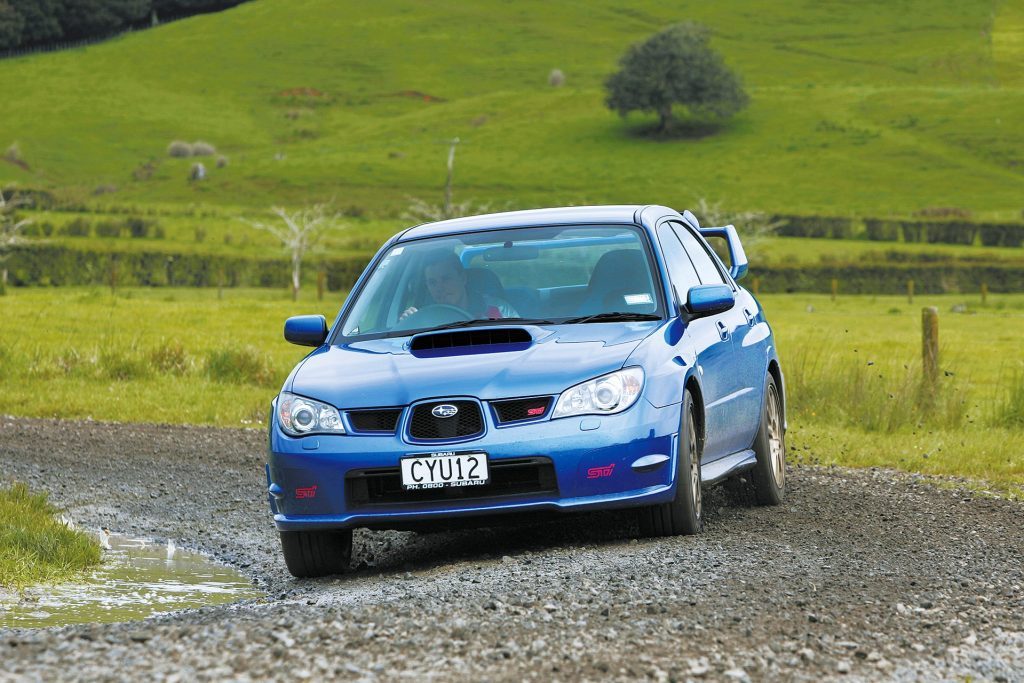 Price/Equipment
The Scoobie, with its upsized 2.5L engine, and its six-speed close ratio gearbox, gets off to a flying start. If you want six speeds (and AYC) you can spend the extra $6500 on the Evo IX GSR.
The Subaru gets more fruit, adding cruise control and a six-disc CD stacker. Mitsubishi offers a skinny single CD head-unit. And a lap belt in the centre rear position. That's weight saving for you.
Both cars have great security systems, including alarm, immobiliser and Data Dots on the Mitsi now. Where one goes the other often follows. Climate air is one concession to convenience both are unwilling to drop, but each car has only a pair of frontal airbags. No TC or DSC here either. Guess they figure the sports suspension, all wheel drive, and sticky ickky rubber are enough to keep you on track. Both cars get rally derived technology, like their intercool spray units, and manually adjustable centre diffs for easier drift action. Brembo brakes have long been standard on both.
Sporting cabin appointments include alloy pedals sets, Momo wheels, both leather bound, and Recaro seats in the Evo, with similarly effective pews in the STi. New to the Subaru are high intensity discharge headlights. There's no change in STi pricing.
Design/Engineering
Both of these cars are in their twilight years, but age hasn't stopped them from evolving. New Evo IX features include the addition of variable valve timing to the 2.0 litre engine, and a redesigned turbo housing that reduces lag, sharpens responsiveness, and helps punch torque out to 407Nm.
External changes are minor and aero influenced, while lighter Enkei 17-inch alloys are new, and so too is the aluminium roof. Hidden within, there are said to be 200 extra welds to stiffen further its iron-Mike undercarriage, and new Bilstein shock absorbers with shorter springs in the rear evidently improve stability and cornering. Inside, the Alcantara Recaros are reshaped.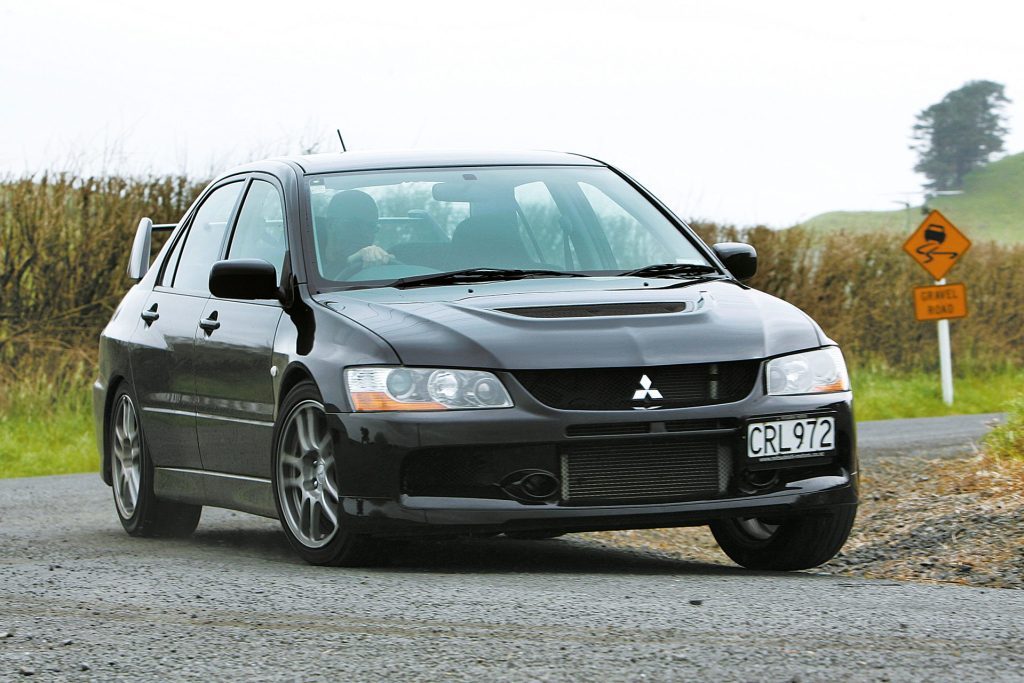 Subaru offers the same basic mill as the Forester STi but with greater output via higher boost pressure, and big bore exhaust. While output figures are little different from those of the outgoing 2.0L (206kW/392Nm), the rev points are lowered. This engine meets Euro IV emissions standards. Subaru reckons the greater spread of low down torque makes the STi easier to drive. This engine isn't available in Japan, meaning no grey imports here, which should help residuals.
Other upgrades include improved gearshift action, better airflow treatment (new rear diffuser, additional roof vane and smaller intercooler scoop) and improved handling through the addition of an LSD in the centre diff. The new frontal treatment, always a talking point with WRX, reflects Subaru's involvement in the aerospace industry.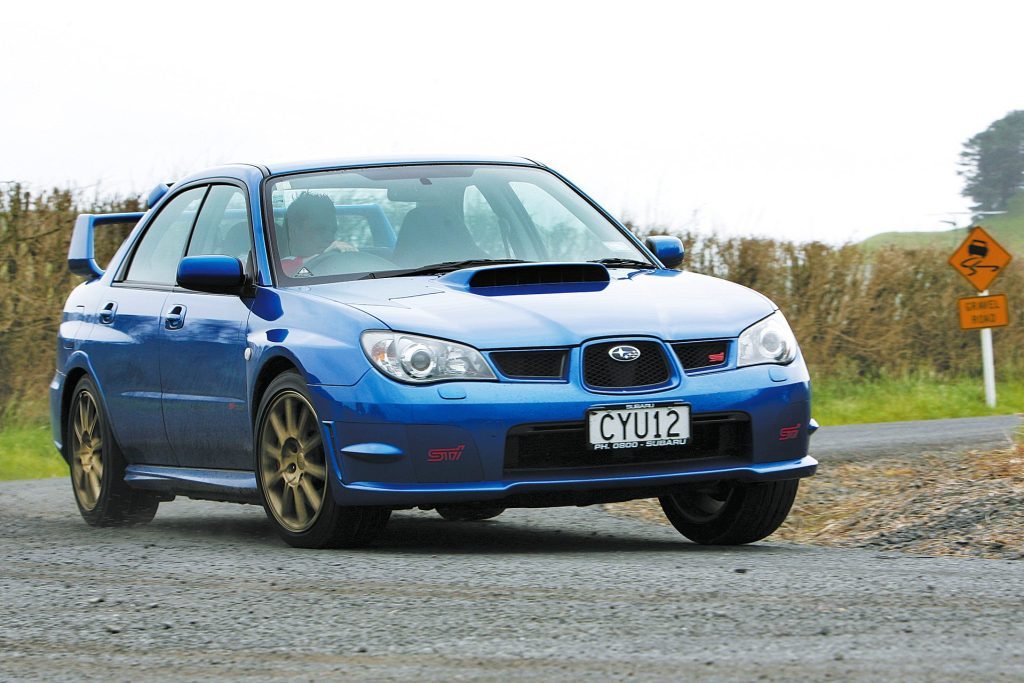 Performance
If you had no timing gear you'd swear these two were equally quick. But we have, and they aren't. Despite the bigger engine, the latest STi isn't any faster than the car it supersedes. An overtaking time of 3.10s is just shy of its predecessor's best (3.08s).
Rex fans will be more interested in the 0-100 time. And here the new STi goes backwards. The engine runs out of puff at 7000rpm, so falls short of hitting 100 in second gear. Where the former STi ran a best of 5.19s the latest version could manage just 5.56s.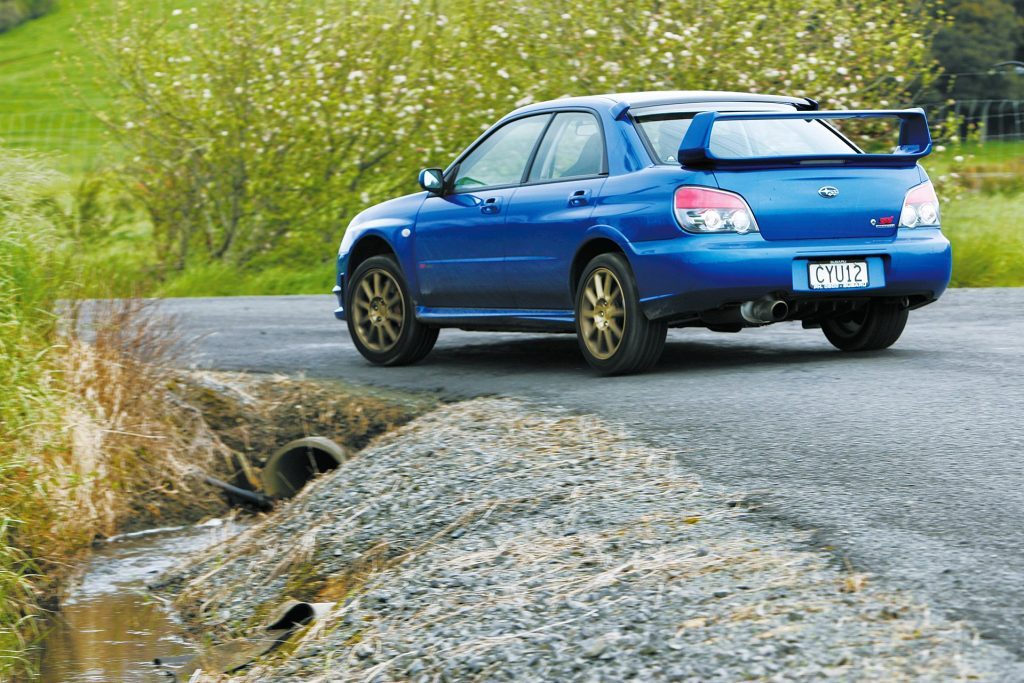 The performance story for the Evo runs according to form. New Evo, even quicker. Being lighter by 65kg than the STi, it handily accounted for the Scooby, with a best 80-120 of 2.92s and 0-100 of 4.85s. Not that its gearbox action helped, with some gnashing of teeth.
One area where the STi outperforms the Evo is top speed; the GT runs into a speed limiter at a theoretical 180, where the Subaru theoretically doesn't. Not that your local chippy couldn't sort that.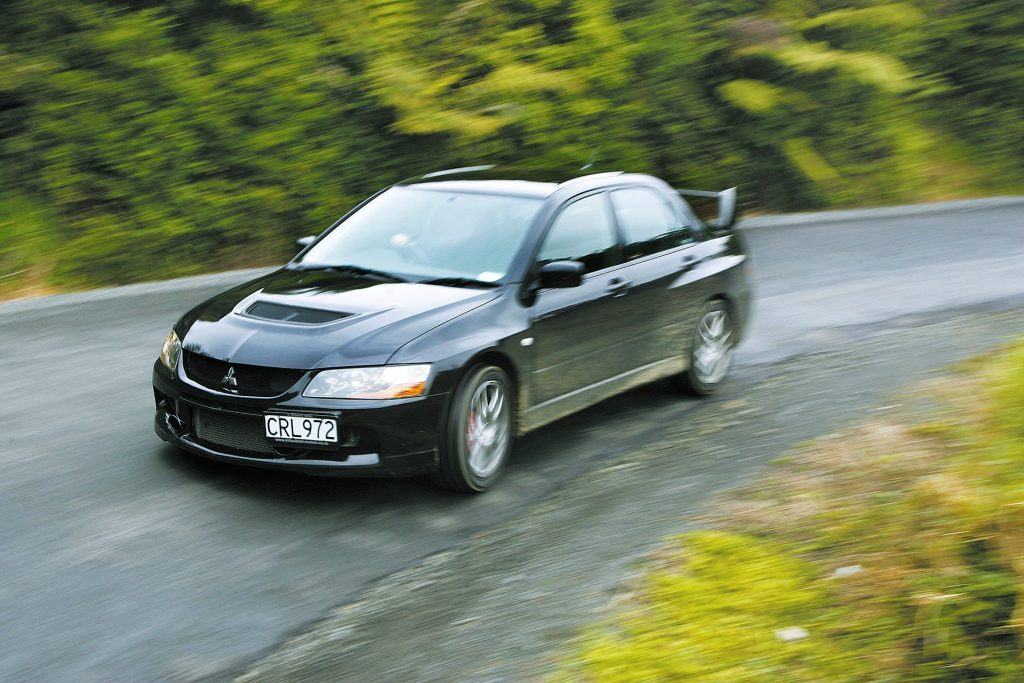 Subaru stressed the move to the 2.5L engine was all about ease of extracting performance. And they're right. With six gears, first is shorter and the STi flies off the mark, its lighter clutch action and sweeter shifter making life easier. But with taller gearing in top, it doesn't have the snappy response the Evo exhibits at 100km/h when you step on the gas.
In the past the Subaru got on the case a bit quicker than the Evo, with useful boost arriving around 2500rpm. With the move to the larger engine there's the perception of more energy, though the 80-120 time is no different. But the transition from off to on is smoother. Where there was a real kick at 3500rpm previously, now it's more seamless. And less of a rush. Trouble is, Mitsi has also bulked up Evo torque, without sacrificing revs or performance.
The Brembos continue to do the business well. The STi picks are on the case earlier, with softer pads but are prone to fade where those of the Evo don't, though they need to warm to their task.
Both cars are shod with performance rubber, so tyre-generated noise is a problem. The Evo is better sound proofed this time round, its dB figure of 77.2 eclipsed by the STi's audibly louder 78.8dB. You'd swear the tyre roar was diff whine.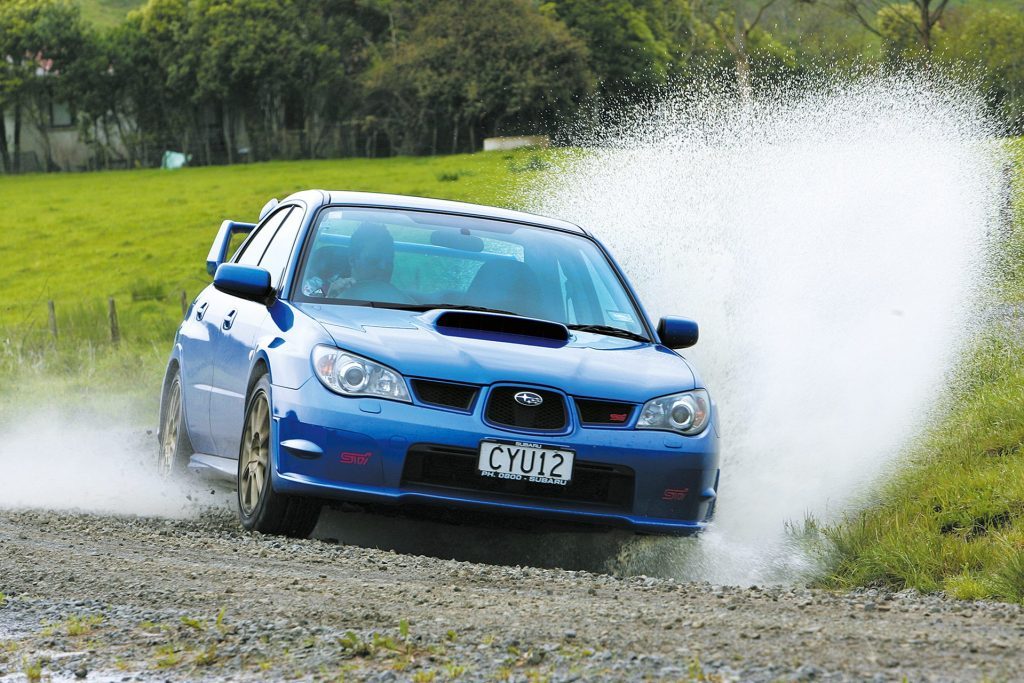 Driving Dynamics
Holy exhaust systems Batman. Un-freakin-believable. You'd be hard pressed to find anything at anything like this price that would get from A to B anything like as quick. The two initially seem similar in their utterly convincing ability to grip it and rip it; they kind of refuse to understeer. Both of these cars have 60/40 frontal weight bias that would lead you to expect understeer as the predominant trait, but you have maul them in mountain passes to uncover it. The front LSDs really work. It's actually much easier to get them to oversteer, by applying power early before the clipping point, knowing that by the time the turbo spools you're on a tightening line firing out of the corner.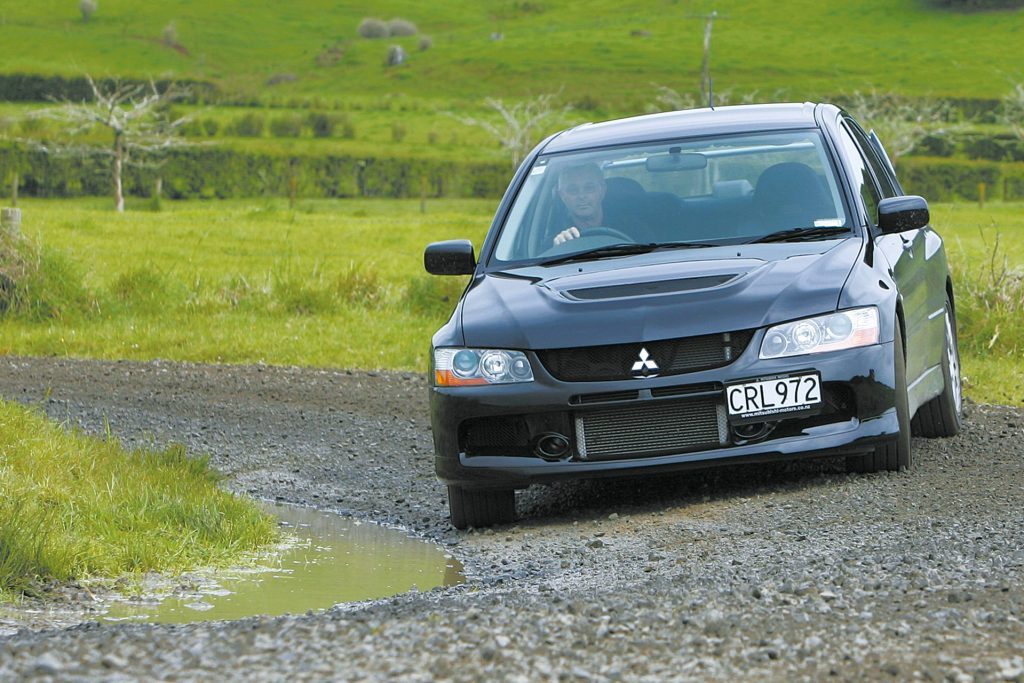 It's the M-car we kept wanting to pilot. Its steering is slightly more direct, slightly more involving. Moreover, we noted some rack rattle in the STi and it's also subject to bump steer where the Evo forges on through rough corners, resolutely holding its line. You get a sense the Evo is better grounded, too. It has an imperturbability about it that isn't quite so convincing in the STi. 
In each car the centre diff is working hard out to distribute torque north and south while entering, apexing and exiting a corner, to optimise speed through the turn, not that you'd ever know it. They're a pair of insane control freaks these, though without electronic traction or stability control the ultimate fate of the car is in your hands. So it's essential to ensure corner speed entry isn't excessive to get the best out of these cars. You need to back off to about twice the speed you'd enter a corner in anything else, time the turbo, and exit hot.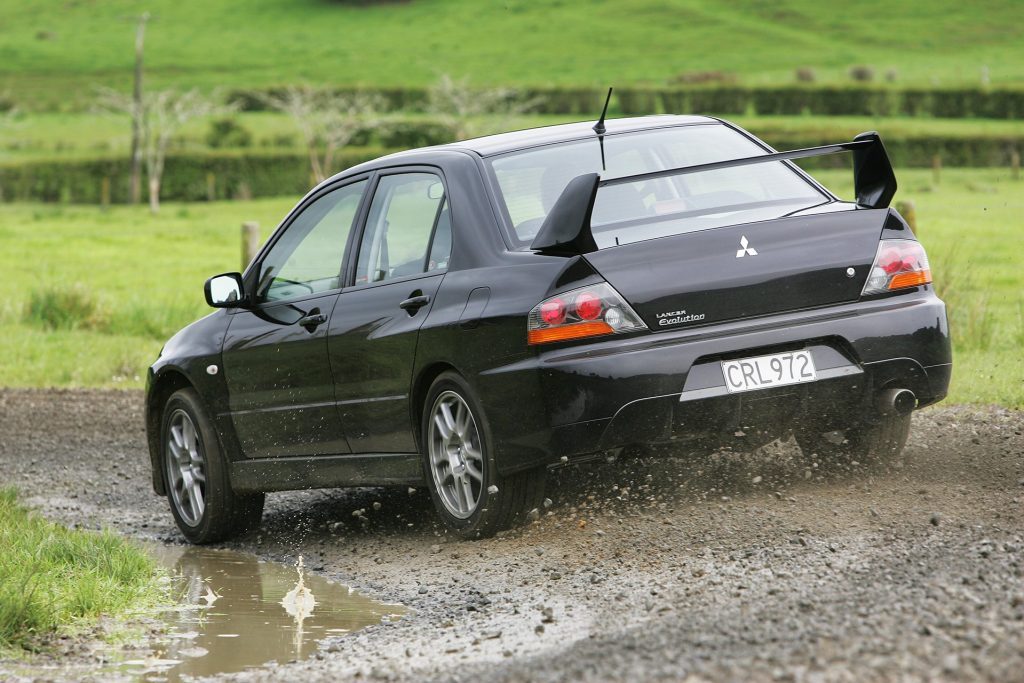 Comfort/Convenience
The interiors are merely places to put Momo wheels, alloy pedals and sports seats in these cars. The Evo's is almost spartan. It hasn't changed much over the years, though there's more sound-deadening and better sealing apparently. The bits that count all function extremely well, though changing the angle of the backrest is a bit of a chore.
At Subaru they've tried a bit harder, and while it looks sharper inside with more legible dials and a few more creature comforts it's also a louder place to hang out. Awkward ignition access for both is further evidence the R and D budget is directed elsewhere.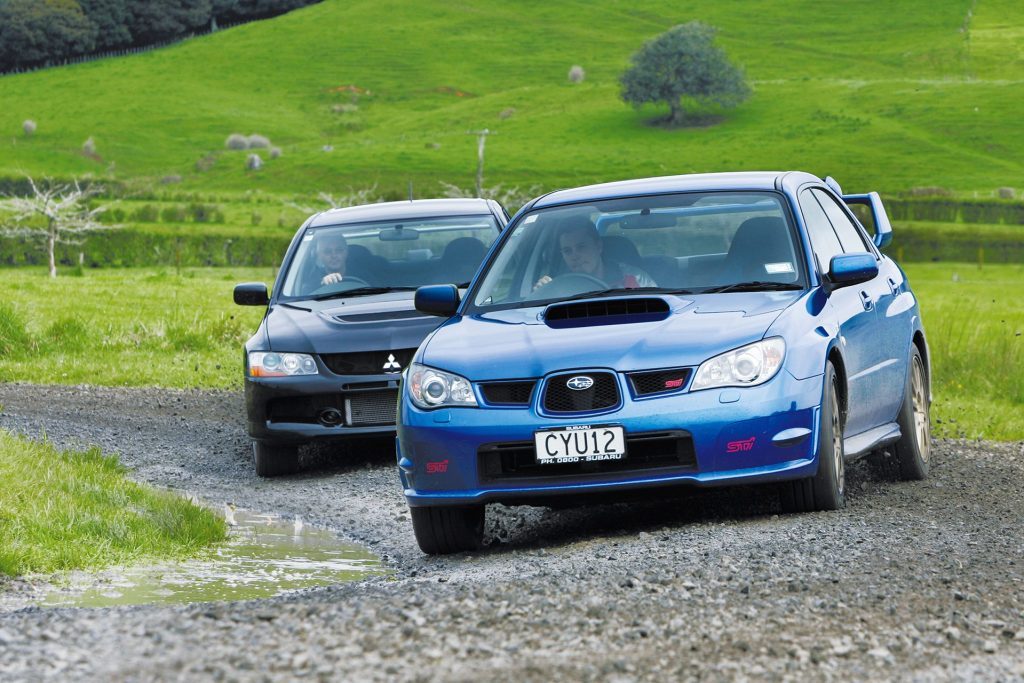 Family friendly these might be in a theoretical sense, with four doors and a boot each, but these "rocks" get few bonus points for ride quality at urban speeds. Like all superheros, they're more comfortable at speed. These are therefore somewhat compromised day-to-day cars, though compared with some, like Elise or MX-5, can at least tote golf clubs and more than a single passenger. 
So yes, your significant other won't necessarily share your love of the cornering kings. Grin, use earplugs and bear it.
| | |
| --- | --- |
| Model | 2005 Mitsubishi Evolution IX GT |
| Price | $59,990 |
| Engine | 1997cc, IL4, T, EFI |
| Power | 216kW/407Nm |
| Drivetrain | 5-speed manual, AWD |
| Fuel Use | 10.0L/100km |
| 0-100km/h | 4.85sec |
| Weight | 1435kg |
| | |
| --- | --- |
| Model | 2005 Subaru Impreza WRX STi |
| Price | $59,990 |
| Engine | 2457cc, B4, T, EFI |
| Power | 206kW/392Nm |
| Drivetrain | 6-speed manual, AWD |
| Fuel Use | 11.6L/100km |
| 0-100km/h | 5.56sec |
| Weight | 1502kg |
This article was first published in the December 2005 issue of NZ Autocar Magazine