In the auto industry, you don't mess with success. Unless you're Mazda. They've taken the world's best selling sports car – the iconic MX-5 – and gambled that a total re-engineering would add another dimension to the driving experience.
Confession time, of sorts. I've owned motorbikes all my life and only just "invested" in a car this year. Far from not liking cars, I just like owning bikes. Still, if I had to buy a car for myself, and not the family, the MX-5 would probably head my shortlist. Why? Primarily because it's about as close to a motorcycle as any (affordable) car ever gets. And its not the zingy engine or wind in your face effect either – there's little of that in MX-5.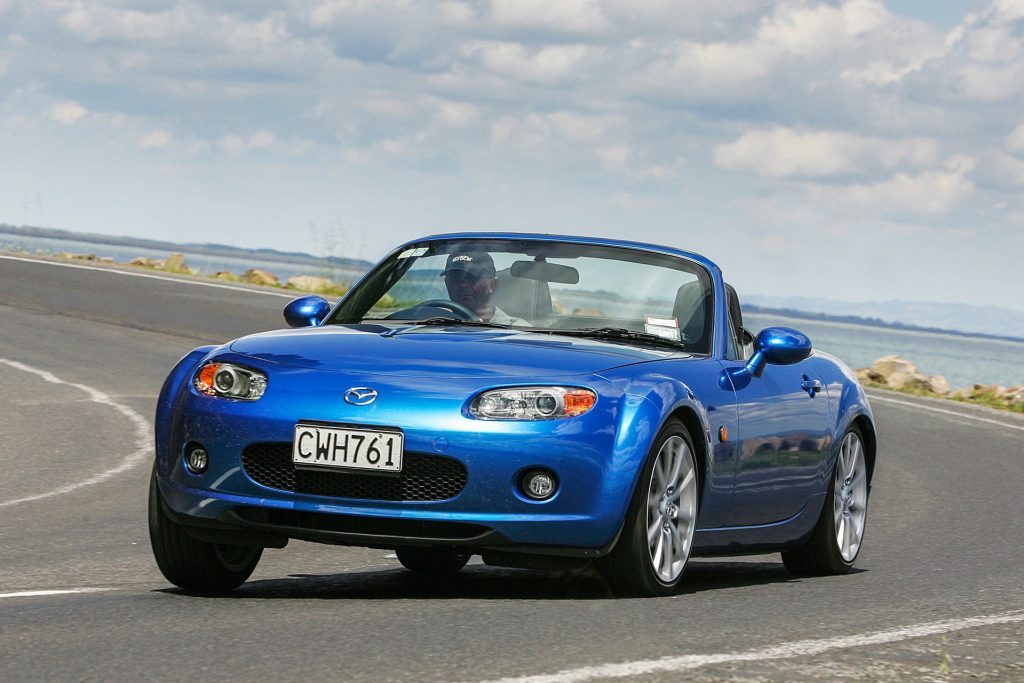 No, it's the lightweight feel and sweet 50:50 front to rear balance that comes so naturally to most motorbikes, but eludes most four wheelers. There's little else out there with four wheels that can tickle the senses for this kind of money ($45K-49K). And that makes the new MX-5 every bit as fabulous as the initial offering was original and a breath of fresh air.
With the new MX-5, Mazda had to consider: where to from here? This was to be the first complete remake of the two-seater roadster since its 1989 launch. When they said all-new, they weren't entirely accurate. Some of the rear light bulbs were reused. But the rest is. How about that for pluck? You've got the world's best selling sports car – over 730,000 to date – and you gamble new will be better.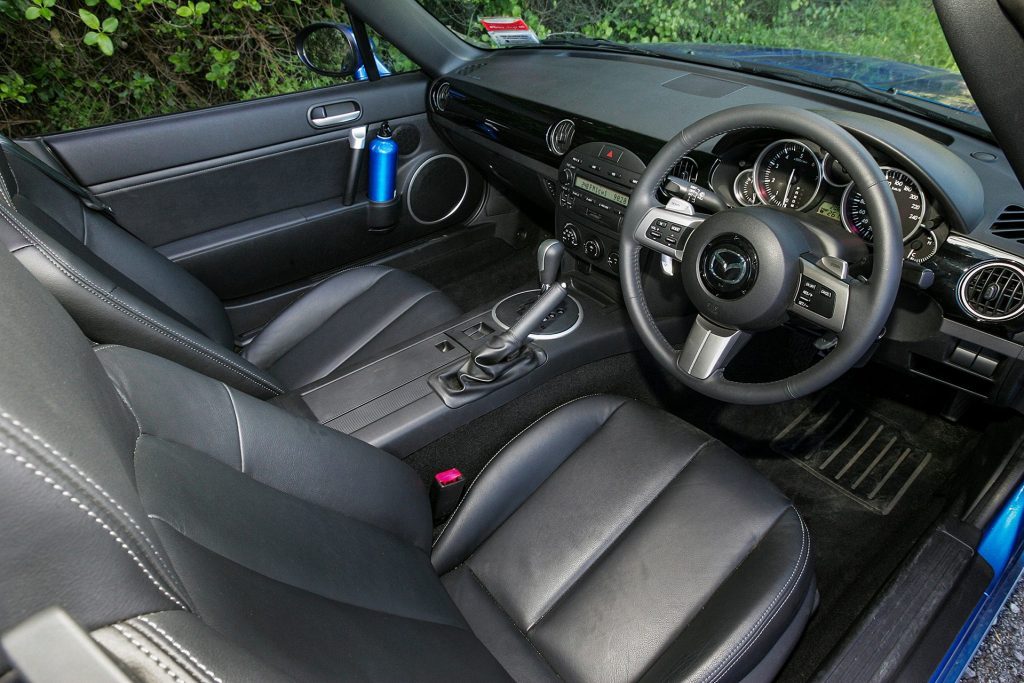 The idea was to move the technology game on, but retain the look (it's similar but more aggressive, for example bigger wheels, twin exhausts), the sensitivity and sense of fun that made the car so popular in the first place. That is, to build something with "emotional value"; to make it look, sound, and feel good. Mazda likens the oneness of car and driver to that of horse and rider, but it also makes mention of "the relationship between a high-performance motorcycle and its rider at speed". Right on.
For the third generation, Mazda has emphasised weight control, down to the gram level, a philosophy that's enshrined in the motorcycle industry. Essentially the MX-5 is only a few kilograms heavier at just over 1100kg, but it's much stronger, meaning less unwanted twisting and shaking.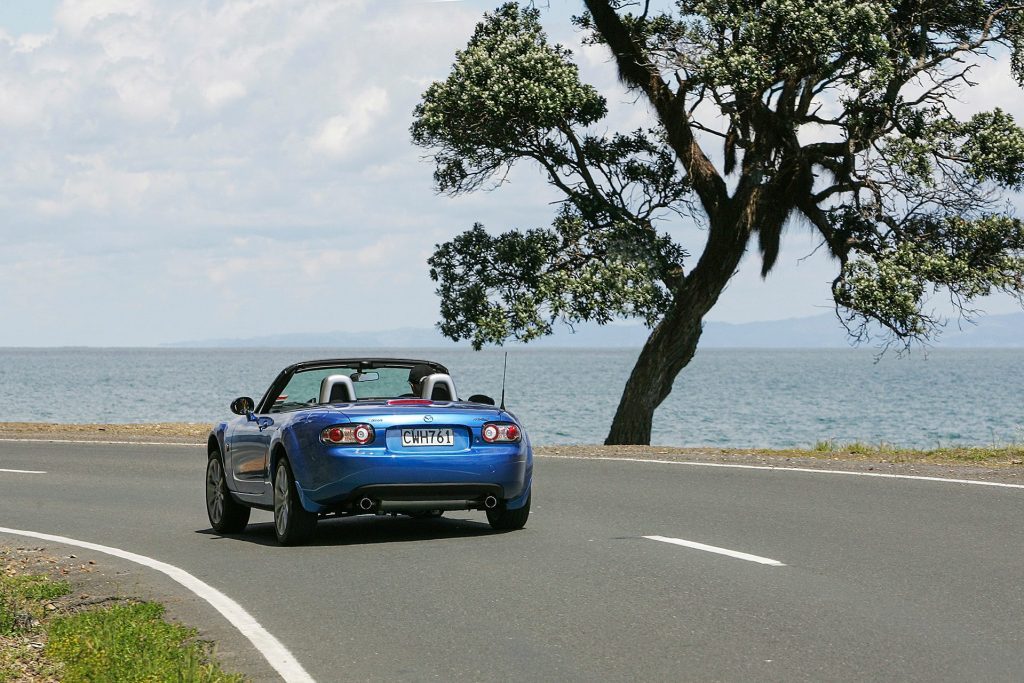 The more aggressive but still highly recognisable body is little bigger but a 47 per cent improvement in torsional rigidity and a 22 per cent lift in bending rigidity normally mean solid weight gains. However, Mazda pared back weight in other areas to compensate.
And it's better distributed. The engine gets repositioned 135mm rearwards, now front-amidships and entirely behind the front axle. There was a concerted effort to relocate mass, for example the fuel tank is sited forwards and drops by 10cm, and the battery migrates back to the engine bay, a move that takes it 30cm closer to the centre of gravity. Said C of G drops by about 2cm, the result mainly of wider tracks.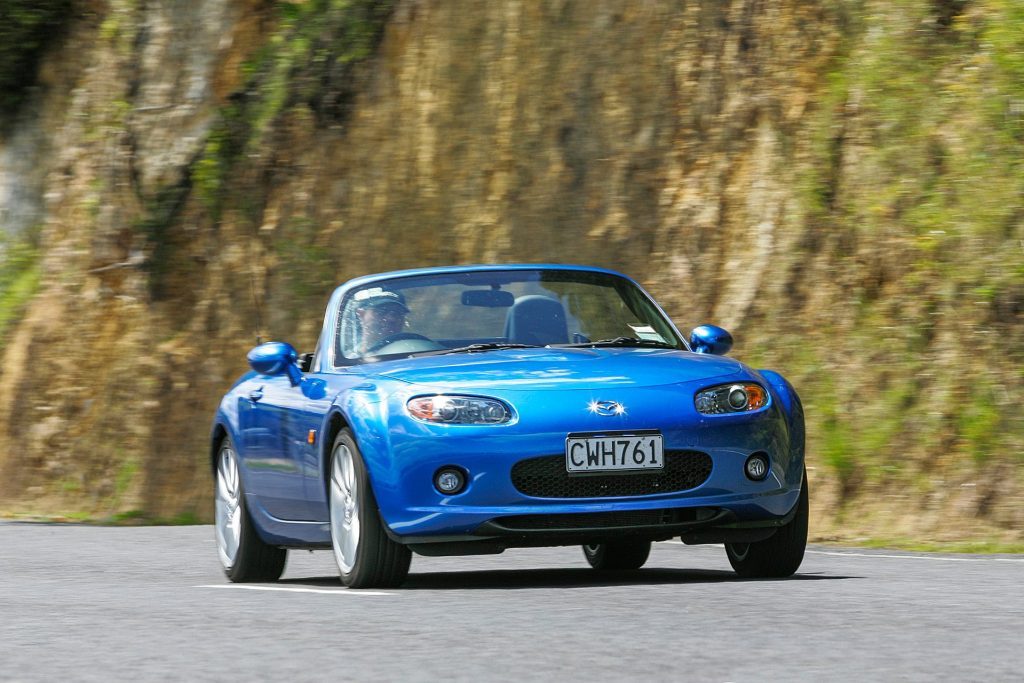 Another objective was to create perfect 50:50 front to rear balance with two occupants on board. We measured it at 52:48 empty.
With its boned-up chassis, the stage was set for more power. Cue the bigger 2.0L MZR motor from Mazda6/3 models. Big news for slushy lovers too; there's now an automatic option. We've driven both and wouldn't consider the automatic, but then I'd never consider riding an automatic motorcycle. Fact is, this is a superb 'box.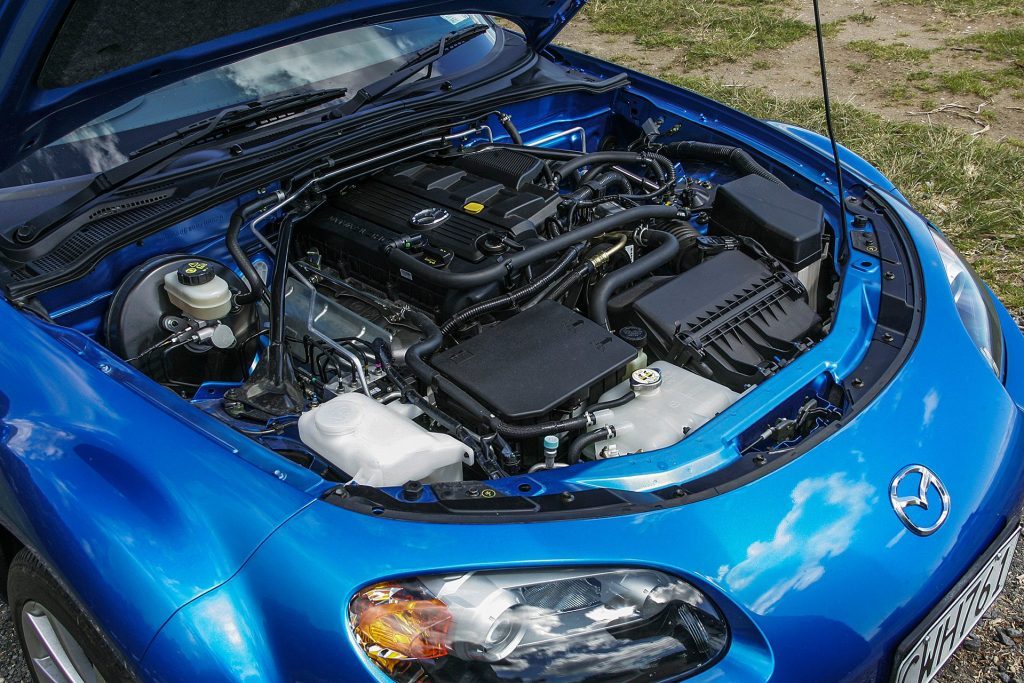 What's a roadster without a decent engine? Dross frankly. The new 2.0 litre mill should keep the faithful happy … very happy. With variable everything and a low back-pressure dual exhaust system, peak power rises to 118kW and torque to 188Nm, most of which is available from 2500rpm. A key benefit is the 19kg weight saving the aluminium engine offers over its iron-block forebear.
MX-5s have never been especially quick in a straight line but this has pace, and stone the crows if isn't very nearly as fast as the turbo powered Mixxer it replaces. Where the 1.8 version needed mauling for decent performance, this one requires massaging. It gets along at a reasonable clip with anything more than 3000rpm happening. And when it hits 5000rpm its mild mannered exhaust note hardens as proceedings get more serious.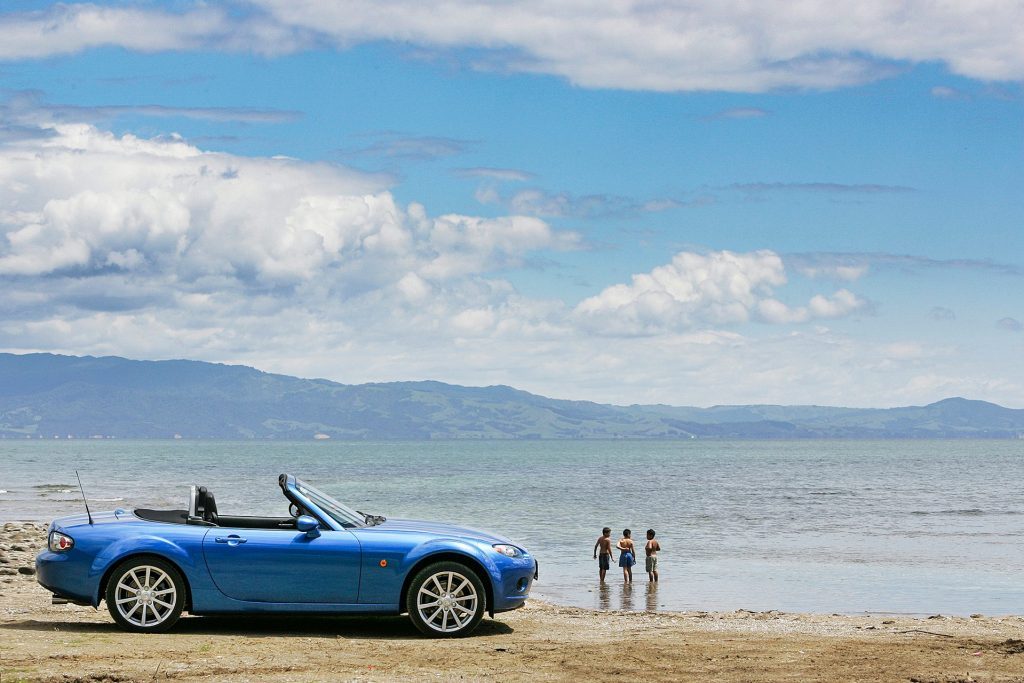 Mazda reckons the new MX-5 will cover 0-100km/h in 7.8s, the same as the turbo version. Our best run of 7.68s came close to matching the Gen II turbo's best of 7.48s, and the blown version's TED time of 5.15s was just quarter of a second quicker than the new MX-5. The Activematic's quick too with an 8.05s best 0-100 run achieved with paddle shifting. Amazingly, its 5.57s overtaking time was just 0.17s adrift of the manual.
Relating it to bike terms, this is a solid 600cc performer that nips at the heels of the one litre pack. In second gear in the dry and with 5000rpm showing, there's sufficient power in tight corners to break traction and power-slide the rear. In the wet, the tail takes on a wagging life of its own but unlike the UK versions, there's no traction control or DSC to save your sorry bones. Still, this is good; just like on a bike you're very much the master of your own destiny here.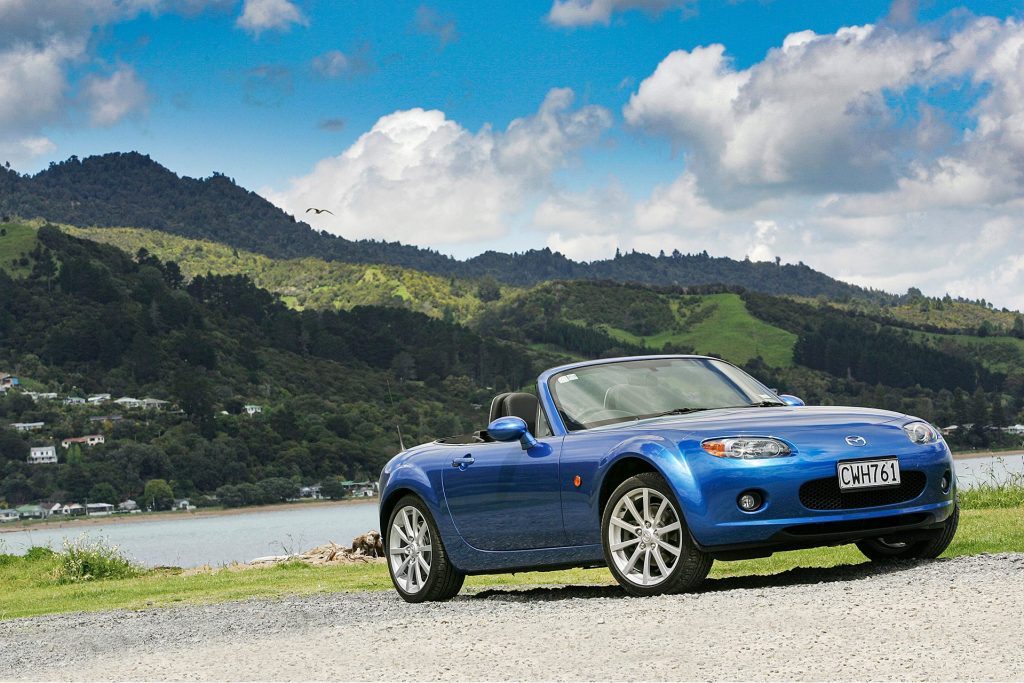 Best to leave the real lunge of performance above 5000rpm for sunny Sunday blasts, where the motor can run hard and clean to its 7200 rev limiter and the wheels can get the power to some place where it can do more good than harm. On such days you'll happily unclip the soft top via its central latch, and flop the cloth roof down into its slot behind the alloy protective rollover tubes, where it clips in place, negating the need for a tonneau cover. Very cool.
Some will dismiss it out of hand, but the auto is genuinely a valid option. It hooks up and powers down so quickly into the next gear, its shifts remind of a DSG box. Once you're familiar with the paddles – the large upshifters sit behind the wheel while the smaller thumb-operated downshifters sit in front – they're the only way to fly. That the MX-5 is so easy to drive in the 'burbs means it will be used by many as a daily drive, and autos handle stop-start traffic chores where manuals are a bore.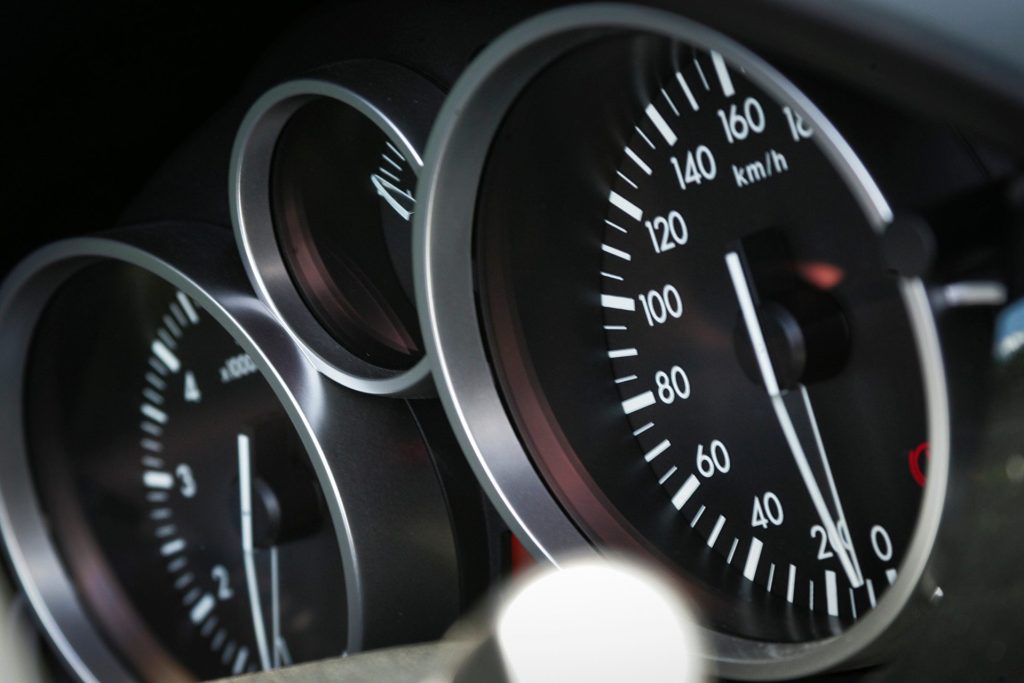 Still, the purist will go manual for a number of good reasons. Shorter gearing makes it faster in its natural habitat. Top in the auto is well overdriven, and into the wind in sixth the auto MX-5 will merely hold its own. Whereas the manual has honest pulling power in top. It's quick up top now too – it manages 140 in third f'rinstance – so a much appreciated new licence-saving countermeasure is cruise control. Mind you, applying middle pedal pressure is another good option, not exactly new, but certainly improved. Brakes bite in such exacting fashion they rival the steering as the "best of" aspect of the MX-5. We delighted in waiting until after the usual braking points, and the kid would ask, "aren't we turning here, Dad?" I'd say, "sure are, boy", and stand on the anchor, miss three gears, hook second, and turn as intended, with a little tail action if the revs were just right. It's a wicked stopper, this; which is essential given the corner speed it can carry.
Ah yes, the corner speed, the raison d'etre of the MX-5. The lower, wider, stiffer chassis approach pays the dividends, shored up as it is and with wider rubber on its 17-inch pins. Most roadsters offer telltale signs that remind you how much a solid roof ties a structure together, but this one simply doesn't. There are no groans or rattles, none of the dreaded vibration or shaking through the steering column. The car just gets on with its job. Of kissing the corner apex … at real speed. There are many ways of attacking a corner in this, but fast in and lift off isn't the pick of them. Essentially neutral in its stance on a constant throttle, there's enough power to oversteer through and scoot out the other side on a tightening line, which is always a buzz. Steering is a now a bit weightier at slow speeds with the wider footprint, but it's otherwise quick and precise without being twitchy, responds superbly to minor changes in throttle setting, turns almost intuitively and is uncorrupted even through corners with chopped up surfaces. Always a pleasure, and wonderful at telegraphing impending doom. There's even a touch of torque steer, which is a good trick in a rear driver. Maul the throttle and the car twitches off line slightly to the right in response to the twisting effect of the engine. Just like revving a Guzzi V-twin at standstill. Bike as car again.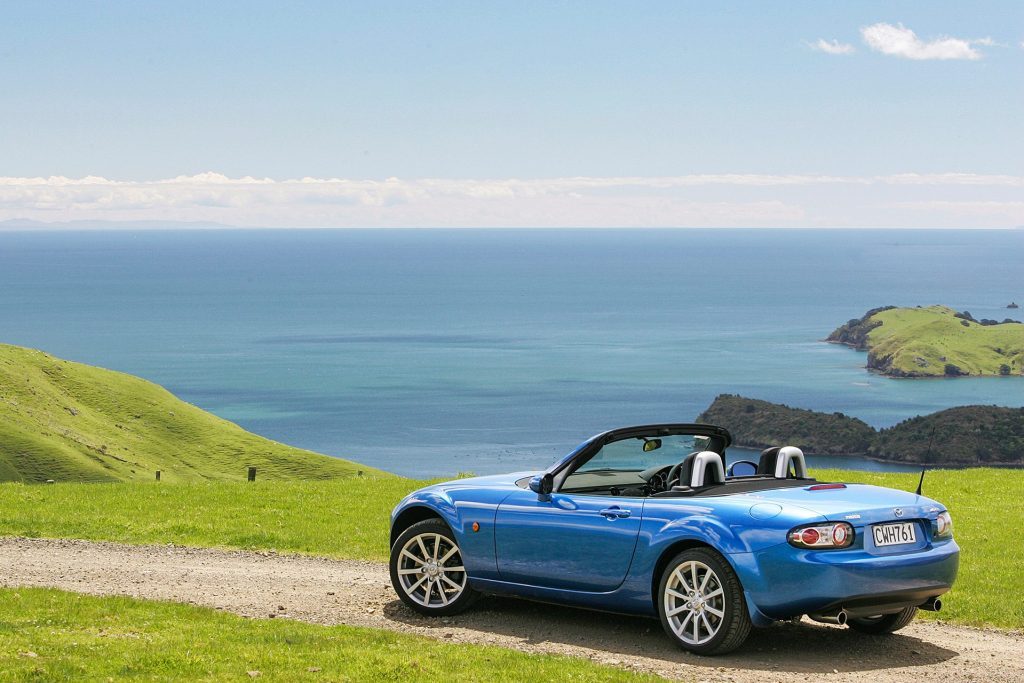 Where the earlier MX-5s used to ride pretty well, this is even better, and is only caught out by a lack of travel over larger undulations taken at excess speed. Even then, it bottoms out gracefully.
Practically, the car is still trying – at least for a family guy. It's more of an empty nester's toy, this. There's slightly more cabin space now – enough if you're not a giant – and it's a more attractive setting, with the piano-black dash finish.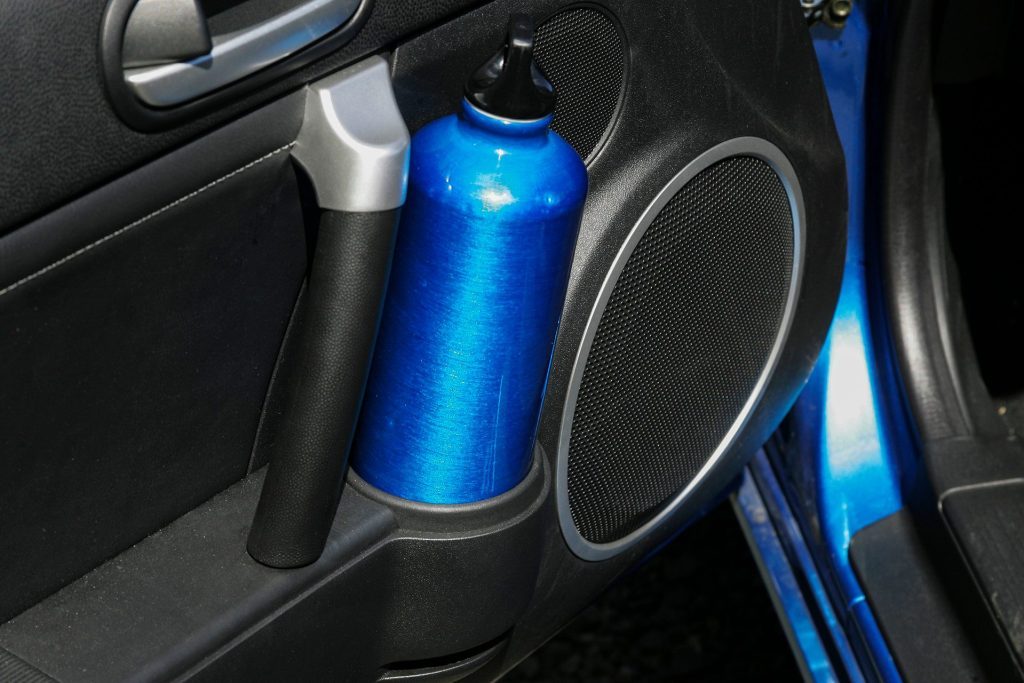 What's also gratifying is the lift in spec, evidently around $4000 worth, with only a minor rise in overall price. Included now are side airbags with a degree of head protection, a steering column height adjuster, audio controls on the wheel, a six-disc stacker, Bose audio system, and belt providers to simplify buckling up. Leather now defines a new model, as does auto transmission, making four versions.
If you're contemplating a midlife crisis it's nice to know there's still a valid sportscar alternative to the likes of the Harley V-Rod. Once cracking, reincarnated MX-5 is now a firecracker. Mazda's little pony is showing its pedigree.
| | |
| --- | --- |
| Model | 2005 Mazda MX-5 |
| Price | $46,950 |
| Engine | 1998cc, IL4, EFI |
| Power | 118kW/188Nm |
| Drivetrain | 6-speed manual, RWD |
| Fuel Use | 8.5L/100km |
| 0-100km/h | 7.68sec |
| Weight | 1108kg |
This article first appeared in the December 2005 issue of NZ Autocar Magazine.